Carlist.my Help Center
Getting Started in Three Easy Steps
---
Creating Your Account
Click on Join
Fill in your details.
Proceed to click on Create Account.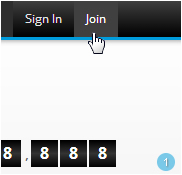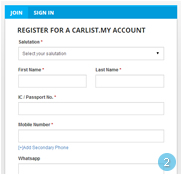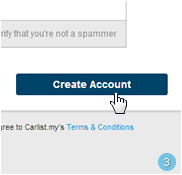 ---
Activating Your Account
Email activation
An activation e-mail will be sent to your registered e-mail address. If you do not receive any e-mails from us within minutes, please check your spam/junk folder.
Click on the activation link within the e-mail and you will be prompted to log-in with your registered ID and password.
If you do not receive your activation link via e-mail, please call our Customer Care Hotline (1300 30 4227) for further assistance.
Phone activation
A SMS activation code will be sent to the phone number you have registered with.
Key in the code you received to activate your phone number.
If you do not receive your activation code via SMS, please call our Customer Care Hotline (1300 30 4227) for further assistance.
Dealer / Sales Agent activation
If you represent a company or are a sales agent, you will have to submit a copy of your business card with the business registration number (BRN) indicated and Identity Card
Alternatively, you can submit the documents via fax (03 2776 6010) or e-mail to enquiries@carlist.my
Upon receipt of your documents, we will start the verification process within one working day, accompanied by a notification to your registered e-mail.
---
Verifying Your Account
What do I gain from verifying my account?
Verification is important because it helps car sellers to gain credibility, trust and confidence of the buyer community.
How do I know if I am a verified seller?
A verified badge, as shown in the diagram below, will appear on your profile page and on all your posted ads once you become a verified seller.

About Carlist.my
---
Carlist.my is Malaysia's No.1 car site connecting car buyers, sellers and enthusiasts to a single platform which encompasses car classifieds and informative content. Carlist.my has the largest number of car listings for sale in Malaysia with over 160,000 listings available within its database. Reaching an audience of over 1.7 million unique visitors viewing over 24 million pages a month, Carlist.my strives to provide consumers with a comprehensive and positive automotive research and purchasing experience.
* Source: Google Analytics, March 2015
Forgot Your Password?
---
Follow these steps to reset your password:
Click on the Sign In tab
Click on forgot your password
Enter the registered e-mail with Carlist.my
Check your e-mail, a temporary password will be sent to you
Login with the temporary password and proceed to change your password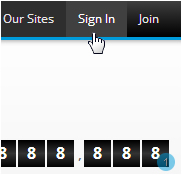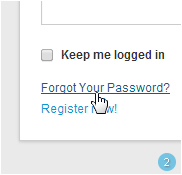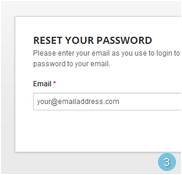 Changing Your Username
---
Unfortunately, once the username has been registered, we are unable to change it. Potential buyers will identify you by your username on your profile page.
Changing Your E-mail
---
Drop us an e-mail at enquiries@carlist.my, indicating your request for the change along with your updated e-mail address, and we will take care of the rest.
Do note that any changes will take at least one working day to take effect.
Changing Your Account Type
---
Carlist.my offers three different types of membership (free):
| | |
| --- | --- |
| Type | Description |
| Personal | For an individual looking to buy or sell a car. This account type only allows one ad to be posted at any one time. |
| Sales Agent | For a sales agent/broker working for a dealer. This account type allows an unlimited number of ads to be posted. |
| Company | For a dealership advertising its inventory. This account type allows an unlimited number of ads to be posted. |
To change your account type, please e-mail to enquiries@carlist.my or fax your request to 03 2776 6010.
To change your account type, the following are the documents needed:
For Sales Agent:
A copy of your NRIC (both front and back); and
A copy of your business name card with the business registration number (BRN) indicated
For Dealership / Company / Corporate:
A copy of your business card with the business registration number (BRN) indicated.
Do note that upon receipt, your request will be processed within one working day.
Deactivating/Deleting Your Account
---
Send us an e-mail to enquiries@carlist.my informing us of your request to deactivate/delete your account, and we will begin processing your request within one working day.
How Do I Post/Edit An Ad?
---
Sign in with your registered username and password.
Hover over the second icon and click on Create Ads
Three easy steps:

Select your car
Fill in your car details
(Remember, giving more details improves the chances of getting a response from a buyer)
Upload photos
You can upload up to 21 photos

Click on Preview Ad to view how your ad will appear and Save & Publish.
Your ad will be approved within 24 hours.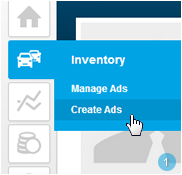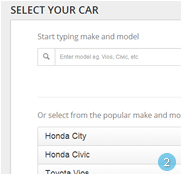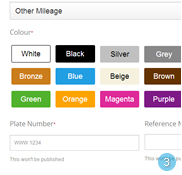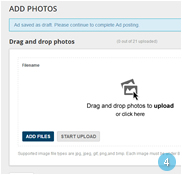 What Are The Posting Guidelines?
---
We aim to provide a pleasant online environment for everyone using Carlist.my.
Reading and adhering to our posting guidelines ensures that you get a positive selling experience on the website, and that buyers find only quality car listings.
---
Comprehensive Information
List down all of the information about your car into the ad. Be as comprehensive as possible, instead of directing buyers to another website for more details. The more details you put in the ad, the higher the chance of you selling your car quickly.
---
Title & Description
The ad title should describe the car on sale. Please do not include company names, contact numbers or URLs within the title.
Describe the car as best you can via the description text. Please do not include plagiarised content or hyperlinks to external websites.
---
Proper Categorisation
Choose a suitable category for your car. Note that on Carlist.my, used cars and reconditioned (recond) cars, or new cars manufactured in the previous year, are categorised as "Used Cars", while new cars manufactured in the current year are categorised as "New Cars".
Selecting the most appropriate categorisation ensures that your ad will appear accurately in the search results.
---
No Multiple Cars In A Single Ad
Place only one car per ad. If you have multiple cars which are similar, please place them in separate ads with their own images. By doing so, you can maximise the exposure of your ads and attract more potential buyers.
---
No Duplicate Ads
Please do not create multiple ads for the same car. Instead, you can edit your ad if you would like to update it or delete the old ad before you place a new one.
Please also do not advertise the same car in different categories or locations.
---
Images
Always use images that are relevant to the car being advertised. This will improve the quality of your ad, attract more viewers and increase your chance of selling your car.
Please do not use images from other advertisers without consent, as they are protected by copyright laws. Other kinds of images you should not use include:
Images containing watermarks of other websites or company logos;
Images irrelevant to the ad; and
Images in non-supported formats (supported formats are .jpeg, .png, .gif, and .bmp).
To improve your chances of selling your car, you should also avoid using the following:
Small images;
Blurry images;
Images downloaded from Carlist.my website; and
Images that are reused from a previous ad.
---
Year
List the year of the manufacture/production of the vehicle, and not the year of registration.
---
Pricing
Always clearly list a price with specific integers. Unfortunately, we have to reject ads without clear pricing.
Examples of unclear pricing include but are not limited to:
A price range;
Price on availability (POA); and
Prices that are incomplete, such as RM8XXXX and RM5k.
---
No Illegal Items
Naturally, ads featuring items prohibited from sale according to Malaysian law are not allowed on Carlist.my. They include but are not limited to stolen items, pirated items, and counterfeit items.
---
No Unrealistic Offers
To protect our buyers, we reserve the right to decide which ads are unrealistic and to reject them.
---
No Misleading Offers
We also reserve the right to reject ads that are deemed misleading.
Misleading ads often misrepresent the following details:
Loan amounts or percentages;
Down payment amounts or percentages; and
Interest rate amounts or percentages.
We highly recommend that you include a statement such as "upon the bank's approval" or "subjected to the bank's approval" in your ad if you wish to include those details.
---
Consistency
Ad details must be consistent throughout. For instance, you should not list RM79,000 in the title and yet mention RM82,000 in the description. Such inconsistency will make your ad a prime candidate for rejection.
---
Relevance
Ad details need to be relevant to the advertised car. For example, pairing a Honda Civic image with Toyota Corolla title and description will result in your ad being rejected.
---
No Keyword Stuffing
Please refrain from keyword stuffing, which is defined as loading keywords in your ad title and description that are not relevant to the ad, with the purpose of influencing the search results on Carlist.my.
Moreover, keyword stuffing applies to comparison phrases such as "better than xxx", "cheaper than xxx".
---
Deletion
In the event that your ad is rejected due to non-compliance with our rules, you will be given up to 48 hours to make the necessary alterations. Regrettably, if no changes are recorded after 48 hours, your ad will be deleted from our database.
---
Suspension & Termination of A User Account
We reserve the right to suspend or terminate an account for violation of our Ad Posting Rules and/or the Terms of Service at any given time, at our sole discretion without prior notice. Unfortunately, if an account is suspended or terminated due to rules and/or policy violation, there will be no refund.
How Do I Search For Cars?
---
Start searching for a car by using the search box on the homepage. Just select the criteria of the car you have in mind and click the 'Search' button to begin your car buying process.
You may also click on 'More Search Options' located next to the 'Search' button to narrow down the search results to find your ideal car.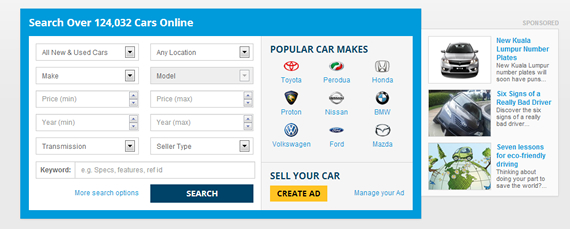 What Is A Car Comparison?
---
This is a useful feature for potential buyers who wish to compare the car ad from their searches for a head-to-head view.
How Do I Proceed Once I Identify The Car I Like?
---
To check the availability of the car, start by contacting the seller by clicking to reveal the seller's contact number in the box located next to the photo.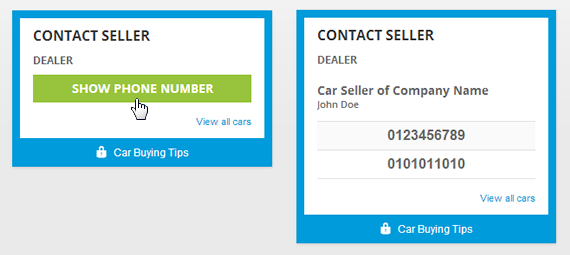 Once you have made an appointment with the seller, you can request to view and test drive the car.
Here are some of our suggestions to ensure you drive home a satisfactory car:
Test drive the car along with your trustworthy mechanic;
Request for the car's service booklet or records and have the car checked by a trusted mechanic;
A reputable dealer should allow you to bring along your preferred mechanic to examine the car at its premises; and
Send the car to PUSPAKOM for a thorough inspection.
Information On Car Loans & Car Purchases
---
Car Purchases
For new car purchases, the car dealer usually manages and prepares the documentation, processing all the paperwork on your behalf.
For used cars, car owners are by regulation required to send their car to PUSPAKOM for a full inspection prior to selling it.
Once the car has been approved by PUSPAKOM, the buyer will have to be present at the bank with the car registration document to apply for the loan.
Prepare the necessary forms for the transfer of vehicle ownership. You can download the forms from the JPJ website. The forms you will need are the following: JPJK3, TM-1, TM-AB (and a photocopy of the buyer and seller's ICs).
Go to JPJ and submit all the forms together with the original car registration card and a copy of the new buyer's insurance cover note.
There is a processing time period for the completion of the transfer of name ownership before you will be able to collect the name-transferred car registration card.
Some car dealers may accept trade-ins with a new purchase from their dealerships. You should explore this option with your dealer to offset against the price of your desired car.
---
Car Loan (Hire Purchase)
Everyone is eligible to apply for a car loan as long as all the conditions below are fulfilled:
You are above 21 years of age at the point of application;
You possess a valid identification document (NRIC or Passport); and
You are able to prove a minimum 3 months of income.
Note: Applicants do not need to have a driving license to apply for a hire purchase loan.
A 10% deposit is commonly required unless you are employed with the government sector or are an undergraduate.
The approved loan amount may be as high as up to 90%, subjected to the bank's approval.
Interest rates may vary depending on loan conditions such as the loan tenure, the loan amount, and other conditions that may fall under the bank's consideration and regulations.
Documents required for the application of a hire purchase loan are the following:
Personal
A copy of valid identification (NRIC: front & back or Passport);
A copy of driver's license front & back (should you be the owner of the vehicle); and
A copy of proof of a minimum of three months of income.
Company
A copy of valid identification (NRIC: front & back or Passport);
A copy of driver's license front & back;
A copy of proof of income; and
A copy of business registration (BR).
Guarantor (if applicable)
A copy of valid identification (NRIC: front & back or passport); and
A copy of proof of a minimum of three months of income.
Note: Additional documents for identification or proof of income may be required by the bank should the documents submitted be deemed insufficient by the bank.
If the applicant is blacklisted by any financial institution, it is advisable to check with the financial institution on the procedures for applying for a loan.
Disclaimer: All information provided on Carlist.my is accurate at the time of publishing and may differ depending on the financial institution.
How Do I Find The Car I Want?
---
If the search results do not return the car of your choice, you can still find your ideal car by following the steps below:
Click on the 'Request for a car' tab located on the right panel of the search panel.
Fill in the details of the car you are looking for and then click 'Submit'.
Seller(s) with car(s) matching your requirements will contact you.
NOTE: All requests for a car are only valid for sixty (60) days from their dates of submission.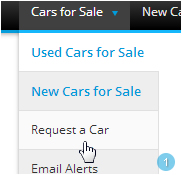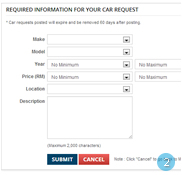 Where can I find my credits in my profile?
---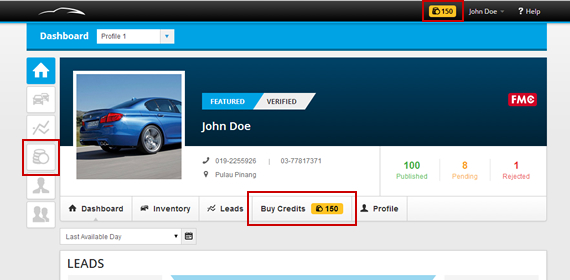 Why do I need credits?
---
On Carlist.my, credits can be used for:
Editing or bumping your advertisement
Converting single free listing into single featured listing.
Edit – Once your advertisement has been published, you will need credits to make changes on the advertisement, such as to change the price, modify the description, add pictures, etc.
Bump – Credits allow you to push your advertisement right to the top ahead of other listings, giving your car more exposure and increasing the chance of your car being sold.
How do I buy credits?
---
There are two methods to purchase credits:
Credit Card – Visa and Master card
Direct Debit – MOLPAY (M2U, CIMB Clicks, etc)
Please refer to the steps below to buy credits.
Sign in to your account.
Click on the Credits button on the navigation bar to access your account information.
Choose your payment method and click 'Buy' on the amount of credits you want.
Read the Terms and Conditions before clicking on 'I Agree'.
Once your payment is successful, you will be redirected to a page which indicates your successful payment. Take note of the ID number for your future reference.

** If your payment is unsuccessful, an error screen will be displayed.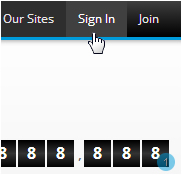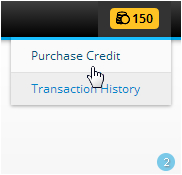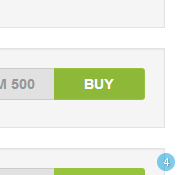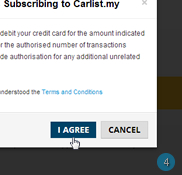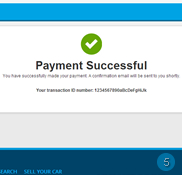 How many credits do I need to pay?
---
The rates differ according to the feature you want:
Account Type
Listing Type
Feature/Product
Edit listing
BUMP listing
Upgrade to Single Featured listing
Unique call
Unique SMS
Unique Live chat
Single Featured Listing
Featured
8 Credits
8 Credits
10 Credits
-
-
-
Subscription (Silver, Gold)
Automatically Featured
8 Credits
8 Credits
-
-
-
-
Pay per Lead
Automatically Featured
-
8 Credits
-
30 Credits
8 Credits
15 Credits
How many credits can I buy and how long are my credits valid for?
---
Carlist.my offers different packages which are detailed below:
| | | |
| --- | --- | --- |
| Price | Credits | Validity |
| RM50 | 50 | 30 days |
| RM100 | 100 | 30 days |
| RM200 | 200 | 30 days |
| RM500 | 525 | 60 days |
| RM1,000 | 1,050 | 60 days |
| >RM1,000 | Please send your request to enquiries@Carlist.my or contact our Hotline @ 1300 30 4227 to purchase credits worth more than RM1,000 | 60 days |
Safety & Security
---
Transaction
All transactions between buyers and sellers are mutual agreements.
Car Buyers
Please do not make any kind of payment before meeting with the seller to view the car. To further protect yourself, please obtain and verify the details of the seller before proceeding with any meeting or transaction.
Have your guard up if a deal sounds too good to be true. Always check on Carlist.my to verify the market rate of the car in question before making a purchase.
Car Sellers
False enquiry scams are also known as buyer scams as they often involve fraudsters posing as buyers feigning interest in the car for sale.
Details vary from scam to scam, but typically fraudsters will pose as interstate or overseas buyers keen to buy the advertised car without showing up in person. They are unlikely to negotiate on price and may even offer to pay more than the asking price.
The scam usually involves the buyer overpaying the seller. The buyer may blame the overpayment on banking errors, or claim that the 'extra' money paid is for 'shipping expenses', 'insurance', 'customs duty' or 'agent's fees'.
The buyer will then ask the seller for a refund of the excess amount, usually through an online money transfer service such as Western Union. The scam then follows: the seller may find that they were provided with a false receipt for funds that were never transferred or that the cheque they were provided with was false, but not before they parted with the 'extra' money and possibly the car on sale too.
If you think you have been in contact with a suspicious seller/buyer, we would like to know about it!
---
Verify Seller Badge
This helps buyers to identify sellers who have provided sufficient information to be verified as genuine sellers on Carlist.my.
---
Trusted Dealers Badge
This badge is awarded to car dealers who have registered with us by supplying their business registration documents, and to those who ensure that all their ads are uploaded and maintained according to Carlist.my's standards.
---
Ads
We strive to keep Carlist.my as a pleasant and friendly online environment for all parties, so here are some points to note for sellers when putting up ads:
Improper language: Foul, obscene, offensive and other inappropriate language or images on member profiles or listings are not allowed;
Sexual material: Nudity, sexually offensive or pornographic material, may they be images, photos, graphics, videos or audio clips, are not allowed;
Flaming content: Content that is defamatory, threatening, harassing, abusive, racist, discriminating or otherwise objectionable is not allowed;
Illegal material: Listings containing illegal material or promoting products and/or services deemed to be illegal or unethical are not allowed;
Copyright & intellectual property: Listings containing materials protected by copyright and intellectual property laws, and yet used without prior permission from the owner(s), are not allowed;
Misleading information: Listings containing false, deceptive, misleading or deceitful materials are not allowed;
Irrelevant categories: Listings placed in inappropriate categories will be removed;
Duplicate listings: Listings considered duplicative or similar to existing ones (i.e. listed by the same user) in the same sub-category are not allowed. Posting the same or similar content repeatedly, or listing a disproportionately large number of similar listings, is not allowed as well.