2015 Mercedes-Benz B-Class Review In Spain: Refreshed, But Back In The Fight?
Reviews Rather quietly, Mercedes-Benz Malaysia rolled in its facelifted 2015 B-Class to the local market, in the form of a B 200.
Yes, the refreshed compact MPV that's part of the A-Class family of cars, is actually available in showrooms, if you didn't already know, or spotted one the streets - don't beat yourself up if you haven't, though, because the changes are actually quite minor from a distance.
No fuss, no grand launch event was held in April when news first surfaced, leaving much of the month's spotlight to its all-new arch-rival, the BMW 2 Series Active Tourer: the Bavarian carmaker's first foray into the FWD and MPV market.
At first glance, both rival five-seat MPVs seem priced completely identically to each other in the Malaysia, but looks closely at the specifications, and you'll note that you'll have to drop a further RM30,000 on the BMW if you want the optional Luxury Line package, which over at the local Benz camp, the similar upgrade is seen as standard kit in the form of its Urban Line package.
Okay, so the Benz B-Class is a bit more kitted out, sure, but what about power? Well, you may also be surprised to know that it's the B 200 that makes more of it, dealing 156hp and 250Nm of torque from its 1.6-litre turbocharged four-cylinder petrol engine, against the 2 AT's 136hp and 220Nm of torque courtesy of its three-cylinder BMW TwinPower engine.
Which is what made things a bit interesting for us, when we were shipped off to Mallorca, Spain, to experience the new, facelifted B-Class for ourselves.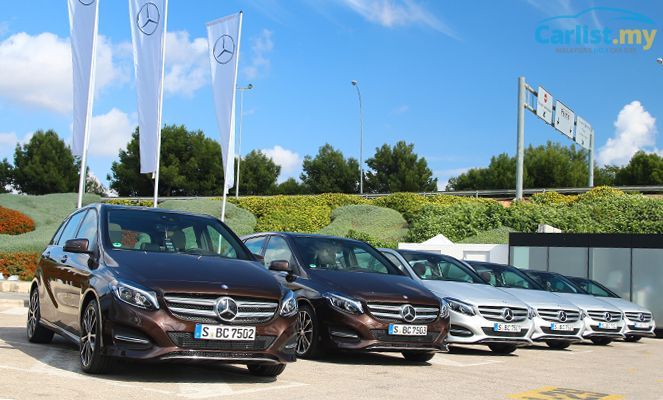 So what's new?
To be honest, not much is new with the facelifted B-Class. Understandably, it has adopted a lot of tricks the newer A-, CLA- and GLA-Class models boast, such as the new-design headlamps, new front bumper, new LED taillights, etc.
Inside, you'll be able to specify an eight-inch free-standing display screen (available as standard in Malaysia), a new instrument panel, and ambient lighting that now offers up to 12 different colours.
Safety has also been improved to the Benz brand's latest capabilities, here with the Collision Prevention Assist Plus and the Attention Assist system upgraded to operate between speeds of 60 to 200km/h.
If these don't answer the BMW 2 Series Active Tourer enough for you, Mercedes-Benz has also introduced an AMG Exclusive line kit, as well as a Night Exclusive package to give the B-Class a sportier exterior look.
There's also a 4MATIC all-wheel drive version of the MPV. Unfortunately, though, both of these items don't make it to Malaysian showrooms (nor does BMW Malaysia offer its 2 AT with an M Sport package or xDrive, mind you – although, we're quite sure you could order them separately if you really wanted to, anyways). That said, you probably wouldn't appreciate the stiffer ride that comes with the AMG Line's suspension specifications.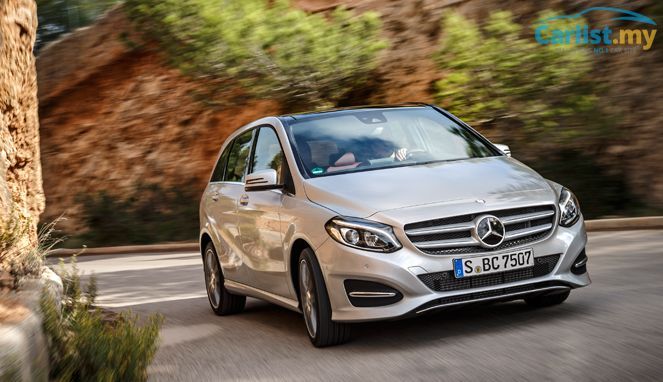 Driving A 2015 Mercedes-Benz B-Class:
What can we say? It's a practical vehicle that knows how to handle its weight around corners (in the realms of compact MPV driving) just as well as an A-Class, bar the taller stature and added weight. And, why wouldn't it? They share common architectures.
PERFORMANCE: Power delivery holds no surprises, as you'd expect. The same 1.6-litre turbo four paired with a seven-speed dual-clutch automatic transmission from the A-Class A 200 variant powers the B 200 here, and so too have all the charms of it followed.
The throttle pedal is forgiving of a careless right foot, floppy, unresponsive, and ensures smooth getaways at all times: a problem for when planned-aggression is applied, unless of course you just plant the throttle and wait for it to come. But after driving it for a few days, you ease into how it was mapped out, and begin to sync your intentions with the car's power delivery.
The 7G-DCT dual-clutch still has lots of room for improvement by our impatient standards, but again, if you aren't always going everywhere in a hurry, there is room to get along with it. In the sort of traffic conditions we have in Malaysia, however, do expect a lot of exchanges between 1st and 2nd gears, which can be frustrating.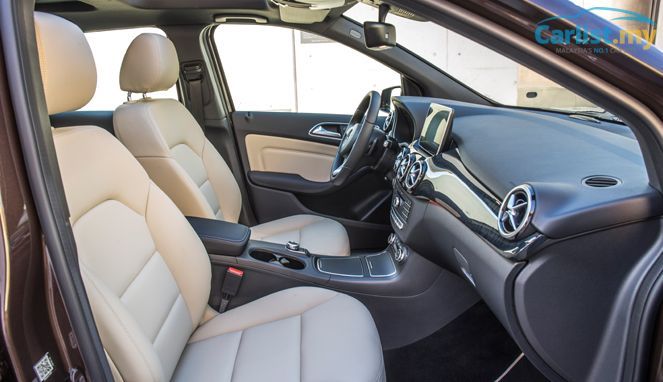 COMFORT: It's always tricky trying to assess the comforts of a car on foreign turf, given that Malaysian roads are as rubbish as they are. Even still, we understand that the spec of springs equipped on the B-Class we had to drive in Spain were similar to what you'd get in the A 200 here in Malaysia – not the hardy A 250 Sport – which we remember isn't as refined as you'd get in the comparable Volkswagen Golf, but one that's surrounded by a wealth of other comfort-aiding allocations that drown out any complaints effortlessly.
The rest of the car offers lots of legroom (front and back) as well as shoulder room for four to sit very, very comfortably. The noise insulation within the cabin is typical Mercedes-Benz stuff, and contributes to the overall refinement.
HANDLING: Everything here is what you'd get on the new A-Class: same Direct Steer system, same suspension fittings, same chassis… it's pretty much the same car, reskinned to offer more space and practicality.
The weight of the steering and the response you get out of it is amongst the best things available in the segment/ market; the chassis feels firm, planted and athletic until of course you overcook the entry of a corner: again, we're re-iterating that you drive this like you would an MPV, not a track-day car.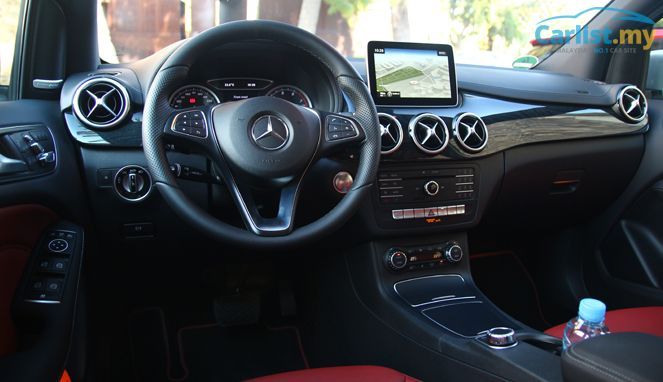 Living With A 2015 Mercedes-Benz B-Class:
It's a bit frustrating having to sit in cars like the current W212 E-Class and those in the A-Class family, and look at that interior. I mean, having seen how far forwards Mercedes-Benz has leaped with its latest-gen of interiors seen in the S-Class and C-Class models, we can't help but wish for it in every other car in their current range.
It's is a pity that models like the facelifted B-, A-, CLA, GLA- and even newer GLE-Class models still have to settle for those 90's-design number pads and matte-black plastic switchgear. The best Benz could do to address this it seems, was to introduce more brushed-aluminium trims where they can.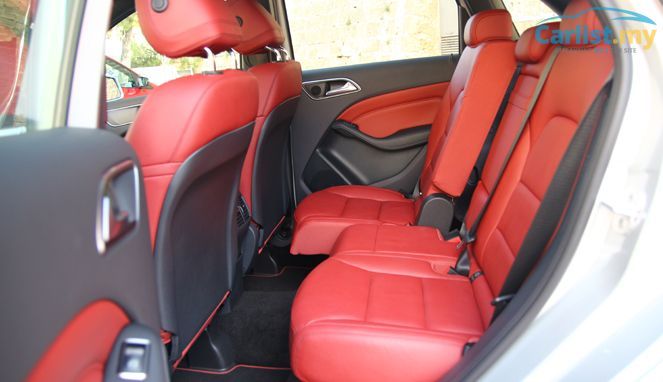 INTERIOR DESIGN: Forgiving the sight of things, it's all still very ergonomic and functional, especially so with the Direct Select type gear shifter: a common sight in most other new Mercedes-Benz vehicles. Some will complain that the positioning of it is all too similar to that of where you'd normally find the stalk for the windshield wipers or turn indicators, but if you spend more than a week in the car, it simply becomes second nature to shift between Park, Reverse, Neutral and Drive that way.
I've personally always maintained a liking for the Direct Select gear system, primarily because it keeps both your hands on or close to the steering wheel at all times. Making three point turns are massively easier to do, and the gained storage compartment created where a traditional gear lever would sit on the centre console is never a disadvantage.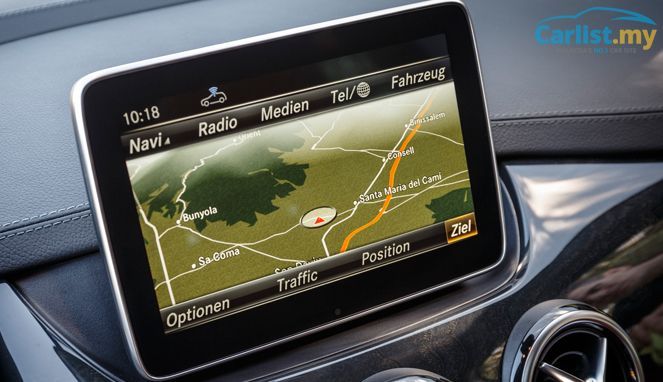 The infotainment system (Audio 20 USB in Malaysia) is upgraded to feature the larger 8.0-inch Media Display screen, which looks great display wise, but the issue of it being plainly difficult and unnatural to navigate hasn't been addressed – okay, this is after all a facelift, but a quick functionality update across the board that would benefit the rest of the range of cars as well (especially the new A-Class) would have been a massive boost in any arguments against BMW's iDrive system.
SURROUNDING VISIBILITY: Getting into a car any bigger than a Perodua Myvi, there's typically some hesitation and uncertainty of what's around you. But that's far from the case with the B-Class. Here, you sit high and confident for a commanding view all around
The A-pillars don't stretch too far forwards so to create the unnecessary front side blind spot (as they do in many MPVs) – they're slim and positioned unobtrusively, just like the D-pillars, which do a similar job of providing you with a large, flat rear windscreen. Sure, the rear-end of the car looks quite dull from the outside because of it, but the lack of compromise to favour design here ensures great outward visibility.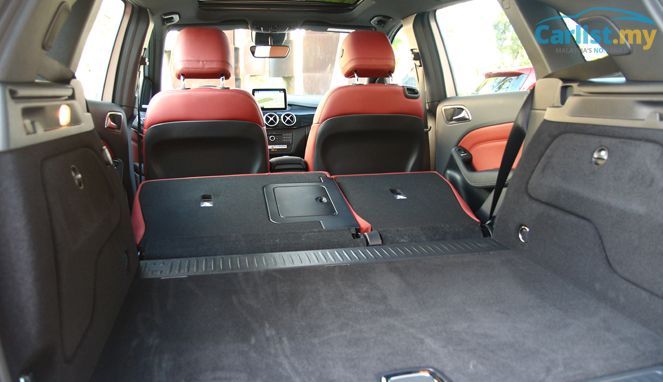 CARGO: Transforming from a people carrier to your furniture transporter is done easily enough, just that you'd have to go around from one side of the car to the other to perform the transformation. With the 60:40 split seats left in their original position, the B-Class offers up to 488 litres of boot space (rear seats slid forwards yields 666 litres), while folding them opens up a maximum 1,545 litres.

VS. The BMW 2 Series Active Tourer:
Overall, driving the new B-Class may not be as invigorating as its direct nemesis, the 2 AT, would be: the BMW MPV is hands down miles ahead in the game of making FWD vehicles twist and turn just like their MINIs do.
They have, after all, had three generations of the MINI brand under their stewardship to garner experience – we remember also that the pre-UKL platform MINIs were a bit too twitchy, and too hardcore for comfy, everyday use. Their third attempt, we've found, nails a sweet spot of comfort, interior spaciousness and handling, which they've since exploited to form the basis of the BMW Group's 2 AT, 2 GT, and X1 SUV. We hear that similarly to the Benz range, they'll also be turning their 1 Series line-up into FWDs. Have a read of Hans Cheong's goodbye to the RWD legend when you can.
That said, I can't and won't guarantee you of a better package from the 2 AT: it's born a great driver's car that has now been made to do MPV-ing. The B-Class was born to be a compact MPV first, and is only now adopting its sporting credentials. It depends on your demands, actually. Although, mine lean towards the B-Class potentially being a lot more value for money to begin with.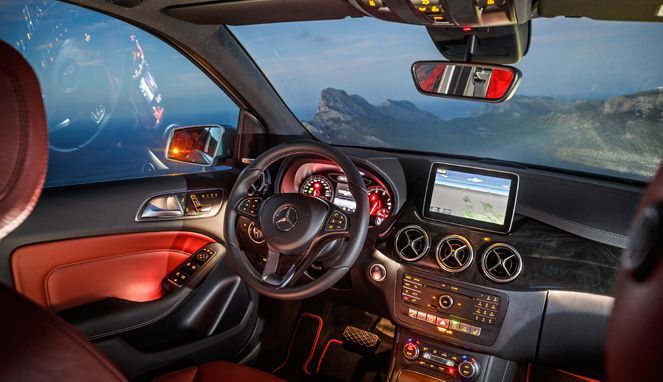 Buyer's Guide:
Haven't spent a fair amount of time in the car, it's clear to see that most of the changes brought on by the facelift are cosmetic. But that said, from a local perspective where the A-Class is in high-demand in Malaysia, I'd happily switch my sights towards the also fully-imported B-Class B 200's added practicality over facing a six to eight-month waiting period of an A 200 or CLA 200 – mind you, the B-Class's benefits include having more legroom than the E-Class, even (rear seats slid all the way backwards, Benz's actual claim).
If a German premium compact MPV was what my mind was set on, there are basically just a choice of two things right now: this, or the BMW 2 Series Active Tourer.
As mentioned, the 2 AT does in a lot of ways look like the better prospect: it's simply newer, a better driver, and marketed well as a much cooler option to have. But most importantly, the B-Class is a lot cheaper, all things considred: remember that you'd have to spec-up the 2 AT by about RM30k to match what you get as standard in the B 200.
If you absolutely needed the athleticism of an exterior kit, don't forget that you could of course specify one as per a special order via Mercedes-Benz Malaysia, which would turn your practical, five-seater family MPV to look like this red road gangster.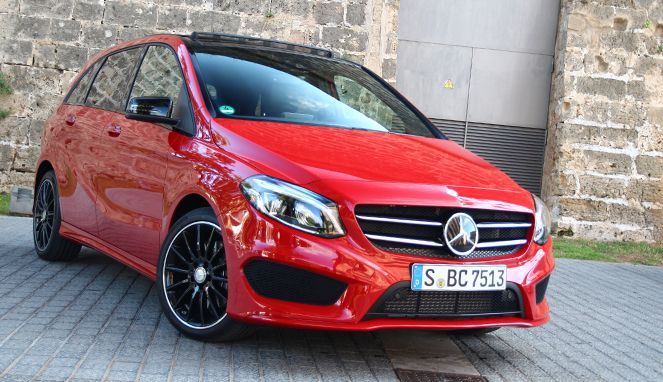 ---
---
---
Comments