2015 Mercedes-Benz C 250 (W205) Exclusive Full Review: The Bells & Whistles Are Standard
Reviews We don't have to tell you that this one's a bit special, do we? While the S-Class stands as Stuttgart's flagship, it's always been the entry-level to the brand, the C-Class, which balanced the bank books for Mercedes-Benz. The case is no different in Malaysia, nor is it any different for the company's arch nemesis, BMW, and its 3 Series.
But the term "entry" has somewhat fallen off the list of typical C-Class definitions recently, given the latest horde of new compact cars that offer even lower entry price points to calling a three-pointed star your own. The A-, GLA- and CLA-Class have all the right boxes checked for you to more easily boast the privilege – perceived or not – of owning a "Benz".
Where purpose is concerned, the previous generation C-Class (W204) almost had itself cornered by the new trio of compact models, forcing designers and engineers to break the mould for the W205 in an attempt to elevate the model further upwards. And in doing so, you have what we have here today: a vehicle that by presence alone has set itself miles ahead of its A-Class-based juniors, and in the process, appears to have even stepped way ahead of what its immediate rivals have to offer.
KEY SPECS: 2014 Mercedes-Benz C-Class C 250 Exclusive (W205) (CBU)
Price: RM314,888 (without insurance)
Engine: 2.0-litre turbocharged four-cylinder (M274)
Transmission: 7G-TRONIC PLUS seven-speed torque converter automatic
Power: 211hp @ 5,500rpm
Torque: 350Nm @ 1,200 to 4,000rpm
0-100km/h: 6.6 seconds
Top Speed: 250km/h (electronically limited)
Observed fuel consumption: 7.5 to 10.5-litres/100km (claimed: 5.6-litres/100km)
Buyer's Guide:
Amongst the popular trio of German sedans in the segment (3 Series, A4, C-Class), it's undeniable that Mercedes-Benz Malaysia has in its hands on the winning formula at the moment, largely a courtesy of being the latest and the greatest. That said, you've also got to appreciate how much the company has put into making this car look beautiful. Apart from all its technological and mechanical assessments, that interior alone would be enough to escalate the C-Class to a whole other level.
To drive, it's a clear case of refinement above athleticism. You'd still be better off setting a lap time to the office and back in BMW's F30, but sitting back and lounging to your tunes day-to-day over a supple ride is done far better in the new C-Class than in any other of its competitors. Mind you, that doesn't imply for one second that this car isn't quick, nor that it lacks anything in the 'dynamic handling' department.
In short, there's no real argument against buying a C-Class – apart from what your finances and personal preference permits. However, only fully-imported (CBU from South Africa) units are available, and it makes sense that prices will tumble when locally-assembled models (CKD) start to roll out of MBM's production facility in Pekan, Pahang. So if RM314,888 is too much for you now, you may want to hang around until official prices of CKD units are announced – we expect them to come before Q2.
Driving a 2014 Mercedes-Benz C 250 Exclusive:
What we appreciated most about driving the new C-Class is how the experience so seamlessly fits like a glove. It isn't primed for turning heads with performance, nor does it try too hard to do so. The all-new C-Class feels perfectly comfortable about where it stands in the market, and yes, it is an envied distinction that ought to reflect its owner.
PERFORMANCE: Against the benchmark 3 Series, the C-Class does feel a lot gentler off the line, with very domesticated throttle response. Planting the throttle to the floor, and there isn't so much of a surge of power as you would get from a BMW, rather an S-Class' swell to speed.
That said, you do have an 'Agility' control switch, which lets you scroll between various driving modes (Comfort, ECO, Normal, Sport, Sport+) according to how you want to utilise the 211hp and 350Nm of torque on tap. In full-on Sport+, a 6.6-second century sprint is promised, and while matching sensations aren't evident (largely because how comfortable the ride is), the figures are live-up to in the real world.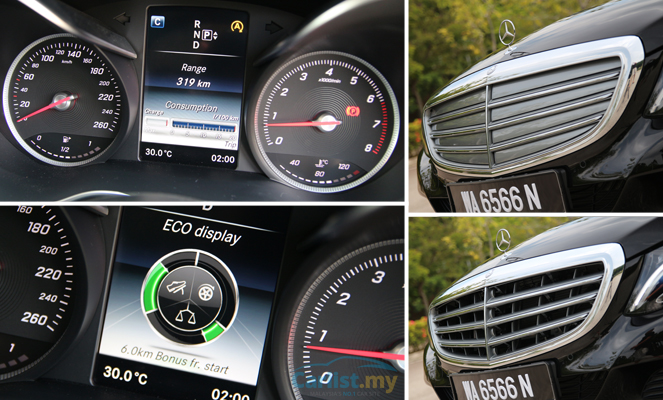 ECONOMY: Mercedes-Benz Malaysia lists a combined 5.6-litres/100km, but as it goes with any manufacturer's claims, you're to expect much higher real-world consumption. Keep the car in full ECO mode (reduces A/C output, tames throttle, shifts etc.), and you can expect efficiency figure readouts within the 7.5 to 9.5-litres/100km range. Abuse the throttle with some frisky driving, and you'll easily break the 11.0-litres/100km mark.
Not to forget, but the C-Class is also a very slippery cutting the wind with its body boasting a Cd value of 0.24: these figures are in conjunction with the active radiator grille shutter which can close itself up when that much cooling isn't necessary.
RIDE COMFORT: No surprises here, because all that you'd come to expect of a baby S-Class is duly delivered. Taking anything our poorly-built Malaysian roads can throw at it and then some, the only one complaint of the car's ride we received was from this writer's mom who didn't quite appreciate how firm the seats were at the back, and the resulting road feedback – she stands firm on the latest-gen Honda Accord being the class above the rest, and while we agree, we don't think the Accord and the C-Class were designed for the same job. Mind you, the C 250 Elegance here wears a more comfort-minded suspension system, while the C 200 features a sportier kit.
HANDLING: Undoubtedly, the BMW equivalent, the F30 3 Series' position as the industry's benchmark hasn't wavered (in the handling department) with the arrival of the new C. Don't get us wrong: the W 205 is sporty and drives well enough to appease any of your sudden urges to drive quickly. It just doesn't feel as poised as the BMW doing it – and to be fair, Stuttgart does offer you a balance equally favourable of comfort. It's just the expected trade off.
Steering is again very precise and refined for weight and response, courtesy of the company's Direct Steer system which is also applied in its other prime models: E- and S-Class, most notably.
OVERALL: The W 205 can 'feel' very aggressive, and behaves the same when you want it to. Flick the Agility Select switch to Sports mode, and bang, you're off. Likewise, in Comfort mode, it scores equally well, relieving us of all notice from our – let's be honest – horrendous Malaysian road quality. It doesn't handle as well as the BMW equivalent can, but in all fairness, it wasn't made purely to do that.
Living with a 2014 Mercedes-Benz C 250 Exclusive:
And here, is where we believed the competition loses ground. But let's get some of the setbacks out of the way first. Being a C-Class, interior spaciousness was always going to be a bit of an issue if your standards are based on what Japanese carmakers offer at the moment. And if you plan on using this as a means of transporting your IKEA furniture, you will be outdone, for speed and capacity, by a Honda Accord. Moving along…
EXTERIOR: Admittedly, this writer's a huge fan of the previous C-Class W204's looks, and thinks that it's still a very relevant and timely design – despite the fact that it's effectively been in service for more than seven years now (2007). The W205 has had its criticisms, and is styled very differently to what was before. Does it look bad? We don't think so at all. Photos really don't do this car justice, and yes, you'll have to let it grow on you for a day or two.
ACTIVE SHUTTER GRILLE: The 'regal' design here in the C 250 Exclusive is adorned with a unique active front grille. From our gallery, you'll be able to see what it looks like closed and opened. The shutter slides open only when cooling is necessary, but shuts close otherwise to aid aerodynamics, improving fuel efficiency on highways while coasting and such.
INTERIOR: On the bright side, it does have one of the prettiest interiors you can find in the segment today. The glossed wood-grain centre console is surreal to the touch, and matched by more of the material on the door cards. The brushed aluminium is perfect accompaniment, and sets off the overall lavishness here. Finishing really is in a class of its own.
ERGONOMICS: Functionally, it all works to seamlessly integrate itself to accommodating your natural driving motions. Everything from the seat's design to where the arm rests are placed, to the positioning of the air-conditioning controls and entertainment have been calculated well.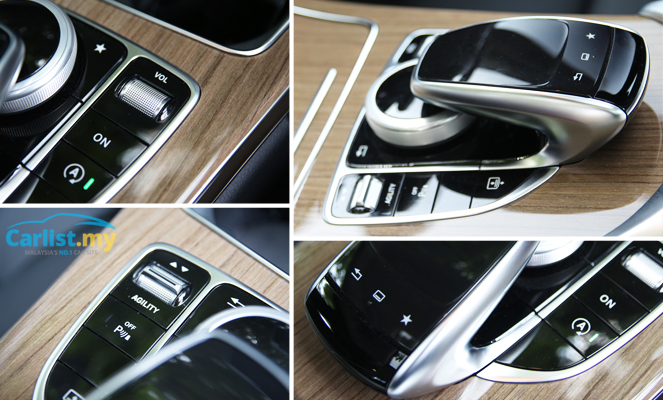 TOUCHPAD: If we had one bone to pick, it's with the touchpad on the center console. While pretty in design and functionally spectacular (you've really got to see this thing in action), we did find it located a bit too close to our body (waist) than we liked. Ideally, you'd like it to be a bit further away so you can stretch your arms out a bit more into a natural position to rest on it, but being where it is – dead middle of the center console – makes it quite an unnatural place to leave your wrist while leisure driving.
Otherwise, the touchpad itself is a classy development by Mercedes-Benz, seen first on the flagship S-Class, of course. The sculpted surface above is as much of a touch-sensitive surface as your average modern mobile phone (swipe, pinch, etc.). Beneath, a rotary dial that you can even push down, left and right. On either side of the dial and even on the touchpad, there are more controls, including toggling the front parking sensors on/off, the Agility Select control switch, and another for the volume which on top of rolling up/down for volume, can even be pushed down to mute. You really can't ask for more control of your car's infotainment and performance settings.
SPACE: The C-Class doesn't have the most spaciousness a cabin a vehicle this size can be known for. Its purpose is at most designed to fit four, relatively comfortably – which it does, even for this six-foot writer sat at the back. Rear passengers may also appreciate the added headroom and legroom over the previous-gen model, but have to inevitably deal with a high transmission tunnel running through the floor which makes this car most appropriate as a four-seater.
The boot opening has been widened against what was available on the previous model, and is more capable of swallowing your cargo, where a good 480 litres of space is available immediately (5 litres more than before), with the option of more cargo area courtesy of the 40:20:40 split-folding rear seats.
Competing against the 2014 Mercedes-Benz C-Class:
Standing against the C-Class, you primarily have Munich's mighty F30 3 Series, where in Malaysia, you'd comparatively look at the BMW 328i, which retails from RM293,800. Rather than argue which is actually better, we'll leave it to say that both serve slightly different purposes. The BMW is the superior sports vehicle, while the Benz is far ahead in terms of luxury.
Value for money? Well, RM293,800 (328i Luxury Line) isn't very far away from the RM315,888 asked of the C 250 Exclusive, and on paper at least, it's the Mercedes-Benz that appears to offer more bang for your buck: more equipment, more spec, newer car overall.
But where we think the Merc will nail it further, is with its coming price update. While the 328i is already a locally-assembled unit (CKD), the C 250 you see here is a fully-imported model. In a matter of months, Mercedes-Benz Malaysia will officially launch its CKD run of cars, which we imagine will bring the C 250 and C 200's price tag lower.
Verdict: Here's what we think…
The all-new C-Class is a great car, does a lot of fantastic things, and promises a lot of value for money. While its exterior design may not appeal to most at first, it does grow on you, and we feel will stand the test of time – much like how the W 204 has managed to remain contemporary to this day.
The BMW 328i 3 Series and the Audi A4 2.0 TFSI quattro are worthy competitors for your hard-earned dollars, both offering varying levels of specifications, performance etc. But this writer would personally rather spend that dough on a C 250 Exclusive (or AMG Line), for its unmatched value for money, all-round capabilities and that surreal interior design.
---
---
---
---
Comments