2015 Mercedes-Benz GLA 250 4MATIC Full Review: The A-Class You've Always Wanted?
Reviews While some see it as a sort of "cheapening" of the brand, by making new products more accessible to buyers with lower prices, it's undeniable that Mercedes-Benz continues to reap the rewards of what appears to be a stroke of genius.
Globally, it's needless to say how well its new range of compact cars has been getting on, and the scene is replicated relatively well here in Malaysia too.
Contributing massively to their record 17% increase in passenger car sales for 2014 (year-on-year), the brand's compact cars alone tallied a combined sales figure of2,322 units out of the 9,419 sold in total (itself, a near 100% increase against 2013, but then again, the A-Class had only just been introduced then).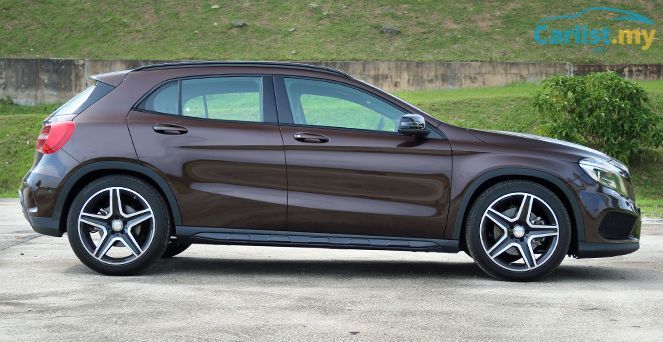 Buyer's Guide:
A rampant approach in 2014 saw Mercedes-Benz Malaysia jump at the chance to introduce the fourth of its compact models late in the year, the GLA-Class, with starting prices that even surprised the lot of us who expected the compact SUV to be priced far higher than the four-door coupe CLA-Class (RM236k).
All things considered, RM237k (RM239k when it was first launched, pre-GST) appears to be a fair price to ask for the base GLA-Class (GLA 200), but if you don't mind dropping a few extra Ringgits, a much more powerful and better equipped GLA 250 begs your attention at RM30k more. And that, is the model we have in review today. Here's a brief overview:
2015 Mercedes-Benz GLA 250 KEY SPECS:
Price: RM266,888
Engine: 2.0-litre twin-scroll turbocharged
Transmission: 7G-DCT dual-clutch seven-speed automatic
Horsepower: 211hp
Torque: 350Nm
0-100km/h: 7.1 seconds (230km/h top speed)
Consumption: 8.5 – 10.5-litres/100km (observed average)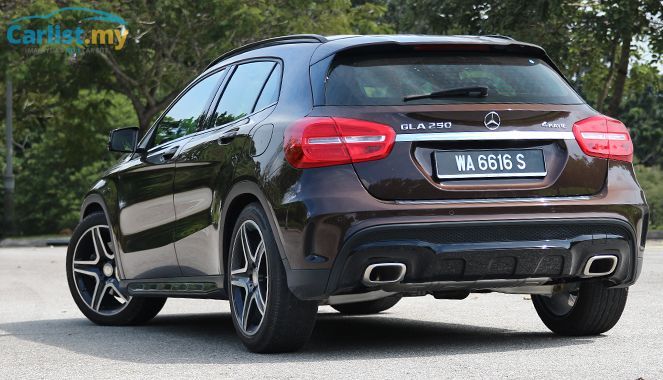 Driving a 2015 Mercedes-Benz GLA 250:
As expected, few surprises were in store for us with the GLA 250: it carries over a familiar powertrain, applied across the brand's compact car range, where in Malaysia, you'll see the same in the A-Class A 250. For some reason or the other, Mercedes-Benz Malaysia (MBM) doesn't offer a CLA-Class in a CLA 250 guise: we assume it's to do with high costs).
PERFORMANCE: Either way, having the option of a GLA with a properly-tuned 2.0-litre turbocharged four-pot which makes 211hp and 350Nm is never a bad thing, nor does it leaving you wanting more like the 1.6-litre turbo-four in the A 200 or CLA 200. Comparably, BMW's hottest X1 (sDrive 20i) delivers only 184hp and 270Nm of torque – and despite BMW typically understating its models' performance on paper, there's still a considerably lower amount of torque (-70Nm).
As before, the Merc's throttle pedal will be asleep for the most part of your driving. Flicking the car to Sport mode does improve response ever so slightly, but doesn't jolt the car to action as much as it does in a comparable BMW or Volkswagen. Still, that doesn't mean that the power isn't there.
Stamp the throttle and there's an insensible surge of acceleration for daily use, although, it is somewhat noticeable that the 1,505kg SUV gets off the line with less tenacity than the lighter and more agile A 250.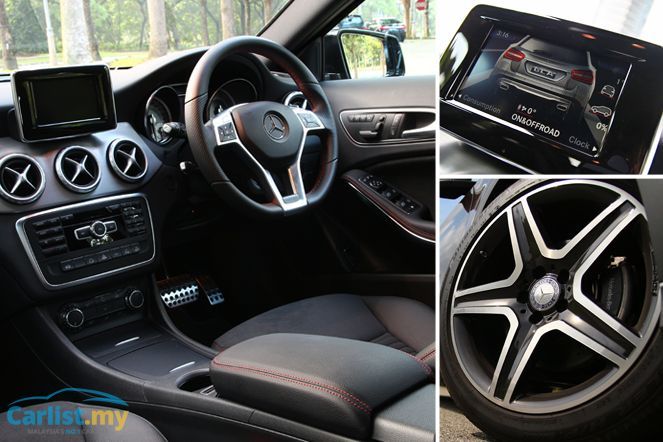 RIDE & HANDLING: Having established that the same powertrain is carried over from the A 250, thankfully, the suspension isn't – which means that despite the go-faster aspirations of the car, the trade-off isn't a hard and uncomfortable, track-minded ride quality. The GLA 250 still benefits from a sporty arrangement, but one that doesn't nearly hammer your spine like the AMG-tuned one does in the A 250.
Tussle with a few consecutive corners and the larger body of the GLA tends to lean too much into a corner than we'd appreciate when driving briskly – but it's all in good comfort, nonetheless. Fortunately, what the seats do for your body's positioning is fantastic, keeping you central and tucked in throughout any unsettled paths.
Being an SUV, MBM has seen fit to include a special Off-Road Package – standard kit for the GLA 250, and only available to it given the equipped 4MATIC all-wheel drive system. What you get from the package includes a Downhill Speed Regulation (DSR) feature, which moderates how quickly you descend a hill, slope, etc. At a speed determined by yourself, a push of a button will keep the car crawling downwards, managing transmission shifts, acceleration, braking, ESP and ABS. Great party trick to show your friends, but how much you'll actually use it in reality is, however, another matter.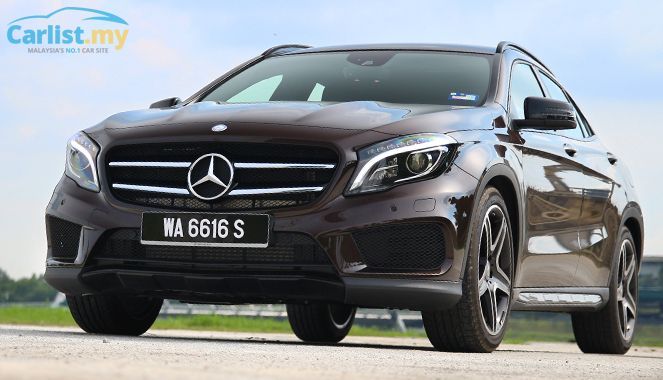 We say the above because if you do plan on taking the GLA-Class off the road, you'd be much better off in the GLA 200 purely because of its higher ground clearance. Put a GLA 250 next to your ordinary A-Class hatchback and you'll see that they're nearly on par for height and ground clearance – not that anyone would really take this beauty too far off tarmac, even with the compact SUV clad in shiny armour on its bumpers. Where the compact SUV comes good against its hatchback counterpart is with space. Something we'll discuss in a bit.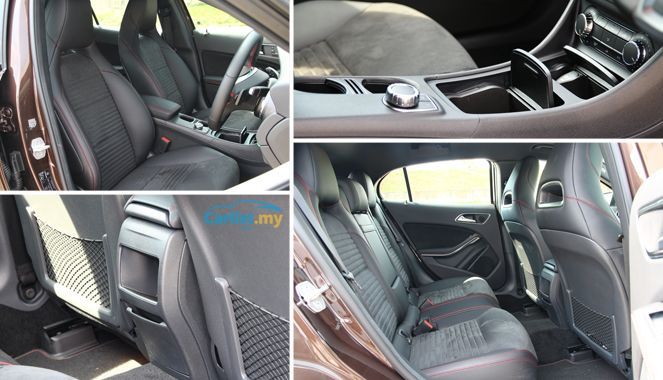 Living with a 2015 Mercedes-Benz GLA 250:
As mentioned, the GLA-Class flexes its muscles most when it comes to what we call the "living" aspects of the car. Pinned with a larger body than the A-Class, despite the common architecture, there's naturally more space to move around in the GLA-Class – especially in the rear, where this six-foot writer managed to sit cosily enough for a solid two hours on one trip. Rear air-conditioning vents would have made it better, though.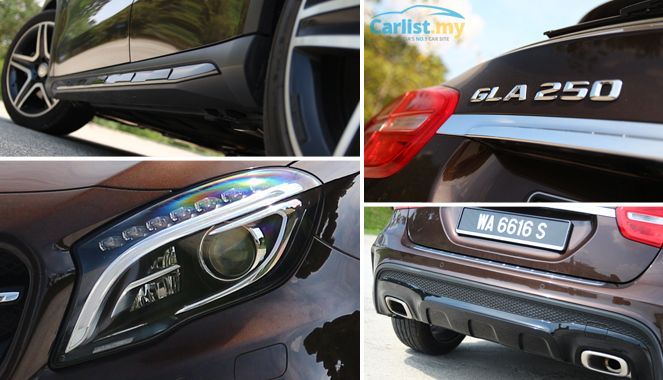 EXTERIOR STYLING: Outside, the GLA 250 is bestowed 19-inch AMG alloy wheels with run-flat rubbers, an AMG Line Package and a Night Package as standard, and that's never a bad thing: twin-pipe exhausts, chrome styling elements, AMG body styling and all.
To further drive the athletic ambitions of the car, you'll notice that this GLA rides nearly as low to the ground as any old A-Class – side by side, good luck to you trying telling them apart, if you didn't know any better.
Matters are different on the GLA 200, though, where since its launch on the standard suspension, the second batch of vehicles were sold by MBM with a 30mm increase in ground clearance – presumably to better pull-off the 'SUV-ness' about the car.
INTERIOR DESIGN: The space inside itself is as is lavish as its counterparts, but being a GLA 250, standard features are very impressive, and a clear stand-out against what the competition has to offer: Alcantara-leather upholstery, brushed aluminium and metallic trims, AMG interior package and more. This is an undeniably well-equipped Benz, so we'll spare you the finer, more elaborate details and just say that it's all very clean, elegant and functional.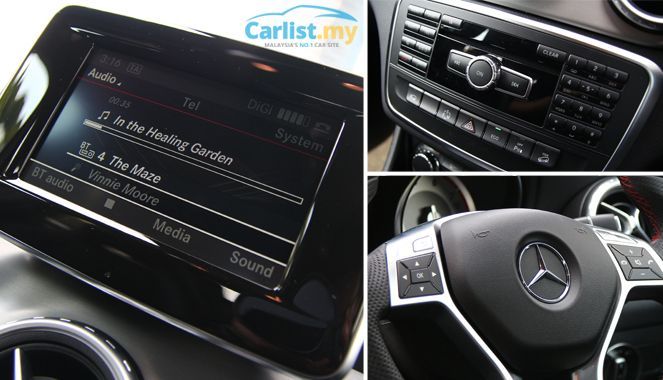 INFOTAINMENT: Generous, is what we'd call the brand, referring to how they've equipped the GLA 250. The infotainment is still courtesy of the Audio 20 CD system as you'd get in any of the other compact models, and yes, the outlandish free-standing display screen hasn't been ousted, yet, for something a little more premium-looking (hopefully the coming A-Class facelift sorts this).
Its interface is a bit of a challenge to navigate and work out, even for this writer after having many chances in the past to fiddle and use it – pairing our mobile phone to the system via Bluetooth is a considerably challenging task if you haven't previously been a Mercedes-Benz owner.
CARGO: With 412 litres of space in the boot and a total 1,235 litres with the rear seats folded, the GLA-Class has the largest cargo potential amongst the group of compact Benz models in Malaysia – at least until the CLA-Class Shooting Brake gets here (if it ever does).
And, on top of the Load Compartment Package that you get (height-adjustable load compartment floor, 12 volt socket and a folding box under the load compartment floor), there's also an Easy-Pack Tailgate feature included as standard that lets you open and close the boot lid at the touch of a button – not even the current W 205 C-Class in Malaysia gets that!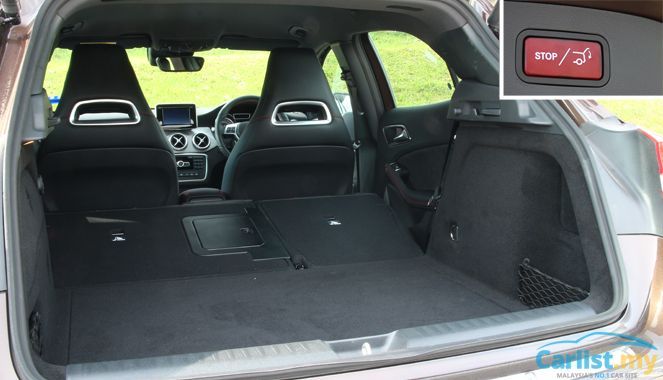 However, while it makes the GLA 250 a lot more usable when it comes time to load up your IKEA returns, it isn't the largest amount of space you could get from a premium compact SUV. For the pedantic cargo enthusiast, the BMW X1 will give you 420 litres just like that, and a total 1,350 litres with the seats folded. Is that enough to swoon you away from the GLA? Far from it. The Merc's price, standard equipment and quality are more than a fair trade-off to losing 115 litres of cargo room.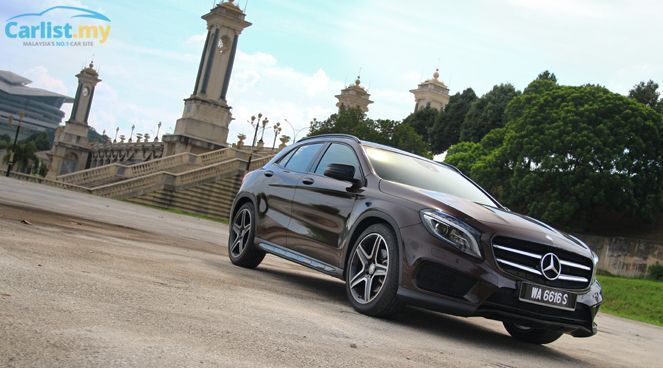 Verdict: Should you buy one?
If you've got your mind set on a premium, German compact SUV, or if the waiting period for an A-Class is just too long for your liking, the GLA-Class is very worthy of your indulgence.
Don't be thrown off by the asking RM266,888 over the BMW X1's RM239k and the Audi Q3's RM253k, because both those cars in their comparable variants (X1 sDrive20i, Q3 2.0 TFSI quattro) don't feature as much standard specifications nor sufficient power to match the GLA 250 4MATIC's entire package. Also, the BMW X1 is the only locally-assembled model here, and the only one with front--wheel drive, whereas the GLA 250 and the Audi Q3 are all-wheel drive models.
If this were a game of performance, we're quite certain the BMW would put up a better fight, but we'll leave that argument for when the A 250 takes on the BMW 125i. Here, where compact SUVs are concerned, where comfort, practicality and value for money takes the cake, it looks like a hands-down win for the 2015 Mercedes-Benz GLA 250 4MATIC.
---
---
---
---
Comments