2015 Nissan Almera Facelift 1.5L VL Review - Can A Facelift Lift its Fortunes?
Reviews Though we all have that dream car that we tell ourselves that we will someday own at some point in our lives, no other car bears a higher significance to a person's life than their first. In the mid-1960s the car that was credited with giving Japan's growing middle class their first automotive experience was the original Nissan B10 Sunny. In the early-1980s, the B10's descendent, the Nissan B11 Sunny became the first car for many Malaysians. And now in the decade of 2010s, the Nissan Almera repeated that feat by offering many Malaysians their first taste of non-national car ownership.
When the Almera first made its debut here in 2012, its attractive pricing, huge cabin space, and comfy ride, certainly grabbed the attention of plenty of customers who were either looking for their first car, or looking to upgrade themselves to a non-national make.
Earlier this year the Almera was given a facelift, which saw the Almera getting huge new halogen headlights, piano black dashboard trim on the inside, and new rims. Though the changes were mostly cosmetic with its specifications retained.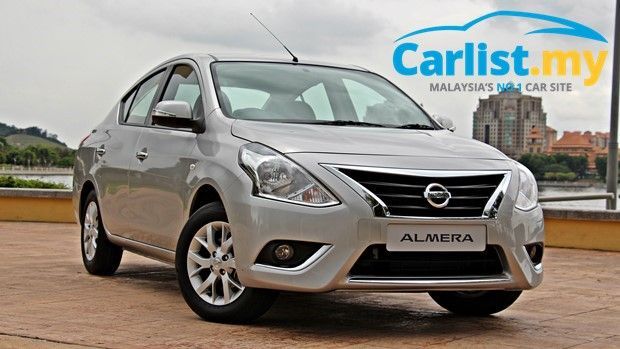 2015 Nissan Almera Facelift 1.5L VL Specifications
Price: RM79,817 OTR with insurance
Engine: 1,498cc 4-cylinder HR15DE
Power: 102hp @ 6,000rpm
Torque: 139Nm @ 4,000rpm
Transmission: 4-speed automatic, front-wheel drive
Safety: Dual front airbags, ABS with EBD and Brake Assist, ISOFIX child seat mounting points
Origin: Locally assembled at ETCM plant in Serendah
Exterior
While the Almera wasn't exactly a looker when it first came out three years ago, the facelift's changes hasn't elevated it looks in an entirely positive manner either. Instead its oversized headlights, which looked like it was meant to be fitted to a car two sizes larger, coupled to its narrow and pinched grille, will leave even more opinions divided.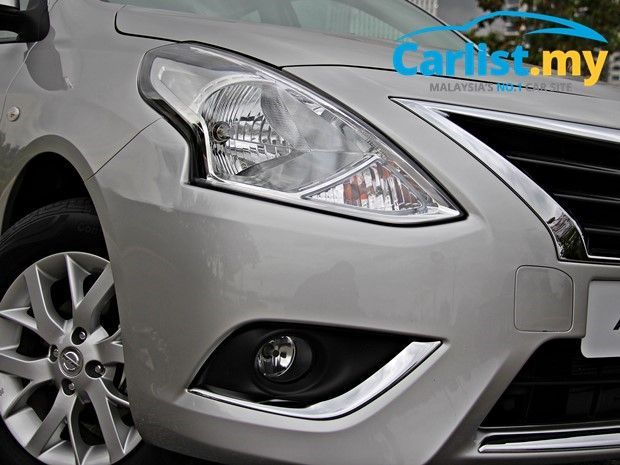 Love it or hate, at least you can say that the facelift has added a little more personality and flavour over the pre-facelift's otherwise bland and gormless front expression. Other than the changes done to its face, Nissan has left the rest of the Almera's elongated body and taillights untouched. Not that looks were the main attraction with the Almera in the first place, and it wouldn't be surprising if the recent changes were enough to reverse the Almera's fortunes.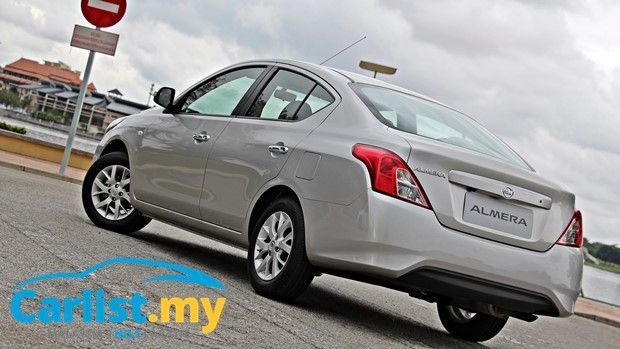 Interior
Upgrades to the interior on the other hand has been a little more successful. The addition of gloss black dashboard trim and Nissan's sleek triangular steering wheel that now come fitted with steering mounted controls, does elevate the ambience inside by a notch. The test unit seen here is specified with the optional RM6,128 Navi DVD package, which comes with iPod, USB, and Bluetooth connectivity, as well as a reverse camera functionality. With the infotainment system installed, the Almera comes with a USB/AUX interface port that is conveniently located on storage panel above the glovebox.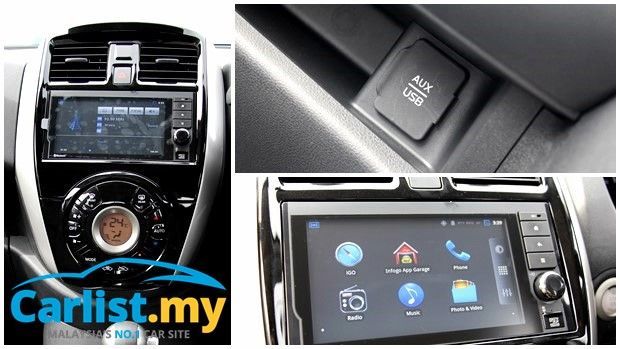 Otherwise the Almera's interior is pretty much the same as before. It is solidly built, simple, straightforward, and spacious. The rotary dial air-conditioning controller takes some getting used to, and there are just enough usable storage bins in front to store your personal belongings, with two front cup holders, a small bin in the centre console, and additional storage space in the front door pockets.
Around the back there is plenty of rear legroom for rear seat occupants to stretch their legs and lounge in comfort, with soft-cosseting seats. That being said, storage spaces are limited to two cup holders on the centre console and two more cup holders incorporated into the fold-down middle armrest, as there are strangely no storage bins moulded into the rear door panels.
How does it drive?
The best way to describe the Almera's driving character is competent but on the side of being dull. While the Almera's road holding characteristics is good, its steering is slow in response and yet feels inert with an overly assisted feel to it. Its steady ride and cushy suspension makes the Almera more suited to munching highway distances in relative comfort.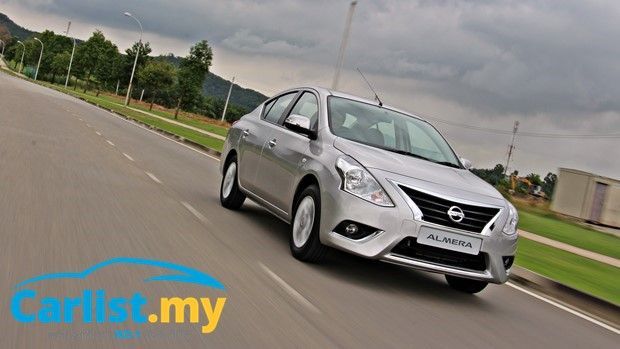 As for its powertrain Nissan had made sure that the Almera's 1.5-litre 4-cylinder engine is better suited for economical driving, with a smooth-running nature and relatively generous amounts of low-end torque in reserve. The 4-speed automatic too shifts between the gears smoothly and it is well geared for higher cruising speeds and better fuel efficiency rather than delivering quick acceleration off the line.
How comfortable is it?
From the moment we got behind the wheel of the Almera, it becomes clear that the Almera has been imbued with a comfort-oriented nature. With its soft sprung suspension, the Almera glides with relative ease over bumps, while its plush seats offer plenty of cushioning, and its long wheelbase lends it a settled ride quality.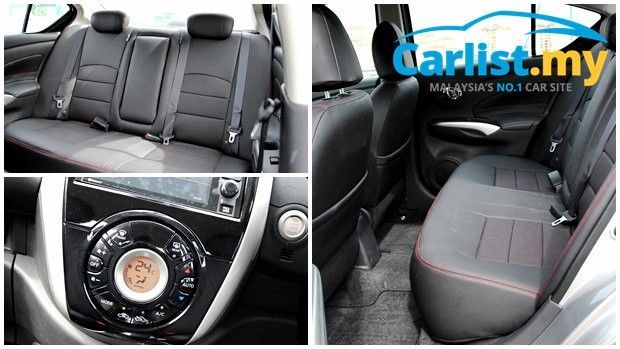 To add to its comfy ride, the Almera is properly insulated all around, which does a better than average job in supressing exterior wind and tyre noise for its class of car. Whereas thanks to the engine's torquey nature, the powertrain is smooth and refined so long as you don't push the engine hard.
How economical is it?
On our drive through city stop-go traffic, long highway jaunts at speeds averaging in the 100km/h region, the Almera managed to return a fuel consumption figure of 8.2L/100km, which is around the average figure you would expect coming from a car of its class.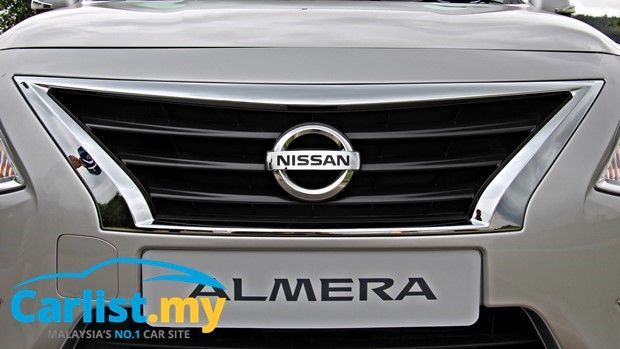 As for service intervals, Nissan has given the Almera a service interval of 10,000km or every six months. According to figures quoted from Tan Chong Ekspres Auto Servis, the total cost for a 5-year/100,000km ownership of an automatic-equipped Almera, in accordance to its preventive maintenance schedule stands at RM3,882. This cost is not inclusive of any additional service or part replacements that is not listed in their preventive maintenance schedule.
Safety Features
When the Almera first appeared on our shores, its ensemble of safety features of dual airbags, ABS with EBD and brake assist, and ISOFIX child seat anchor points was considered to be the industry standard, back in 2012. Those goalposts however has since been shifted, and rather unfortunately the absence of stability control with the recent facelift for a sub-RM80,000 car of its class does put a dent in its appeal today.
Conclusion
If you are one looking for excitement, speed, and youthful enthusiasm, you won't find it in the Almera. Its smooth drivetrain, ride comfort, and soft seats, along with its steady handling traits and ample cabin space, makes it more suited at doing the daily long distance commute. Rather than seeking to excite drivers, the Almera is best at taking the edge and stress off your daily commute, which is what most people look for in their everyday cars.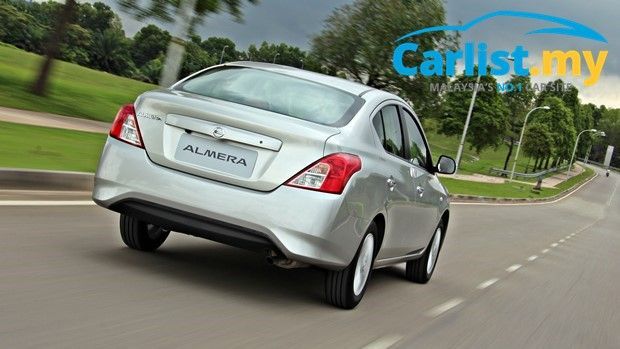 Though the changes are mostly cosmetic, the Almera facelift still relies on its attractive price as a tempting proposition just as it did when it first debut three years ago. With prices for the base model starting from RM66,835 the Almera serves as an attractive entry point into a new non-national car ownership. Though that holds true today as it did in 2012, the market of 2015 has changed, with more options available that offer nearly the same amount of practicality and better equipment specification than the Almera, for a little bit extra. You might also be interested in the Honda City - it's costs a little bit more but the extras are worth every bit.
---
---
---
---
Comments