2015 Porsche 911 GT3 RS: 4.0-Litre, 500 HP Track Machine Comes To Malaysia In Q4 2015
Buying Guide The track day weapon that is the new 2016 Porsche 911 GT3 RS has been introduced at the 2015 Geneva Motor Show, now in the 991 generation guise. So what's new on the lightweight hard-core version of the ultimate 911?
As the name suggests, the 911 GT3 RS uses a standard GT3 as a reference point. From there, it is tweaked, modified and fettled with and it all starts with the engine at the rear. A newly developed 4.0-litre naturally-aspirated flat-six sits in place of what was a smaller 3.8-litre mill. Power output stands at 500 hp and 460 Nm torque. That is an increase of 25 hp and 20 Nm over a standard GT3.
However, a PDK seven-speed dual-clutch transmission is paired to the engine. If you were hoping for a manual transmission as found on the recently introduced Cayman GT4, sorry.
That in no way makes it slow. 0-100 km/h is met in just 3.3 seconds, 200 km/h 7.6 seconds later and flat out, it'll hit a top speed of 310 km/h.
If that isn't enough, the 911 GT3 RS also undergoes a diet by using lighter materials including a roof made of magnesium, bonnet and boot lid made from carbon fibre, and stripping out most of the interior to bring kerb weight down to 1,420 kg. That's 10 kg less than a standard GT3.
The track-focused nature of the GT3 RS results in a wider track of 36 mm than a regular GT3. Technologies adopted from the GT3 include electromechanical power steering, active rear-wheel steering, and a limited-slip differential, fully variable with Porsche's Torque Vectoring Plus. The rear wing itself resembles that found on the 911 GT3 Cup racer.
As for the wheels and tyres, 20-inch, 265/30 at the front and 21-inch, 325/30 at the rear are used which Porsche claim are the widest tyres used of any 911 model.
Interior changes also include carbon fibre bucket seats with six-point harnesses, a bolted-on half roll cage (unlike the previous GT3 RS models that can be seen from the outside), and get this, an actual speed limiter (Pit Speed button) for use in pit lanes ala Formula 1. Also part of the Club Sport Package include a fire extinguisher with mounting bracket. Alcantara elements are found in abundance as well.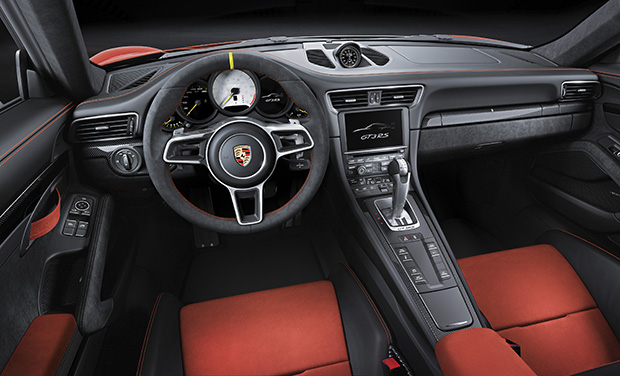 To enhance the track experience further, an optional Sport Chrono Package is available which adds an on-board lap timer and Porsche Track Precision smartphone app that keeps a log of the vehicle's information and lap times on track.
Porsche claims that its 911 GT3 RS managed to lap the Nürburgring in seven minutes and 20 seconds which is blisteringly quick. The lightweight track car will be launched in Malaysia sometime in Q4 of 2015.
---
---
Comments