2015 Toyota Camry Hybrid Previewed At UMW Toyota Motor Line-Off Ceremony
Buying Guide Production of the new Toyota Camry has already begun at UMW Toyota Motor's Assembly Service Sdn Bhd (ASSB) plant in Shah Alam following a line-off ceremony earlier today that also previewed the new Toyota Camry Hybrid, the first locally-assembled (CKD) Toyota hybrid vehicle in Malaysia.
Launched earlier in Thailand, the Toyota Camry Hybrid features a two-motor full hybrid powertrain comprising of a 2.5-litre petrol engine that makes 160PS and 210Nm paired to a 105 kW electric motor that delivers 270Nm of torque. Drive is sent through an E-CVT transmission and on to the front wheels, with drivers able to choose from two drive modes: ECO and EV (full electric) mode.
The new Camry Hybrid is expected to be launched in early April and will come with an eight-year warranty for the nickel-metal hydride (Ni-MH) type traction (hybrid) battery.
(Read more about the eight year unlimited mileage warranty for all new Toyota hybrids)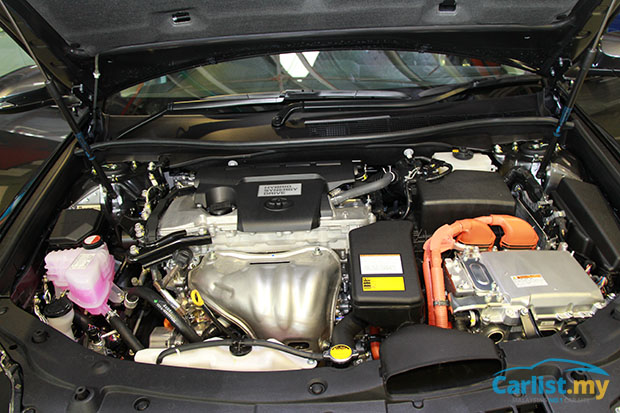 Among the notable features during our brief encounter with the car include:
Touchscreen infotainment with navigation
On-wheel steering controls for media and mobile phone controls
Cruise control
Keyless operation (entry with start-stop)
Front driver and passenger electric seats
Dual-zone climate control
Blind spot monitor
Vehicle stability control
UMW Toyota Motor has invested nearly RM 180 million from 2010 to 2015 on the Camry CKD project, which will see production of both the new 2.0-litre petrol and 2.5-litre hybrid Camry at the ASSB Shah Alam plant. ASSB has the capacity to produce close to 7,000 units of the Camry Hybrid CKD over the next nine months.
Considering the end of the NAP tax breaks for CKD hybrids in December 2015, which leaves the question on whether production of the Camry Hybrid CKD would continue after the nine months has passed.
As for the 2.0-litre model, two variants will be made available, the Camry 2.0G and Camry 2.0E.
Prices and specifications have yet to be announced but Toyota said the Camry Hybrid will be 'competitively priced, and will be below RM200,000,' at least until the end of 2015.

Here's a snippet of what went down at the 2015 Toyota Camry Hybrid preview:
---
---
Comments