2017 All-New Honda CR-V – No Seven Seats, But Maybe That's A Good Thing?
Insights As you might have already read in our earlier post, we've taken the upcoming all-new Honda CR-V for a very brief test drive, and when we say brief, we mean driving less than 1 km in a controlled empty space.
We can't show you any pictures of the interior yet, as Honda Malaysia wants to keep some of its cards close to its chest before the CR-V's official launch (might be as early as next month), but we can confirm none of the upcoming CR-V variants will have seven-seats.
For the first time in the CR-V's history in the ASEAN region, Honda Malaysia has decided to break away from the collective decision made by its counterparts in Thailand and Indonesia, both of which offer the all-new CR-V with seven seats, in favour of equipping the Malaysian market model with better safety features.
To date, Malaysia is the only country in the ASEAN region where the all-new CR-V is equipped with Honda Sensing, a package of advanced driver-assistance features that will alert a distracted driver of potential dangers ahead and if necessary, automatically braking or steering the CR-V away from danger.
More on Honda Sensing here.
Like the Nissan X-Trail, the CR-V was never designed to be a proper seven-seater. It's more of a 5+2 seater. The third-row seats are ridiculously tight and at best, could accommodate children.
The reason why the CR-V was offered with seven seats in Thailand and Indonesia is because in those markets, the Toyota Fortuner is a big seller there, and ever since Thailand introduced a CO2 emissions-based excise duty structure, the price gap between a CR-V and a Fortuner have reduced considerably.
In those markets, the CR-V's (which is also offered with a 1.6-litre commonrail turbo diesel engine) additional seats were included as an after-thought, to woo potential buyers of the Fortuner who might be willing to give up some utility of a full-size seven seater, for a comfortable ride and better car-like handling that the CR-V offers.
Market dynamics aside, reviews by the Thai motoring press generally conclude that the all-new CR-V is best seen/used as a five-seater, and that the third row seats don't offer much in terms of added utlity.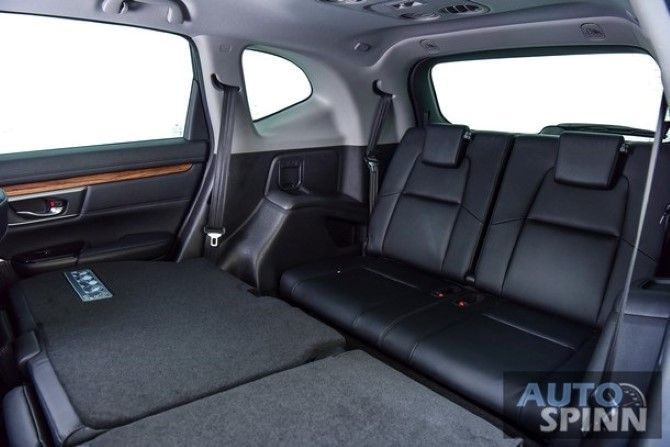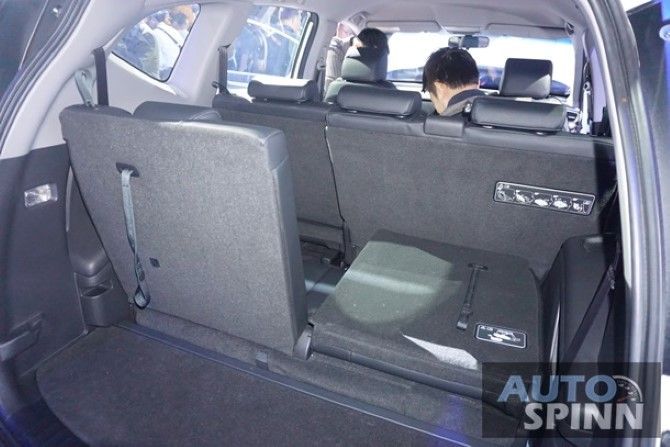 Images courtesy of our Thailand sister-site autospinn.com. Note that Malaysian market model's interior will be different.
Over in Malaysia, seven-seater SUVs don't sell in large numbers and substituting tiny/impractical third row seats with Honda Sensing, safety features that one could actually use every day, is in our opinion, a better way forward.
If you are looking for a seven-seater SUV, don't look for something in the CR-V class. Full-size seven-seaters like the Kia Sorento (from RM150,518) and Hyundai Santa Fe (from RM167,735) are a much better buy.
The built quality and refinement of Korean SUVs have progressed so much that they no longer have to play second fiddle with Japanese makes. If you insist on a trusted Japanese make, there's still the Mitsubishi Outlander, but it's only recommended if you are willing to overlook the lack of rear air-conditioning vents. There's also the aforementioned Toyota Fortuner, but it starts at RM170,364. The all-new model might be prettier and better equipped than before, but it doesn't hide the fact that it's still a Toyota Hilux underneath it.
Related:
2017 All-New Honda CR-V: What Is Honda Sensing?
2017 All-New Honda CR-V: 1.5-litre VTEC Turbo, Underpowered?
---
---
---
Comments