2017 All-New Honda CR-V: 1.5 VTEC Turbo, Underpowered?
Insights As you would've already know by now, the current generation Honda CR-V is set to be retired, and an all-new, fifth generation model is expected to be launched in Malaysia very soon, possibly as early as next month.
At the moment, Honda Malaysia is still coy about the finer details of the all-new model, choosing to release more information progressively as we get closer to the all-new SUV's official launch.
However Honda dealers have indicated that there will be a total of four variants and two engine options – 1.5-litre turbocharged, direct injection VTEC Turbo and a 2.0-litre naturally aspirated port injection i-VTEC, paired to a CVT-type automatic transmission that's either linked to 2WD or 4WD drivetrain.
Specifics on which engine will be paired to which drivetrain however, will only be announced later.
We were also told that the 4WD system used in this all-new CR-V is of a newer system that actively diverts power to the rear-axle depending on road conditions, as opposed to the outgoing model's reactive-based system that begins to driver power to the rear axle when one of the front wheels starts slipping.
It's not the same engine as the Civic Turbo's
While the top of the range's CR-V's 1.5-litre VTEC Turbo engine might share the same displacement as the Civic Turbo, the two are not identical.
Of course, both engines still share the same engine block and dual variable valve timing control (intake and exhaust), there are however a few significant differences.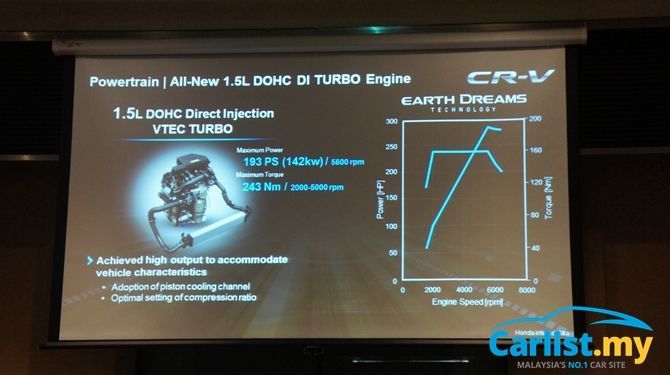 For one, the 1.5-litre VTEC Turbo used in the all-new CR-V has been retuned to produce 20 PS more power (193 PS at 5,600 rpm) and 43 Nm more torque (243 Nm from 2,000 to 5,000 rpm) than the Civic.
To put it in comparison, the all-new CR-V's 1.5-litre VTEC Turbo is more powerful than the outgoing CR-V's 2.4-litre naturally aspirated i-VTEC engine's output of 190 PS at 7,000 rpm and 222 Nm at 4,400 rpm.
Naturally, retuning an engine to produce more power from the same displacement will have an effect on its fuel consumption, exhaust emissions and long-term reliability.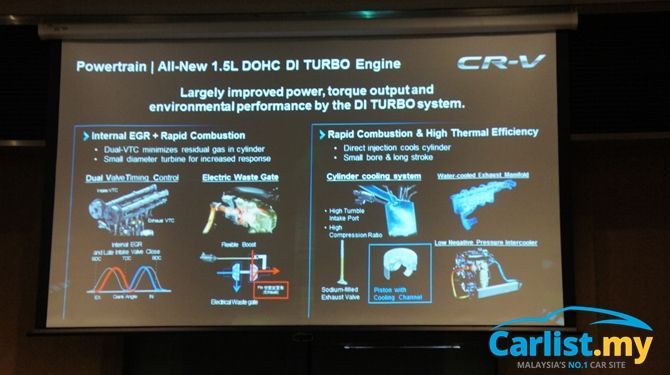 To compensate for this, the CR-V's 1.5-litre VTEC Turbo engine's internals have been upgraded to cope with the higher boost pressure.
The pistons for example, are different from the Civic's. Higher boost pressure will require lower compression ratios, to that, the CR-V's piston crowns have been reshaped. It's also been optimized to reduce weight.
The pistons are cooled by twin oil jets located under each piston. Special cooling channels are grafted into the pistons for optimal cooling. A similar solution is also under in the FK8 Civic Type-R's 2.0-litre VTEC Turbo engine.
The wastegate has also been upgraded, still electrically operated as in the Civic.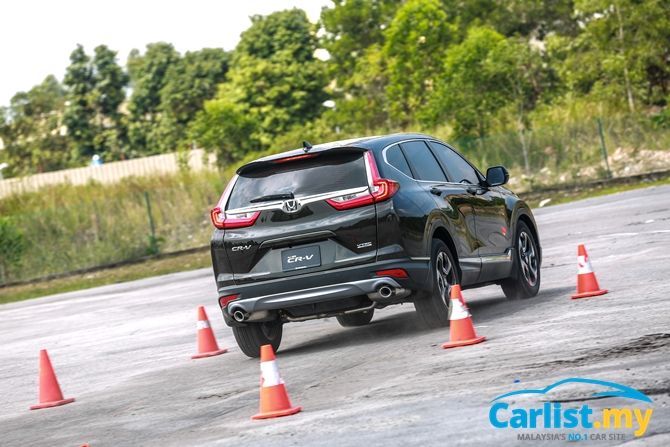 We only had a very brief drive in the all-new CR-V, spanning a total distance of no more than 1 km, mostly to experience the Honda Sensing feature rather than the CR-V's performance.
Our stint in the CR-V was short but it was enough to tell us this all-new model is significantly better to drive than the outgoing model.
Within the just a few hundred meters, it was obvious the all-new CR-V's electric power steering has been vastly improved. It now feels better weighted, more confidence inspiring.
Taking it through a quick slalom course, the all-new CR-V remains very planted, as well as a sedan, nevermind the fact this is a tall riding SUV and the model we drove had only 2WD.
Like all turbocharged engines, standing starts will feel slow initially, before launching itself with maximum torque once the turbocharger's boost builds up. It pulls with sufficient vigor, and drives more like an agile sedan rather than a bumbling potato of an SUV.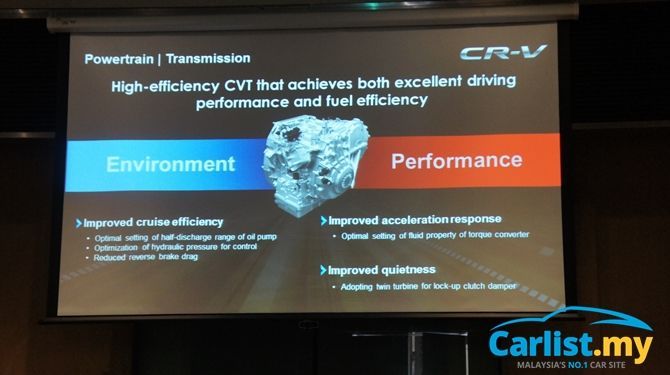 We were also told that the CVT has been improved to deliver a more direct drive feel.
Underpowered? It's not a Porsche Macan, but it's definitely not underpowered.
Read also:
2017 All-New Honda CR-V: What Is Honda Sensing?
2017 All-New Honda CR-V: No Seven Seats, But Maybe That's A Good Thing?
---
---
---
Comments