2017 Honda CR-V: No 4WD For The Highest Specs Variant, Why?
Insights If you have been following our coverage of today's launch of the all-new fifth generation Honda CR-V, you would've noticed that four-wheel drive (4WD) function is conspicuously missing from the most expensive 1.5 TC-P variant.
Honda's variant line-up for the all-new CR-V now reads:
2.0-litre i-VTEC 2WD - RM142,400
1.5-litre VTEC Turbo TC 2WD - RM155,700
1.5-litre VTEC Turbo TC 4WD - RM161,600
1.5-litre VTEC Turbo TC-P 2WD - RM167,700
Prices indicated are on the road excluding insurance.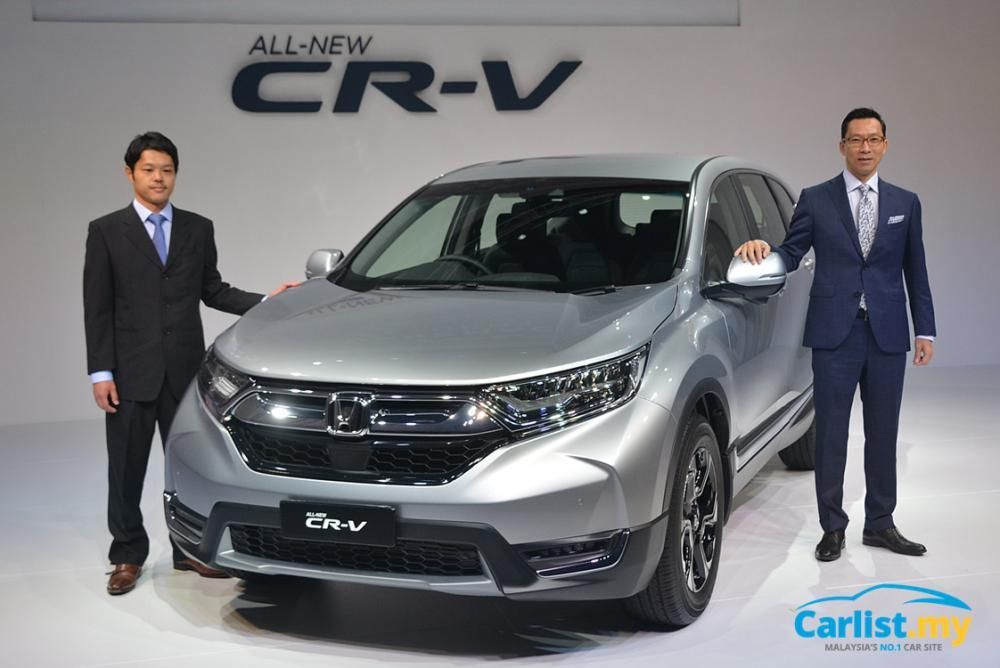 To an average Malaysian consumer, that's a very odd hierarchy. We have been conditioned by decades of Malaysian-style automotive marketing that indirectly says "If you want all the safety and comfort/convenience features, you will have to take performance enhancing but expensive and fuel-thirsty 4WD drivetrain as well."
Mazda is one of the few brands to buck this trend when it offered the outgoing CX-5 with identical specifications for both 2WD and 4WD variants. Given the choice, with an identical list of features, majority of CX-5 buyers have opted for the more fuel efficient 2WD variant.
That change in buying habits hasn't slipped Honda Malaysia's attention too. When Honda Malaysia introduced a 2.0-litre 2WD variant for the facelift model of the previous generation CR-V, slotted beneath the 2.0 4WD variant, with nearly identical list of features apart from leather seats and touchscreen infotainment system, majority of buyers shifted to the cheaper 2WD base model.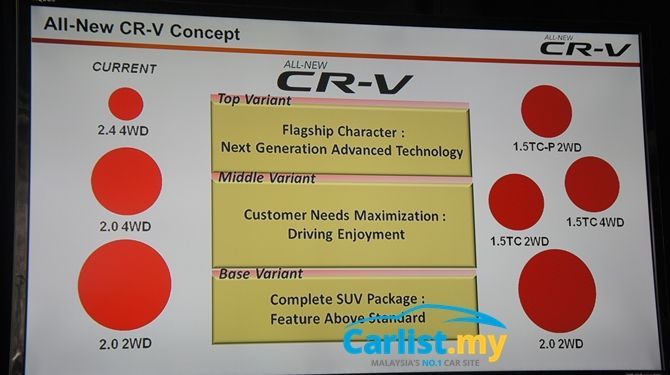 Despite being a base-model, the previous generation CR-V 2.0-litre 2WD contributed 60% of CR-V's sales in Malaysia, which is unusual because typically in Malaysia, it is the mid/highest range variants that are usually the best-selling variants for any given vehicle model.
It tells you one thing - Malaysians want a feature-packed SUV, but they don't want it with 4WD. They want are better safety features, better practicality, at lower cost. 4WD is a nice to have function, but it's something that 60 percent of CR-V buyers couldn't care less.
Thus explains the omission of 4WD in the most expensive 1.5-litre VTEC Turbo TC-P variant. By trading off 4WD, Honda Malaysia is able to pack in more features, like the full suite of active and passive safety features including Honda Sensing, which supports the driver to automatically brake or steering the vehicle away from danger should the driver fail to respond to repeated warnings by the vehicle. More on Honda Sensing here.
With the line-up, Honda Malaysia is convinced that 80 percent of CR-V sales will come from 2WD variants.
At this point, we will also like to add that many consumer's impression that 4WD increases fuel consumption is not necessarily true, at least not for the CR-V. This is because the CR-V uses a Real-Time 4WD system that only engages the rear axle when necessary. Most of the time, drive is transferred only to the front wheels. The adoption of CVT-type automatic transmission has also greatly improved fuel efficiency.
Yes, the CR-V's Real-Time 4WD is completely useless in a Borneo Safari-type terrain, but which CR-V owner drives his/her car off-road? Within the context of its target customers, trading away supreme off-road performance for better fuel economy is perfectly acceptable.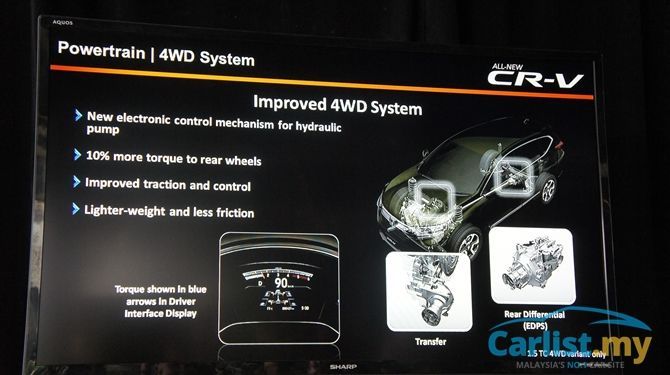 Compared to the previous generation CR-V, this all-new model's Real Time 4WD is now lighter (which also contributes to reduced fuel consumption) and delivers 10 percent more torque to the rear wheels.
Claimed fuel consumption for the all-new CR-V is just 7.3-litre/100 and 7.0-litre/100 km for the 2.0-litre naturally aspirated i-VTEC variant and 1.5-litre turbocharged VTEC Turbo variant respectively. The difference in fuel consumption between 2WD and 4WD variants for both engines is less than 5 percent, a difference that's so small that out in the real world, can be attributed to a change in driving habits.
Of course, this applies only to the CR-V. For SUVs that use Permanent 4WD or AWD systems, fuel consumption will be significantly more than an equivalent 2WD model.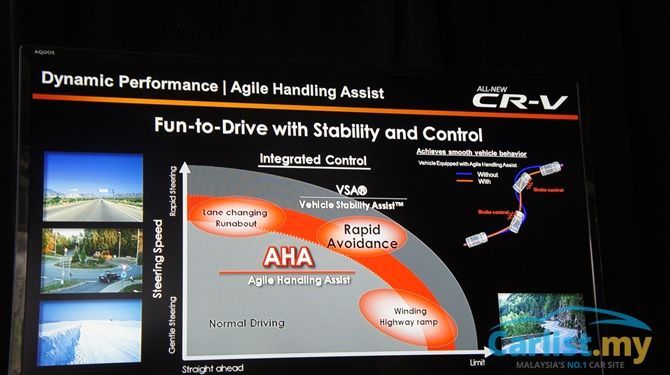 In addition to that, traction and handling of the all CR-V variants (including 2WD models) is further aided by AHA (Agile Handling Assist), a brake-based torque vectoring function that selectively brakes individual wheels to tighten/correct the vehicle's driving line when approaching/exiting a corner at speed.
More on the 2017 all-new Honda CR-V:
2017 All-New Honda CR-V Launched, Priced From RM143k
2017 Honda CR-V: Why It Works Best As A Five-Seater
---
---
---
Comments