2017 Mercedes-Benz E350e Launched In Thailand
Auto News Mercedes-Benz Thailand has launched its latest plug-in hybrid model yesterday evening – the Mercedes-Benz E350e.
Like its smaller sibling, the Mercedes-Benz C350e, the E350e is powered by a petrol-electric hybrid combination of a 2.0-litre turbocharged four-cylinder and an electric motor that's driven by a lithium-ion traction battery.
The other two plug-in hybrid models on Mercedes-Benz Thailand's line-up are the S500e and GLE500e. The 500e series plug-in hybrid cars have a larger 3.0-litre V6 engine.
The E350e will also debut Mercedes-Benz's EQ (short for Electric Intelligence) sub-brand in Thailand. The EQ sub-brand will be progressively rolled out to different markets, and will encompass all its new plug-in hybrid models.
In Thailand, the E350e is available in three variants – Avantgarde, Exclusive and AMG Dynamic.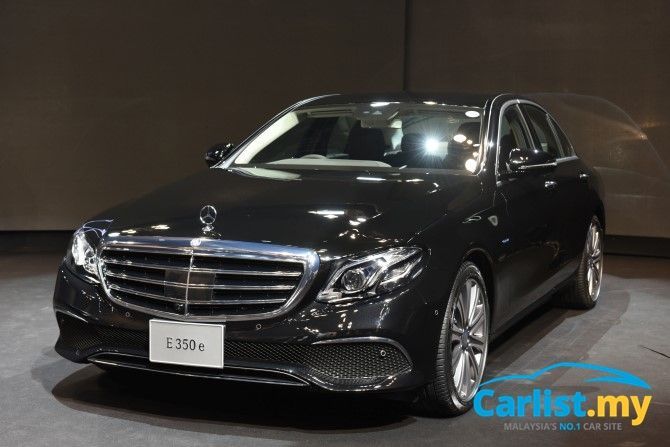 The model has a claimed fuel consumption of between 2.1- to 2.5-litre/100 km. Of course, real world fuel consumption will differ significantly. Being a plug-in hybrid, the E350e can be driven in electric power for up to 33 km, allowing it to complete the relatively short European test cycle with minimal use of fuel.
Casual observers might note that the E350e and C350e have the same 2.0-litre turbo four-cylinder engine (same 211 hp and 350 Nm) and therefore conclude that they both have the same powertrain, but they are not the same.
The E350e, being a newer model, benefits from Daimler's third generation hybrid transmission. It's a development of the 9G-TRONIC PLUS automatic transmission that integrates the torque converter, clutch and electric motor. The C350e uses an older 7G-Tronic transmission.
Jointly developed by Bosch, the E350e's electric motor produces 65 kW and 440 Nm, which is 5 kW and 100 Nm more than the C350e.
This allows the E350e to produce a combined system output of 286 hp and 550 Nm, which is 7 hp more than the C350e's 279 hp. However, rather counter-intuitively, it is the C350e that has a higher total system torque, 50 Nm more than the E350e, at 600 Nm.
Prices in Thailand are as below:
E350e Avantgarde - 3,490,000 Baht
E350e Exclusive - 3,790,000 Baht
E350e AMG Dynamic - 4,090,000 Baht
Like the C350e and S500e, the E350e is assembled in Thailand by Mercedes-Benz Thailand's local partner Thonburi Automotive Assembly Plant Co (TAAP)'s plant in Samut Prakan.
Closer to home, we do expect Mercedes-Benz Malaysia to introduce the E350e later this year, also locally-assembled, with an estimated price of less than RM400,000.
Currently, prices for the E-Class range in Malaysia ranges from RM349,463 for the E200 Avantgarde to RM383,888 for the E250 Exclusive, all locally-assembled. There's also the fully-imported E300 AMG priced at RM459,463.
Images below are supplied by our Thai sister-site AutoSpinn.com
---
---
---
Comments