2024 Mercedes-Benz interior revealed - 3 screens, selfie camera and TikTok all part of the new experience
Auto News Mercedes-Benz has released pictures of the dash on the next-gen W214 E-Class, and it's all about screens!
---
After many months of spy shots and speculations, Mercedes-Benz is slowly releasing teasers for their next generation E-Class, starting with its screen-heavy dashboard.
If you feel like the dashboard design looks familiar, that's because you've seen the interior of the Mercedes-Benz EQS and EQE, which feature a screen-heavy theme.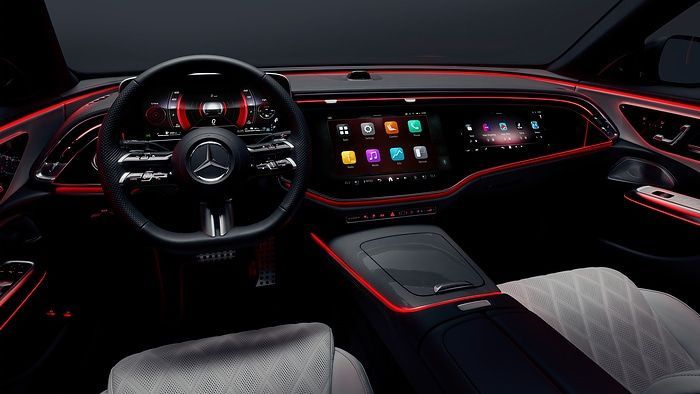 Yes, what you see in the teaser picture is the next-gen E-Class' version of the much-talked-about Mercedes-Benz Hyperscreen. Although it might look similar, it's not an exact carbon copy.
Mercedes-Benz's Hyperscreen is a digital dashboard that spans the entire width of the car's dash, with three screens placed underneath one piece of glass.
Although at first sight it might seem like the next-gen E-Class will have the exact same feature, the screens in the upcoming W214 Benz is slightly different.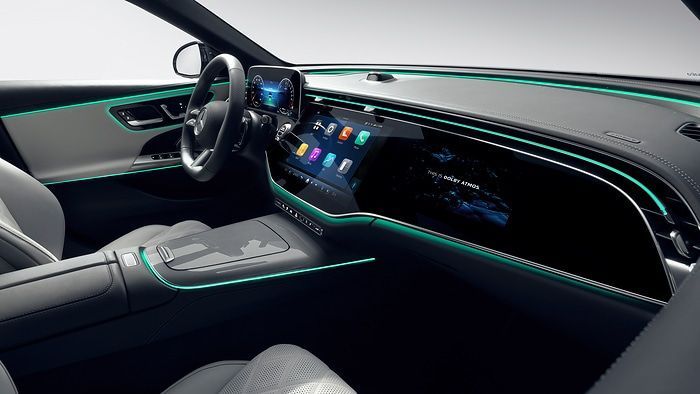 One of the major differences between it and the Hyperscreens found in Mercedes' electric vehicles is that the meter cluster is a standalone floating screen. The other two screens follow the Hyperscreen's theme of placing them underneath one piece of glass.
The air conditioning vents are also different in the next-gen E-Class when compared to other models. Instead of the iconic turbine-inspired A/C vents, the next-gen E-Class will feature slimmer streamlined air vents, following the shape of the outer part of the dashboard. This one-piece-looking A/C vent which stretches from one end of the dash to the other, really is in our opinion a piece of art, just like the turbine vents.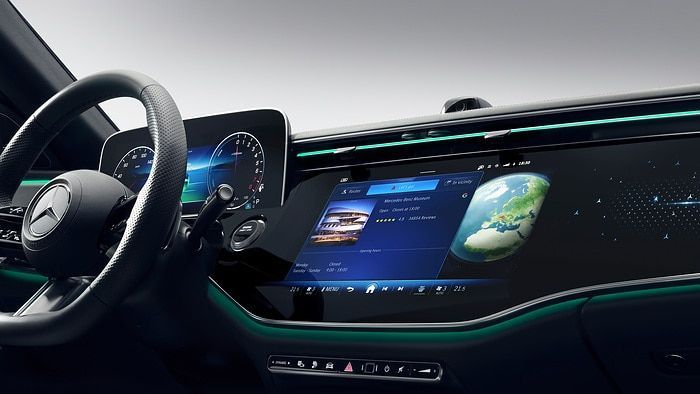 There's also a camera now on top of the dashboard (optional), which can apparently help you be more productive in the car. When the car is stationary, the camera can be switched on, where you can then use it to take photos or videos and even conference calls. Apparently social media apps like TikTok will be embedded in the infotainment system, allowing you to have some fun with the camera.
There's also a camera monitoring your eyes, which will adjust the screen brightness according to the driver's eye movement.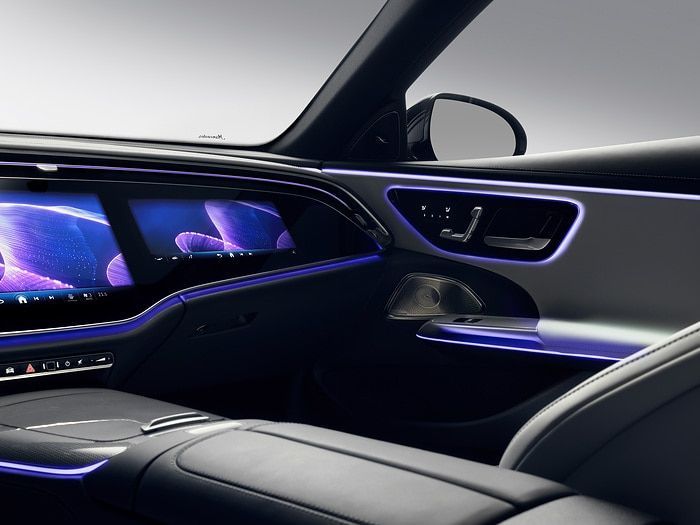 The ambient lighting in the W214 E-Class can also operate as disco lights, as it is clever enough to work with the audio system to provide you with a light show based on a song's rhythm. This too like the camera is an optional extra, but we're pretty sure people can live without it.
What do you think of the new dashboard design for the new E-Class? classy or technocrazy? Will the rest of the lineup follow the design? Only time can answer that question right now.
---
---
---
---
Comments