 On Saturday 3PM (9PM Malaysian time) at Circuit de La Sarthe in France, Audi, Porsche and Toyota will once again fight it out at the 83rd Le Mans 24 Hours endurance race.
Defending Le Mans winner Audi Sport Team Joest is aiming for its 14th Le Mans victory but Porsche, still the most successful manufacturer in Le Mans, with 16 wins between 1981 to 1998, is starting to become a major annoyance to the four rings team this year by locking out Audi from the top three positions on the starting grid.
The fastest No.18 Porsche 919 Hybrid is 3 seconds faster than the fastest No.8 Audi R18 e-tron quattro, and nearly seven seconds faster than defending WEC champion Team Toyota Racing's TS040 Hybrid.
The historic Le Mans 24 Hours race is the third of the eight FIA World Endurance Championship's (WEC) racing events. However because of its history, and its 24 hours race duration which really pushes the limits of the drivers, crews and cars, it is the most glamourous of all FIA WEC races.
Last year, Toyota won the WEC 2014 Championship with its supercapacitor-based petrol-electric TS040 Hybrid but everyone remembered the diesel-electric hybrid Audi R18 e-tron Quattro for winning last year's Le Mans.
All points scored in Le Mans are double that of a regular 6 hours FIA WEC race.
Ingolstadt's team Audi is going into this year's Le Mans with a promising start, leading the WEC Manufacturer's Championship with 70 points after winning both the 6 Hours of Silverstone and the 6 Hours of Spa. Porsche is second with 53 points while defending WEC champion Toyota is third with 47 points.
But team from Stuttgart could derail Audi's ambition to secure its 14th Le Mans title. Still, endurance racing is nothing like Formula One. Starting in pole is one thing, winning the race 24 hours later is quite another.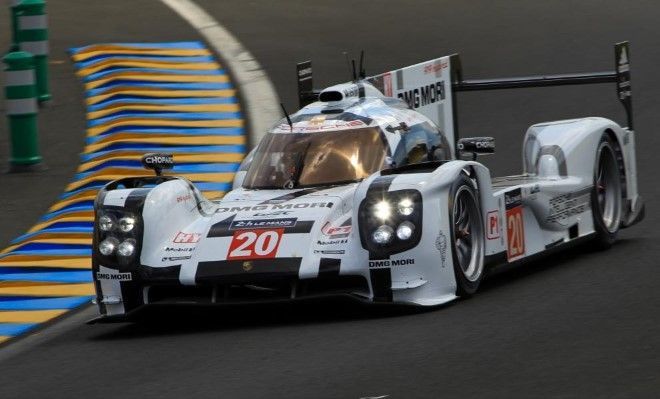 Last year, Porsche lead for most of the race but by the final quarter, things started to go horribly wrong for Porsche, suffering accidents and breakdowns before handing over the lead to Audi.
For Le Mans, all the top LMP1 class teams are fielding mildly revised cars with a dedicated aerodynamic packaged developed specifically for Le Mans.
The new aerodynamics package seems to be working wonders for Porsche, whose 919 Hybrid is showing amazing pace, leading the fastest Audi R18 e-tron Quattro by 1.7 seconds in qualifying practice sessions.
Some quick facts about Le Mans
Fastest lap record: 3m 19.074s, Loic Duval (France), made in 2010 in a Peugeot 908 HDi FAP
Fastest speed record: 403.9 km/h on the Mulsanne Straight in 1988, set by Roger Dorchy in a WM-Peugeot. The record will most likely stay for a very long time as the length of the straight was shortened in 1990 with the addition of two chicanes, following a controversial directive by the FIA to limit the maximum distance of racing straights.
Unluckiest car number: 24. No race car bearing the number 24 has won in Le Mans, whose history dates back to 1923. It is an amusing numerical irony in a race that's so synonymous with the number 24.
For various reasons, drivers trained in Formula One discipline don't fare well in Le Mans. The last time an F1 driver won in Le Mans was Michele Alboreto, back in 1997 in a Joest Racing TWR Porsche WSC-95.
Most successful driver in Le Mans – Tom Kristensen (Denmark), with a record nine wins
Most successful country in Le Mans – While the World Rallying Championship is dominated by Scandinavian drivers, and F1 by Brazilian, British and German drivers, Le Mans is equally dominated by French and UK drivers (tie at 42 victories).
Only Audi and Porsche have ever pulled off a Le Mans hat trick, i.e. pole position, best lap time and overall win. Audi has managed the feat eight times and Porsche, the constructor with the most Le Mans wins to its name, has done it seven times.
Total crew member: About 70 (typical). Leading teams like Audi and Porsche run a three car team while Toyota runs two cars. Porsche keeps 23 crews per car, including race engineer, performance engineer, data engineer, hybrid engineer, systems performance engineer, 12V engineer, software engineer, gearbox engineer, track aerodynamics engineer, and many more mechanics.
On an extended race stint, a Le Mans LMP1 class car stays on the track with the same set of tyres for four hours, twice as long as Formula One.
Unlike Formula One, tyre changes in Le Mans need a little more choreography, four mechanics and two wheel guns are involved but at any one time, only two mechanics are allowed to work on the car, using only one wheel gun. So two teams of tyre mechanics work in a relay-like manner.
Wheel spins are not allowed when driving out of the pits, otherwise a stop-go penalty will be applied.
At all pit stops, the engine must be switched off.
To understand what's so special about Le Mans, watch this video by Audi below, chronicling Le Mans 2012.
You can follow Le Mans 2015 live
here
.
---
---
---
---
Comments