30-Minute Express Service – Grab To Tap On Toyota's Expertise In Efficient Work Flow
Auto News Toyota cars might not be at the top of every enthusiast driver's wish list, but no one will disagree that the company is the benchmark in comes to speed and accuracy of getting work done correct the first time. Every major car maker's production process today has elements of Toyota Production System (TPS) in it, something which is already taught in nearly every business school, under the topic of Lean Manufacturing.
Toyota's expertise in efficient production extends beyond just the factory environment. That same expertise in TPS is also applied in the brand's after-sales service, which consistently tops independent surveys worldwide.
Even in Malaysia, regular maintenance work is often completed in under 60 minutes (with prior booking and on-time arrival), and customers can expect to be in and out of a service centre in just 90 minutes.
Now, Toyota is leveraging on its expertise in TPS to carve a stake in the growing ride-hailing/car sharing business with its Total-care Service, which is being rolled out in Singapore to support Grab's fleet of Toyota cars.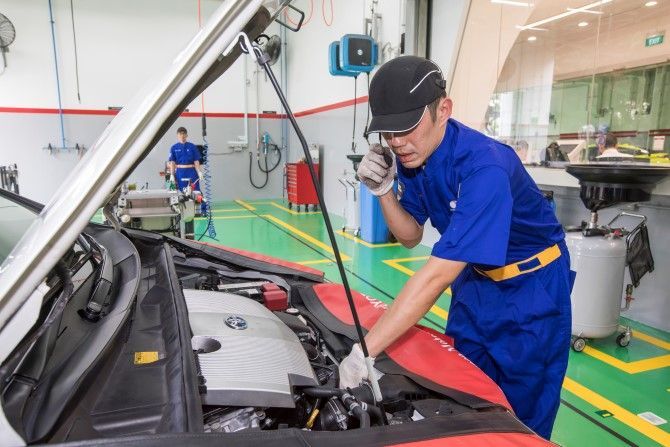 Total-care Service involves incorporating Toyota's TransLog on-board telematics into the car, as well as transferring solutions from Toyota manufacturing plants to the service centre.
The telematics system continuously monitors the car's vital signs and alerts both the service centre and the driver when a maintenance work is required.
Previously, Grab drivers whose Toyota cars require maintenance work had to spend around 70 minutes at the service centre. Toyota aims to cut this down to just 30 minutes, with actual maintenance work (excluding reception and vehicle delivery) alone completed in just 15 minutes.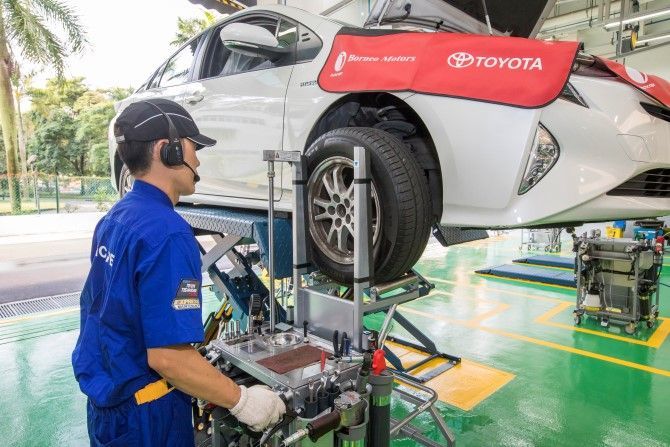 This is achieved via a dedicated service bay - Intensive Care Stall (ICS). Unlike a regular service bay, the ICS bay uses tools and equipment usually seen only in a manufacturing plant, robotic trolleys that carry tyres between the vehicle and tyre balancer tool for example, visual process controls on the work trolley, wireless tools that automatically updates the job sheet when a task is completed, plus tyre lift tools.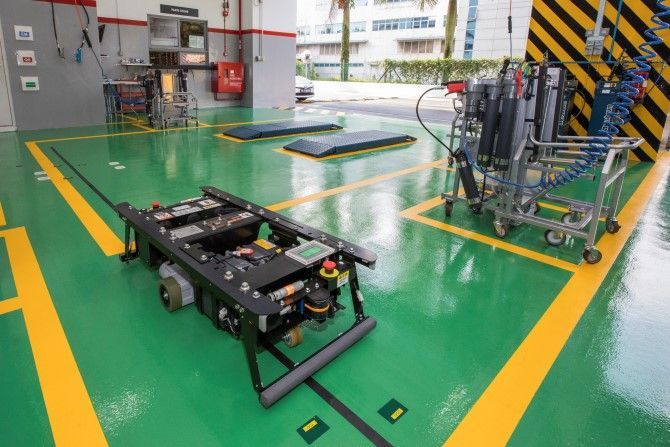 The reduction in time spent on maintenance is crucial for Grab because its vehicles rake up mileage five times faster than regular private cars.
Toyota is rolling out the service first in Singapore, where Grab operates 1,500 Toyota vehicles via its subsidiary GrabRentals.
The benefit of Total-care Service extends beyond just ease of maintenance. The driving information stored within TransLog also allows insurance partners to assess a driver's driving behaviour, and reward safe drivers with lower insurance premiums. Aioi Nissay Dowa Insurance, a Toyota affiliated insurance company, will offer telematics-based automotive insurance to GrabRentals.
According to Shigeki Tomoyama, Toyota Executive Vice President and President of Toyota's in-house Connected Company, Toyota aims to gradually expand this initiative globally, including other South East Asian countries.
Grab has announced that it will also seek to implement TPS in its company's operations to improve Grab's business operational efficiency, and will work to increase the share of Toyota vehicles in Grab's fleet in the region by 25 percent by 2020.
---
---
---
Comments