AD: CIMB e-Bidding Auction – Bid For The Lowest Deals Online
Auto News If you don't already know, it is now possible for members of the public to bid for their dream cars by simply using their smart device. Through the CIMB e-Bidding Live Auction program, buyers have access to a wide variety of vehicles at unbeatable prices.
With CIMB Auto and Property Mart's e-Bidding Live Auction platform, interested bidders don't even have to be present at the auction centre – simply register to become a member at the CIMB Auto & Property Mart website and view an updated list of the cars on offer.
Buying an auction car is not much different from buying a used car, save for one critical aspect: a buyer cannot test drive the car prior to the purchase. However, the extremely low prices are a salient point to consider because it gives the buyer a financial margin to spend on mechanical or cosmetic repairs that may be required.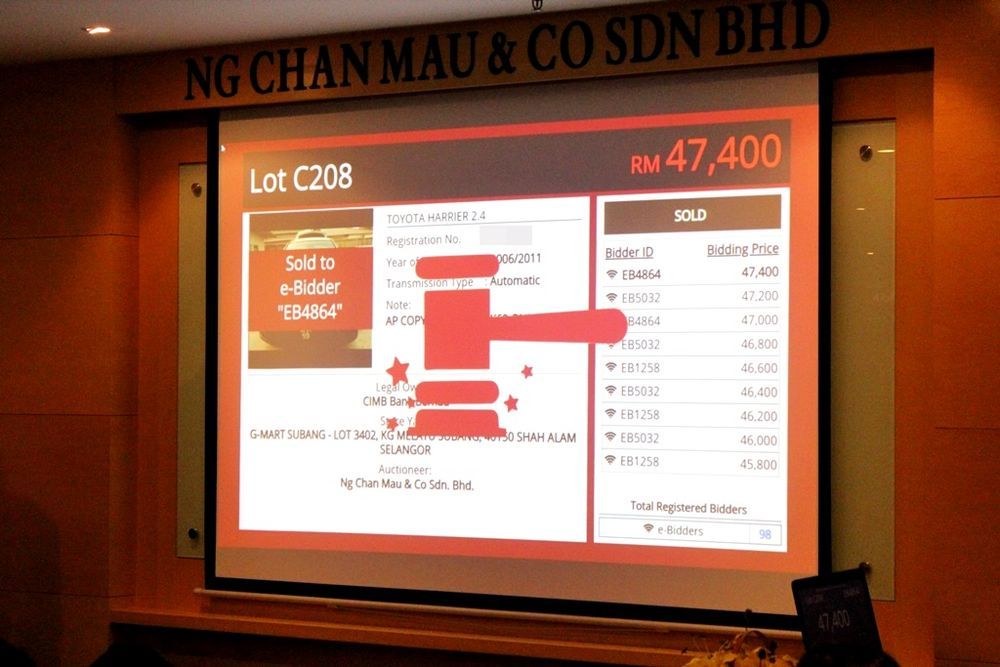 Every auction car is first stored in a storage yard where interested buyers can inspect the engine, chassis number, exterior, and interior of the car so that they may make an informed purchase. From there on, it is incumbent on the prospective buyer to estimate if the car can be repaired or restored to a road legal and satisfactory condition, ideally for less than prevailing used car market prices.
Here's a guideline on picking up an awesome deal with the CIMB Auto and Property Mart Online e-Bidding platform:
Get the latest vehicle listings, Proclamation of Sale (POS), and Conditions of Sale (COS) from the CIMB Auto & Property Mart website.
Benchmark the vehicle's auction reserve price versus prevailing used car rates for the corresponding production year and variant of the vehicle.
View your interested vehicle at the appointed store yard on the designated viewing date. This is the most crucial step towards securing a good, reliable vehicle.
It helps to bring along a qualified mechanic for an informed second opinion. Take lots of pictures for your own records and future referrals.
Perform a detailed inspection of the vehicle starting with the chassis and engine number. Make sure they match the information listed in the POS. In cases where chassis/engine numbers have been tampered with and not been reported in the POS, buyers are entitled to a refund of the purchase price.
Scrutinize the overall condition of the engine, undercarriage, bodywork, wheels and tyres, and interior, and of the vehicle.
Do your homework on the tentative cost to repair and return the vehicle to a safe and reliable condition. This may include a major service, tyres, brake pads, and other engine accessories (i.e: water pump, alternator).
Once you have a cost estimation for mechanical and aesthetics repairs, add the total onto the reserve price of the vehicle.
By adding the cost of obtaining and repairing the vehicle. Buyers will be able to ascertain a max bidding price that they are willing to pay for the vehicle. In an ideal case, if the max bidding price is within 5 to 15 percent below prevailing market rates, then rest assured you've got an excellent deal.
On auction day, place your bids wisely and keep to your max bidding price. If the bidding price goes above what you're willing to pay for the vehicle, it's okay to walk away and bid on another vehicle, or on another auction day. Happy bidding!
We've scoured CIMB Auto and Property Mart latest list of cars and here are some sensational deals not to be missed:
2005 PERODUA MYVI 1.3L (M) - RM3,800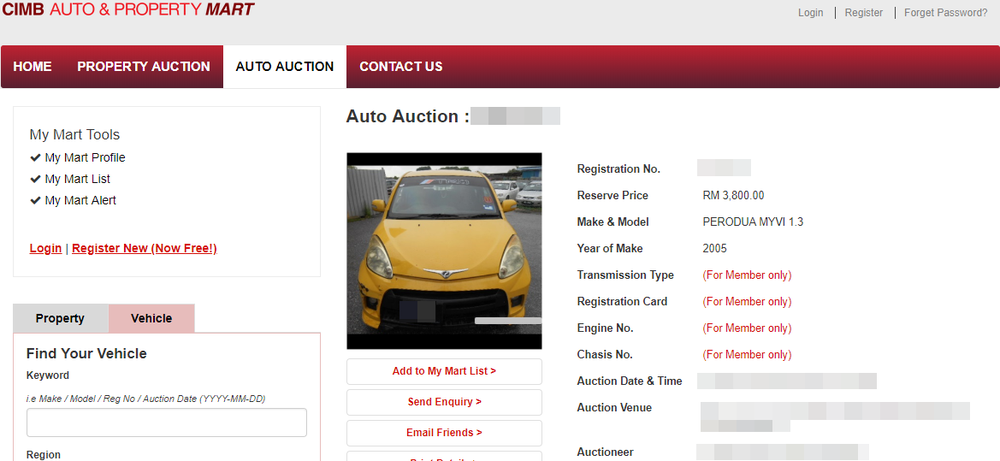 Why it's a good deal…
With prices for 2005 Perodua Myvi (manual transmission models) hovering between RM11k and RM19k, picking up an auction deal at RM3.8k gives the prospective owner plenty of room to repair any wear and tear issues and correct any cosmetic issues that could be present on the car.
Max bidding price
Anywhere between RM5.0k – RM6.5k for a max bidding price is fair. Allowing some room for unforeseen repairs if they should arise.
2009 TOYOTA ALTIS 1.8L (A) - RM28,000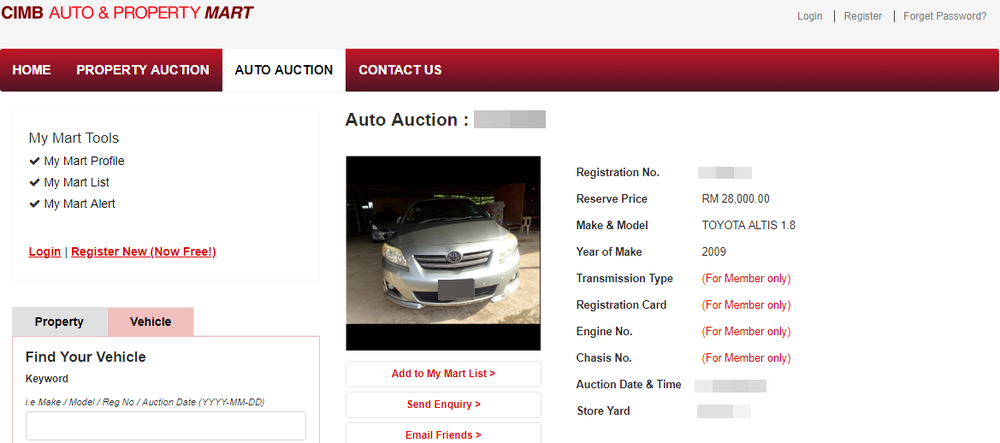 Why it's a good deal…
Simply because it's a Toyota Altis. Having a reputation for steadfast reliability and rock-solid residual values – buying one at the advertised reserve price means you're still paying about 15 percent less than the asking market price. Most Toyota Altis 1.8-litre variants of the same production year start at around RM34k.
Max bidding price
Ideally between the advertised reserve price and RM31k is a good deal.
2010 NISSAN GRAND LIVINA 1.6L (A) - RM15,000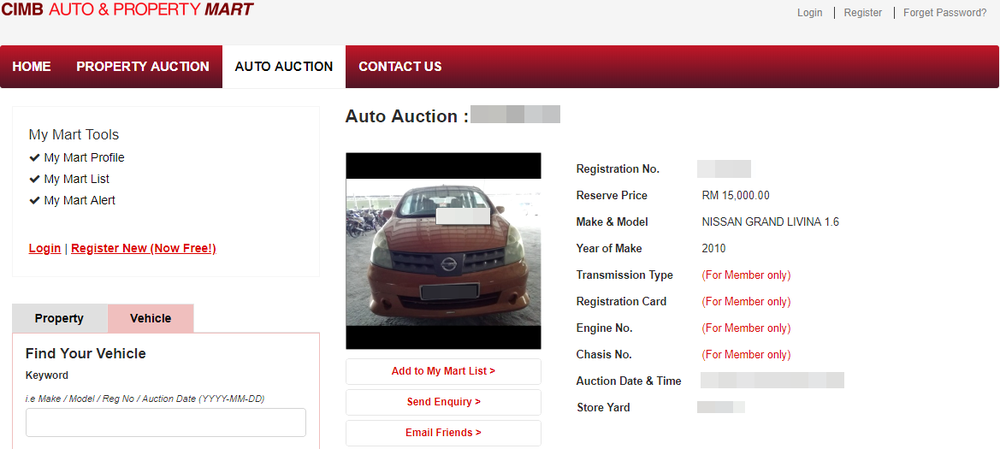 Why it's a good deal…
The Nissan Grand Livina is a popular choice amongst many Malaysian families, given its flexible seating for seven, its relatively small size which makes it easy to drive, and its proven reliability. Prices on the open market range between RM24k and RM28k depending on condition and mileage.
Max bidding price
Obtaining one between the advertised reserve price and RM19k is a great deal.
2005 HONDA CR-V 2.0L (A) - RM16,100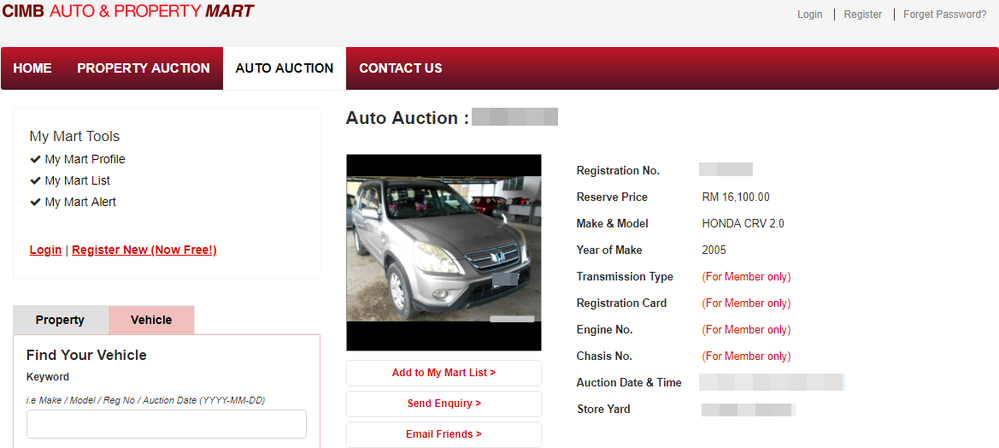 Why it's a good deal…
The Honda CR-V is hugely popular for its everyday practicality and stout reliability. The second-generation CR-V model also features an AWD system which also ensures good all-weather traction. Prices on the open market range between RM18k and RM26K depending on condition.
Max bidding price
SUVs are extremely popular right now, even the older ones. Picking this particular unit up for less than RM17.5k is superb value.
Click below to sign up as a member and get updates on the best deals from CIMB Auto & Property Mart.

---
---
---
Comments