All-new 2014 Nissan Teana Quick Review: Is It Still The D-Segment's King Of Comfort?
Reviews About a week ago, Edaran Tan Chong Motor (ETCM) was kind enough to let us sample the all-new 2014 Nissan Teana. The latest D-segment contender hasn't been officially launched yet, so we can't exactly tell you how much it costs, but with embargos lifted, we can tell you about how it drives, following our Quick Review of the car. Here goes:
Here's a brief introduction of the Nissan Teana's variants, along with their highlights:
2014 Nissan Teana 2.0 XE with XTRONIC CVT (136 PS, 190Nm of torque)
The XE joins the market as the entry-level model here, and misses out on very little compared to the mid-range 2.0 XL.
Most notable differences include the use of fabric seats rather than leather, manual adjusting front seats, a simple six-speaker infotainment system with no MP3, USB or a colour display screen.
2014 Nissan Teana 2.0 XL with XTRONIC CVT (136 PS, 190Nm of torque)
The mid-range Teana picks things up a little by adding auto headlamps, leather seats, an eight-way power seat with four-way for the front passenger, upgraded six-speaker infotainment system with a five-inch colour screen and MP3/USB/iPod connectivity, and a rear-view camera.
2014 Nissan Teana 2.5 XV with XTRONIC CVT (173 PS, 234Nm of torque)
Then you have the high-spec Teana, which has it all, and is most easily identifiable by its sunroof. Rather than projector type halogen headlamps, the 2.5 XV uses Xenons, and have headlamp washers and automatic levelers.
Another notable feature unique to the 2.5 XV is its Bose nine-speaker sound-system, which as previewed, is pretty impressive, and well worth considering. LED mood lamps are also unique to this variant, while you may also notice the larger 17-inch alloy wheels, versus the 16s featured on the 2.0 variants.
Unlike the previous Teana, this 2.5-litre model has a four cylinder engine rather than a V6, which has since been retired as it no longer meets emission standards of more developed markets. On the upside, this four-cylinder QR25DE engine is an all-new engine.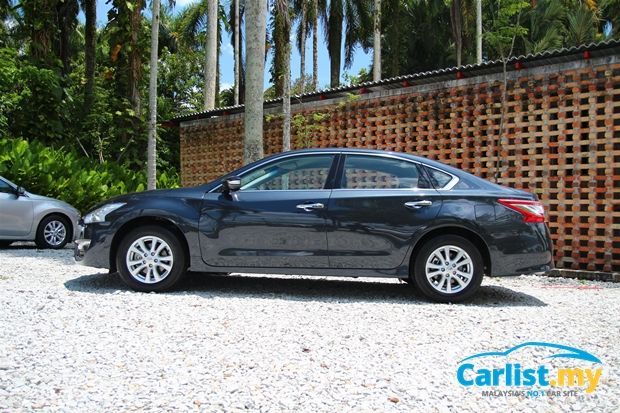 Exterior Styling:
Just like the all-new Nissan Sylphy, the Teana also gets a new look to match, which starting at the front, demonstrates a very bold stance. Nissan's new front-grille design is clear, but the most notably change to the Teana's silhouette is seen via its raised trunk and sloping rear roofline. Even the A-pillars are now stretched out a lot further than it was before, and Nissan say are more purposeful aerodynamically.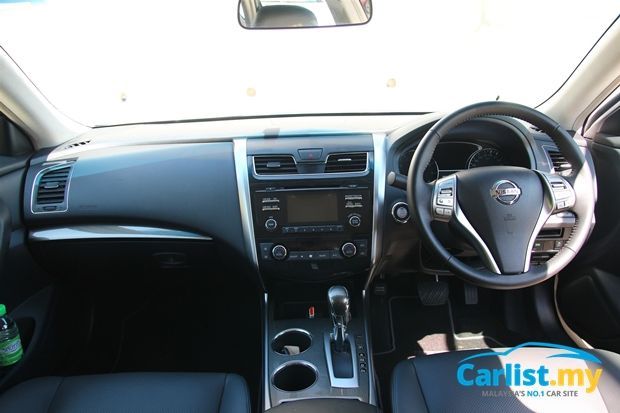 Interior Design:
Inside the car, the Teana is carried forward a lot of design cues from the Sylphy, and does look more like an expanded version of that, rather carry forward the individuality of the outgoing model. That said, there's a still lot to savour from the experience of driving a new Teana.
First up to impress are the car's 'Zero-gravity'-inspired seats (limited to 2.0XL and 2.5 XV models), which attempt to simulate a weightless experience for drivers with its comfort, and therefore reduce fatigue over longer drives.
The instrument meter across the range are as seen on the new Sylphy as well, and also have in them a four-inch ADAD vehicle status display screen, while the Teana also gets the new leather steering wheel with controls for the audio and cruise control system.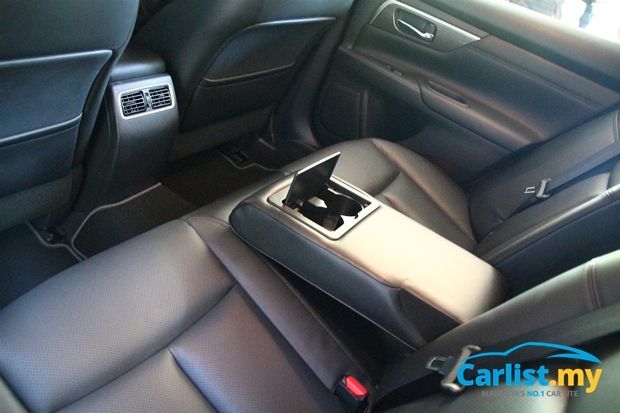 For further comfort, the Teana is equipped with dual-zone climate control with rear AC vents, an Intelligent Key (keyless entry) and engine push-start system, and all the other goodies limited to specific variants as mentioned above.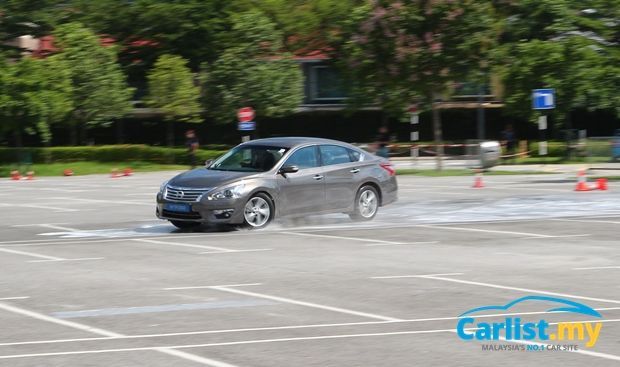 Safety features:
One of the great things we're continuing to take notice of with ETCM's latest models are its 'across the board' safety feature inclusions. Neither variant gets more safety features than the other, and the list of what's available to all models is highly commendable. Here's a quick look at those:
Anti-locking braking system (ABS)
Electronic brake-force distribution (EBD)
Brake Assist (BA)
Six airbags
Traction Control System (TCS)
Hill-Start Assist (HSA)
Active Understeer Control (AUC)
ISOFIX child-seat anchors
Seat belts with load limiters and pretensioners
First impressions
From the outside, the all-new Teana looks much better than its bland-looking predecessor. The car actually looks better in sheet metal than pictures suggest, as the complex play of surface tension and taut lines can't be appreciated in a two dimensional image.
Get inside however, and the interior was a bit of a letdown. Compared to the previous Teana's 'floating pad' dashboard with gentle flowing lines from the centre stack to the centre console, the all-new model's cabin didn't project the same kind of luxurious appeal of its predecessor.
Even the materials used within the cabin feels a grade lower than that used in its competitors. It doesn't feel as luxurious as a Honda Accord. We aren't saying the the Teana's cabin feels poor, only that it doesn't feel that much of an upgrade from a Sylphy... apart from better features and a bigger cabin.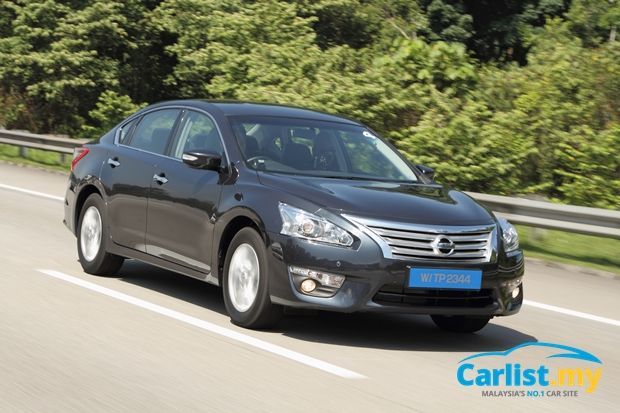 Out on the open highway, however, is where the Teana shines. It comfortably swallows kilometres after kilometres of monotonous highways while keeping its occupants cocooned within a library-quiet cabin.
Without the benefit of a back-to-back comparison, we can't confidently say that it is as quieter than a Volkswagen Passat, but it damn well feels like it.
Of course, the 2.5-litre model feels more powerful, but the 2.0-litre doesn't feel average either, in fact it feels more than adequate for the highway duties. Exiting the highway and entering the twisty trunk roads, the Teana was surprisingly well composed. The electro-hydraulic steering feels better than before, while body roll is kept in check, allowing you to confidently aim for apexes.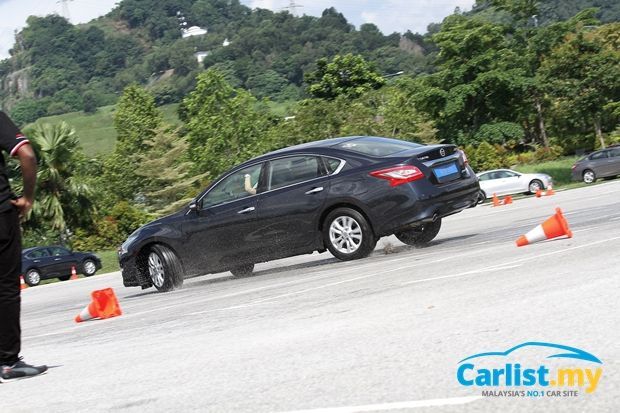 Of course, push the car a bit further and you will be quickly reminded that this is still a comfort-biased sedan. In short, it is no Mazda 6, but remember that the Mazda doesn't ride as well as the Teana. So to each, their own.
Surprisingly, it was the 2.0-litre model that performed better on these twisty roads. The heavier 2.5-litre model felt like it had too much weight in its nose, while the tail felt unsettled under heavy braking, especially when you are coming downhill.
Nissan was also keen to demonstrate the Teana's Active Understeer Control (AUC) feature, which works to minimize understeer by intelligently braking on the inside front wheel during cornering (similar to the Golf GTI's XDS+). It must be pointed out that unlike VDM, AUC is not designed for emergency evasive maneuvers. It merely helps you hold the line better when you are accelerating out of a tight corner.
Should You Buy One?
This is merely a preview drive, and as the car has yet to be launched, we can't fill you in on prices yet either. However, if the recently launched Sylphy is a reliable indication, then we expect the all-new Teana to offer very good value for money.
Although the Sylphy is now imported from Thailand, the Teana will remain as a locally-assembled model. Like its predecessor, will be assembled at the Tan Chong Motor Assemblies plant in Serendah. A more comprehensive review will be made once the Teana is launched, which is expected to be sometime in June this year.
Based on our half-day experience with the Teana, we can't say yet if the Teana is the best D-segment sedan in its class. Its cabin is not as luxurious as the Honda Accord, but it does offer better safety features than either the Honda Accord or the Toyota Camry, handles better than before without compromising the previous Teana's famed highway cruising comfort.
---
---
---
Comments