All-New 2015 Nissan X-Trail Launched In Malaysia: From RM143k
Buying Guides Just days after Honda Malaysia revealed its latest segment entry, here are Edaran Tan Chong Motor (ETCM) with their mid-size SUV, the all-new 2015 Nissan X-Trail.
Having made its global debut late 2013 as the Nissan Rogue, ETCM has taken its time to unveil what we know as the third-generation Nissan X-Trail here, but aren't we glad to finally get in on a piece of it? – those new lines are more than a breath of fresh air against the typical box-like dimensions we've been used to.
But with a detailed preview already published last December (2014), the only blank left to fill by ETCM was its confirmed prices, that which we can now share with you (OTR with insurance):
2015 Nissan X-Trail 2.0 2WD: RM142,800
2015 Nissan X-Trail 2.5 4WD: RM165,800
KEY SPECS: 2.0L/ 2.5L
Engine: 2.0-litre (MR20DE)/ 2.5-litre (QR25DE-K2)
Transmission: Xtronic CVT with seven virtual ratios, eco mode
Power: 144PS @ 6,000rpm/ 171PS @ 6,000rpm
Torque: 200Nm @ 4,400rpm/ 233Nm @ 4,000rpm
Fuel Consumption: 7.1-litres/100km / 8.3-litres/100km (claimed)
Body Colours: Brilliant White, Tungsten Silver, Diamond Black, Graphite Blue, Titanium Olive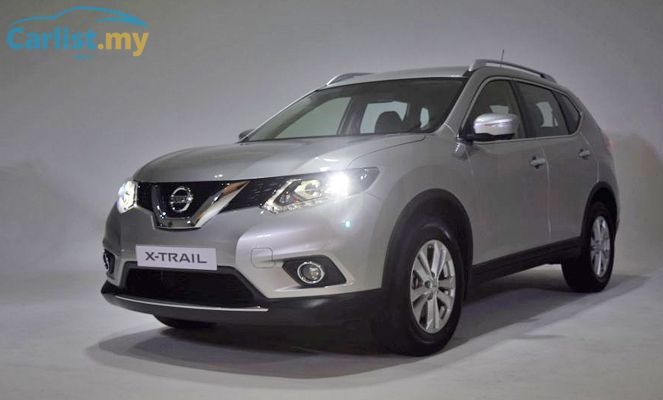 Buyer's Guide:
While the Mazda CX-5 and now the facelifted Honda CR-V have established themselves as leading favourites in the segment, we're firm on the belief that the all-new X-Trail is more than a worthy competitor. The specifications shared with us at the pre-launch preview are more than you could ask for, if you could look past just the dual airbags. Elsewhere, there's no faulting this beast.
While only two variants of the X-Trail are available, they both make the most respective sense: one is a more affordable, more fuel efficient 2.0L 2WD, the other a more powerful and better equipped 2.5-litre 4WD – the choice is yours to make.
Both variants are specified very competitively given what's available to current segment contenders, if not the most.
ETCM is targeting to sell a little more than 650 units a month of the X-Trail, with the company already asserting an 1,300 units booked up to this date.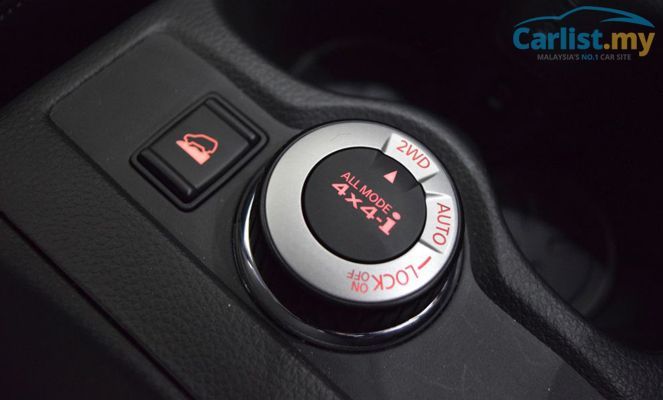 4WD Drivetrain:
With power figures all laid out for you nicely up top, one key highlight of the all-new X-Trail's performance surround the return of its all-wheel drive (AWD) capabilities. Available only on the 2.5-litre model is what Nissan coins as its ALL MODE 4x4-i. With a control dial on the center console, the X-Trail 2.5 4WD can switch between 2WD (front) and 4WD drive modes on the fly.
The control dial also has an Auto 4WD mode which uses various sensors to automatically delegate where engine torque is best distributed to, be it the front or rear wheels. During moments of understeer, torque can be automatically sent to the rear wheels to compensate. Likewise with oversteer, rear "push" is limited, with the front wheels now powering for grip.
In 4WD Lock mode, Nissan has packaged in an Advanced Hill Descent Control feature, which can help maintain the X-Trail's descent down a slippery surface fully automatically, between speeds of 4 to 15km/h.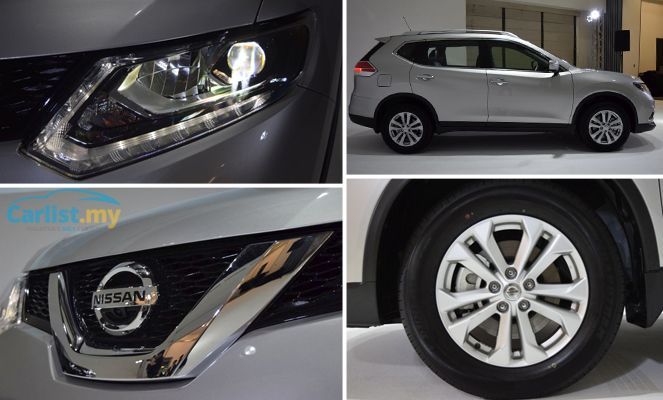 Exterior Styling:
Distinctly shaped away from the box-like characteristics of the out-going facelifted model, the new X-Trail is a much handsomer car than it has ever been in this writer's view. The more sculpted lines bring more familiarity to what an SUV ought to look like (at least what's expected of one), so you may take notice of some similarity to a CR-V (a close look side-by-side quickly reveals this). Nevertheless, this isn't at all a negative point.
The boomerang LED daytime running lights are distinctive, and so is the familiar V-motion grille (as Nissan coins it). The headlamps differ on 2.0L to 2.5L variants, with basic halogen reflector-types on the base 2.0L, and LED projectors making an appearance only on the top-range 2.5L.
Puddle lamps integrated into the wing mirrors are a neat touch, and so are the turn signals. For wheels, both variants of the X-Trail get 17-inch alloys in a five twin-spoke design. Around to the rear, and tail lamp covers are crystal clear, with the stop lights in LEDs also shaped like a boomerang. Up top is a rear spoiler which hides the third brake light.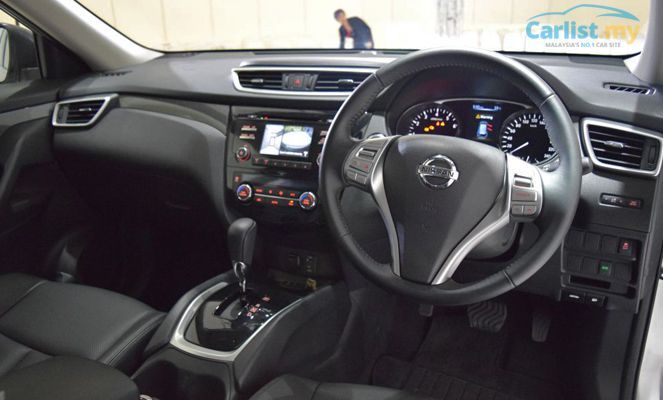 Interior Design:
While there isn't a shortage of feature equipment here, the base 2.0L 2WD X-Trail does have to make-do with fabric seats – something we don't mind too much in the black colour they're in. Leather material in this variant is only limited to the steering wheel and shift knob.
Speaking of steering wheels, and it's a similar-looking three-spoke design for the X-Trail, with cruise control and audio buttons in the style of almost every new Nissan model we get here.
One other fact Nissan appears keen to highlight its X-Trail's longest wheelbase in the segment, at 2,705mm (Honda CR-V has 2,620mm). Ideally, this would translate into the most potential for leg and cargo room, but until we get to test drive these side-by-side, we're not in any position to undermine Honda's unbelievable cabin packaging (a.k.a. Honda Magic).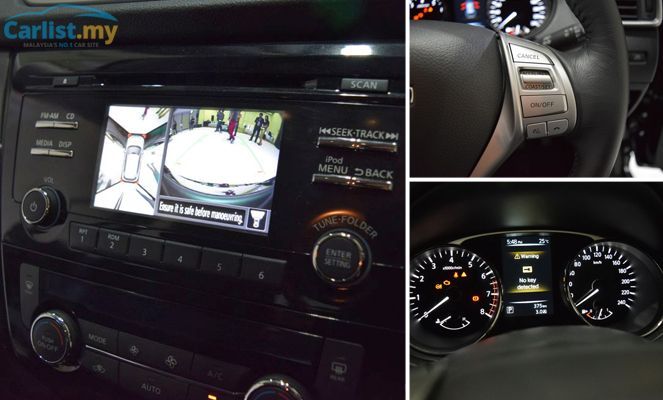 INFOTAINMENT: One radio head unit is no different from the other in the 2.0L and 2.5L variants of the X-Trail, being a five-inch QVGA touchscreen. iPod, Bluetooth and USB connectivity are all crucially accounted for, but the game-changer here is the availability of an Around View Monitor on both variants.
AROUND-VIEW MONITOR: If you haven't been clued-in on what AVM is, you are missing out. Combining the displays from four different cameras around the car, the AVM displayed on the five-inch screen gives you a full surrounding birds-eye view of your vehicle – especially useful when you're in a tight spot. Via a split-screen function, you can also have various camera display combinations as necessary: birds-eye view + rear view, bird-eye view + front view, etc.

SEATING: The all-new X-Trail does come with "+2" seats to make this at best a 5+2-seater, bear in mind however that the third row seats are purely "contingency" seats, so you can expect very limited spatial accommodation for most adult-sized passengers. Nevertheless, it gets three-point seatbelts.
CARGO SPACE: When maintained as a strict five-seater, 550 litres of cargo area is more than enough to withhold what's typical expected of a proper SUV. Demand even more room, and you can fold the 60:40-split second row backrest to create a maximum 1,520 litres of cargo capacity. The tonneau cover is easily stashed under the luggage board in the floor of the boot.
2.5L 4WD: Of course, the 2.5-litre variant of the X-Trail benefits from a few extra items on the spec-list, and these most notably include a 10-way electric-powered driver seat, four-way front passenger power-seat, leather upholstery throughout, rain-sensing wipers, and a unique design on the interior panel finishing.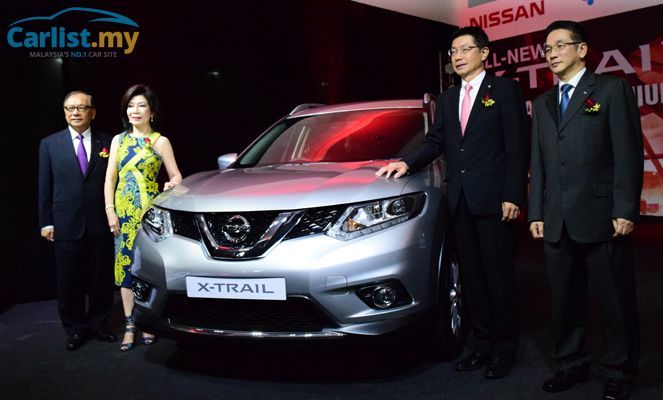 Safety Features:
With most of the most recent Nissan model (Teana, Sylphy) launches, we've had absolutely no cause for complaints: six airbags, Vehicle Dynamic Control, ABS, EBD… the works across the board, from the base model upwards. With the X-Trail, what's immediately noticeable is that both variants of the car only come with two airbags, with no option to increase the count in sight. Bummer.
To make up for the minimum airbags offered are however a trio of active safety tech otherwise known collectively as Active Chassis Control. Standard on both X-Trail variants sold in Malaysia are Active Ride Control (modulates brakes, engine toque to reduce body pitching over bumpy roads), Active Engine Brake (uses CVT gear ratio to apply engine braking to slow the car) and Active Trace Control (applies small amounts of braking to individual wheels when too much throttle is applied in a corner – torque vectoring, almost).
Optional Accessories:
V-Kool Elite Security: RM4,400
V-Kool Armorcoat: RM2,850
Solar Gard: RM1,450
Leather Seats: RM2,800
Ultra Glass Body Coating NEO: RM2,350
Multi-media Navigation: RM3,800
---
---
---
---
Comments