All-New BMW 7 Series (G11) Makes Global Debut
Auto News The sixth-generation all-new BMW 7 Series has finally and officially been revealed to the world. We've spied it, caught on all the teasers, and have even shown you a bunch of leaked images, but nothing beats a full reveal like we have here.
To shape things up quick for those of you on the go, our coverage of last night's leaked images should suffice, but if you want the full report, read on.
Six generations of the BMW flagship limousine since 1977, and here we are today with sights set of the future, looking at the latest bit of BMW mastery that largely previews all things to come from the brand in due time - as the trickle-down effect begins here, and on to the 5er, 3er and so on. The new 7 Series will be built traditionally at the BMW Group Plant Dingolfing, alongside the aluminium bodies of Rolls-Royce models and more.
"We had one goal: for the new 7 Series to set the standard for sportiness as well as for innovation in the luxury segment. We wanted our customers to experience all the innovative power of the BMW Group in our BMW flagship.
"Exceptional driving dynamics has always been one of the main reasons customers buy this car. That is why the new BMW 7 Series offers such a versatile driving experience – from absolute comfort to extremely sporty," says Klaus Fröhlich, Member of the Board of Management of BMW AG, Development.
So let's uncover what's what, starting with…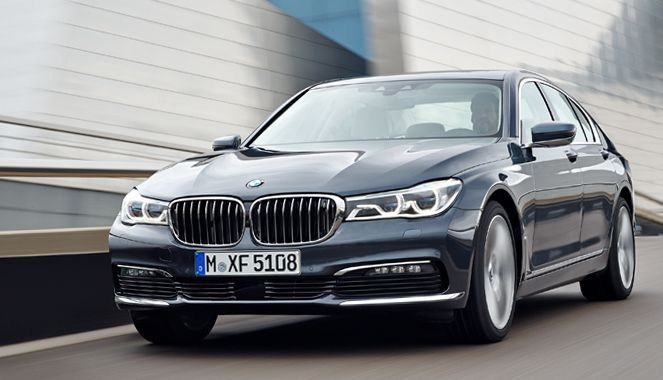 Engines:
The US and Europe will both offer different engine variants of the all-new 7 Series, for example, the US gets the 750i with a V8, while Europe will get a 620Nm of torque 730d. Collectively, it's a range of new inline-six BMW TwinPower turbo petrol and diesel (B58, B57) engines that are the focus of the new 7 Series' powertrains – there's a massively updated 4.4-litre V8 that rivals the performance of a BMW M5, but we'll get to that in a bit.
740i: Forming the basis for the 740i, 740Li and 740i xDrive is BMW's new 3.0-litre turbocharged petrol engine. The powerhouse makes 326hp and 450Nm of torque, which is enough to burst it from 0-100km/h in 5.6 seconds. Do keep in mind here that 7ers are equipped with the latest-gen eight-speed torque converter automatic Steptronic transmission.
730d: The sole diesel variant on offer will find its way into the 730d, 730Ld and 730d xDrive. It pushes 265hp, but a whopping 620Nm of torque. The 3.0-litre turbo-diesel features a new common-rail direct injection system with piezo injectors that now generate a maximum pressure of 2,500 bar.
750i: Redeveloped by BMW for the 750i xDrive, the 4.4-litre twin-turbo BMW TwinPower V8 petrol engine is good for a stonking 445hp. Torque figures haven't been revealed as yet.
Clearly, BMW hasn't revealed the full extent of its engine line-up, and is more likely to be doing so as the 7 Series approaches its market launch come October this year. As reported, various markets will be offered with various spec, so don't be too disheartened to find that we in Malaysia don't get the 750i or xDrive units – you could however always just order one directly from BMW.
BMW has also introduced a 740e Plug-In Hybrid variant of the all-new 7 Series, so you can head on over to that link to find out more.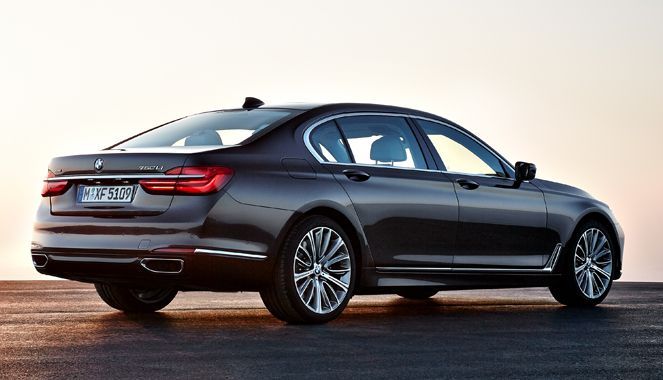 Exterior Styling:
The all-new 7 Series isn't too far a stretch from its predecessor in terms of exterior styling, you could still spot one a mile way without much confusion. More an evolution rather than a revolution, BMW has subtly chiselled its limo to further perfection.
At the front, the new 7 Series features BMW's first Active Kidney Grille, which like the Mercedes-Benz C-Class's Active Shutter Grille, can be opened to allow air cooling of the engine bay, or shut to aid aerodynamics when cooling is sufficient.

The redesigned headlamps still feature BMW's signature twin circular design, but have been remoulded to flow into the kidney grille. As standard, all 7ers will come with full LED front lighting, while optional is a set of BMW Laserlight tech – which has made its was over into mass production from the BMW i8.
If you approach it from the side, you'll notice BMW's signature Air Breather has been relocated further downwards than we've ever seen it to be on other models, and spawns a chrome trim strip which runs along the sides. The wrap-around window frame, taking in the Hofmeister kink, is a single-piece element for the first time in a series-produced model.
Around the back, and the 7 Series' broad stance is further proposed by the sleeker L-shaped taillights, which as standard, are full LEDs. Both taillights are joined together by a chrome strip running across the boot lid.
DIMENSIONS: Offered also with a long wheelbase version, the regular 7er measures in at 5,098mm long, 1,902mm wide, and 1,478mm tall. The LWB is marginally longer is all aspects, with a wheelbase that's 14cm longer than the regular vehicle, mostly to make for more room in the rear of the cabin.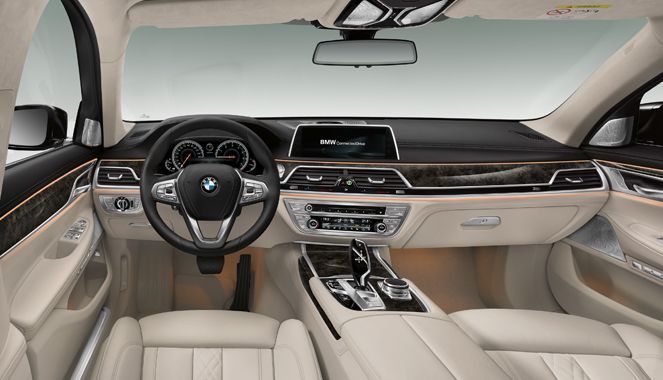 Interior Design:
Similarly laid out to resembled what most all modern BMW's today look like, the new 7 Series hasn't changed its ergonomics game all that much. But again, if you look closely, you'll spot the changes. For aesthetics, you may look to new chrome buttons on the multifunction steering wheel and centre console and on the dash. And if that's not enough chrome for your liking, there's an optional Design Pure Excellence package which will induce more inside and outside the car, along with add some matt-black brake calipers and some deep-pile floor mats in the rear.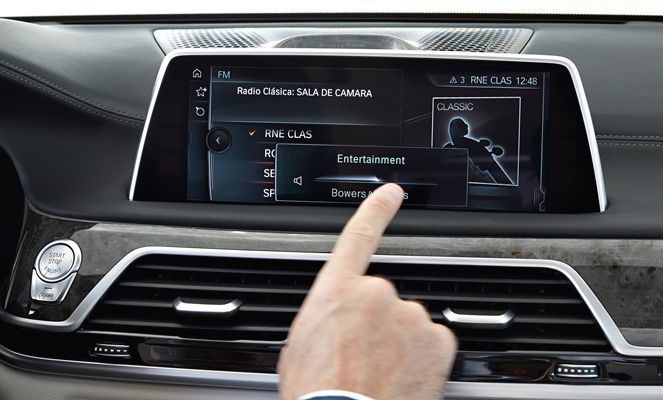 For what's really new and exciting about the interior, you'll have to look at the new tech BMW has introduced with its all-new 7 Series, beginning with the latest iDrive 5.0 with Navigation system. For the first time, BMW is going with a touchscreen control display, which also allows for gesture control (waving your hands at it like performing a Jedi mind trick allows you to control various functions like volume, switching music tracks etc.).
The instrument display screen is also all-new, and is a 12.3-inch screen, which allows for lots of customisation as to what you see in it. The colour schemes also change based on what Driving Experience mode you're in at the time.
Getting carried away with a newfound appreciation for touch-control, there's a separate control panel for the four-zone a/c controls in the rear which are touch sensitive.
Conveniently, there's a universal mobile phone holder located on the centre console which features wireless charging capability and is compatible with a range of devices, says BMW.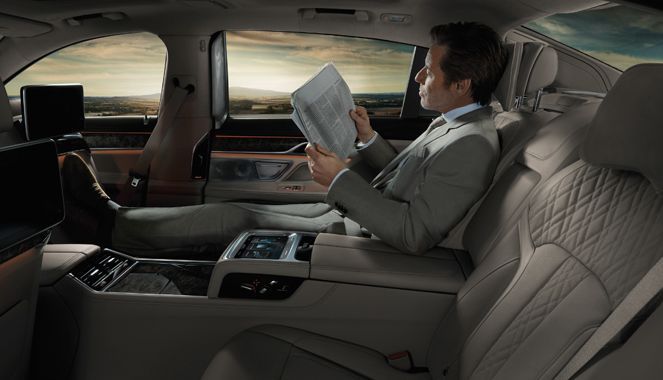 EXECUTIVE LOUNGE SEATING: Ah, yes. If for whatever reason a little more space is needed in the rear for your business-class demands, BMW will be introducing what it calls the Executive Lounge Seating option, available for purchase by mid-2016.
The optional package allows the backrest to be reclined to an angle of up to 42.5 degrees. For more rear legroom, the front passenger seat can be slid forward by an extra 90mm and its backrest tilted all the way forward. For a completely unobstructed view to the front, the head restraint can be folded down as well.
An electrically operated fold-out footrest can also be found on the back of the front passenger seat. The rear-seat entertainment system screen can be electrically adjusted to the ideal viewing angle for the rear passenger's current seat position. In addition to all this, the Executive Lounge rear console also features a fold-out table, two cupholders and a storage compartment, as well as the new BMW Touch Command unit.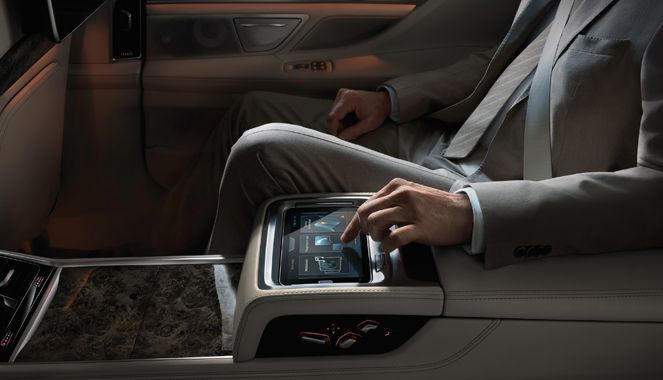 TOUCH COMMAND: BMW's Touch Command device is a removable seven-inch touchscreen tablet device – yes, it's optional kit too. Anyone with the Touch Command device may control various things like seating positions, interior lighting and air-conditioning, access the car's infotainment and navigation and more – best of all, you can do most of these things without even needing to be in the car. A WiFi hotspot built into the vehicle provides the necessary online connectivity. Any content retrieved from the Rear-seat entertainment menu with the aid of the tablet is shown on the Rear-seat entertainment Experience system's two 10-inch screens.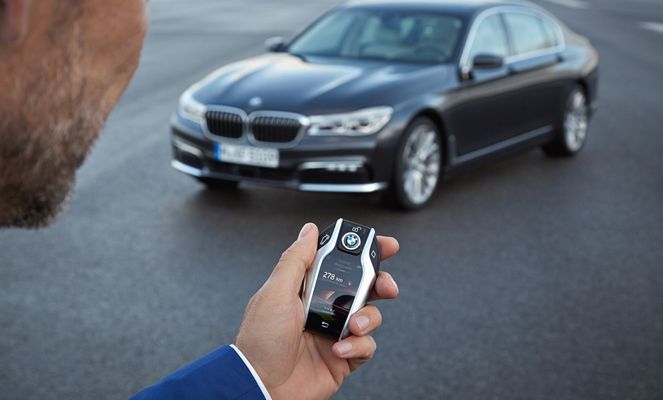 Remote Control Parking:
A first for BMW, owners will be able to get in and out of forward parking spaces without anyone at the wheel via the new Remote Control Parking option – getting in and out of tight spaces can't get any easier than that. Using your BMW Display Key, drivers need only select the task, and then commands the vehicle to either park itself and reverse out of a parking spot whilst themselves standing by to watch for any obstacles.
Carbon Core Body Construction:
We told you lots about the all-new 7 Series' CFRP body in our previous stories, but here, we put more facts to the matter.
It starts off with the vehicle being a lot lighter than its predecessor: around 130kg lighter to be precise. What this does for the new 7er then is massive: less weight means more performance and handling, more fuel efficiency gains, you know the drill.
The element here is the BMW's Carbon Core body structure: using CFRP, ultra-high-tensile steels and aluminium, BMW have been able to slash the 7ers weight by much, yet maintain the rigidity and strength of the vehicle. But that's not all. We've now also learnt that the new 7er's build has learnt far more than CFRP tech from the brand's environmentally-conscious BMW 'i' Division.
"Careful material selection, energy-efficient production processes and further improved arrangements for environmentally friendly recycling help the new BMW 7 Series to obtain an exemplary life cycle assessment covering its entire product life. The environmental impact - the "greenhouse potential" - is around 25 per cent lower than in the outgoing model," says BMW.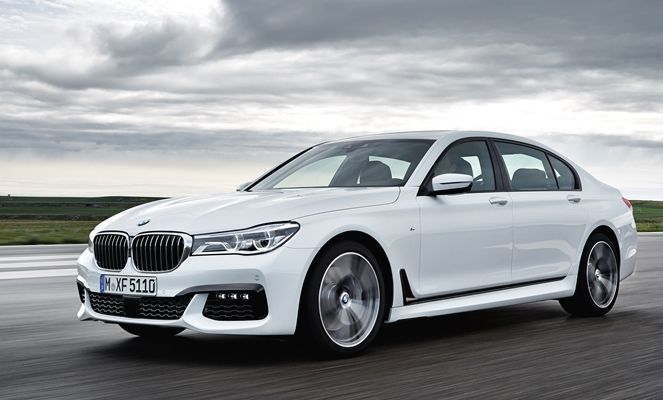 Chassis Control & Driving Experience:
To recap: "Exceptional driving dynamics has always been one of the main reasons customers buy this car. That is why the new BMW 7 Series offers such a versatile driving experience – from absolute comfort to extremely sporty," says Klaus Fröhlich, Member of the Board of Management of BMW AG, Development. And they're not kidding.
The new 7 Series is fitted with a double-joint front axle, five-link rear axle and Electric Power Steering. Then there's also the inclusion of a two-axle self-levelling air suspension system as standard makes a further contribution to the superb ride comfort.
When driving over a rough road, the level control features allows drivers to raise the ground clearance of the vehicle by 20mm – and as soon as the road smoothens out and you pick up speed again to around 35km/h, the system will revert to its original setting. Likewise, when Sport mode is in use, the car will automatically lower itself by 10mm when it reaches high speeds to improve stability.
For the first time, active roll stabilisation is now carried out electromechanically in the new 7 Series, via a development of the Executive Drive Pro feature. The new active chassis control system works in unison with two-axle air suspension and the Variable Damper Control to reduce roll forces created by cornering at high speed. Being electronically controlled and doing away with the use of a hydraulic-type system also makes the 7 Series a lot more energy efficient. The system can technically "see" the road ahead too, via data from the navigation system and a stereo camera, which makes this a sort of "anticipatory" chassis control.
ADAPTIVE DRIVE MODE: Added to the list of Sport, ECO PRO and Comfort type driving modes is a new ADAPTIVE mode from BMW which when selected, the vehicle sets itself up to match whatever driving style you throw at it – with the Professional Navigation system as standard, map data is also taken into account.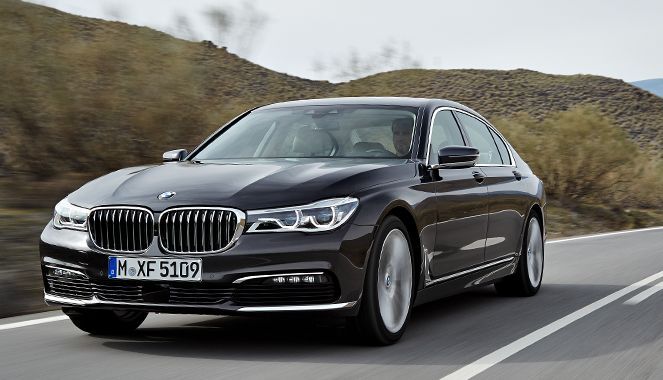 When it is coming to Malaysia?
Sorry, but we wish we could answer that one for you. But given how quickly BMW Malaysia usually gets their all-new vehicle's here, we wouldn't be too surprised to see it here some time Q1 or Q2 2016. In Europe, the all-new 7 Series is only expected for a market launch sometime October 2015. But who knows... we'll have to wait on BMW Malaysia to give us something concrete first.
---
---
---
---
Comments