All-new Dunlop 4x4 Tyre Range Launched; Brief Driving Impressions
Auto News Continental Tyre PJ Malaysia Sdn Bhd (CTM) has launched two all-new offerings in the Malaysian market for its Dunlop 4x4 tyre range, namely the highway terrain Dunlop RoadTrekker RT5 and all-terrain Dunlop MaxGrip AT5 aimed at pick-up trucks and SUVs, both the robust and crossover variety.
"The Dunlop RoadTrekker RT5 and Dunlop MaxGrip AT5 are the second generation of locally-made Dunlop 4x4 tyres since Continental AG came to Malaysia. These new Dunlop 4x4 tyres were designed here in Malaysia for Malaysia road conditions and customer expectations," said Mr Cameron Wilson, Managing Director of CTM.
"Incorporating German technology, these tyres are produced in our high-tech plant in Alor Setar which is reaching new benchmarks for excellence in quality and process technology," Wilson continued.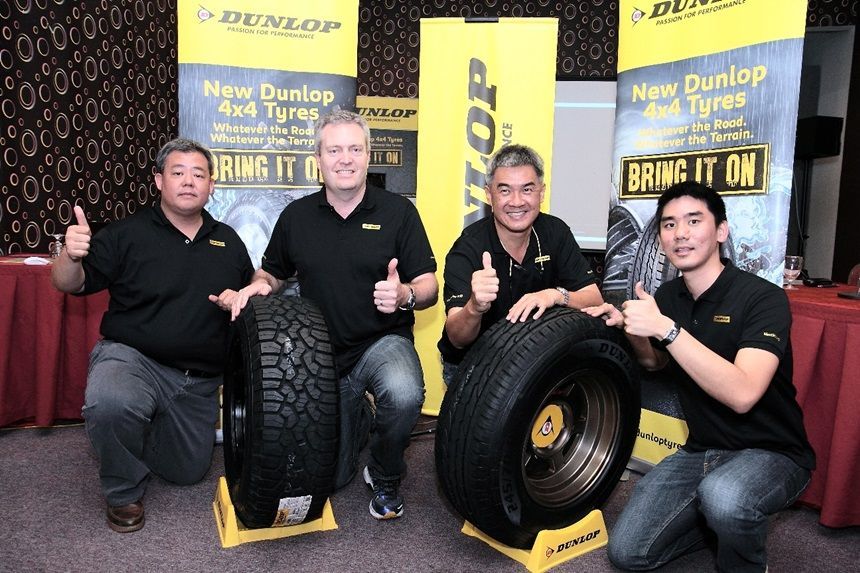 The Dunlop brand's ownership is fragmented across the world. Goodyear holds it in Europe and North America, Sumitomo Industries owns it for much of Asia, and there are other custodians of the brand in different parts of the planet.
Continental AG's holding of the brand is restricted to only Malaysia, Singapore, and Brunei. As such, research and development of Dunlop-branded tyres for our market result in products with characteristics that are catered exclusively to consumers in our region.
CTM does import and sell Dunlop-branded tyres from other custodian of the brands, but the locally-made products are developed with a high degree of input from Malaysian engineers based in Petaling Jaya working in collaboration with their Continental AG counterparts in Germany.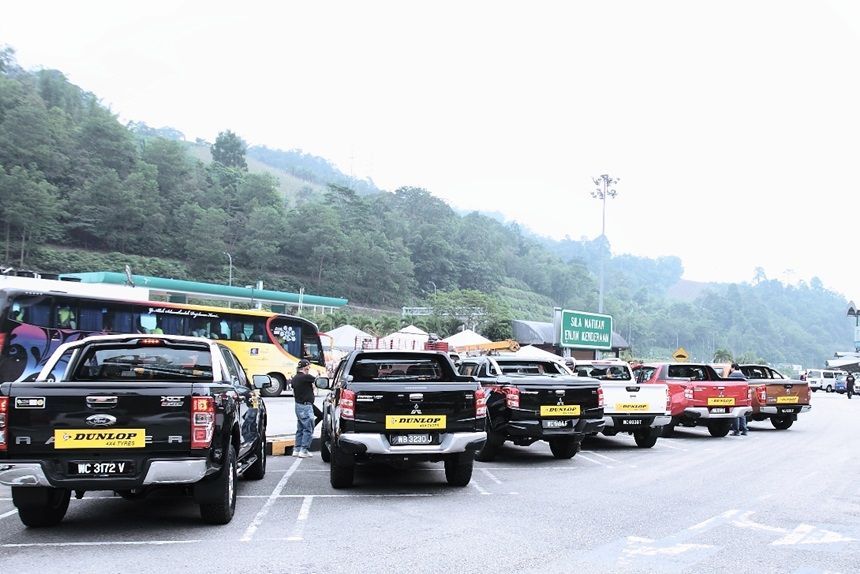 Succeeding the RoadTrekker RT2, the new Dunlop RoadTrekker RT5 is claimed to offer the following benefits
Two dedicated water flow channels – improves water dispersion for better wet grip.
Part-silica compound construction – higher water-repellence for better wet grip and reduced braking distance; improved durability too.
Bigger & stiffer tread blocks – increased road contact patch area for improved road-holding.
Widened contours – Reduced tyre curvature for more even wear, translating to better durability.
Available sizes: 245/70 R16, 265/70 R16, 225/65 R17, 255/70 R16, 265/70 R15, 255/70 R15, 215 R15, 31 x 10.5 R15 LT LRC
The MaxGrip AT5, on the other hand, offers the following benefits:
Zig-zag tread patterns – better all-surface grip and traction
Optimized tread depth – balances between longer mileage and more efficient heat dissipation
Sidewall protection rig – shields tyre sidewall against scrapes from rocks and boulders.
Available sizes: 255/70 R15, 265/70 R15, 31 x 10.5 R15, 245/70 R16, 265/70 R16, 275/70 R16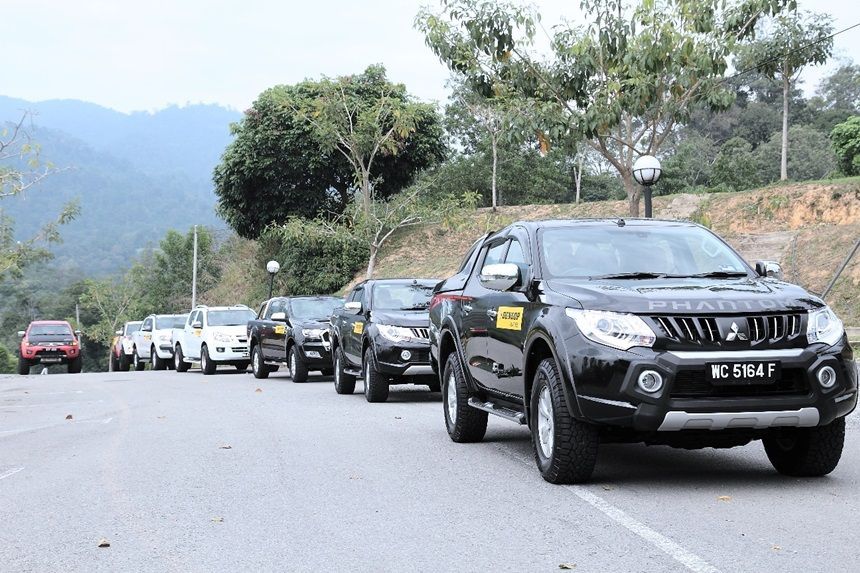 Brief Driving Impressions – Dunlop MaxGrip AT5
The day-long launch event of the two Dunlop 4x4 tyres included a drive programme that took us on the Karak Highway to Janda Baik, Pahang, with some mild off-roading thrown in. Only the MaxGrip AT5 tyres were tested, however, which the folks at CTM fitted into a fleet of pick-up trucks that included the Nissan NP300 Navara, Ford Ranger T6, Isuzu D-Max, and Mitsubishi Triton, which I was assigned to by luck of draw.
The on-road stretches of the drive quickly showed up the tyre's impressive quietness on the move, which more than rival many highway terrain tyres in the market. Road holding at moderate speeds is largely unaffected – only when pushed hard around bends did our test car exhibit a slight uncertainty which we do not recall when testing the Triton on its stock highway terrain tyres.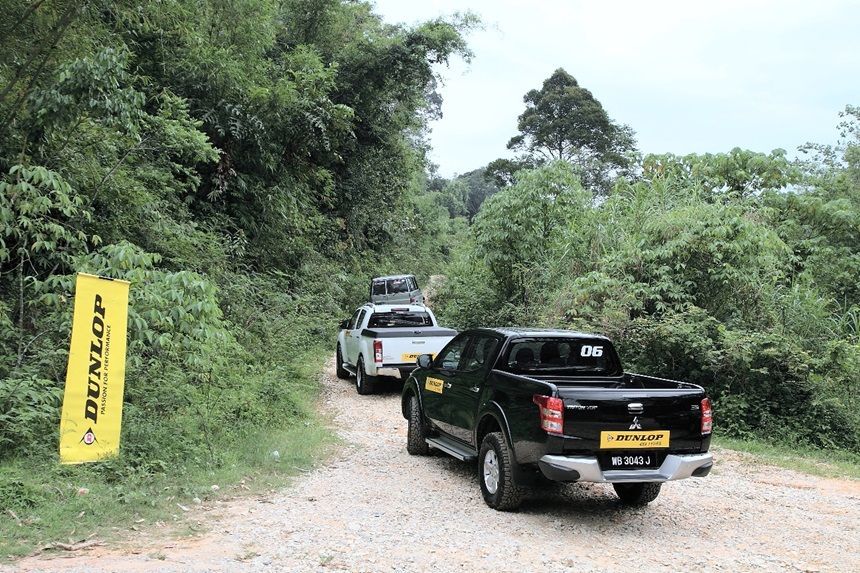 There was a substantial increase in firmness of the ride over bumps and road patches, but lesser disturbances such as painted strips are more effectively insulated. We suspect the possibility that the tyres may have been overinflated.
The off-road leg of the programme was a relatively modest one, the type which we regularly undertake in media drive for pick-up models in regular highway terrain tyres anyway. There was a shallow river crossing which was attempted by only one truck, namely the Triton which I was in, but otherwise, the tyres were tested well within the safe side of their limits.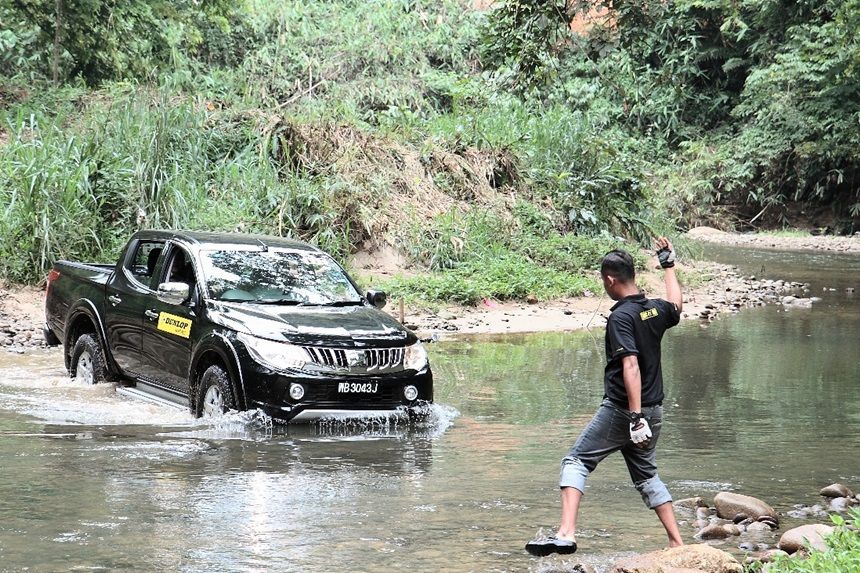 The only notable observation is that hill descent on steep slopes in 4L driving mode feels better controlled than we typically experience when testing trucks on HT tyres. We can perhaps attribute this to the superior grip provided by the AT5 tyres. This observation is particularly pertinent in the Triton, which is not fitted with electronic stability or hill-descent control; it was purely mechanical.
In brief, the MaxGrip AT5 felt like a good all-terrain tyre with well-balanced abilities. Particularly impressive is how closely its refinement and tarmac-holding capabilities rival those of highway-terrain tyres.
It even prompts the question on whether the highway terrain RoadTrekker RT5 is even relevant, but the answer that the RT5 is engineered to provide even better handling and refinement. Additionally, the RT5 is also catered for use in crossover SUVs, whilst the AT5 is not.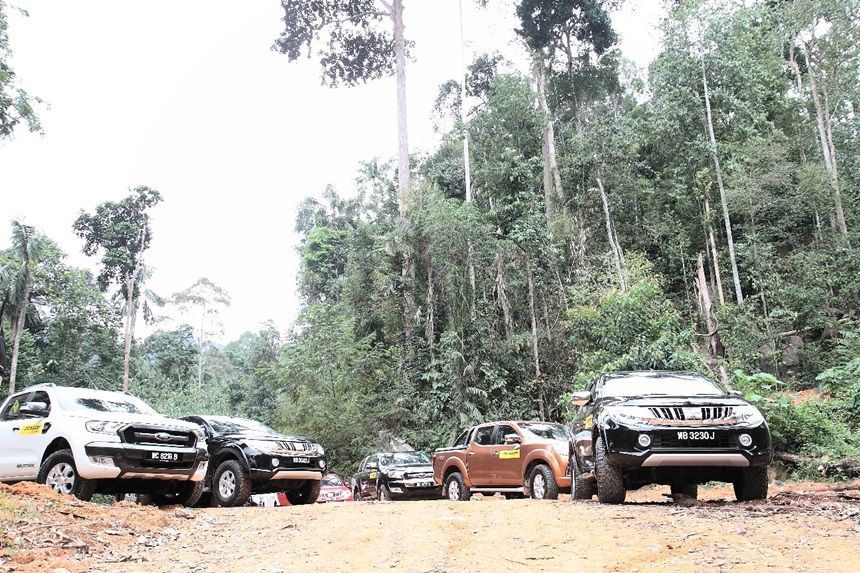 ---
---
---
Comments