April 2018 New Vehicle Sales – Better Than Expected
Auto News April 2018 was the beginning of the feeling of uncertainty in Malaysia. With two big announcements made (dissolution of Parliament and announcement of general elections date), consumers were expected to be cautious with their big-ticket item purchases.
However, looking at the April 2018 sales results from MAA, numerically, it proved otherwise. April 2018 with 47,089 units registered was the best month of April in three years. April 2017 and 2016 was only 42,746 units and 42,177 units respectively. That is a performance that amounted to a 10 percent improvement!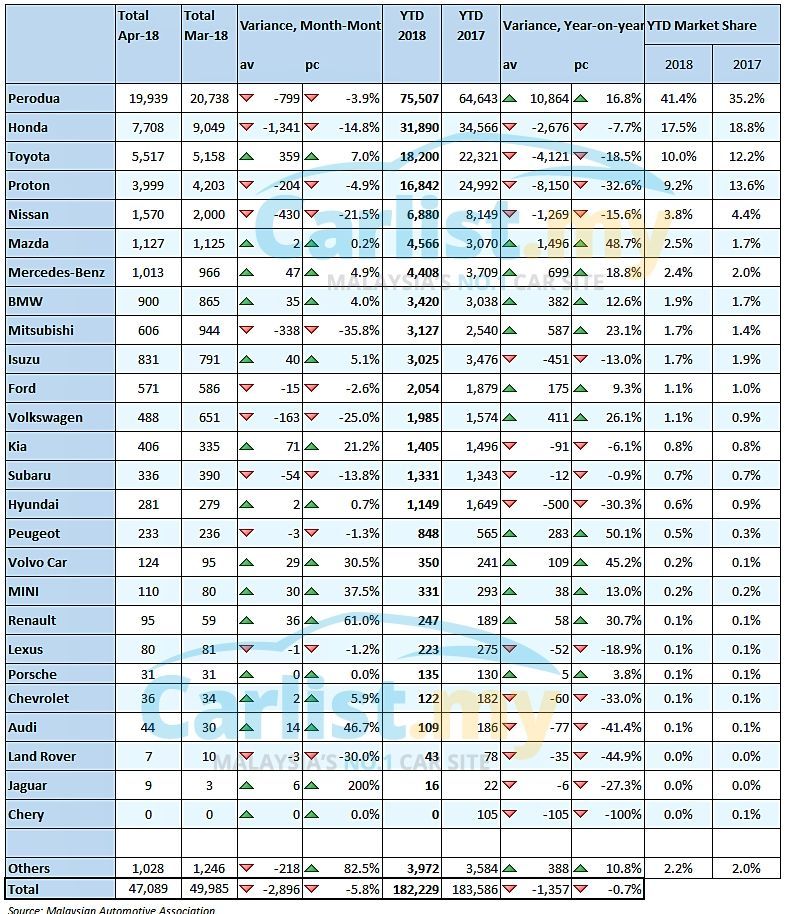 So what contributed to the strong April 2018 performance compared to April last year? Looking at the top gainers for this month, it is clear that the majority of the consumers only have the Perodua in their radar. While there is no model breakdown, we can safely accept that the Myvi model is the largest contributor to the brand's increase of over 5,500 units sales.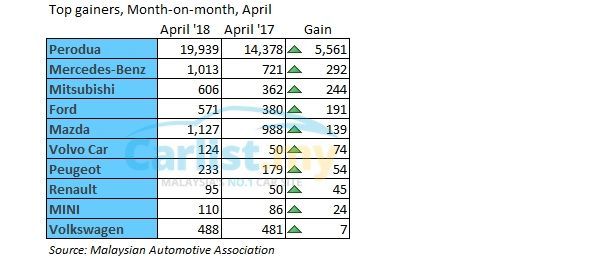 Other brands that experience a happy April 2018 include Mitsubishi (we believe that Outlander is a big contributor), Peugeot (3008), Renault (Captur) and MINI. Although better than April 2017, these brands experienced sales gain nowhere near as large as Perodua.
With the much stronger than expected April 2018 performance, the cumulative TIV of the first four months of sales is at 182,229 units, just 1,357 units or 0.7% lower than last year.
However, with the entire month of May 2018 being consumed by news of General Election which resultant in the formation of a new government and thus fulfilling its election manifesto of abolishing GST, we do not expect the month to fare well.
May 2017 delivered a whopping 50,600 units, and the lowest monthly TIV figure for the past 20 months is circa 41,000 in September 2016. Even with nearly all brands pushing for sales by offering zero-rated GST prices even before the June 1st 2018 commencement date, the TIV is expected to be weak in May 2018.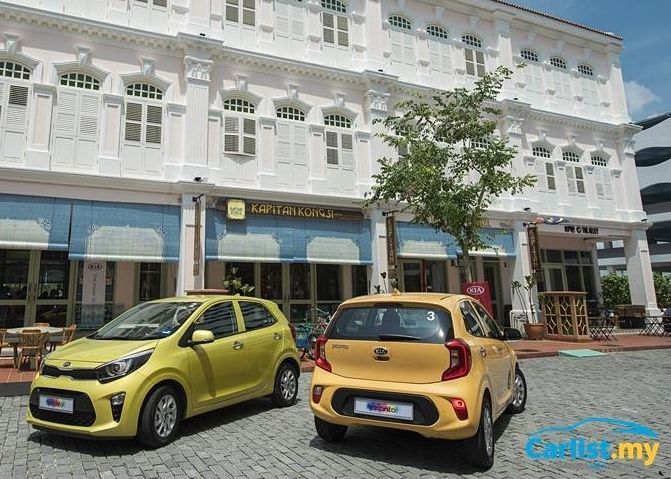 Looking at the new model launches so far, a majority of new product launches we covered in 2018 have been from the Premium brands such as BMW, Jaguar, Land Rover, MINI, Volvo, and Lexus. Mainstream brands only offered new models costing over RM100,000 (Toyota C-HR, Volkswagen Golf and, Nissan Serena) and these are not expected to impact the TIV significantly. The all-new Kia Picanto was the only all-new product launched with a price tag of under RM 50,000.
---
---
---
Comments