Bekas Pereka PROTON Hasilkan Konsep Kereta Elektrik Malaysia (MEV)
Auto News Kereta Elektrik Malaysia? Ketua Rekabentuk Industri MIMOS Berhad, Saharudin Busri yang juga merupakan seorang bekas pereka PROTON yang mempunyai pengalaman selama lebih 27 tahun dalam bidang rekaan automotif telah berkongsi idea rekaan konsep Kereta Elektrik Malaysia (MEV).
---
Rekaan konsep MEV ini dipertontonkan pada umum ketika Hari Reka Bentuk Perindustrian Sedunia (WIDD) pada 3 dan 4 Julai lalu anjuran Persatuan Pereka Perindustrian Malaysia (Pereka). Menurut Saharudin, masih tiada nama untuk MEV yang dihasilkan daripada asas platform Volkswagen Golf ini.
Saharudin memilih hatchback segmen-B sebagai model untuk menyiapkan MEV ini kerana menurutnya, segmen-B sangatlah sesuai untuk pasaran Malaysia pada ketika ini yang banyak dipenuhi dengan kenderaan mampu milik. Lihat sahaja Perodua Myvi, sebuah hatchback segmen-B yang muncul sebagai kereta paling laku di Malaysia. Dah lebih satu juta terjual kat pasaran negara ini.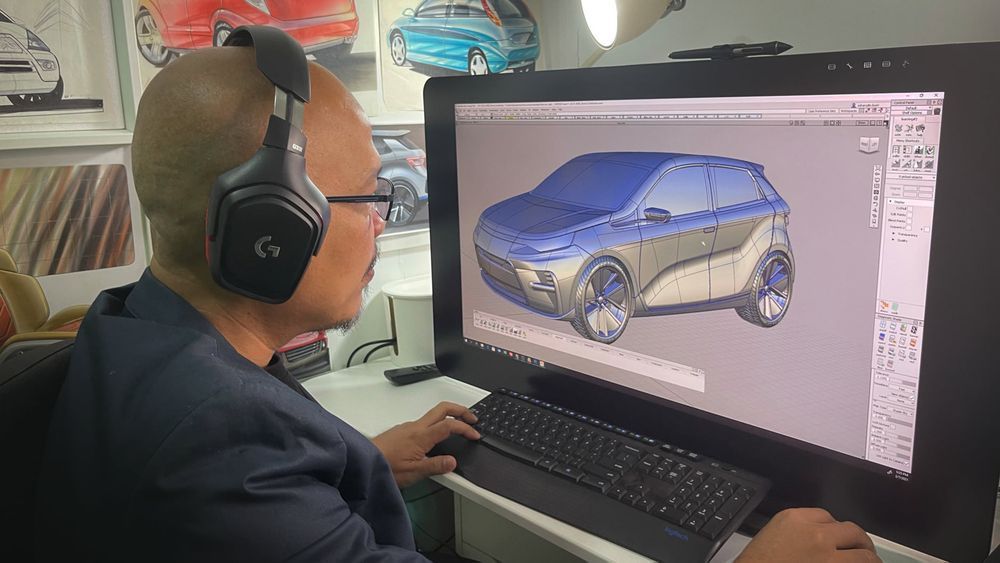 Rekaan bahagian luaran kereta ini tampak kemas dan bersifat futuristik. Bahagian bampar dan rekaan gril di bahagian hadapan kereta juga kelihatan berbeza daripada kereta enjin pembakaran bahan api (ICE) kerana kereta elektrik hanya memerlukan motor elektrik. Oleh itu, tempat jeriji telah digantikan dengan rekaan lampu nyalaan siang (DRL) yang melintang dan bersambung dengan kedua-dua lampu LED utama kereta seperti Hyundai Staria, cuma yang ini nampak lebih menariklah.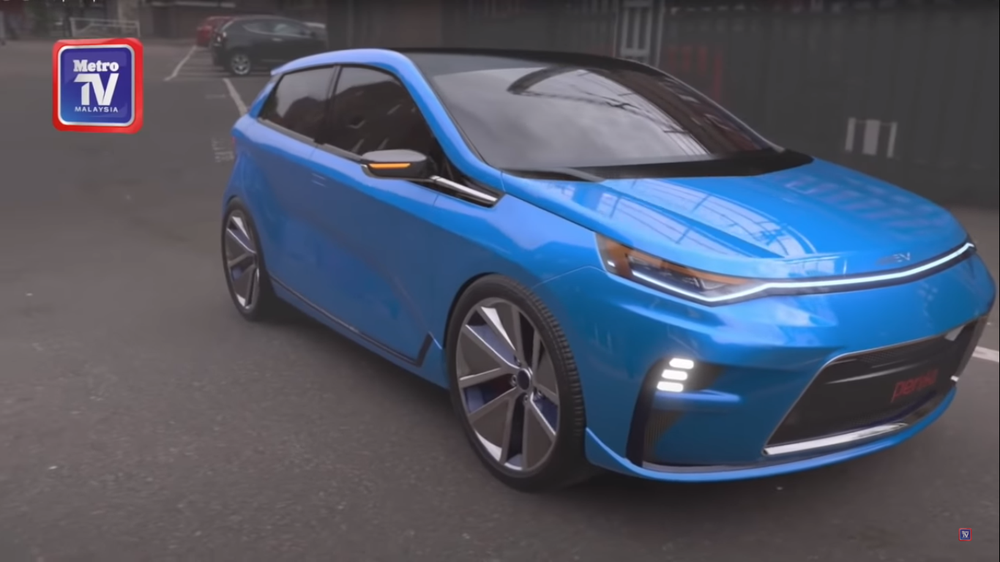 *Kredit foto: Harian Metro
Rekaan bamparnya dengan elemen gril hitam lebar telah menyerlahkan lagi reka bentuk sporty kereta elektrik ini. Beliau menggunakan bingkai elemen hitam kawasan perumah lampu kabus bagi menambah bentuk 3 dimensi dari sudut pandangan hadapan.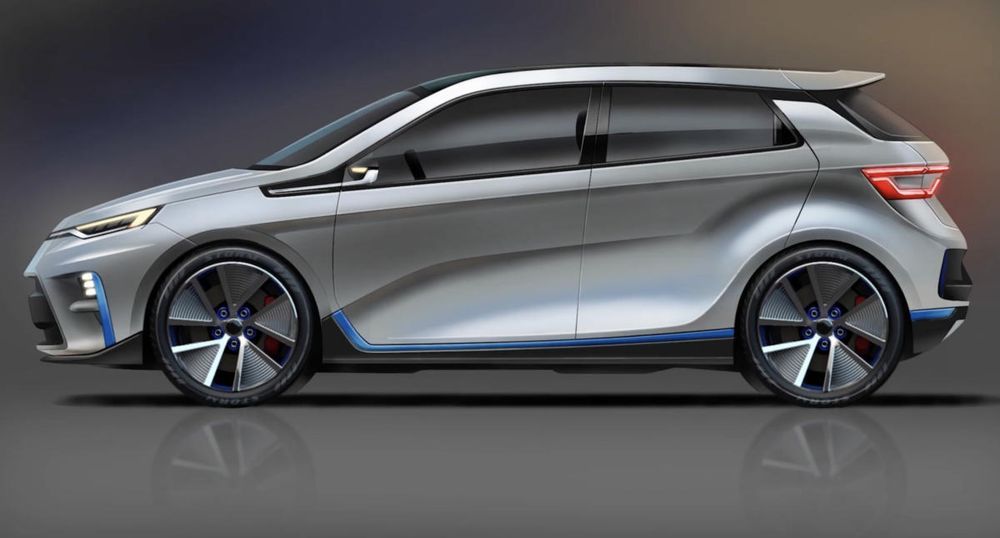 Di bahagian sisi, terdapat kemasan krom pada penghujung tiang A kereta dan terus bersambung ke cermin sisi. Selain itu, terdapat juga satu garisan pada bahagian wheel arch atau gerbang roda terus ke pintu dan tiang C yang menaikkan lagi bentuk sporty kereta ini. Terdapat juga lekuk di bahagian sisi bawah kereta yang bermula dari hadapan skirt sisi sehingga ke lekuk wheel arch belakang. Konsep kereta elektrik ini dipadankan dengan rim aloi bersaiz 18 inci. Rim tersebut mempunyai ciri dwi-tona mengikut warna badan kenderaan.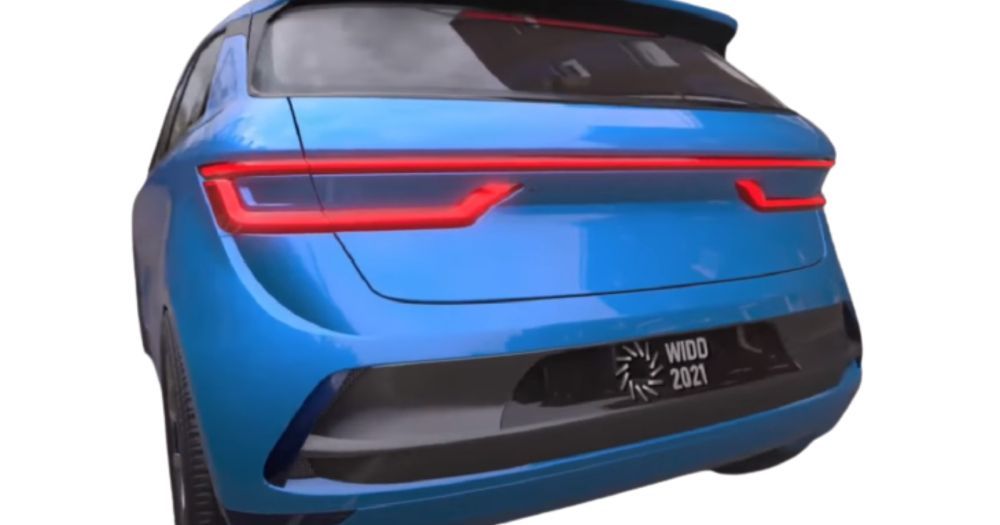 Sementara itu di bahagian belakang, lampu kereta ini turut mengambil elemen yang sama dengan lampu hadapan iaitu rekaan jejalur lampu melintang merentasi pintu but dan bersambung antara satu sama lain. Rekaan bampar belakangnya agak ringkas, kemas dan tidak keterlaluan menjadikan ia kelihatan segar dan menarik.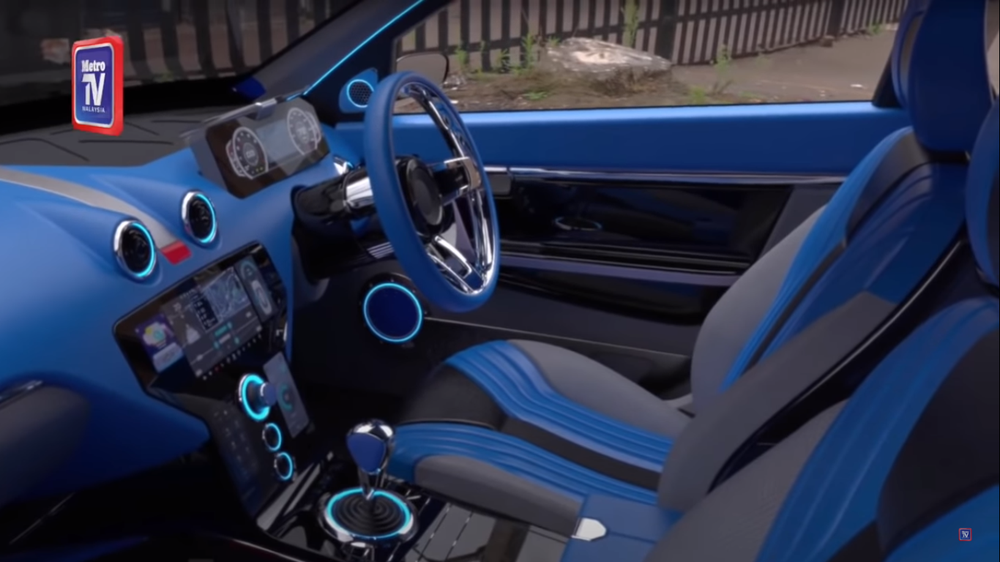 Ciri futuristik turut dibawa ke bahagian dalaman kereta ini. Bahagian dalaman kereta ini kelihatan kemas dengan gabungan warna badan kereta, kelabu dan hitam. Papan pemukanya dihiasi dengan banyak bentuk bulat seperti pada corong dan butang penyaman udara, pembesar suara dan tuil gear. Selain paparan meter pemandu yang berbentuk digital dan terapung, kereta ini turut hadir dengan paparan infotainment di bahagian tengah papan pemuka. Tempat duduk sport dengan sokongan sisi dan garisan jahitan menyerlahkan gaya masa hadapan dan menawarkan pengalaman seperti berada di sebuah kapal angkasa.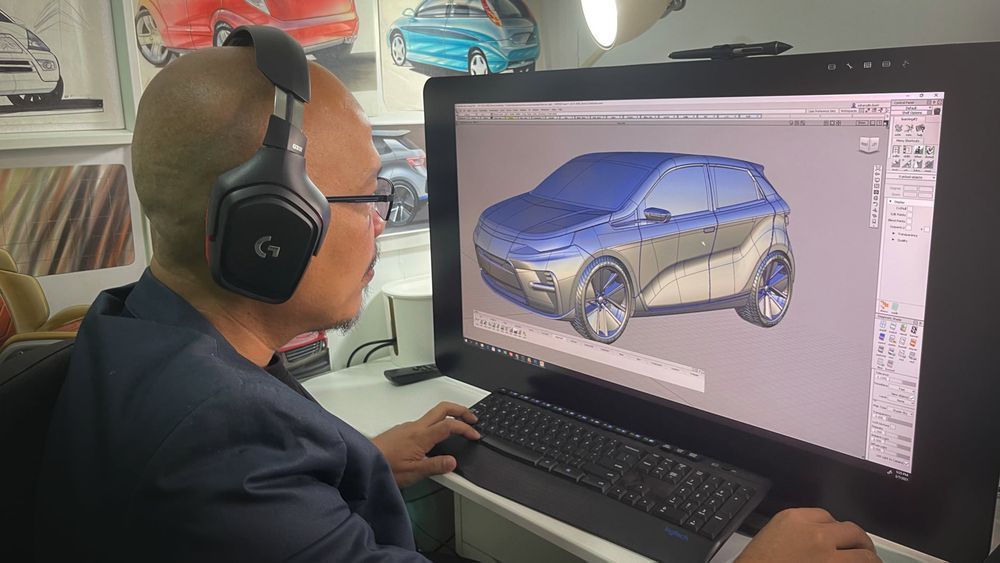 Saharudin difahamkan telah mengambil masa selama 3 minggu untuk menyiapkan rekaan MEV ini. Proses ini bermula daripada lakaran dua dimensi (2D) sehingga menjadi tiga dimensi (3D) termasuk bahagian luaran dan dalamannya.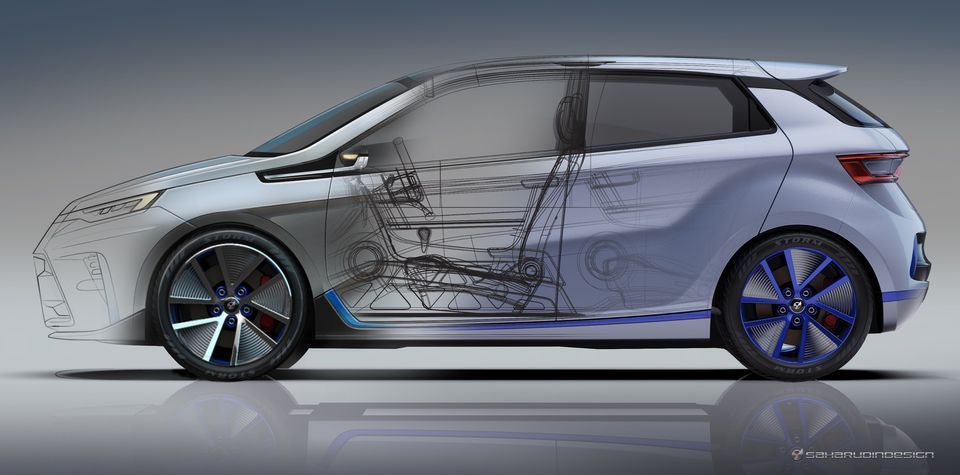 Meskipun rekaan ini hanyalah konsep, namun Saharudin berharap bahawa rekaannya akan menjadi sumber inspirasi dalam menghasilkan kenderaan elektrik negara pada masa hadapan melalui pembabitan pihak tertentu untuk merealisasikan idea ini. Tambahnya, ia juga dapat mewujudkan lebih ramai pereka untuk membantu negara dalam penghasilan produk berkaitan automotif yang lebih maju, inovatif dan berdaya saing dengan negara lain.
Untuk melihat kereta MEV ini dengan lebih terperinci, anda boleh menonton video dibawah:
*Kredit video: Harian Metro


For more latest car news, reviews, car buying guides and videos visit us at Carlist.my Auto News.
Check out all the best new & used car deals in Malaysia at Carlist.my.
Sell your car fast with the best offer? Visit us at CarlistBid.my.
Get your latest new car promotion here also.
---
---
---
Comments