 Who here is willing to admit to carelessly throwing away a productive Friday to play around on an online car configurator? I do, on numerous occasions. That being said, it is easy to play with a configurator when you are building your fantasy million-dollar car. It is not so easy when you have to put your hard earned money on the table to decide between that bright sky blue paintjob you have always wanted, or the discreet silver that will guarantee residuals and the acceptance of your high-brow neighbours.
The problem, as Sigmund Freud has pointed out, is that we are rational beings guided by irrational desires. A problem to which Bentley has address with an app that will read your facial expressions and reactions to put together the perfect Bentley for you.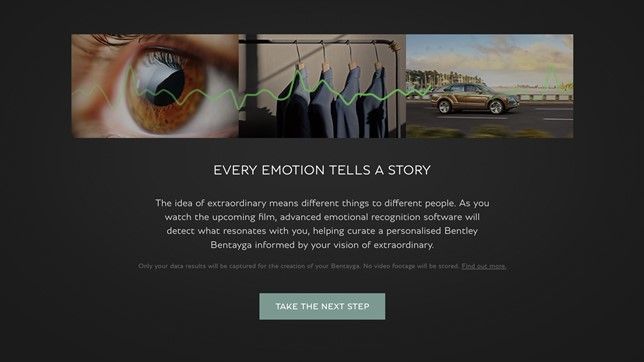 Called the Bentley Inspirator, and available for download from Bentley or the Apple App store, the iOS app will play users a film from which it will utilise a facial and emotion recognition software that will pick out the users' 34 facial landmarks at 15 frames per second via the iOS device's camera. The points tracked are then fed through an accurate emotion metrics algorithms that is built using the world's largest emotion data repository, with 3.4 million faces that have been analysed in 75 countries, which amounts to more than 12 billion emotion data points.
The user's reactions to film also dictates its unique narrative, as the film will change according to what the user responds to most positively. This allows the app to further decipher their individual preferences, which will used in creating a unique configuration that will be revealed at the end of the film.
However, if you aren't happy that your subconscious went with the silver option at the end of the film, the configurator will allow you to further fine tune the personalisation process, so you can finally attain those dreams of yours. And it is only available for the Bentley Bentayga SUV for now. So if your dreams doesn't encompass Bentley's luxury SUV, then those dreams might have to wait a while longer.
---
---
---
---
Comments