Can Toyota Top Honda Sales In 2021?
Insights Closing off a stellar month of sales in December 2020 – Honda Malaysia managed to round off yet another year as the Top Non-National carmaker in Malaysia. Its sixth year at the top-spot – though only just! Honda closed off the year with 60,469 units delivered in 2020, UMW Toyota Motors 59,320 units, needless to say, Toyota is not far behind, and they're going in big, gunning for gold this year in the Non-National segment.
---
Honda knows it too, and they won't be resting on their laurels, with the launch of the tech-laden Honda City RS, and most of their existing range already refreshed with facelifts (i.e.: the BR-V, Civic and CR-V) going up against an equally strong lineup from Toyota (read Yaris, Vios, Avanza, Hilux and Innova) - it's all to play for in 2021.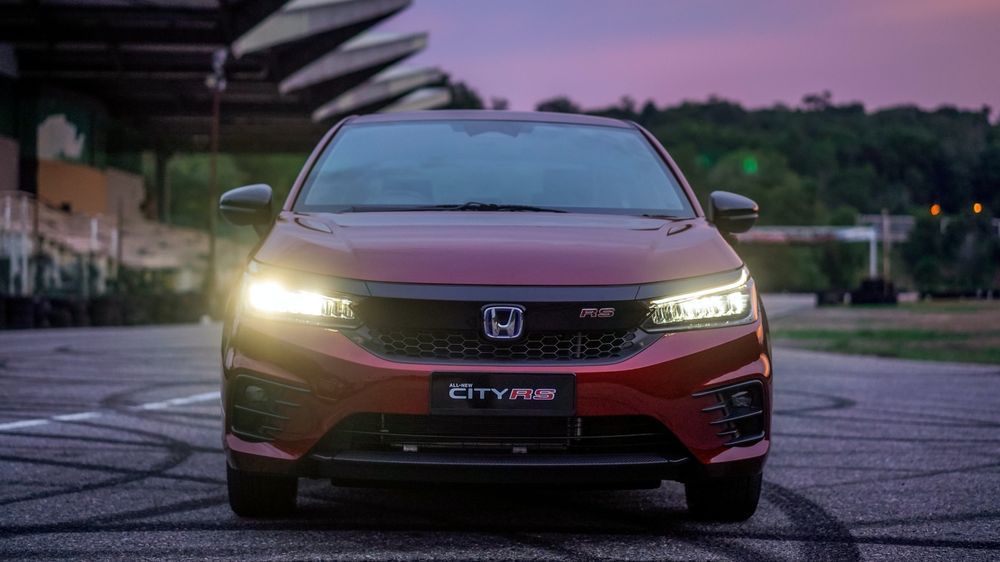 The start of Honda's era
It's worthy to note that topping sales charts once or twice, is tough, but achievable – especially for a company like Honda. However, to lead for six consecutive years, especially against the world's biggest car manufacturer – requires quite something else.
Add to that, Malaysia is one of the few markets in the world where Honda leads Toyota, Honda Malaysia's story over the last few years is one of a great era of products, people, work culture, and determination.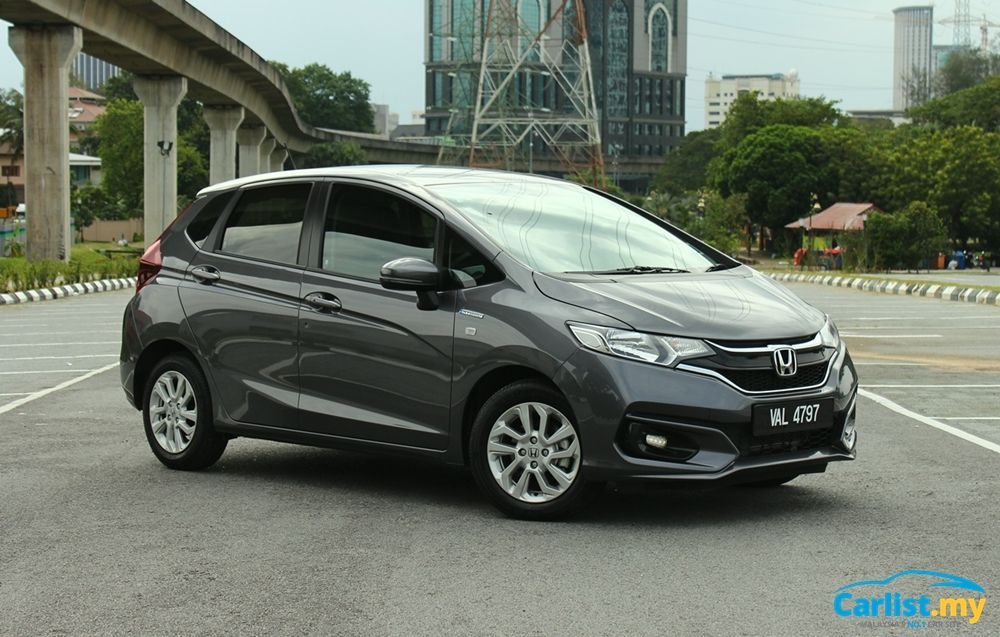 Toyota for decades has led the non-national segment in Malaysia, and before there was such a thing as a Malaysian car – Toyota led outright, vying closely with Nissan. And Toyota's unassailable lead throughout the years was down to product juggernauts like the Vios, Corolla, Camry, and Hilux.
It all started towards the end of 2014...
Toyota rounded off 2014 with 102,035 units sold, Honda managed a mere 77,495 units, and additionally, Toyota increased its market share from 14.1 percent in 2013 to 15.6 percent in 2014.

Reporting for years 2016 - 2018 separates commercial vehicles and passenger vehicles. Data collated through MAA annual sales reports.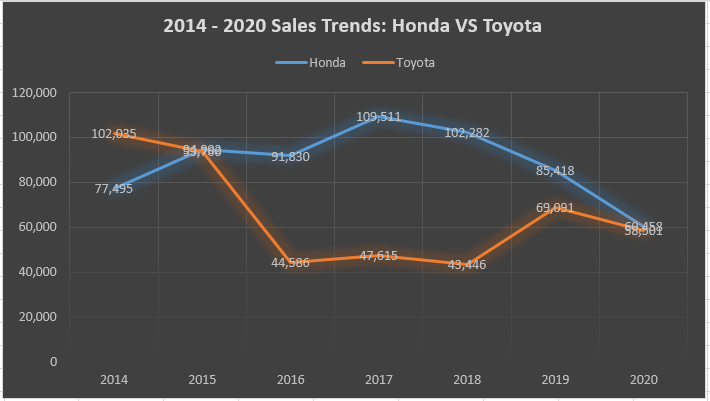 However, 2014 would also mark the start of a tidal shift towards Honda. While Toyota only celebrated one major launch in 2014 – the Corolla Altis – Honda was in the early stages of a product salvo, starting with the launch of the Honda City and Jazz in March and June of that year.
With large swathes of the market moving towards SUVs and hatchbacks from three-box sedans, Honda was primed to take advantage of having the perfect products the market wanted.
With the underperforming (XV50) Toyota Camry being overtaken by the hugely popular 9th-gen Honda Accord, the comfortable volume margins Toyota normally had, were dropping away. Alongside, Honda's new 4th-generation CR-V was cruising in the lead, and Toyota had no answer for it.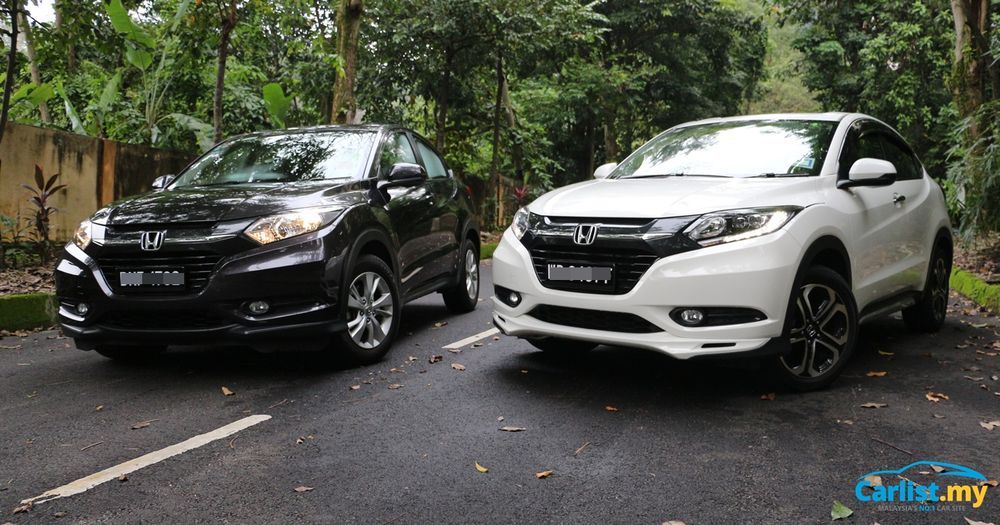 The strong momentum from 2014 was carried into 2015, when Honda launched arguably, its game-changing model – the Honda HR-V.
In a market ripe for SUVs, the HR-V's sublime blend of style, size, and practicality saw it enjoy a stellar reception upon its launch. With Toyota non-existent in the compact SUV market (having discontinued the Toyota Rush) – Honda's sales skyrocketed.
In just one year – Honda rounded of a total sales jump of 22.5 percent, delivering 94,902 units for the year, surpassing Toyota, (which dipped 8.1 percent in 2015 versus 2014) totalling 93,760 units. The roughly 17,000 unit sales jump was attributed not only to Honda capturing market share from Toyota, but also Proton which dropped 11.8 percent in 2015 (102,175 units).
However 2015, was just the start – 2016 saw the introduction of the hugely popular Honda Civic (FC) – proving not only a huge resurgence in interest for the Civic model but in C-Segment sedans in general, which otherwise showed stagnating sales across all other brands. The Civic (FC) remains unchallenged in its segment to this day. Honda closed off 2016, leading the Non-National segment with 91,830 units sold. Despite a 3.3 percent drop in sales, Honda increased its overall market share to 15.8 percent.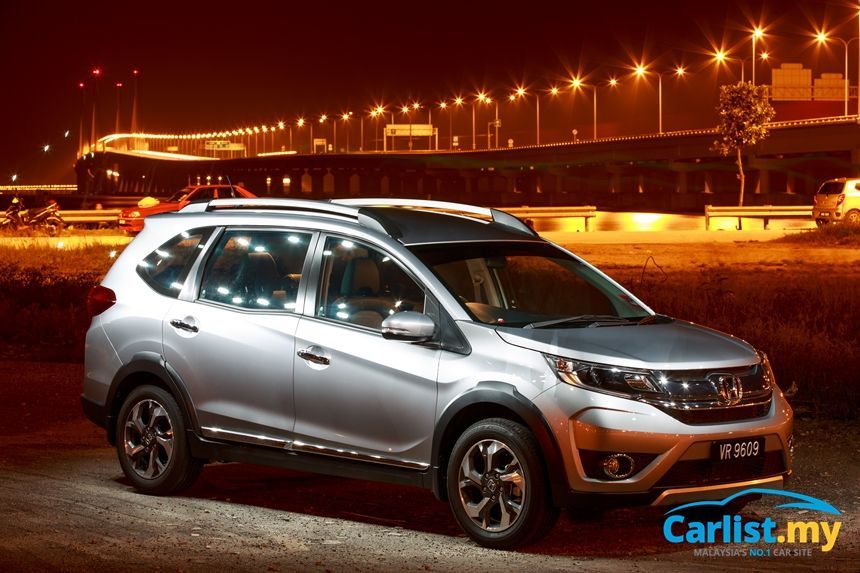 2017 and 2018 saw the total fruition of Honda's efforts in the years before it. The company finished 2017 with 109,511 units, marking the first time ever the company sold more than 100k units (since its inception in 2003) and the first time ever a Non-National carmaker surpassed 100k sales (passenger car sales) in Malaysia.
2017 was highlighted by the launch of the 5th-generation Honda CR-V and the introduction of the hugely successful Honda BR-V, both of which surpassed all expectations.
2018 carried on in much the same way as 2017, with its product range conquering almost all segments that Honda contested in, they rounded off an excellent 2018 with 102,282 units in 2018.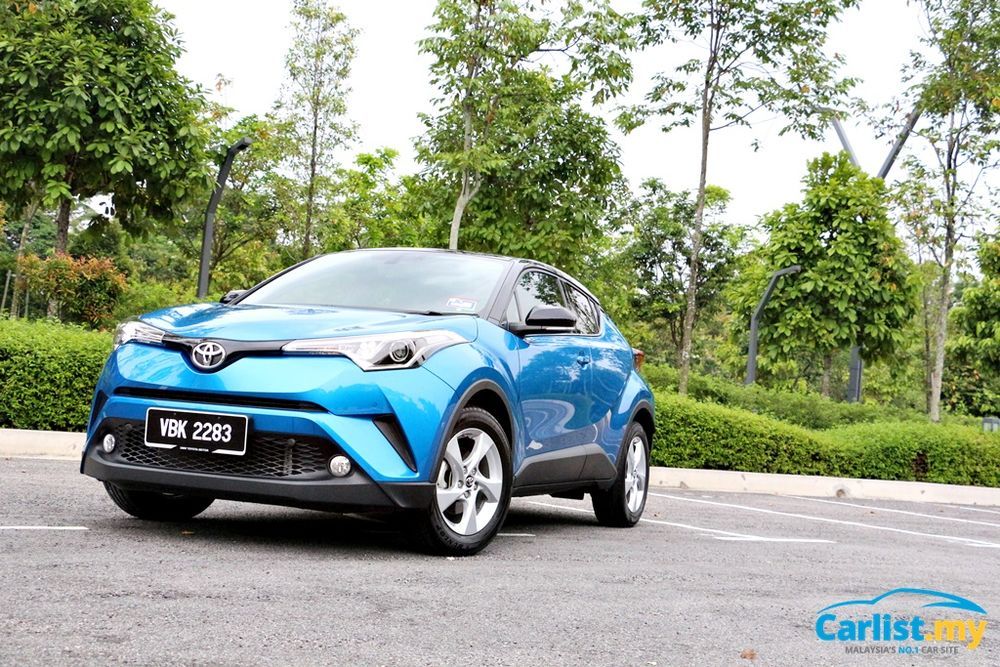 Despite dipping 6.6 percent from 2017, and falling short of Honda's own targets (of 109k units), Toyota's approximately 65,500 units in the same year still meant that Honda had a very strong lead.
The last two years...
2019 and 2020 have been a race of attrition for both companies. While Honda still clocked an impressive 85,418 in 2019, it dropped 16.5 percent from 2018, Toyota climbed 5.4 percent to deliver just over 69,000 units.
Since 2019, it would seem, that Honda's sales are getting pinched not just by Toyota, but also by Proton, with the perennial Malaysian brand also enjoying a phenomenal revival of its own, no less on the backs of good products such as the Proton X70 and X50.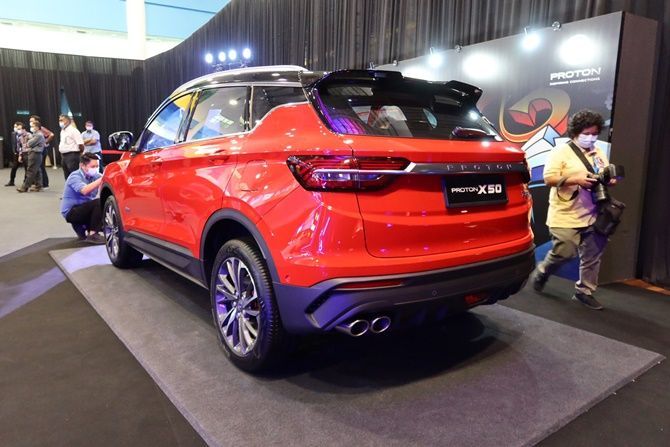 Though only just, Honda just managed to top the Non-National spot courtesy of strong sales in the last 2 months of 2020 – again, the all-new Honda City model is proving the all-important stimulus. the PENJANA economic package has been another crucial contributor.
What has Toyota been up to?
In not so many words – Toyota has woken up and smelled the coffee.
They do not like being number two and have responded with an array of new product introductions, snazzy marketing campaigns, and high-dollar investments in brand building with their Toyota Gazoo Racing festival since 2018.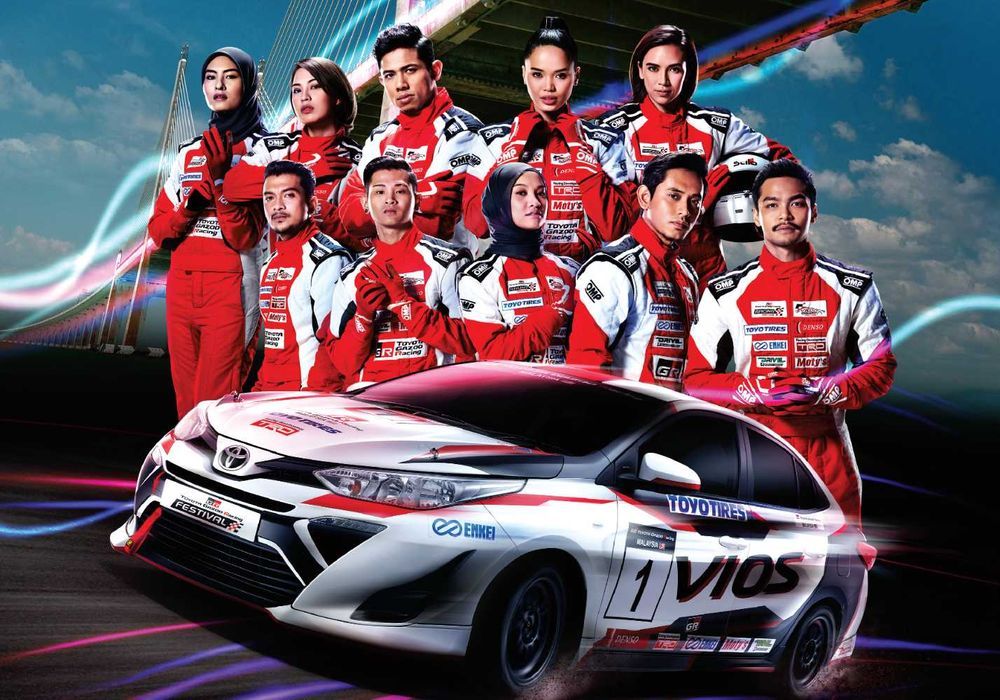 They can also count on a refreshed lineup of cars – In 2018 alone, Toyota launched the Toyota Harrier, Toyota C-HR, Toyota Rush, Toyota Camry and introduced fully-imported versions of the Alphard and Vellfire MPVs.
Another key highlight for 2018 was the completion of the company's RM1.87 billion new manufacturing plant in Bukit Raja, Selangor; which boosts their manufacturing capacity to up 100,000 units a year. The investment will allow for a new raft of CKD vehicles to be introduced, currently, the popular Vios and Yaris models are made here. The Yaris in particular has been a smash hit, which has since overtaken sales of the ageing Honda Jazz.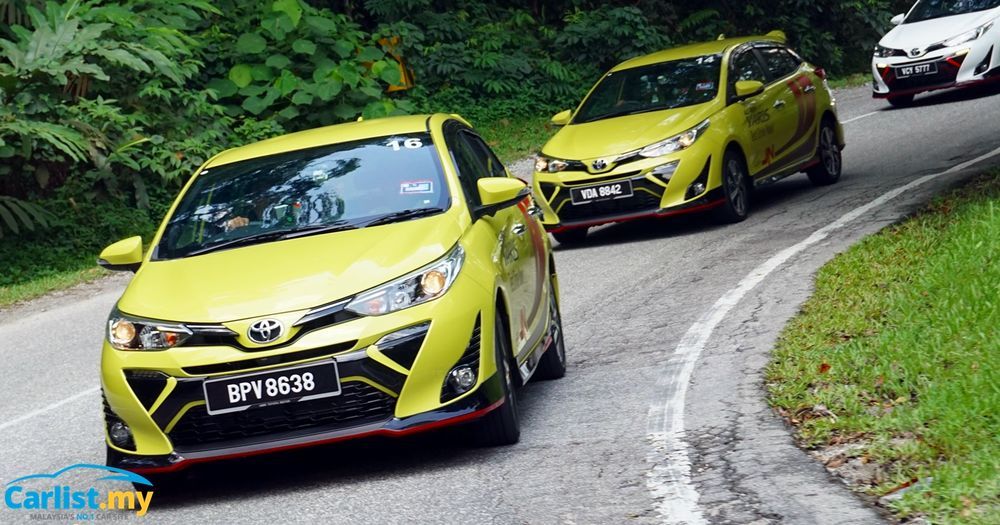 2019 also saw the return of the stalwart Toyota Corolla sedan and hallowed Toyota GR Supra sportscar. Therefore, while Toyota may not have topped the sales charts in the last few years, it has been hard at work changing its brand image from safe and predictable to youthful and sporty.
Besides the headline-grabbing cars – Toyota has also refreshed other models such as the Hilux, Innova, and Avanza – crucial contributors to Toyota's overall volume.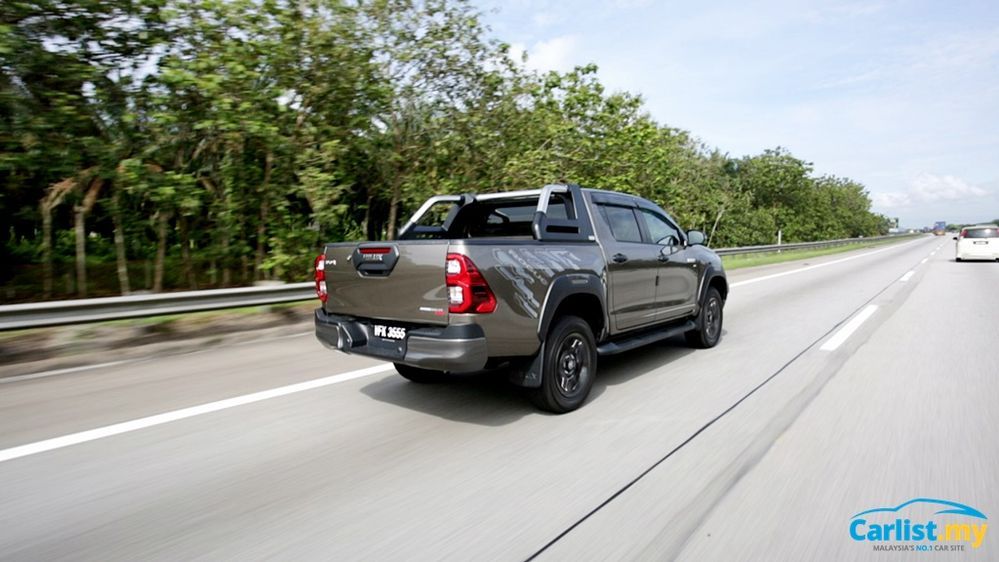 So will Toyota regain the crown in 2021?
In a word, it's very possible. Having finished off 2020 with the flamboyant launches of the Vios GR-S and rally-inspired GR Yaris, Toyota will push forward with more new and exciting products in 2021.
A lot of expectations will rest on the shoulders of the Toyota Corolla Cross, the formal introduction of the company's Honda CR-V challenger is merely weeks away, and has garnered quite a lot of attention leading up to the launch. In a recent company report, we also learnt of Toyota's plans to introduce a sedan model and another GR model later this year.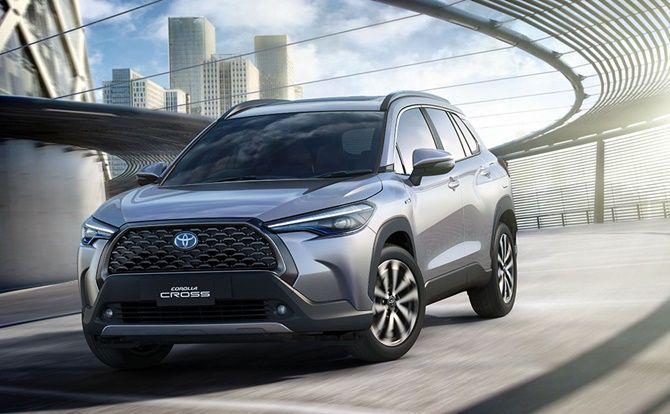 The same presentation also confirmed the company will be looking to introduce new CKD hybrid models – for now, all signs point to the Corolla Cross Hybrid leading that charge.
Another subsidiary, Toyota Capital is also betting big on attractive financing and leasing packages such as EZ Beli and Kinto One to boost more sales, which by all accounts, should be an important catalyst for more sales in 2021.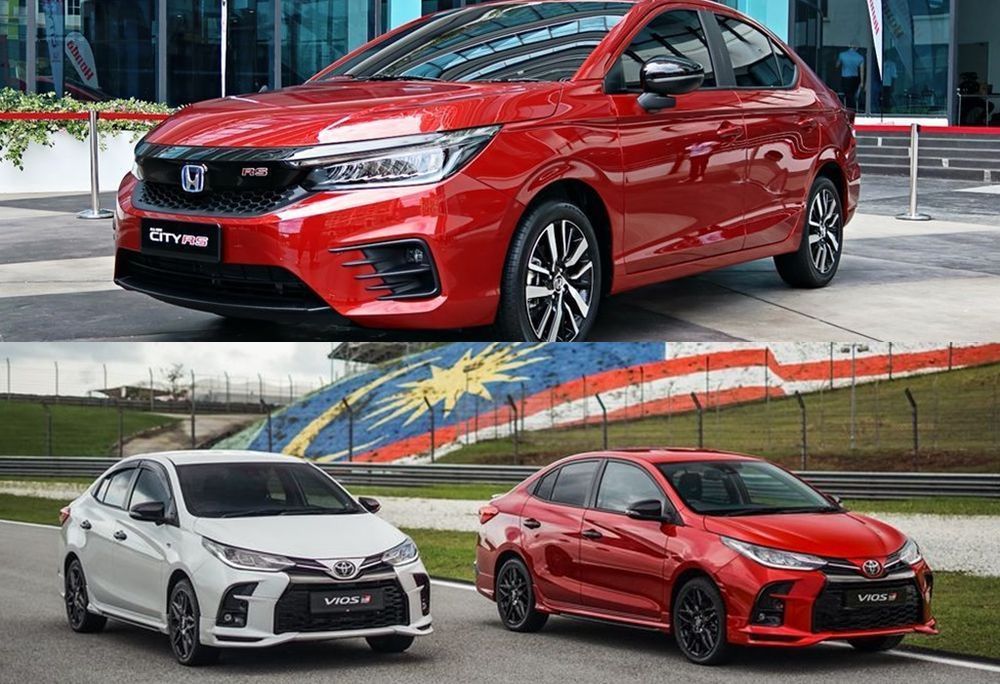 What about Honda?
On the Honda front, with sales of the City up to speed; having already delivered 13,100 units since its launch, Honda will be banking big on its star performer in 2021. Elsewhere, the Civic and all-new Accord remain strong and should see steady sales in the coming months. With the HR-V and BR-V now being attacked by Proton and Perodua with the X50 and Aruz respectively, it's rough waters ahead for these two models.
With the discontinuation of the Jazz in due time, a lot will hinge on the City Hatchback to plug the Japanese B-segment market, which otherwise will be dominated by the Yaris.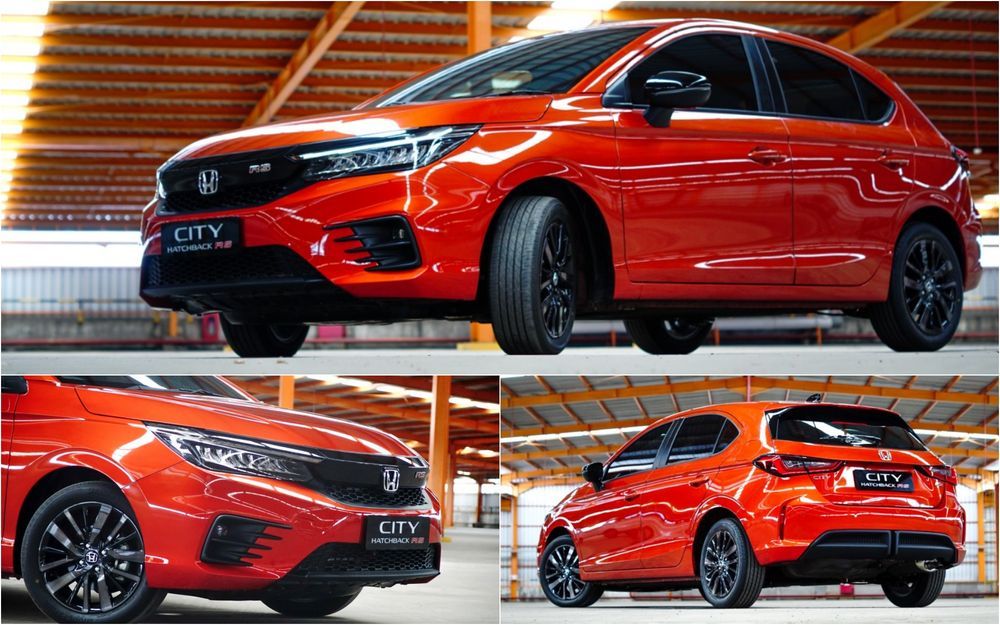 Safe to say, 2021 will be tougher than ever for Honda, but if there's one thing we've learned, one can never count on them to rest on their laurels.
---
---
---
---
Comments