Cheeky And Clever: Showcasing Some Of The Greatest Volkswagen Advertisements
Insights Now, we're sure many of you may have seen this incident where a Volkswagen Polo plowed into the rear of a Proton Waja police cruiser (don't worry, no one got hurt) before it soldiers on and KEEPS ON GOING.
Shortly after the incident, Volkswagen Malaysia conincidentally posted this cheeky advertisement on their Facebook page, which we also coincidentally found to be a great example of great coincidental timing.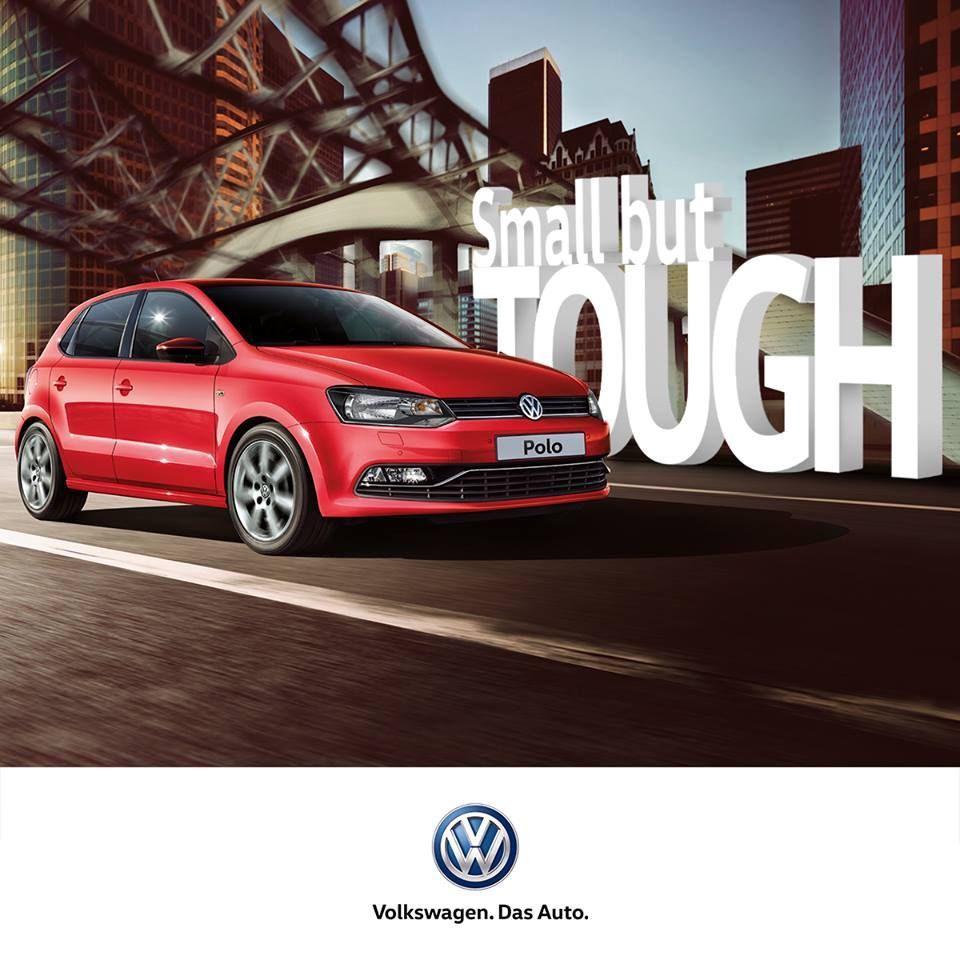 This got us to thinking, what were some of the greatest advertisements that Volkswagen has done over the years?
Delving deep in, we went on a hunt to find some of the most interesting, clever, funny, or exciting advertisements that has made Volkswagen one of the most recognised car brands in the world. Let's not forget their models as well, which commands a pretty huge following.
Let's begin with print ads which go back a long way in Volkswagen's history as you'll soon find out:
Volkswagen Moon Landing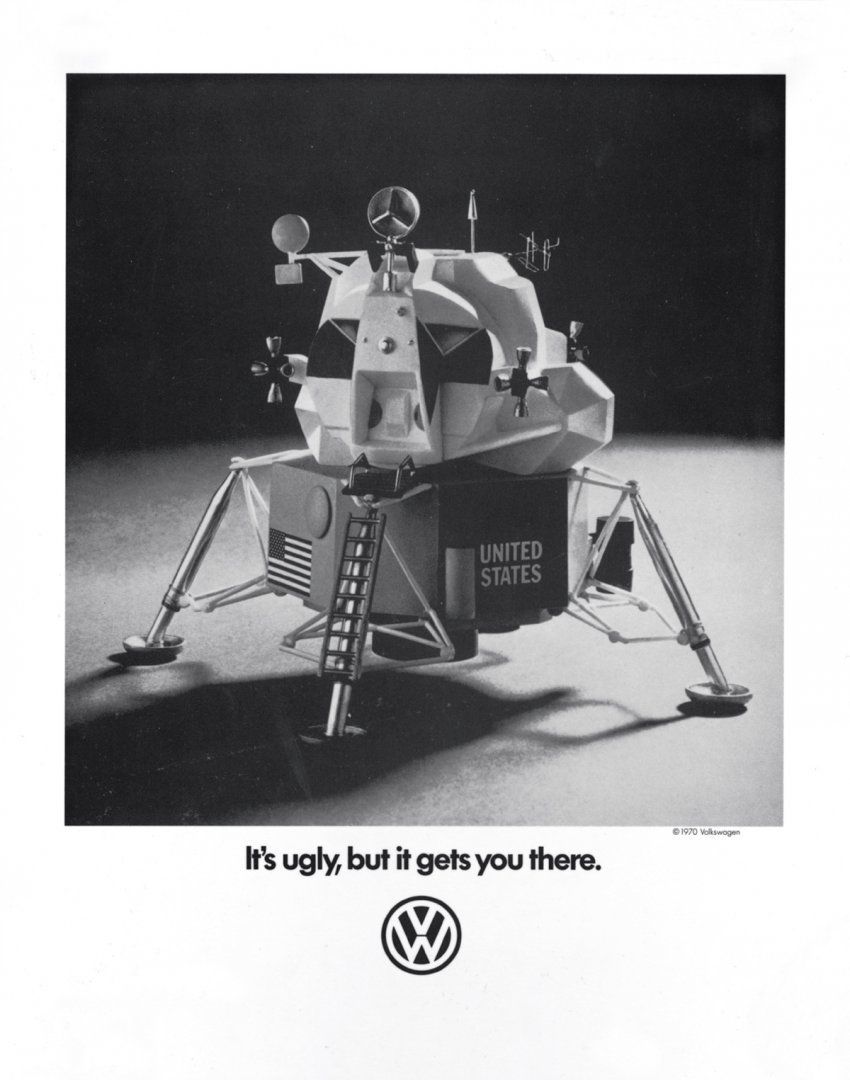 To commemorate the first-ever moon landing in 1969, this Volkswagen ad compared the cars of its time like the Beetle and Karmann Ghia to the Apollo 11 Lunar Module. While some people might pass off those cars as "ugly" back in those days, Volkswagen had the snappiest comeback for those haters.
It was incredibly simple: Just an image of the Lunar Module, no image of any products, and just a simple line – It's ugly, but it gets you there.
Volkswagen Beetle "Beatles Abbey Road"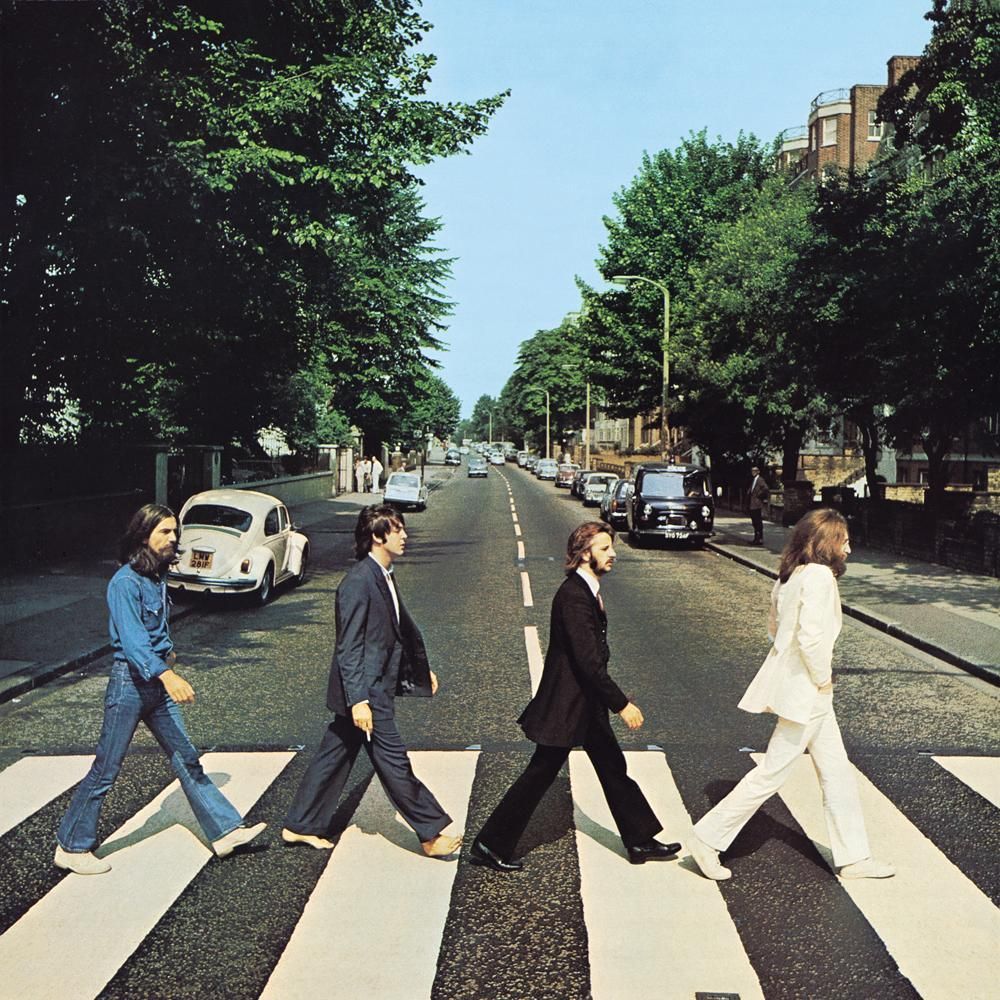 This one's for fans of The Beatles. Their eleventh studio album, Abbey Road featured hits such as Something and Come Together, but also had one of the most iconic album artworks ever.
As you can see, it had John Lennon, Paul McCartney, George Harrison, and Ringo Starr walking on a zebra crossing just outside EMI Studios in Abbey Road. However, look closer just beside Harrison (in blue) and you'll spot a white Volkswagen Beetle. Over the years, that stretch of road has been a tourism hotspot with many flocking over to recreate the iconic shot.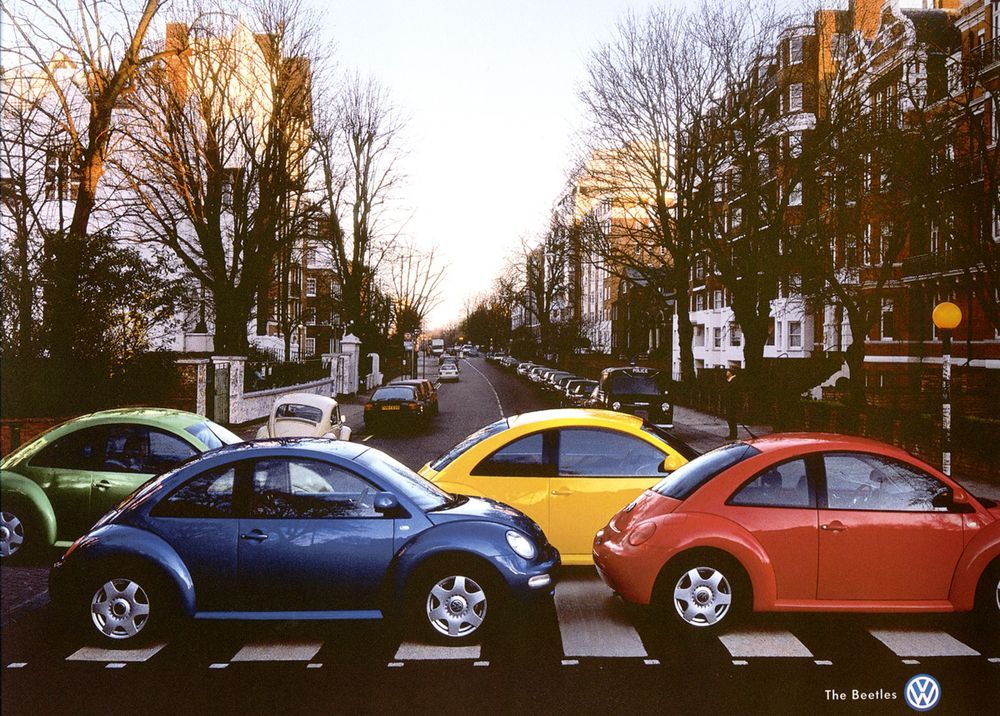 Volkswagen also saw fit to recreate the shot as well and this was the result which featured four Bugs crossing the same road with the same white classic Love Bug at the back. No need for many words either, Simply title it: The Beetles. Classic.
Volkswagen Safety Campaigns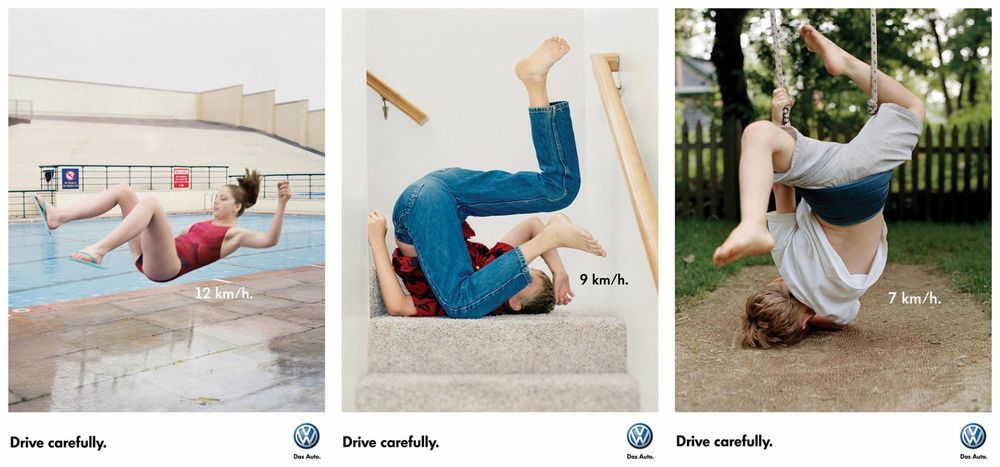 Already fitting their vehicles with impressive safety packages, Volkswagen shifted their attention to promote more vigilant drivers on the road. This is just one of them, that showed how relatively insignificant amounts of speed can still result in the most horrific of accidents.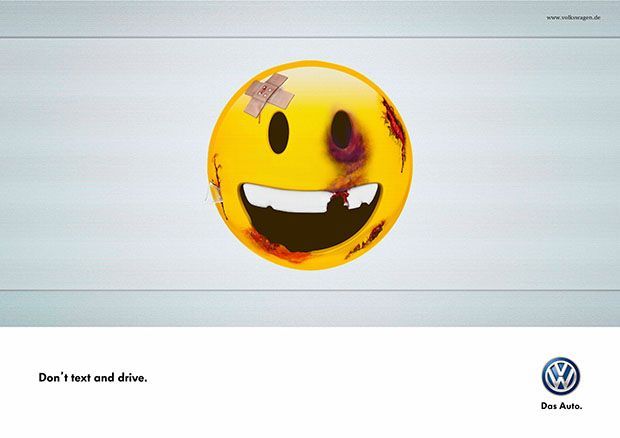 Over time, the direction has shifted but the message of road safety has never waned. Texting while driving? Eager to send that emoji while driving? This could be the result.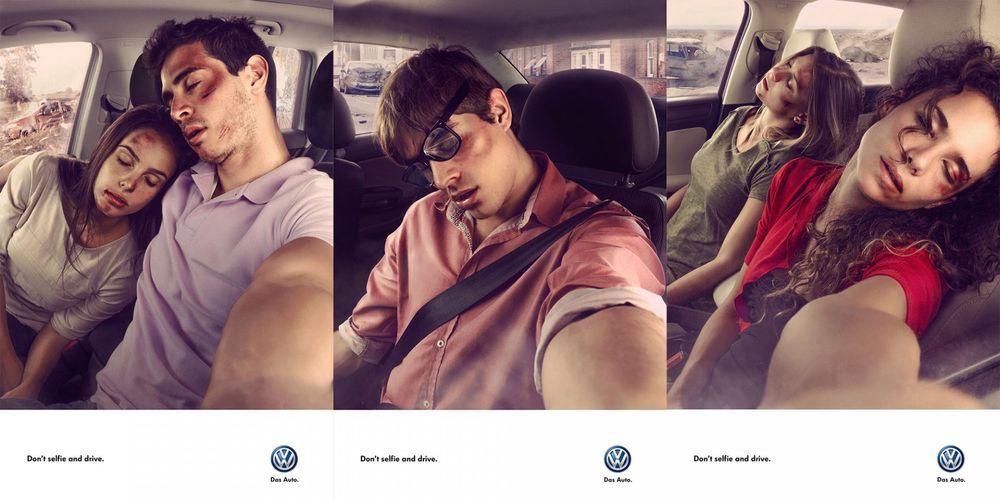 For our younger audiences, here's something relatable – taking a selfie while driving, a terrible decision to make.
From print ads, let's move on to videos where there is no shortage of wonderful Volkswagen ads. From pop culture references to stimulating experiences, this are some of the impressive video ads that Volkswagen has ever produced.
The Force
Aired before the Super Bowl in 2011, this advertisement has remained as one of the most shared Super Bowl ad of all-time (as of 30 Jan 2015).
In the video, we see young little boy dressed up as a pint-sized Darth Vader going around the house, attempting to use the Force on various things including an exercise bicycle, washing machine, baby doll, sandwich, and even his own dog.
After being disappointed repeatedly for failing to move these items using the Force like the Sith Lord from the movies, he soon hears his father pulling into the driveway in a 2012 Volkswagen Passat. He rushes out and ignores his father's embrace, extending his hands again to use the Force on the sedan and surprisingly, the car starts seemingly on its own. Unbeknownst to the boy, the Passat was started thanks to its remote start system operated by his father.
The boy is just left stunned, believing he actually has the Force within him. Innocent, sweet, and charming, while exhibiting the latest features on their D-segment sedan at the time, this ad was a massive success for Volkswagen, obtaining much critical acclaim.
Stay In Safe Hands
A parent's love knows no bounds and they will do their absolute best to make sure their child remains safe and protected as long as they can do so.
Which is what we see in this ad, a protective father welcoming his daughter with his wife into their lives. As the video progresses, we see the daughter go through the various phases of her life, with her father always there to make sure she is safe and protected during all of them.
Finally, when it's time for him to send her daughter off, he surprises her with a Volkswagen Polo, ensuring that she "stays in safe hands".
Volkswagen GTI
Three letters, a lasting icon. For seven generations of the Volkswagen Golf GTI, the focus has always been on performance and electrifying every sense in your body when you get behind the wheel. For the Golf GTI 35 Edition, this ad sums up an exhilarating ride experience only a Golf GTI can provide.
On the funnier side of things, this short ad is also capable of explaining one of the best features of the Golf GTI, its powerful acceleration. Not a lot of explanation needed here, just a little girl and her ice cream meeting a Golf GTI and a lot of power on tap.
(Take a test drive of a Volkswagen here)
So there you have it, these are just some of the Volkswagen advertisements which we picked out to exhibit the best qualities of the German car maker. We're sure there are dozens more which appeal to you in its own unique way so why not share them with us in the comments section.
---
---
---
Comments