CKD 2015 Mercedes-Benz C-Class, C 200, C 250 Launched In Malaysia From RM270k
Buying Guides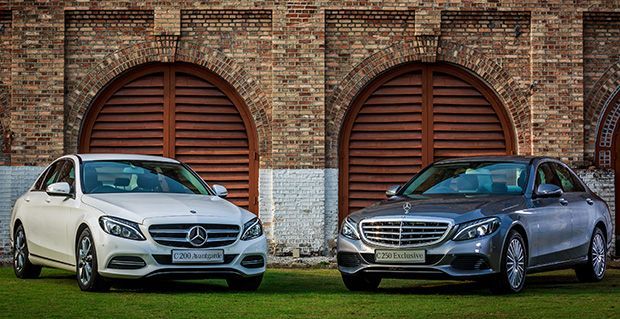 Mercedes-Benz Malaysia has officially launched the new locally-assembled (CKD) 2015 Mercedes-Benz C-Class in Malaysia with prices starting from RM269,888.
Buyer's Guide:
The same two variants which were initially available when the C-Class first arrived here as a CBU model are retained, namely the C 200 Avantgarde and C 250 Exclusive, priced as such (OTR inclusive of GST but without insurance):
C-Class C 200 Avantgarde: RM269,888
C-Class C 250 Exclusive: RM299,888
This makes the C-Class even more affordable than before as compared to the CBU units with a price reducition of up to RM16,000 for the C 200 Avantgarde and RM15,000 for the C 250 Exclusive. Buyers will also be pleased to know that both variants of the CKD C-Class will retain the same specifications and equipment line of the previous CBU model.
(Check out our review of the Mercedes-Benz C 250 Exclusive here)
More Affordable Price, Same Spec And Equipment Line:
Performance-wise, the same M274 2.0-litre direct-injection turbocharged in-line four-cylinder engine can be found under the hood of both variants, providing an output of 184hp/300Nm on the C 200 and 211hp/350Nm on the C 250, paired to a 7G-TRONIC PLUS seven-speed torque converter automatic transmission.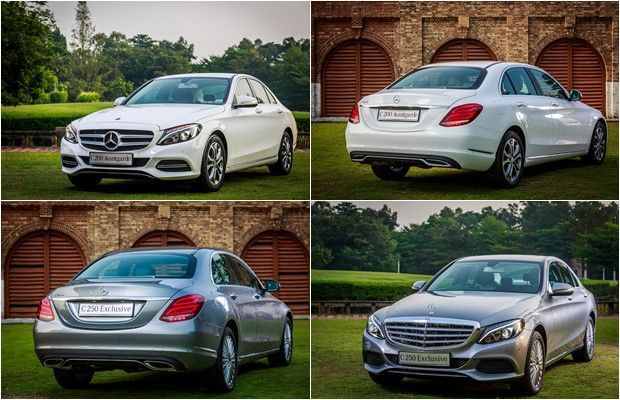 From the outside, no changes have been made to the overall exterior design. The C 200 gets the Avantgarde line trim with 17-inch five twin-spoke light alloy wheels while the C 250 gets the Exclusive line trim with the AIRPANEL grille, and Mercedes-Benz star ornament resting on the hood. LED headlights are still found on both variants as well.
Inside, the cabins of both variants are unchanged as well. The C 200 still gets the piano black finish with various aluminium trim pieces while the C 250 has a glossy wood grain finish instead. Infotainment is handled by Mercedes-Benz's Audio 20 CD interface with Bluetooth, USB (2), internet capabilities, and a host of social and navigational apps, controlled through a touchpad system and control dial beneath it. Other interior features include electric-powered seats with memory function and a sunroof for the C 250.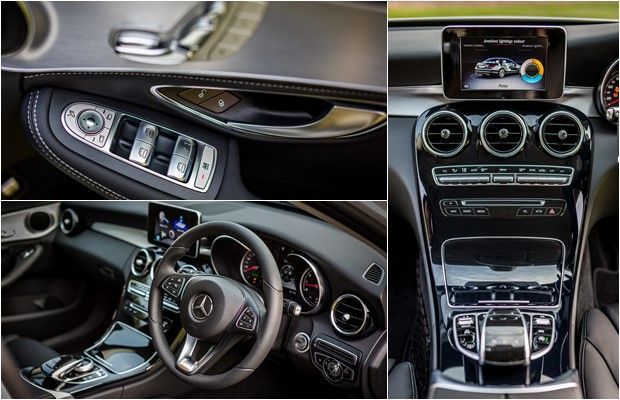 The impressive safety features list is still here as well with seven airbags, Electronic Stability Program, Pedestrian Protection with active bonnet, ABS, Adaptive Brake, Brake Drying, and Hill-Start Assist. Also included is Mercedes-Benz's Intelligent Drive, consisting of several safety and assistance systems: ATTENTION ASSIST, COLLISION PREVENTION ASSIST PLUS, and Active Parking Assist.
For the full specifications list, you can refer to the ones provided here (click to view larger):
C 200 Avantgarde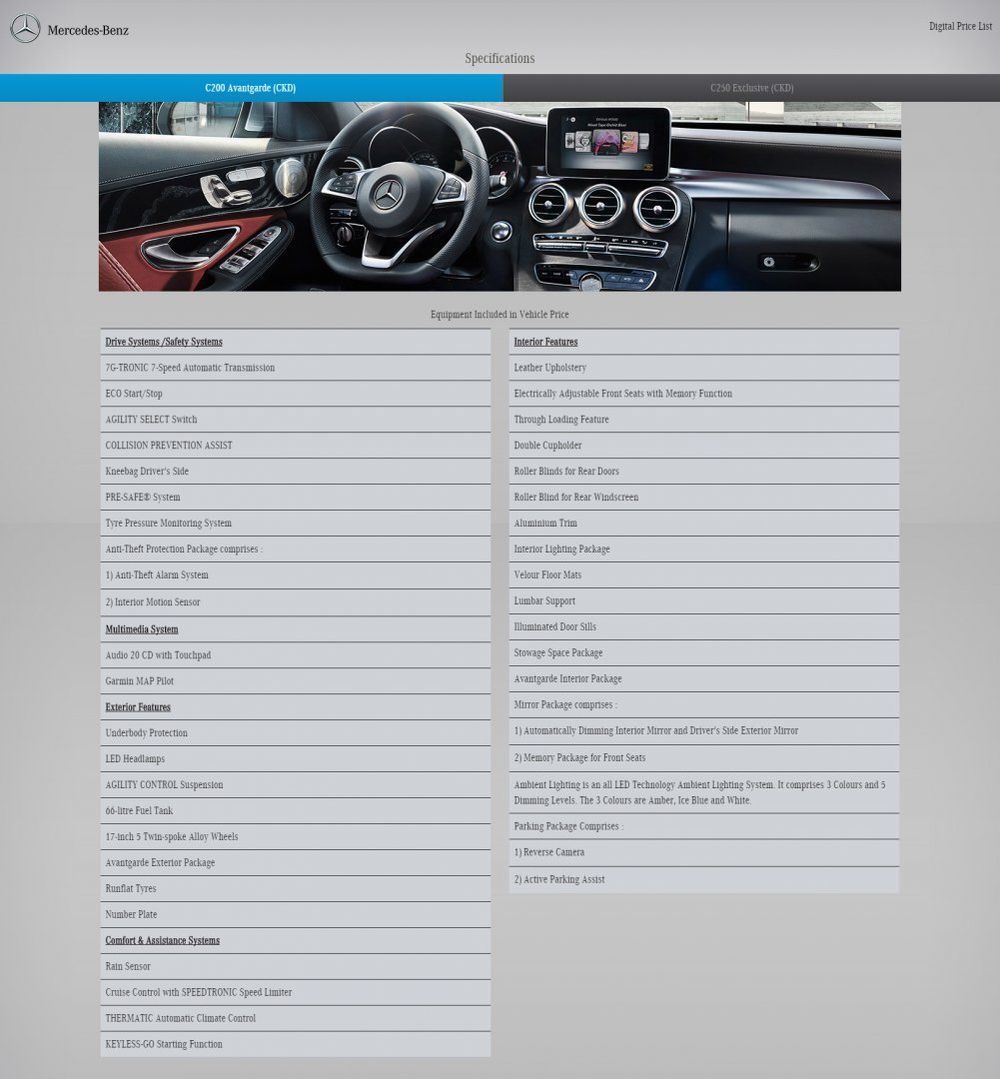 C 250 Exclusive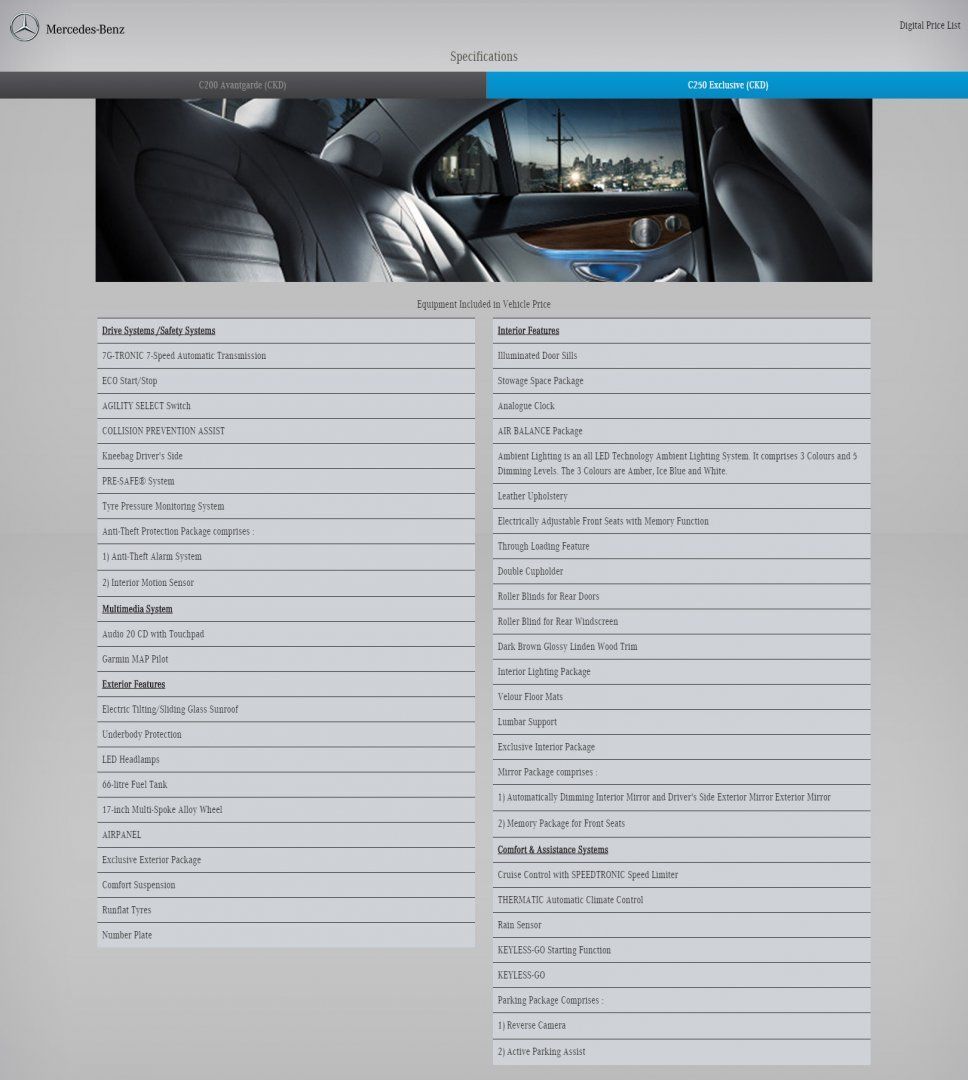 Mercedes-Benz Dealer Openhaus:
In conjunction with launch of the locally-assembled (CKD) Mercedes-Benz C-Class, MBM will also be inviting members of the public to get up close and personal with the new model at Mercedes-Benz dealerships nationwide. Test drives will be available at these locations along with various fun activities and gifts in store.
The Mercedes-Benz Dealer Openhaus schedule is as below:
25 & 26 April 2015
Cycle & Carriage Bintang Berhad (Mutiara Damansara)
Cycle & Carriage Bintang Berhad (Petaling Jaya)
Hap Seng Star Sdn Bhd (Kuala Lumpur)
NZ Wheels Sdn Bhd (Klang)
2 & 3 May 2015
MBSA Automotive Malaysia Sdn. Bhd (Malacca)
9 & 10 May 2015
Asbenz Motors Sdn Bhd (Kedah)
Hap Seng Star Sdn Bhd (Balakong)
Lowe Motors Sdn Bhd (Juru Autoworld)
NZ Wheels Sdn Bhd (Bangsar)
16 & 17 May 2015
BR Jaya Sdn Bhd (Batu Pahat)
Cycle & Carriage Bintang Berhad (Johor Bahru)
Cycle & Carriage Bintang Berhad (Tun Razak)
NZ Wheels Sdn Bhd (Johor Bahru)
23 & 24 May 2015
Cycle & Carriage Bintang Berhad (Glenmarie)
Mofaz Exotic Car Sdn Bhd (Kota Bahru)
Mofaz Exotic Car Sdn Bhd (Kuala Terengganu)
NZ Wheels Sdn Bhd (Kuantan)
30 & 31 May 2015
Hap Seng Star Sdn Bhd (Jalan Ipoh)
Hap Seng Star Sdn Bhd (Kinrara)
Ipoh Motors Sdn Bhd (Ipoh)
Minsoon Credit Corp (M) Sdn Bhd (Seremban)
6 & 7 June 2015
Hap Seng Star Sdn Bhd (Kota Kinabalu)
Hap Seng Star Sdn Bhd (Kuching)
---
---
---
---
Comments