Consumer Reports: Lexus And Toyota Most Reliable, Audi Surprisingly Good
Auto News As expected, Toyota and Lexus continues rake up more accolades with their no-nonsense but built-to-last cars. In the latest Consumer Reports 2015 Annual Auto Reliability Survey, results collated from over 740,000 cars owned by subscribers of the non-advertiser funded American publication showed that Toyota and Lexus are once again the most reliable brands.
It is also worth noting that the reliability of Toyota and Lexus models are quite consistent throughout the range – the length of the blue bar in the accompanying chart indicates the brand's consistency in reliability. In other words, the longer the blue bar, the bigger the gap in between its most expensive and its cheapest models.
In this respect, Mazda is most consistent in its reliability, but we should also point out that this is also partly because there are only 4 Mazda models that were included in the survey (versus Toyota's 12).
Audi's third place ranking is a pleasant surprise. Typically, German luxury brands don't do very well in reliability ratings. The nature of premium cars means that manufacturers have to equip the cars with the latest technology. Along with greater use of nascent technology comes increased complexity. Teething issues are to be expected and thus the reliability of premium cars are unlikely to match that of a regular Toyota.
BMW, Mercedes-Benz and Porsche all scored below average, with Mercedes-Benz being the worst performing German premium brand, ranking below Chevrolet.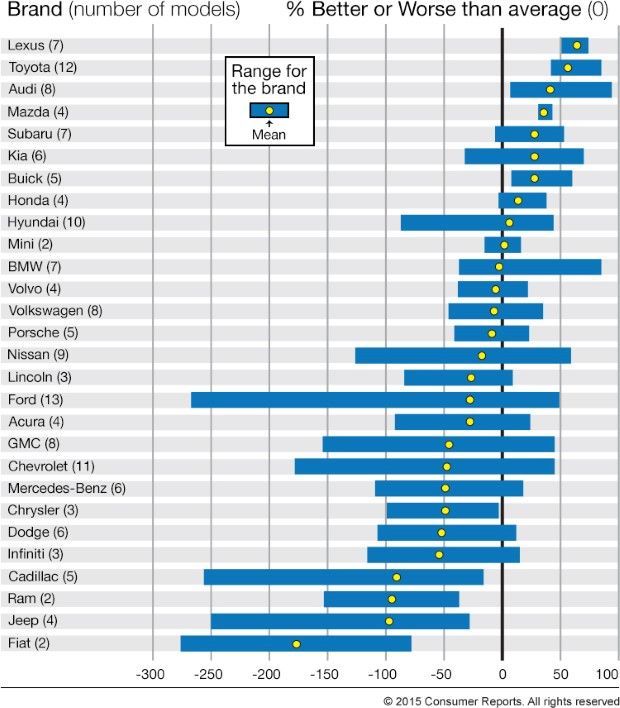 Korean brands did rather well too. Hyundai managed to push itself into above average group, but just barely. Kia also upstaged both Honda and Acura, but Kia's reliability was rather inconsistent, with some Kia models scoring below average, as with Hyundai.
Both Honda and Acura saw their scores dragged down by reported problems in their latest generation of dual-clutch transmissions, high torque CVTs, nine-speed torque converter automatic transmissions and satellite-linked infotainment system.
It is important to note that the CVTs mentioned here are used in larger capacity, higher torque engines fitted in the US market 2.4-litre Honda Accord and CR-V. It is different from the low torque CVT fitted in our Malaysian-market sub-2.0 litre engine capacity Honda City, Jazz and HR-V. The CVTs used in these models have already been upgraded with a torque converter for added reliability in our local climate and traffic conditions.
Our local market Accord and CR-V uses regular five-speed torque converter automatic transmissions instead of CVTs like their US-market twins.
Many Acura models in the US are sold with either an 8-speed dual clutch transmission (with torque converter for smoother low speed driving) or a nine-speed torque converter automatic. Consumer Neither of these transmissions have been very reliable.
Ford's reliability is also rather inconsistent, with some models scoring above average but many more scoring poorer. Consumers also didn't like the reliability of Ford's dual-clutch PowerShift transmission.
---
---
---
Comments