Detroit 2016: All-New Honda Ridgeline Debuts – The Pick-Up Truck You Can't Have
Auto News The Honda Ridgeline is an odd, one of a kind type of pick-up truck. While it might look like a truck, it's actually more passenger car than pick-up truck. Unlike other pick-up trucks, the Ridgeline uses a monocoque body rather than a body-on-frame construction that's typically used by all other pick-up trucks on the market.
The North American-market only Honda Ridgeline seen here is the all-new second generation model. With a rigid, monocoque body and fully independent suspension, it's more like a Honda CR-V with its back looped off than a typical pick-up truck whose body-on-frame construction is prone to flexing, leading to a compromise in driving behaviour.
Under the bonnet is a 3.5-litre, direct injected i-VTEC V6 petrol engine, paired to a 6-speed automatic transmission. Power is transferred to all four wheels via a i-VTM4 torque-vectoring AWD system.
Honda claims the Ridgeline – which will only go on sale in USA and Canada in Q2 this year - will deliver top-in-class powertrain refinement and targeting best-in-class acceleration performance and segment-leading fuel economy ratings.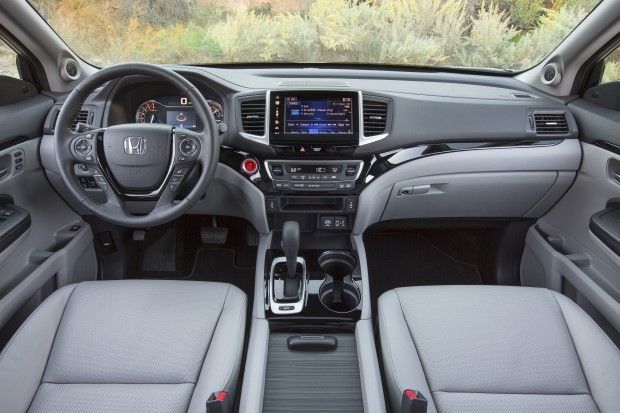 Being a Honda, utility and packaging has to be best-in-class. Honda claims the Ridgeline has the largest and most versatile cabin and the only 4-foot-wide flat bed space in the midsize pickup segment – which in the US includes the Toyota Tacoma, Chevrolet Colorado (slightly different from our Colorado) and Nissan Frontier (Navara to us). Ford has since discontinued the Ranger in the US but you could consider the Ranger to be in the same class as the Ridgeline.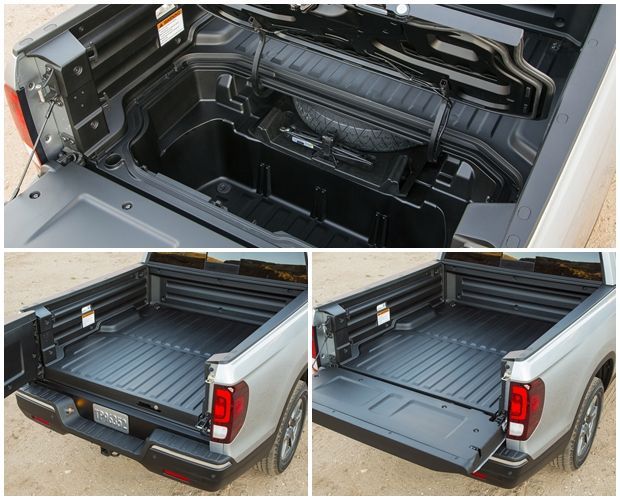 The Ridgeline's cargo bed is pretty impressive, including a lockable in-bed trunk which opens to reveal a hidden storage compartment (why isn't this available in other trucks? It's so brilliant!), a tailgate that opens two ways – flip down or sideways, and an in-bed audio system. There's also a drain plug which makes it easier to wash the cargo area with a garden hose.
The new in-bed audio system utilizes six exciters located inside the bed walls, in place of conventional speakers, pumping out sound from the Ridgeline's audio head unit, with up to 540 watts of power.
There's also a 400W inverter located in the bed's wall, allowing users to plug-in electrical appliances like power tools or even a small TV.
One of the reasons the Ridgeline is not sold outside North America is because being a monocoque chassis truck, it will be classified as a passenger car, which in many countries including Thailand, will will attract a higher excise duty, making its price not too different from a CR-V thus severely limiting its market potential.
In Thailand, pick-up trucks, defined as body-on-frame cargo carrying vehicles, are taxed (excise duty) at between 3 to 12 percent, while passenger cars, including monocoque SUVs like the CR-V, and a hypothetical Thai-market Ridgeline, are taxed at between 30 to 35 percent.
In Malaysia, pick-up trucks are exempted from excise duties but this exemption is not extended to pick-up truck-derived SUVs, which explains the big price gap between a Toyota Hilux and its SUV twin, the Fortuner.
---
---
---
Comments