Discovery Channel's Idris Elba: No Limits Is A Must Watch For Petrolheads
Auto News Let's face it – we are running out of good car shows to watch. Besides the usual TopGear, Fifth Gear, Wheeler Dealer, and a few other shows, all we have is a few hundred programmes showing classic American cars being restored by some Redneck garage somewhere in the U.S.
Fortunately, Discovery Channel Asia is introducing a new automotive show called 'Idris Elba: No Limits' tomorrow, which promises to add some variety to the existing 'menu'.
And as the title suggests, Hollywood superstar Idris Elba is the host, and he will be on a mission to fulfil his life-long passion to enter the world of motorsports.
By looking at the teaser video, we can rest assured that the show will have almost movie-like production quality, cover various aspects of the automotive world, and showcase something more than just hot rods and restorations.
The four-part series will follow Idris Elba as he pushes himself to the max to master some different speed disciplines in the world, before taking to both land and air to participate in some of the most fiercely fought competitions in motorsport.
He will be helped by incredible mentors in each of the four disciplines: rally driving, aerobatics, drag racing, and land speed records.
Along the way he will have to find and modify the right vehicles. And it's not smooth sailing: he has to contend with a variety of issues including bad weather, claustrophobia, a fear of heights, potholes and multiple technical problems.
No Limits will also show Idris Elba as you have never seen him before. Armed with no experience but an abundance of courage, grit, and determination, the show captures every high and low as he takes on the biggest challenge of his life.

The show will be making its Malaysian premiere tomorrow, 28 July on Discovery Channel (Astro channel 551) at 9:55pm, and go on for a month at the same time every Thursday, with the season finale set to air on 18 August.
---
---
Related News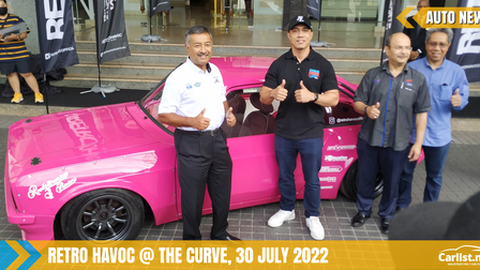 Auto News
The Retro Havoc Car Show 2022: Encore Edition is ready to rock tomorrow (30 July 2022) at The Curve Damansara from 9am to 10pm.If you love cars, ...
---
Comments