Don't Know What Present To Get Your Dad This Father's Day? Perhaps These Sub RM200k Toys Will Do
Insights Plenty of cash but no idea what to buy your dad this Father's Day? No worries, we have some of the best toys for men listed down below.
---
Father's Day is the one day where you should put everything aside and pay tribute to the number one guy in your life, your father. No matter how prepared you may be every year, it always seems to creep up on you, and guess what? Father's Day is just around the corner once again.
If you don't want to miss out on getting your dad a special gift, keep this in mind, Father's Day is always celebrated on the third Sunday in June. To help with the problem of what to give your dad, we thought we would list down five sub RM200k toys for your Papa which will really show how much you appreciate and love him.

1. Lotus Evora Coupe - RM196,800
The Lotus Evora Coupe is more of a toy than a car. Okay, it can be used as a daily driver if you're crazy enough to do so, but the car is best left played with it in your spare time because it feels medieval compared to other mid-engined sports cars like the Porsche Cayman. Saying that however, this 'medievel-ness' is precisely why people love it in the first place because it really does reward drivers or Dads who want that raw driving feeling.
With an invigorating high-rpm 3.5-litre engine that likes to scream, the car will surely give your Dad that immersive sports car feeling, especially when he unleashes the car's full 400bhp. The things is though, the car is not all about power and speed because it was built to give you loads of fun times behind the wheel. This is something that other manufacturers can learn from the Lotus Evora. Just be sure your Dad doesn't have a bad back, cause it is a struggle to get in and out of this rare and rewarding sports car.

2. Grand Seiko Spring Drive 20th & Nissan GT-R 50th Anniversary Limited Edition - RM 110k
If your Dad owns or loves a Nissan's GT-R, then a complimentary watch to go with his mechanical love would make him very happy indeed. The Grand Seiko Sports Collection pays homage to the Nissan GT-R, which celebrated its 50th anniversary in June 2019. With its famed Spring Drive chronograph caliber and a ceramic case (yes, a ceramic case, we're not mistaken here) the Grand Seiko is considered to be the pinnacle of Japanese horology.
The watch design takes inspiration from the GT-R's iconic blue color, known to car enthusiasts as "Bayside blue", which is reflected in the blue of the ceramic outer case. This ceramic and the inner case made from light high-intensity titanium protects the watch from scratches while fitting comfortably on the wrist and delivers 10 bar water resistance. This scratch proof feature will come in handy when he has to take care of his grandchildren.

3. Vespa Emporio Armani Edition - from RM68k
Every Dad needs a motorbike to compliment his car, but to ensure your Mom doesn't give you an earful for buying him a two-wheeler, the bike better be a conservative one, which he can probably use to cruise around the neighbourhood or do some short little convenience store runs. This one might be the hardest to get out of all the items on this list, but if you can afford one and find one, you better grab it.
In 2016, NAZA actually brought in a few units of this truly special Vespa, so there are some of them lurking around the country. The Vespa 946 Emporio Armani was developed as a cooperation project between Giorgio Armani and the Piaggio Group to celebrate two of the world's most familiar Italian symbols. The unique new version of the Vespa 946 is signed by Giorgio Armani and presented in an exclusive grey colur. Compared to the normal 946, the special Armani Edition's metallic parts were treated in order to convey a matt effect in line with the body finishings and the words' Emporio Armani' appear on the side, while the iconic eagle logo of the brand sits above the headlight.
Just like the other 946, it had aluminium cylinder blocks, brown leather finishes, luxury accessories, electronic riding controls (which also interface with the latest Internet devices) complementing the innovative four-stroke electronic injection engine. Seems a bit expensive for a 946? Well, prices in fashion never made any sense anyway!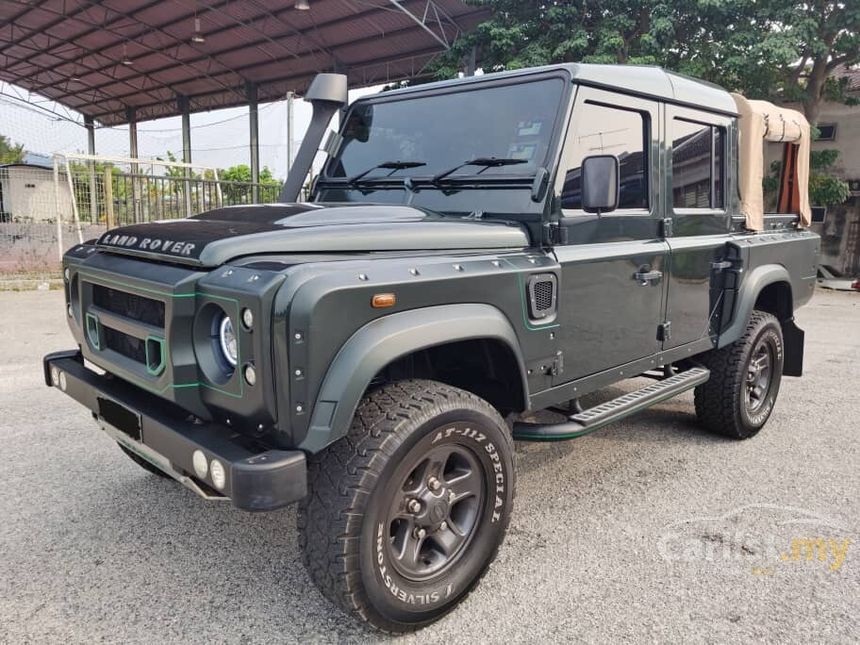 4. Land Rover Defender with Project Kahn Wide Track Body Kit - RM188k
If your Dad is not a fan of go-fast cars, perhaps a go-anywhere vehicle is more up his alley. Prices of the iconic Land Rover Defender (the older shape, not the new one) is a bit absurd these days, but that's what you have to pay to get yourself a well-kept icon. While prices of well-sorted Defenders start from RM70k, a special custom made one with Project Kahn body kit will cost the same as a used Porsche 911 Carrera.
It'll never be as comfortable as a G-Wagon or a Jeep Wrangler, but it'll definitely get more looks than any of the cars mentioned above. Also, we're pretty sure it's a good investment, as the prices of Defenders seem to keep going up and up, especially if it's as rare as the Project Kahn Defender.


5. TREK Emonda SLR 9 - RM55k
The recent cycling craze has got many Dads out of the house. If you're planning to get your Dad a bike that might help him climb our hilly terrain faster this Father's Day, then there's no better option than the TREK Emonda SLR 9. Coming in at just 6.5kg, the SLR9 is TREK's ultralight, aerodynamic carbon road bike that's designed and built to be one of the fastest climbing bikes in the world.
Thanks to its aero tubes wrought from TREKs lightest carbon fibre layup and Shimano's highest-end electronic drivetrain (that's right, you read it right, electronic drivetrain, changing gears like PlayStation games), the bike might just give him the very edge he needs to be faster up the hills against other cyclists or his friends. Word of warning though, if your dad weighs more than 125kg, then this bike is not for him, as it has a weight limit of exactly 125kg. What do you expect from a bike that has a 700g carbon fibre frame and carbon fibre wheels?
---
---
---
---
Comments