Dunlop Formula D05 Review – A Tyre Made For Malaysians, By Malaysians
Auto News Performance oriented tyres and Malaysian weather don't make for very good bedfellows. One moment road surface conditions can be dry and searing hot, and the next being utterly soaked and inundated with water.
This tropical conundrum poses a challenge for performance tyres as they have to balance between having large flat contact patches for better traction when conditions are dry, and generous amounts of tread pattern grooves to disperse the water when things get wet as big contact patches can skimp off the water surface like a smooth pebble skipping off the surface of a lake.
If you need a tyre that is designed for our local climate, then what better tyre would there be than one that has been designed for Malaysia by Malaysians. Dunlop's Formula D05 is the handiwork of Malaysian tyre engineers from Continental Tyre PJ, which has been designed to take on Malaysia's unique weather and road conditions. In developing the tyres, Continental Tyre PJ claims that they had taken feedback from Malaysian tyre dealers and end-users. The compound too has been developed using Continental Tires' technology and technical know-how. To test the D05's design and capabilities, as well as validate it, the tyre's design was tested in Germany.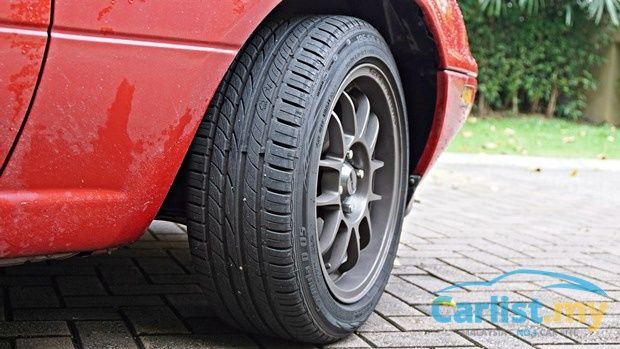 On the road the tyres certainly lived up to the billing, as the D05's wet grip is remarkable with little loss in traction and braking performance experienced when conditions got wet. This is thanks largely in part to the tyre's wiper block design, which not only increases the road contact area, but its sharp and angular shape enable it to disperse water easily with its "Edge-Effect" that breaks the water tension and reduces the water-film between tyre and road surface. From there the D05's four wide longitudinal grooves enables it to channel the water out easily, clearing the way for the tyres to grip the road.
To ensure that there is grip even when the road surface is cold, the tyre compound is made using Advanced Silica Compound Technology, which accommodates a wider operating temperature, thus giving it consistent grip performance even when the road is cold and wet.
As a performance tyre the D05 doesn't disappoint when it comes to delivering a good amount of steering feedback in both the dry and the wet. Its stiffer sidewall construction ensures a more direct feel to, and responsiveness from, the helm. Though it might not match the excellent steering feel in the wet you get from Michelin's Pilot Sport 3, the important bit is that the D05 is on par with its Michelin counterpart on traction in the wet.
Furthermore thanks to the use of a double 'solid rib' construction in its outer shoulder, which prevents tread pattern deformation from strong lateral forces, the D05 is able to deliver a sharp turn-in and retain its consistency under hard cornering. That being said, the stiffer sidewalls meant that the D05 doesn't offer a cushy ride comfort of that of the Goodyear Directional 5s, nor feel as pliant as that of Bridgestone's new Potenza Adrenaline RE003.
One notable addition to the D05 that marks it out as a tyre for Malaysians are its Dry and Wet season indicator. Considering the surprising lack of tyre awareness and knowledge amongst Malaysians, the D05 ingenious season indicator is etched into the tyre's surface in the form of a sun and a rain cloud groove. This season indicator, which is a first for a tyre in Malaysia, is designed to help users gauge the tyre's capabilities in both conditions.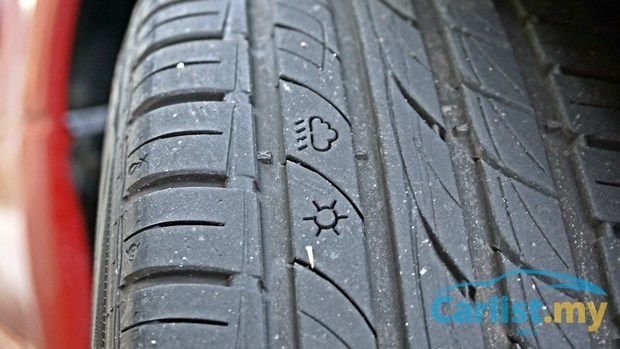 According to their estimates, at 6mm tread depth the rain cloud indicator would disappear, thus serving as an indication that the tyre doesn't have enough tread depth to disperse water properly. Whereas the sun indicator would be worn away at 3mm tread depth to warn users that its usage has been exceed and that it is time to replace the whole tyre.
Usually there is a certain apprehension felt when it comes to Malaysian-made products, but there is no cause for a clause here. The Dunlop Formula D05 is an excellent performance tyre in its category full stop. It is one that is able to deliver excellent dry weather performance, just with the added benefit of being able to tackle Malaysia's wet weather conditions head-on.
# The Dunlop Formula D05 is available in 28 sizes ranging from 15-inch to 18-inch wheels. Prices range from RM180 to RM600 per piece.
---
---
Related News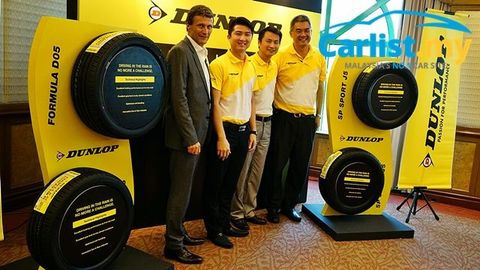 Buying Guides
Continental Tyre PJ Malaysia officially launched the Dunlop Formula D05 performance tyre and Dunlop SP Sport J5 passenger car tyre today. According ...
---
Comments