EVO Malaysia Road Trip: Whatever There Was
Insights If you haven't heard of WhateverThereWas, give it a click. They're one of my favourite duos who travel around Malaysia and the world leaving behind trails of amazing photos and videos. Full credit to them for inspiring me to copy my title off their website.
Well, after months of being shrouded by haze, of not being caress by any form of wind along with that weird radiated heat that emanates from Bangsar's cluster mesh of concrete and glass. I received a call from Shell Malaysia.
"Hey Bobby, would you like to go for a road trip?"
"To where?"
"Any, up to you."
"Cool … i guess …what's up?"
"If so, we'd like to sponsor you a full tank of V-Power Racing and the new Shell Helix PurePlus engine oil just so you can experience a smoother ride with the added performance."
"Interesting, but then I don't think I'll get to experience anything at all if that's the gist of it."
"Why would you say so?"
"Well, that's because I've been pumping V-Power Racing and using Helix PurePlus all this while"
"Wow you use Shell VPR day in and out? Most people use it only for track days"
"Well, I switched after the government made a massive price hike few years ago, resulting in a difference between RM10-RM15 for full tank of Ron97 and VPR. On the flip side, i've picked up good habits like switching off the car if I'm waiting for someone. I mean … basically Malaysians waste too much fuel from unneccessary use.
"That's very true. Anyway, back to topic, I believe you will definitely experience a more responsive and lighter feel from your engine with this new PurePlus."
"New? Isn't PurePlus new? As in debuted last year?"
"Well, this is the new 0W/30"
"Interesting, sounds cool."
So there you go, I'm going on a road trip.
THE ROUTE
Let's start by planning my route. I kind of ruled out Penang because it's the most obvious choice. Genting Highlands is nothing more than Sunway Lagoon on top of a hill. And Cameron Highlands is as authentically Colonial British as Petaling Street is Chinatown as shown in Cuti-Cuti Malaysia TV spots.
#Tips: Do you know that none of the hotels in Penang are allowed to claim ownership to the beaches in front of them? Hence no one can stop you if you 'trespass' any of those hotel's front door and goes straight to the beach you like to enjoy your swim and use their 'publicly-available' facility to clean yourself up
So i laid forth a set of criteria for this road trip,
I want to pay the least number of tolls
It should be places I've never been to
I want to make it back home with one tank of fuel
Now making it back within one full tank of fuel will be sure a challenge if I'm too ambitious with my route planning, or not challenging at all if I just go for an obviously short distance driving.
And loosely based on own interest, I've plotted the below, which you can see, is visible from space.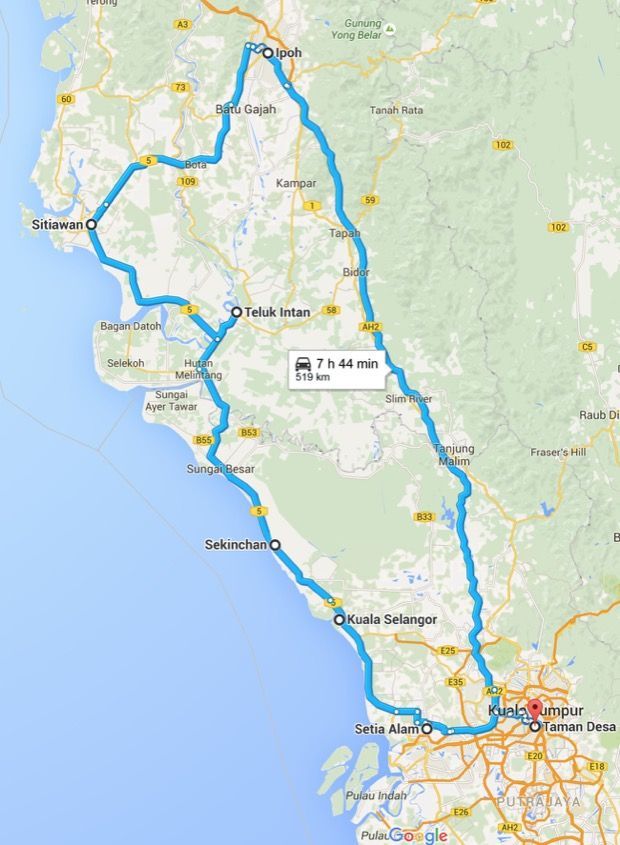 The route I plotted includes:
Kuala Lumpur to Kuala Selangor (80km)
Kuala Selangor to Sekinchan (28km)
Sekinchan to Teluk Intan (72km)
Teluk Intan to Sitiawan (58km)
Sitiawan to Ipoh (73km)
Ipoh to Kuala Lumpur (204km)
With a total length of 515km, I wouldn't even call it ambitious for someone attempting to complete a road trip using only one full tank of fuel - because a friend of mine did more than 750km from his 2.0 litre twin turbo BMW on a recent trip too.
The problem though, lies in the fact that I don't have a 240hp Twin Power Turbo BMW with the fame BMW EfficientDynamics at my disposal. What I have with me, is a 3.0 litre V6 Supercharged Audi with 420hp and 520Nm that weighs a massive 1,770kg.
What this means is that I usually have a hard time squeezing more than 450km out of a single tank of fuel. Not helping the fact that I like seeing my rev counter sway past 5,000rpm most of the time.
So now it becomes a challenge, to get 515km out of what was supposed to max out at about 450km or lesser - and the only differences is that I'm swapping from 5W/40 to 0W/30 and I promise myself to drive more like Hans Cheong. Hopefully.
THE DAY COMES
I wanted to start off early at 6 to catch the sunrise at Sekinchan where the amateur photographer in me imagined rays of light gleaming off droplets from the paddy leaves with my car in the distant background completing the cliché bouquet shot of mandatory lifestyle photoshoot.
Like all Malaysian family road trips, being on time just didn't happen - very few parents can wake up a sleeping child's serenity. And so our sunrise happened over McDonalds at Kuala Selangor.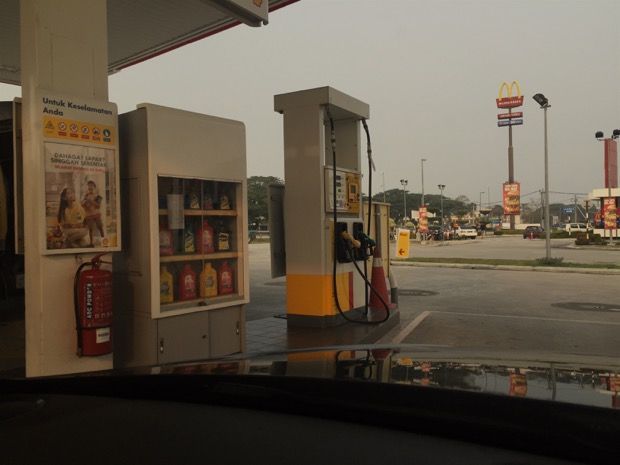 After grabbing some gums and drinking water at the Shell station adjacent (totally a coincidence), we inadvertently became one of the first customers of that outlet to pick up those Nano Blocks - according to the friendly cashier. (I believe this huge guy in front is the first).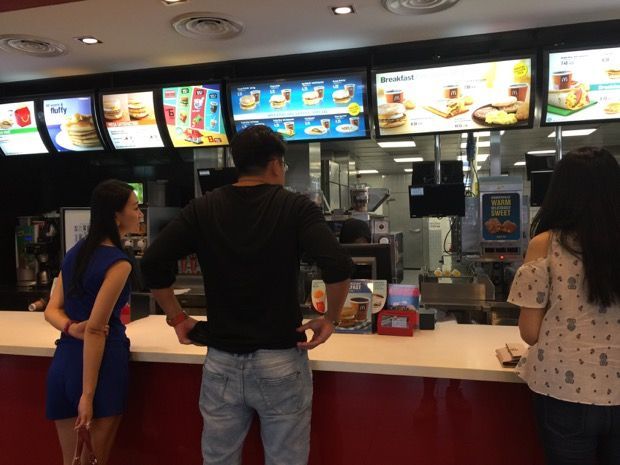 After the happy meal (literally), my kid is all happy and singing along in the car as we trotted along heading to our next destination - Sekinchan.
But before that, let's first take a selfie!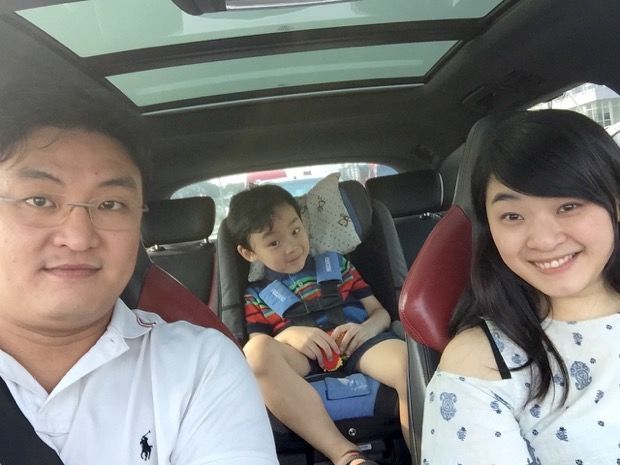 Now some of you may ask why do i place the child seat in the middle. First of all, I never want to buy child seats with fixed Isofix mounts. I prefer the strap type where it's a lot more flexible when it comes to installation. Which means it allows me to utilise the Isofix hooks from each side to place my child seat in the middle.
The benefits of doing so are as follow:
Great view for the kid, so he can do the occasional "Daddy slow down! If not we will crash!"
It protects the child from side impacts, of which our cars provides the least protection. More so if you drive a pre-2012 Toyota Rush as that car doesn't even have a side impact bar. Check this out when my good friend in US had his Town Car T-boned by a Hyundai, even his B-pillars came off, but his son survived unscathed - solely because he placed him in the middle.
In terms of safety there's another thing I'd like to highlight for those of you not familiar with these back roads that serves most of the nation's mobilisation needs, but also takes up a chunk of road fatality statistics.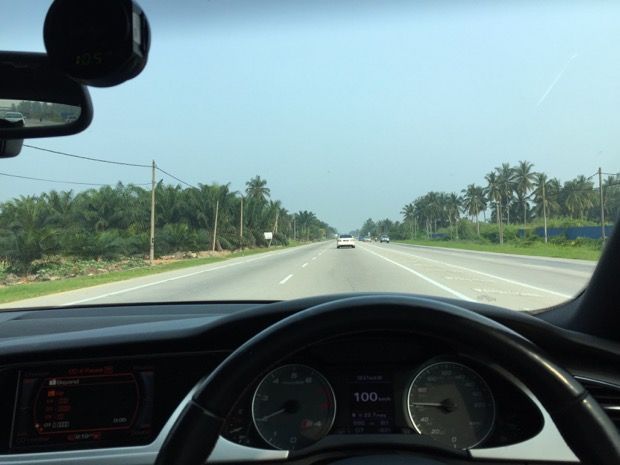 These roads have literally no signs of speed limits, so I'll just keep myself below our national speed limit of 110km/h. More so, there are no dividers between both directions, and cars or motorcycles will just appear from either sides of the road, vehicles from the opposing direction will at times turn right across us without indicating, and there are pedestrians attempting to cross either sides. In one word, it's rather mentally taxing. At least there's a bit of redemption in the form of road quality - they're smooth and pot hole free - at least for most parts.
And it's also during this stretch where the constant deceleration and acceleration allows me to feel the difference this new engine oil serves - the car feels 'lighter' to rev, which gives a sense of being more in-tuned with my throttle inputs.
Thing is for Audis, even though they allow customisation towards the various parameter of the car's drive train to be altered, throttle response was never in itself an individual setting. If I wanted a more responsive throttle, I'll have to place my transmission setting in 'Dynamic' or 'Sport mode' as well, which means it'll be two gears lower - something I do not like or appreciate.
Nevertheless, this is a road trip, not my usual Ulu Yam session, so it's comfort mode all the way. Smooth sailing does it.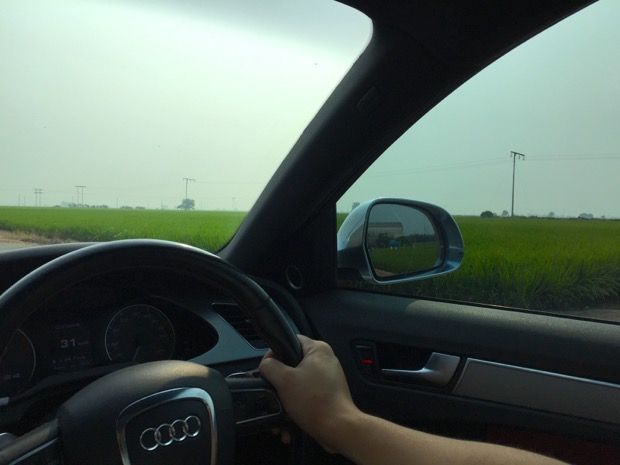 Joy of joys, as the horizon opens up, we knew we're there. Sekinchan, the place that feeds the nation. Although this area is not free from the all encapsulating haze, it's much better to contrast a hazy skyline to the lush greenery below than a bunch of buildings in KL downtown. It's just beautiful. Time to find a road that'll lead us to the middle of the paddy fields.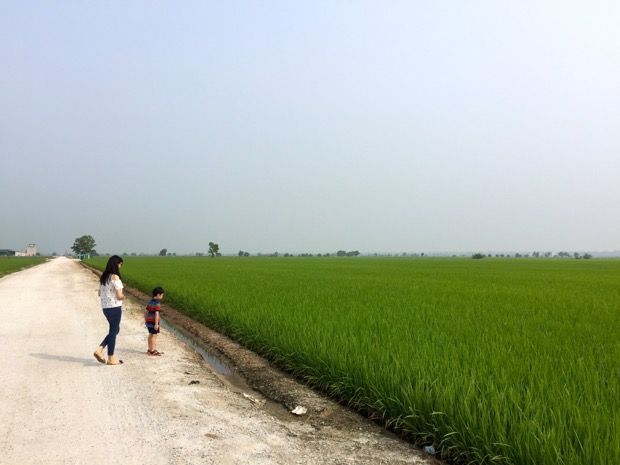 Instinctively, kids being kids. To them, green = grass = running around being kids. So it's disappointing for him to be presented with a ditch and what looks like 'really long grasses' with a lot of unpleasant wetness.
At least picking up stones and throwing them seems like a good idea - at first.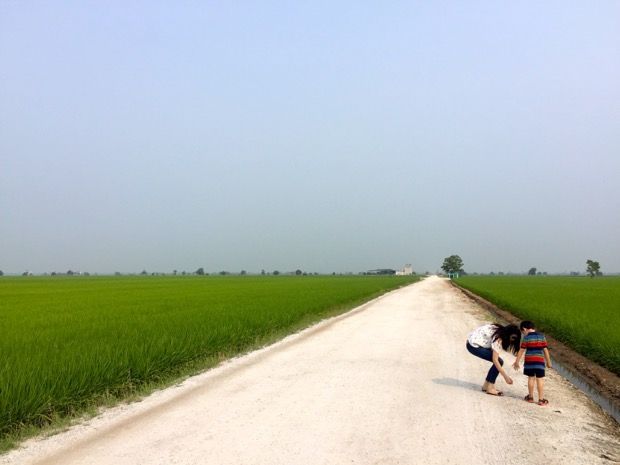 As nice as the pictures seem to be, we're actually under the hazy skies that seems to remain a constant pressure - hence there's no wind or whatsoever. Getting warmer and warmer, my son decides he wants to get into the car for air conditioning. Which makes me wonder, day in and out, how many Malaysians use petrol not for traversing distances, but merely for air conditioning? I wonder.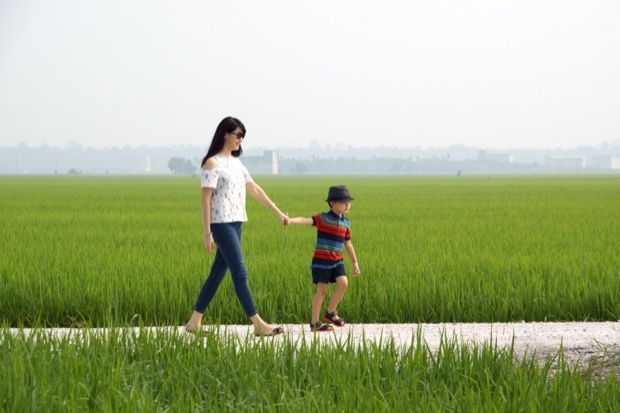 Not too far ahead, we came to this 'Wishing Tree' which is by the beach, and very near to the now famous Sekin Hotel & Resort which Datuk Jamal Yunos owns. 'Set your hopes high' they say. Literally, I guess as I wonder how some of them managed to toss their wishes so far high up the tree.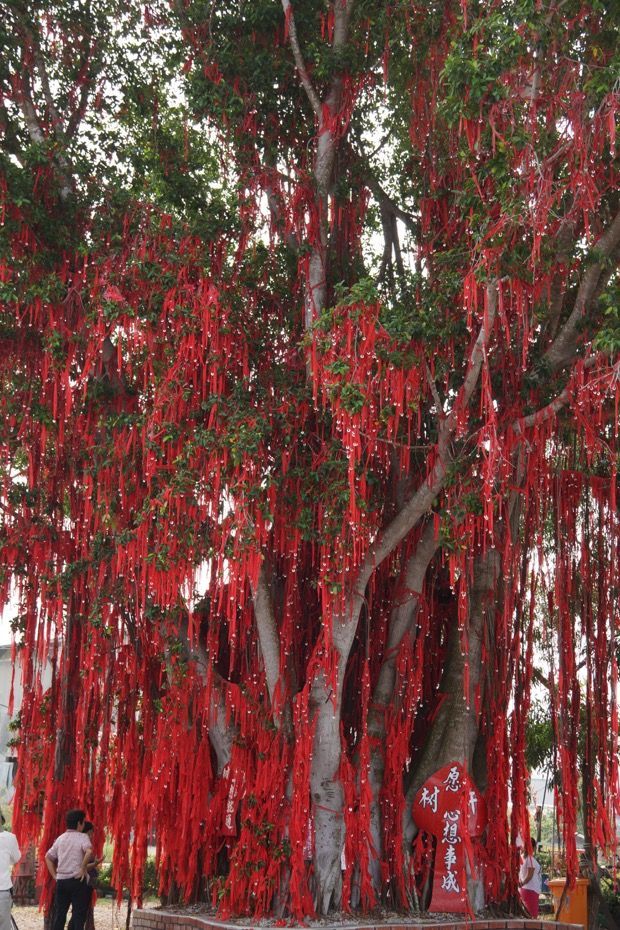 After we did our own well wishing, my son was thrilled to see the locals tying chairs to the tree adjacent as swings. Ah the bliss of not being in the city where everyone owns everything.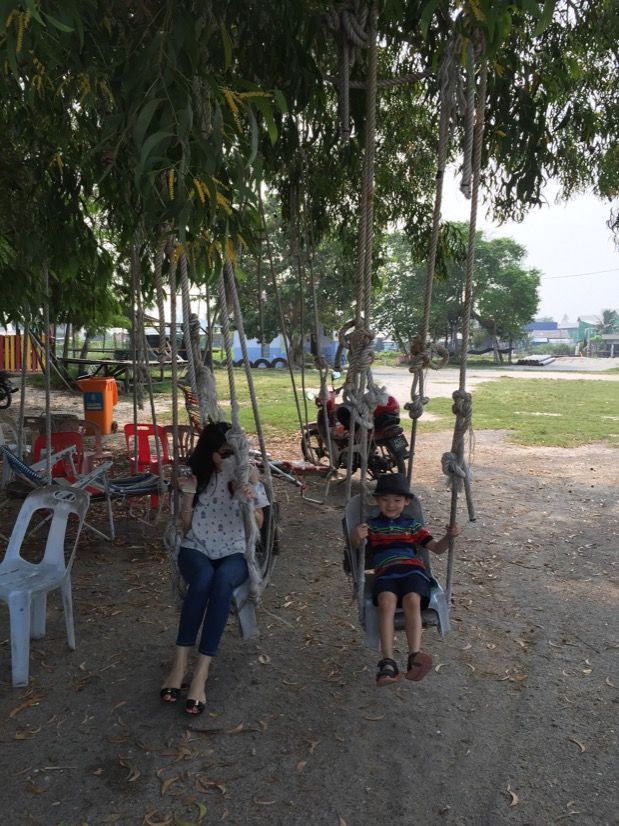 Just opposite that well-wishing tree, I spot a nice place where I get to drive out to the sandy beach for a nice photo op of my car against a non-existent skyline where the haze blended the distant sea with the sky. Other than this patch of deserted sandy beach as well as that aforementioned tree, I've no idea who in the right mind will build a resort here.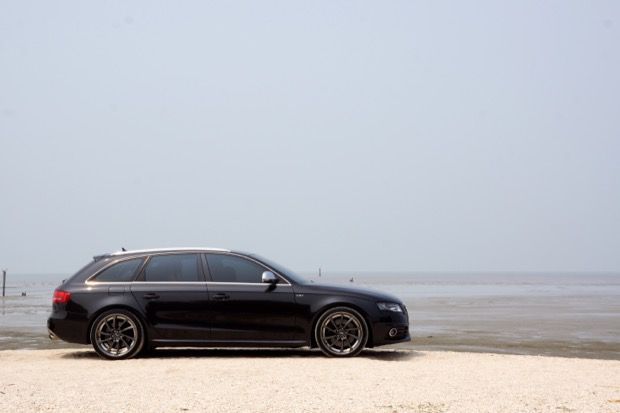 #Tips: If you find yourself at a deserted sandy beach with a 4WD car that pumps 520Nm, you should full lock your steering wheel, place it in Sports mode, off the traction control, and go full throttle. (I did not do that since there's no pictures of me doing it)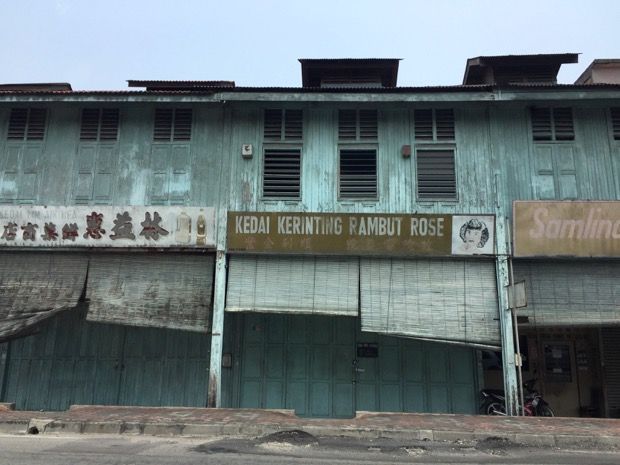 Immersed in thoughts during the short 73km leg from Sekinchan to Teluk Intan, it's just lovely to see old Malaysia suspended in time. I don't mean 'old' old, but the one that we've just had maybe just three decades ago. The Malaysia that stood proud, the Malaysia where our national sports teams are one of the best in the world, the one where our GDP was way higher than South Korea, the one where we bicker less and chill more, the one where Malaysians dare to dream, to create our own national car, to launch our own fashion brands, and the world's first gas to liquid petroleum facilities etc.
From Kuala Lumpur's reliance on monolithic buildings and colourful billboards to graft the perpetual message of national unity and strength, simple social interactions observed in smaller townships reveal a much stronger underlying bond between Malaysians. Perhaps a billion dollar national sports arena in Bukit Jalil is no match for a simple warung kopi with which the way they craft and shape our societal bonds.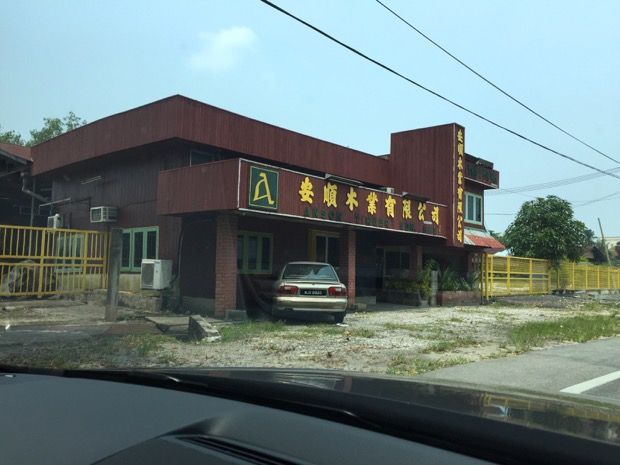 We've always knew we are a nation of 30 million strong, but how many of you realised by adding up the population of all major cities in Malaysia, we can hardly add up to 10 million.
Where's the other 20 million? Well, they're all in these small towns, the fishermen in Kuala Selangor, the timber companies in Temerloh, the farmers working on the paddy fields in Sekinchan etc, serving as the backbone of this nation, away from the limelight that seems to only shine on KL, JB or Penang.
As a born and bred KLite, I've never truly have the chance to see the real Malaysia and how lovely and charming a place this country I call home is.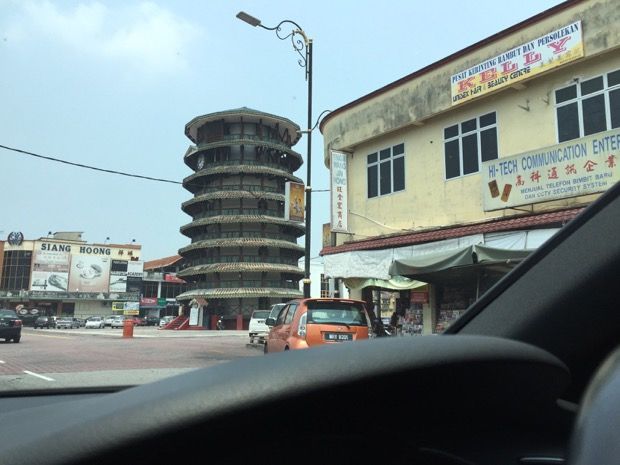 As you would've suspect, I want to visit the Leaning Tower of Teluk Intan. Yes we do have one, built in 1885, it is 25 meters tall, three stories within but designed to look like an 8 story building.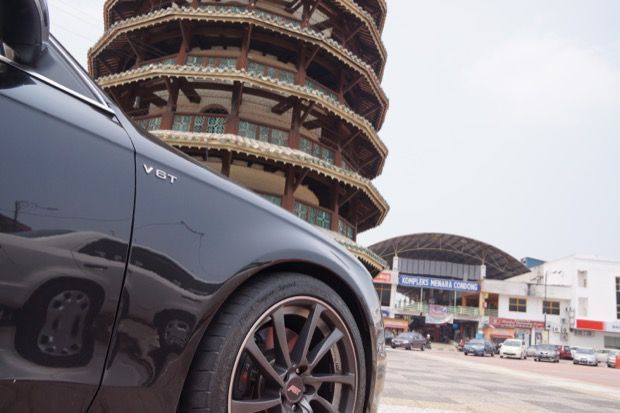 The tower houses a clock, an emergency water tank, and as a beacon tower for ships navigating from the delta of Sungai Perak to Teluk Intan's port.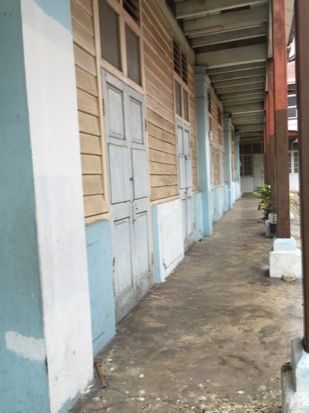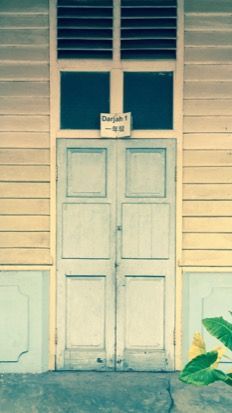 Heading towards Sitiawan, we stumbled ourselves into an old but well maintained primary school right next to a Chinese temple.What's also noticeable are the number of unused shops littered throughout the fringes of the town - a sign of decreasing population and the eventuality of the cannibalisation of human capital and economic activities - especially for these townships that are sandwiched between Ipoh and Kuala Lumpur.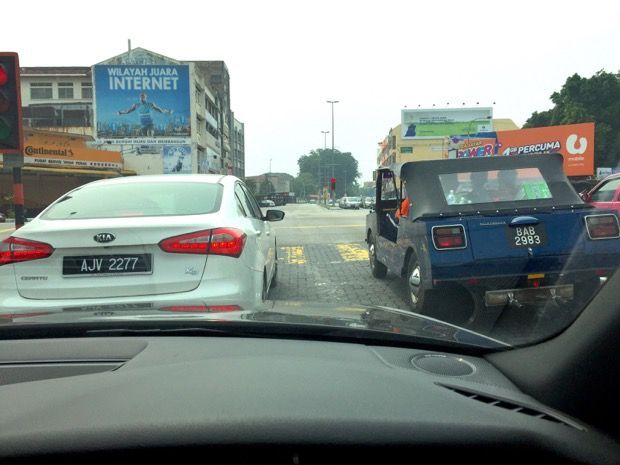 But pound for pound? There's way more charm in these small towns. It was a short drive to Sitiawan, but apart from the surprisingly vibrant town, with plenty of shops and hotels alongside the main road, there's nothing much in Sitiawan except that we stopped for lunch at KFC - which I hope they have a tipping collection box.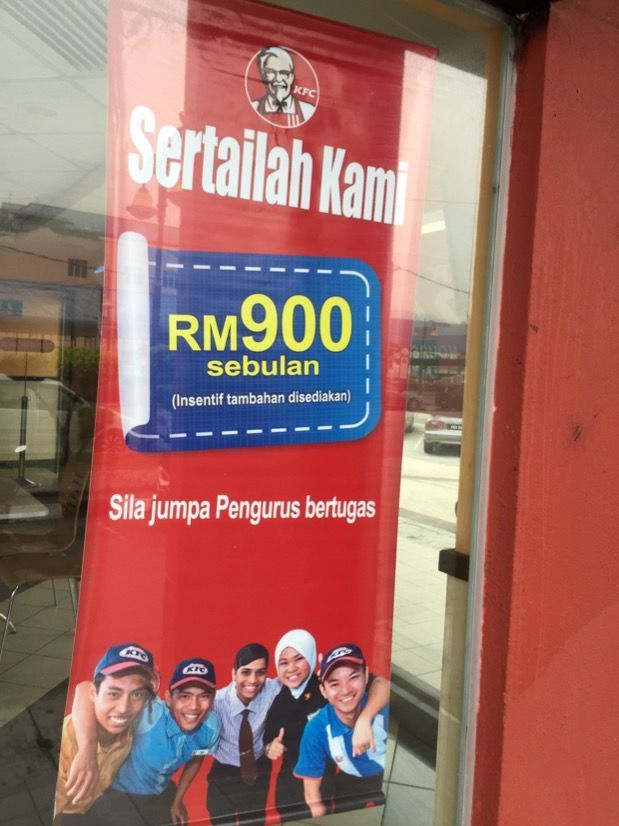 Heading towards Ipoh, we stopped by the fame 'Kellie's Castle' of Ipoh that earned a spot in almost all 'Best places to visit in Malaysia / Ipoh'. The story goes by a wealthy Scottish man named William Kellie Smith building a mansion for his family. However, he died before the mansion was completed, his heartbroken wife soon returned to Scotland upon selling off this unfinished mansion.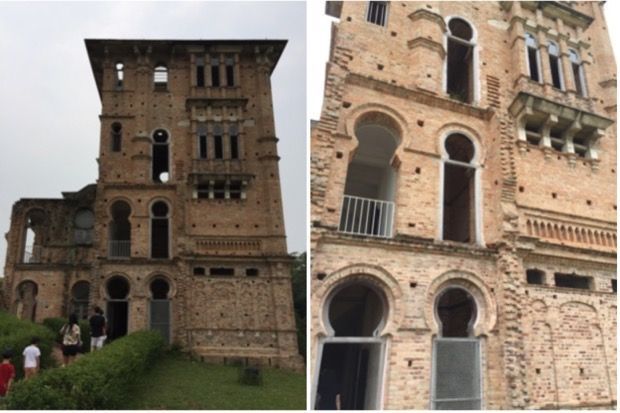 Apart from the unique blend of Indian and British architectural influence, and the nation's first elevator shaft, the only thing that Kellie's Castle show, is Malaysia's ignorance towards cultural and historical artefacts as well as architectures.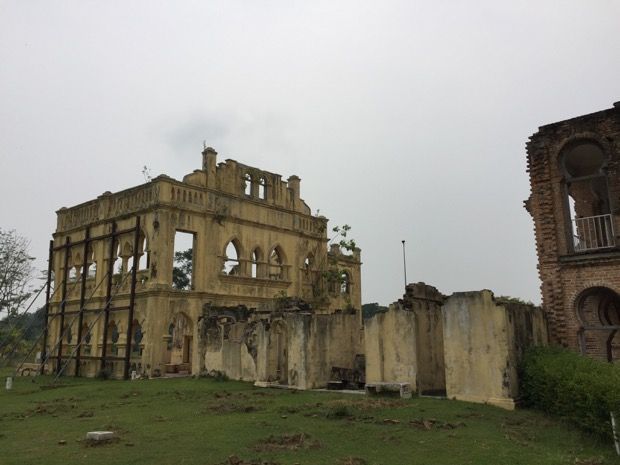 The building is in shambles, it looks as if it's a 2,000 year old relic where in fact construction only started in 1915. Broken window panels were left as it is, a huge portion of the building's interior is covered in mould, it's not weatherproofed, basically all that was done to maintain it as a tourist attraction are a few spot lights pointed towards it, a tourist centre with dedicated parking and ticket selling counter.
What's most impressive, is the complete lack of interest in at least cleaning the toilet, which has got to be one of the world's dirtiest, stinkiest, clogged up toilet that permeates a stench so strong you can hardly breath inside.
It's just a disappointing sight to see a much lauded tourist attraction that's highly publbicised by the travel board yet being left to rot from the inside out.
Oh well, at least the next destination we're heading was rather famous for being the absolute opposite of what we encounter at Kellie's Castle.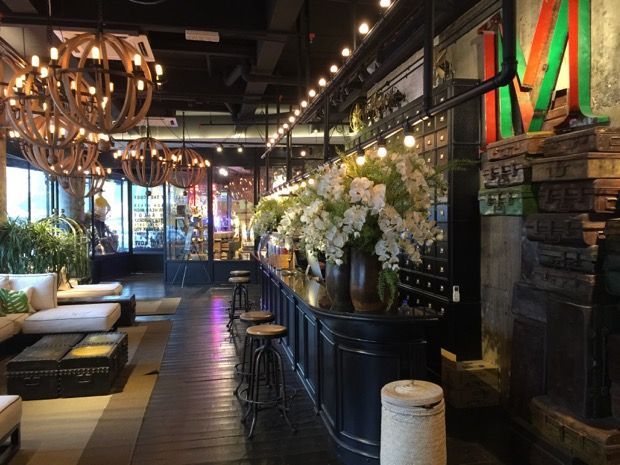 I simply wanted to visit M Boutique hotel and have our dinner there ever since I heard of it. If it's anything, the name coined for the hotel is pretty much too underwhelming for what it is, because it's just out of this world (out of what's usually Ipoh-mali at least) when you stepped in. The best way to describe the visual bomb it presents is sort of like a mixture of hipster broadway cross with a dose of steam punk all mashed up in a retro modern interior design.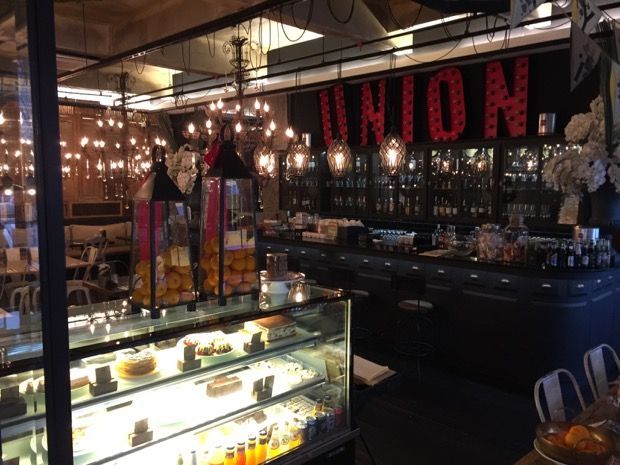 It's just beautiful, even more so in the middle of no where in Ipoh occupying a row of shop houses. The staffs are very courteous too, and only serves to imprint an even stronger impression the moment you want to greet them by their names, leading to a wider smile on your face when their name tags read 'Naruto', 'Clark Kent', 'Wolverine' etc. How cool is that?
How's the food? You might be wondering. Nothing special, not worth writing either. But acceptable to say the least.
"Another 200 km, or about one and a half hour." I answered just as it's about time to go home.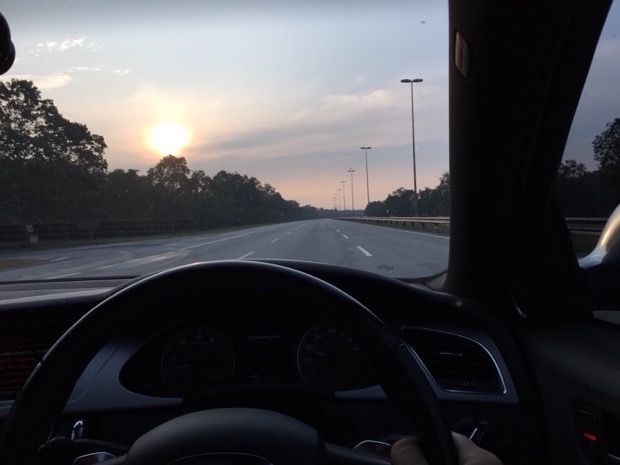 With conversations in the car slowly quieting down, the two of them soon turned into sleeping child after a long day while I floored the throttle imagining this is a much slower version of Starship Enterprise doing space warp. Because instinctively, my brain goes "the sky's getting dark, i need to reach home before it's too late."
But that's the thing isn't it? As the sky darkens, it dawned upon me that what makes us human beings achieve so much more, is our ability to constantly push ourselves to go further distances. And the very instinct to pursue speed, hence power, began in prehistoric times when we would hope to go the farthest within the confines of daytime.
To travel further, to see more, to learn more, and to gather more, edging ourselves beyond the boundaries of our geographical habitat. The further we venture, the more we obtain, the more knowledge we gain, the more we leave behind for future generations.
Thus it is imperative that we must continue to 'continue on', and the importance for us to harness the energy needed for us to continue doing so. The simple notion of me swiping my credit card to retrieve the energy needed for me to 'continue on', an action I so readily taken for granted, is now an immense revelation.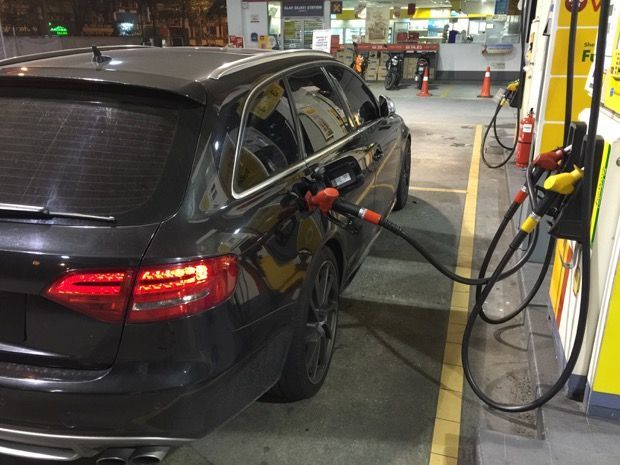 To know that there's someone out there making sure the world functions. Beyond the commercial tie ups with Lego or Ferrari, beyond even the question of profit or loss, these companies are tasked to make sure humanity functions, and it is unto their shoulders to search and explore what's forthcoming, just to sustain mobility.
Of which mobility is in essence, the very thing that drives us ahead, towards the known and unknown, whatever it is, whatever there was.

*This is not a sponsored article. The author accepted one bottle of Shell Helix 0W/30 PurePlus engine oil from Shell purely for journalistic experiential review and paid for the oil change himself. With which the author's car had just went through a full engine oil change and service one month prior to this road trip. The author also paid for all expenses and fuel for this road trip. And the author is as claimed, a Shell V-Power Racing user for the past 4 years and has been using Shell Helix 5W/40 PurePlus previously
---
---
---
---
Comments