Feri Malaysia (1986) – Satu-Satunya Perkhidmatan Feri Yang Menghubungkan Semenanjung Malaysia dan Borneo
Insights Jika pergerakan rentas negeri dibenarkan ketika ini, pasti ramai rakyat Malaysia akan pulang ke kampung halaman masing-masing. Tidak kurang juga bagi warga Borneo yang menetap di Semenanjung atau sebaliknya yang ingin pulang ke kampung halaman mereka. Kalau sekarang, nak pergi ke Borneo dari Semenanjung hanya boleh menggunakan perkhidmatan kapal terbang. Kalau dulu-dulu, ada perkhidmatan feri sekali!
---
Tak semua tahu tentang perkhidmatan Feri Malaysia ni, terutamanya generasi kini. Mana taknya, Feri Malaysia ialah jenama sebuah kapal penumpang yang pernah wujud di Malaysia pada era 1980-an. Nama rasmi kapal tersebut yang didaftarkan di Pelabuhan Klang, Selangor, ialah Cruise Muhibah.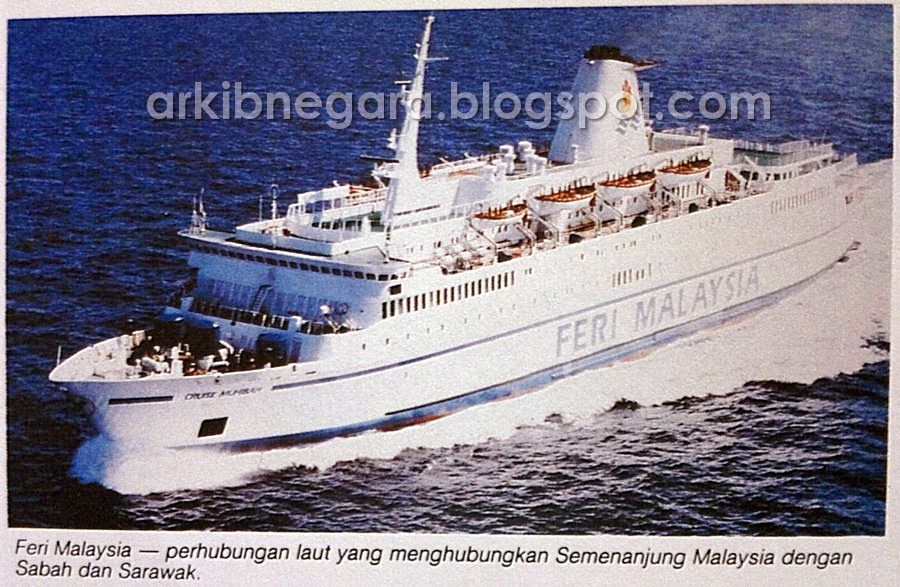 Perkhidmatan yang ditawarkan oleh feri ini berbentuk persiaran, tapi juga boleh membawa penumpang serta kenderaan. Feri ini telah menghubungkan antara Semenanjung Malaysia dengan Sabah dan Sarawak melalui laluan air.
Cruise Muhibbah merupakan sebuah kapal penumpang yang dimiliki oleh kerajaan Malaysia setelah dibeli daripada Helsinki, Finland dengan harga RM50 juta. Idea penciptaan Feri Malaysia ini hadir daripada Perdana Menteri Malaysia, Dr. Mahathir Mohamad pada 1982. Beliau mahu mewujudkan satu khidmat pengangkutan alternatif bagi merapatkan hubungan antara penduduk Semenanjung dengan Sabah dan Sarawak. Keputusan itu dibuat setelah melihat kejayaan perkhidmatan feri di negeri-negeri Scandinavia antara Finland, Norway dan Denmark.

Sebelum projek ini bermula, Jabatan Perdana Menteri telah memilih syarikat perkapalan Perbadanan Nasional Shipping Line Berhad (PNSL) bagi menjalankan kajian terperinci tentang idea Feri Malaysia ini sebelum dilaksanakan. Pada Jun 1984, PNSL telah menubuhkan anak syarikatnya yang diberi nama Syarikat Feri Malaysia Sdn. Bhd. untuk melaksanakan projek tersebut. Seorang pakar dari Eropah juga telah dilantik sebagai Pengurus Besar dan penasihat projek tersebut.
Laporan lengkap tentang rancangan projek Feri Malaysia telah dikemukakan kepada mesyuarat kabinet pada 27 November 1984 bagi mendapatkan kelulusan daripada jemaah menteri. Setelah Jemaah Menteri Kabinet Malaysia meluluskan projek ini, maka sebuah feri telah dibeli dari Helsinki, Finland. Kerja-kerja membaikpulih serta menaiktaraf feri ini mengambil masa 2 tahun untuk disiapkan.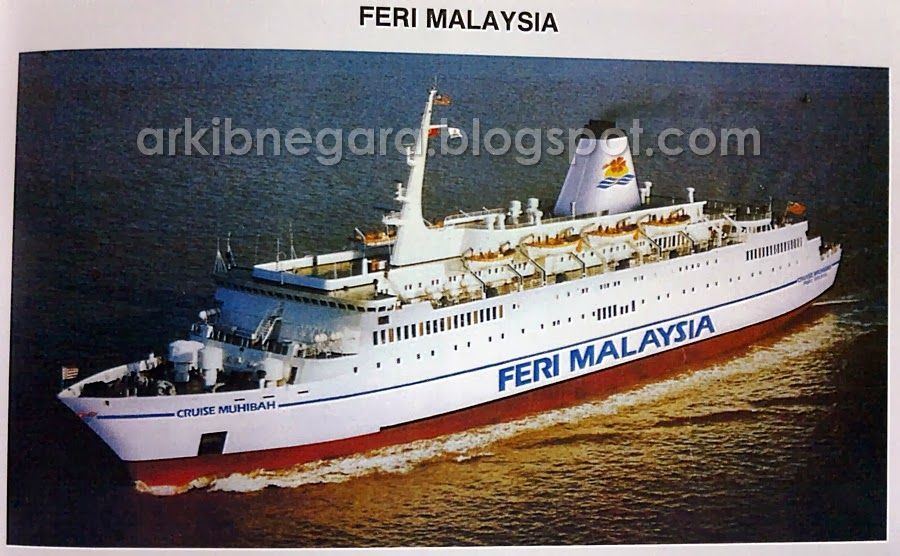 Setelah siap, feri ini belayar selama sebulan dari Finland sebelum tiba di Pelabuhan Klang pada 6 Ogos 1986. Sultan Pahang kemudian membuat pelancaran rasmi khidmat Feri Malaysia pada 31 Ogos 1986 di Pelabuhan Kuantan, Pahang.
Spesifikasi Feri Malaysia
Berat: 7,900 tan
Panjang: 134 meter
Jumlah dek: 7 buah
Muatan penumpang: 600 hingga 650 orang
Muatan kenderaan: 240 buah kereta atau 40 buah lori treler (40 kaki panjang)
Laluan perjalanan: Kuantan (Pahang) - Kuching (Sarawak) - Kota Kinabalu (Sabah)
Tempoh perjalanan: 2 hari (Kuantan ke Kota Kinabalu)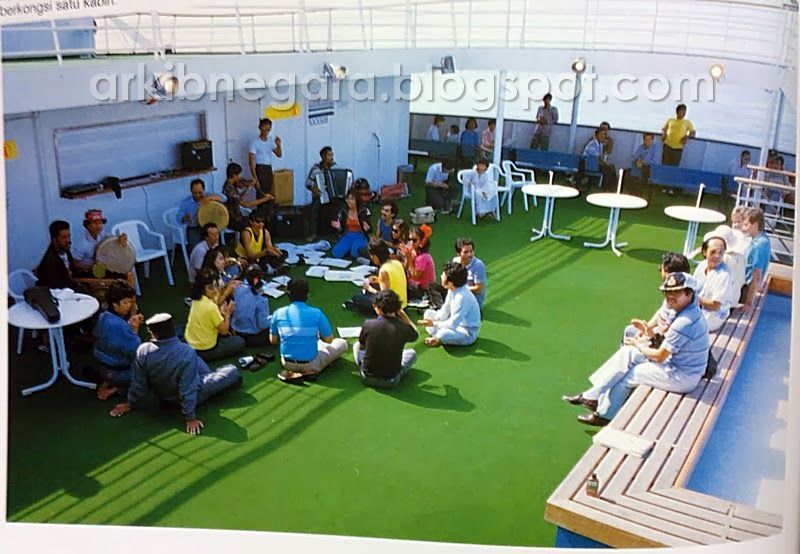 Kemudahan yang disediakan:
Restoran
Kafeteria
Kolam Renang
Bar
Disko
Bilik Mesyuarat
Kabin (tempat tidur, maksimum 4 orang dalam seunit)
Surau dan lain-lain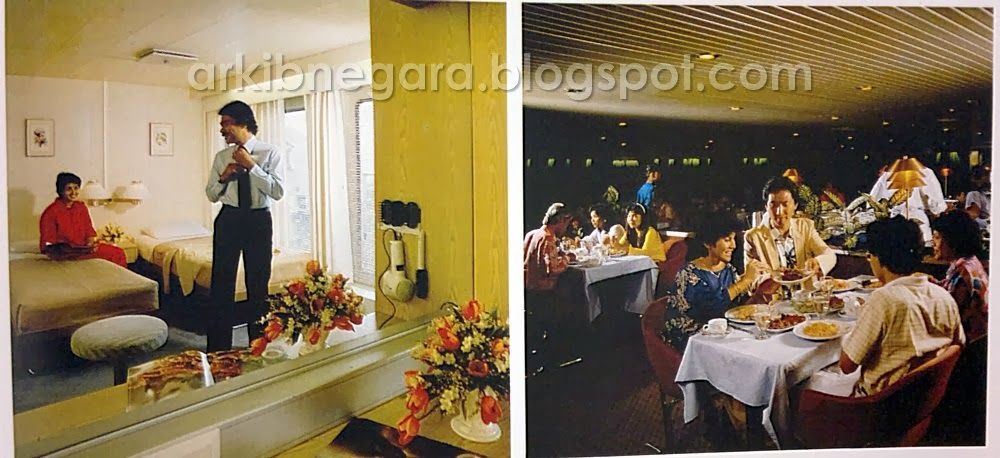 Aktiviti yang disediakan:
Untuk kanak-kanak (pertandingan melukis, sukaneka, pakaian beragam dan sebagainya)
Untuk bersukan (pertandingan tarik tali, pertandingan aerobik dan sebagainya)
Pelbagai aktiviti dalaman seperti menonton video, pertandingan catur/karom/dart/bingo, persembahan tarian kebudayaan (Zapin, Inang, Joget, Sumazau, Dusun dan lain-lain)
Ceramah agama khusus bagi orang Islam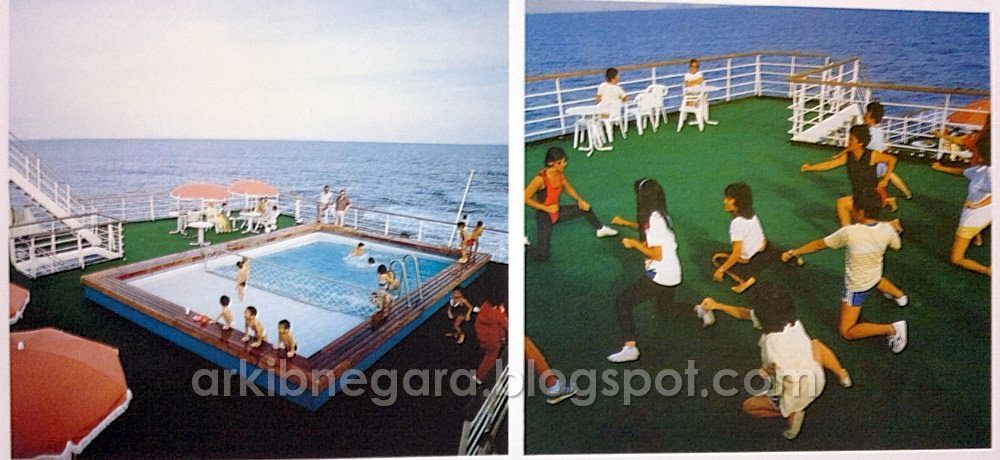 Malangnya, pada 18 Oktober 1987, perkhidmatan Feri Malaysia mengalami kebakaran pada ruang enjin utamanya. Ketika kejadian pada jam 2.45pm itu, lokasi feri ini berada kira-kira 5 kilometer dari Pulau Tioman, Pahang. Seramai 300 orang penumpang dan 40 buah kenderaan berada diatas feri ketika itu.
Walau bagaimanapun, kesemua penumpang dapat diselamatkan menggunakan dua buah kapal kargo untuk membawa penumpang ke Pelabuhan Kuantan pada hari yang sama. Feri Malaysia terdampar seketika di lautan Pahang setelah kebakaran dapat dipadamkan sepenuhnya. Menurut info yang dikeluarkan oleh akhbar NST, kebakaran tersebut berlaku kerana kapal yang dibeli dari Finland ini sudah lama dan berusia 16 tahun.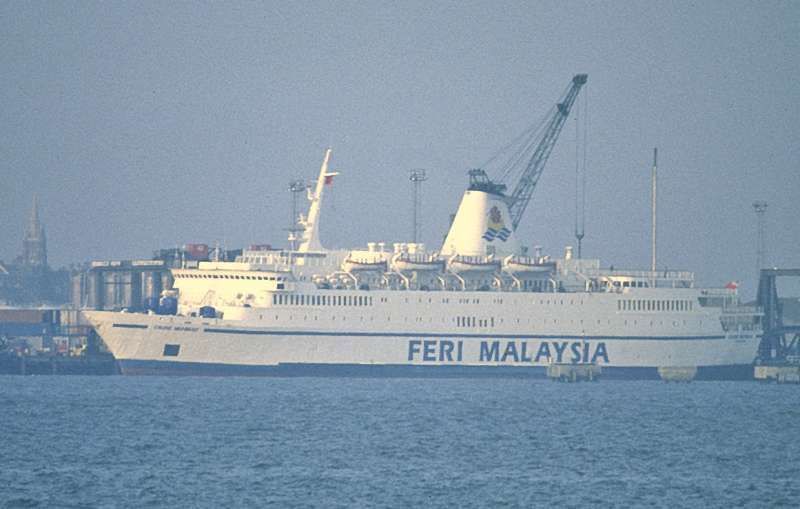 Akhirnya, perkhidmatan Feri Malaysia ini melabuhkan tirainya pada tahun 1989 kerana kos operasinya terlalu tinggi berbanding keuntungan yang diperolehi.
Pada pendapat anda, patutkah sistem pengangkutan berasaskan laluan air ini diteruskan sebagai pengangkutan alternatif untuk pengguna yang menggunakan laluan Laut China Selatan bagi menghubungkan Semenanjung dan Borneo?
Kalau lihat pada harga tiket kapal terbang pada musim perayaan, memang meroketlah harganya. Tapi sekiranya ada alternatif lain seperti Feri Malaysia, mungkin akan berlaku persaingan harga tiket yang sihat antara kapal terbang dan feri. Yang untung rakyat juga!
*Kredit semua foto Arkib Negara



For more latest car news, reviews, car buying guides and videos visit us at Carlist.my Auto News.
Check out all the best new & used car deals in Malaysia at Carlist.my.
Sell your car fast with the best offer? Visit us at CarlistBid.my.
Get the latest new car promotions at New Car website now.
---
---
---
---
Comments