Ford Gives Us The Low Down On Its Carbon Fibre Wheels For The Shelby GT350R
Auto News When Ford took the wraps off of its Mustang Shelby GT350R at the 2015 Detroit Motor Show, they said that the track-focused machine will be fitted with 19-inch carbon fibre wheels, something only done by exotic super/hypercar maker Koenigsegg. However, where the Swedish company does so in low volumes, Ford decided to turn things around, crafting the first mass-produced, track-capable carbon fibre wheels as standard equipment for the Shelby GT350R.
To do this, Ford Performance partnered up with Australian supplier Carbon Revolution to develop and produce the carbon fibre wheels. So how do they make carbon fibre wheels? Step one, create a preformed internal carbon structure, made up of precisely manufactured carbon strands arrayed into woven fabrics. Next, the elements are then placed into a mold.
Ford then embeds a uniquely-numbered RFID chip in this structure so they can track it in their quality assurance system. Once the structure is assembled, it is infused with resin and cured at high temperatures and pressure. The final result is a one-piece wheel weighing just 8.16kg.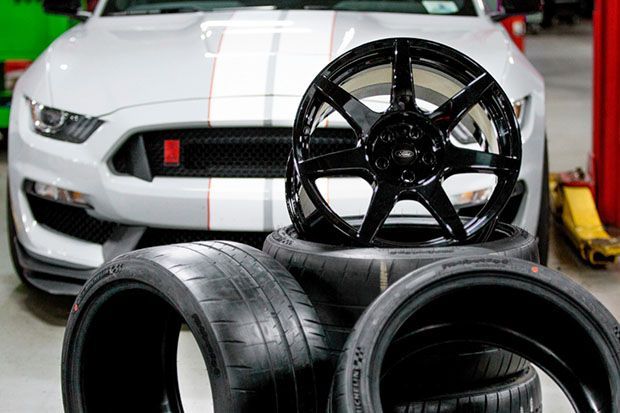 As the wheel cures, it goes through a thorough quality examination – 61 individual checks, 246,000 data points are logged, 18,000 X-ray images are taken using a 3D computerized tomography (CT) imaging process. Only when it meets the quality level expected does it undergo machining for the valve stem and mounting hardware holes before it gets painted, coated, assembled, dimensionally checked and shipped to Flat Rock Assembly Plant for installation on a new Shelby GT350R Mustang.
The finished wheels must be capable of meeting a certain level of performance and be durable at the same time.
On the track, the wheels will be subjected to extreme levels of heat in excess of 900 degrees Celsius from the braking system. To cope with this, Carbon Revolution's thermal barrier coating system uses a plasma arc gun to liquefy a ceramic material, the wheels are coated at critical points around the inner wheel "barrel" and on the back of the spokes. The result is an incredibly thin, nearly diamond-hard coating that reliably shields the resin from heat.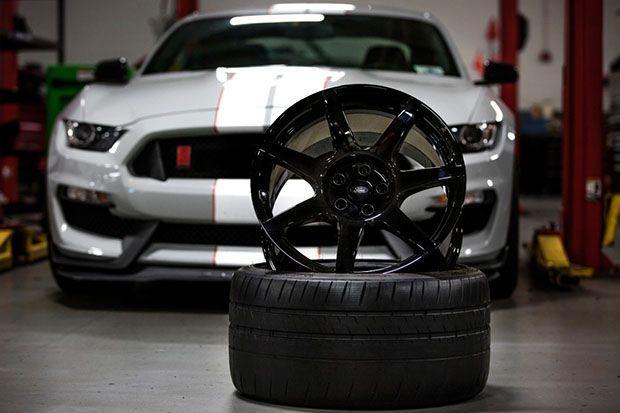 Much like a traditional wheel which experiences curb strikes, the carbon fibre wheels on the Shelby GT350R also goes through a development process involving striking a curb at speed. Thanks to the advanced construction methods and resins used, along with the car's MagneRide dampers, it will not experience serious wheel and tyre damage.
These carbon fibre wheels will also need to fight off the elements as well. Extreme exposure to harsh UV environments, corrosive salts, and road chemicals warrant the use of a special coating, developed to protect the resin from the environment.
All this translates to a wheel which weighs almost half that of an equivalent aluminium one (8.16kg vs 14.96kg). This light weight meant the springs and MagneRide dampers had to be recalibrated because the suspension can now respond considerably faster. The wheel also provide a reduction in rotational inertia of more than 40 percent, which positively impacts acceleration and braking performance. Pair that to its stonking 5.2-litre V8 engine that features a flat-plane crankshaft with 526hp on tap and you've got a real track monster.
---
---
---
---
Comments