Ford Unveils The Mustang Mach-E All-Electric SUV
Auto News Ford has expanded the Mustang family with the Mustang Mach-E, an all-new, all-electric SUV inspired by the Mustang.
When it arrives in late 2020, the Mustang Mach-E will be available with standard (75.7 kWh) and extended-range (98.8 kWh) battery options with either rear-wheel drive or all-wheel drive configurations that are powered by permanent magnet motors, with a targeted range of at least 482 km.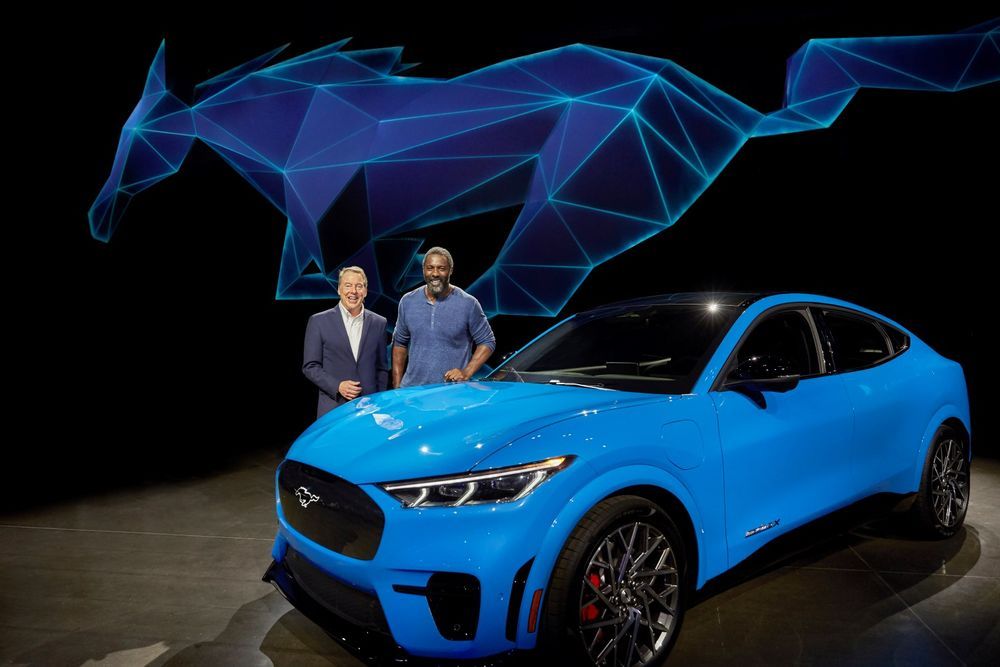 In extended-range all-wheel-drive configurations, the Mach-E puts out 332 hp and 565 Nm of torque, and sprints from 0 – 100 much quicker than the base Porsche Macan.
The battery, which is located on the floor between the vehicle's two axles, is secured inside a waterproof battery case surrounded by crash-absorption protection. It is also liquid-cooled to optimize performance in extreme weather and to improve charging times.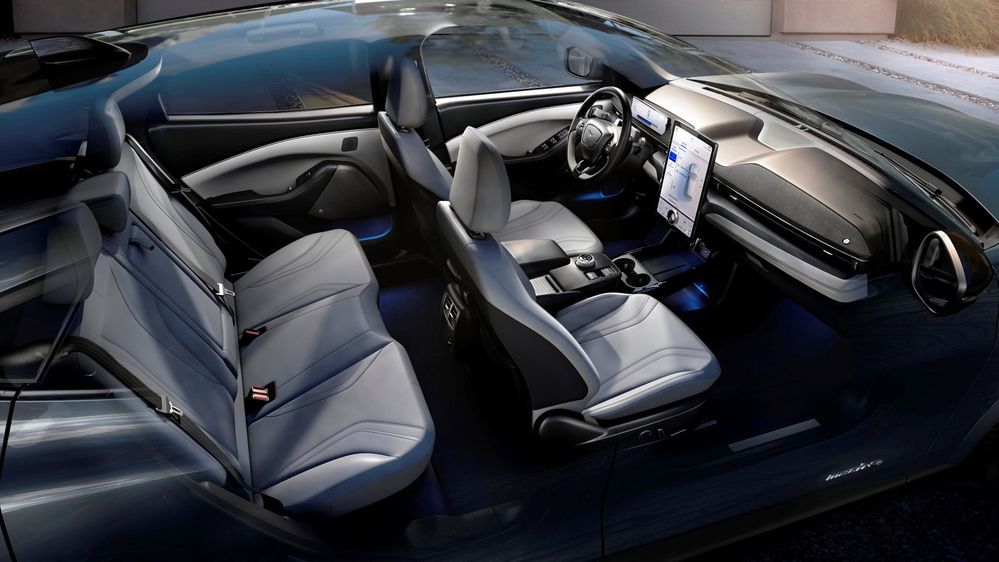 Where charging is concerned, Ford offers a Ford Connected Charging station that can add an estimated average range of 51 km per charging hour on a 240V outlet, based on extended-range, rear-wheel-drive configuration.
The Ford mobile charger, which is included with the vehicle, can add an estimated average range of 35 km per charging hour on a 240V outlet.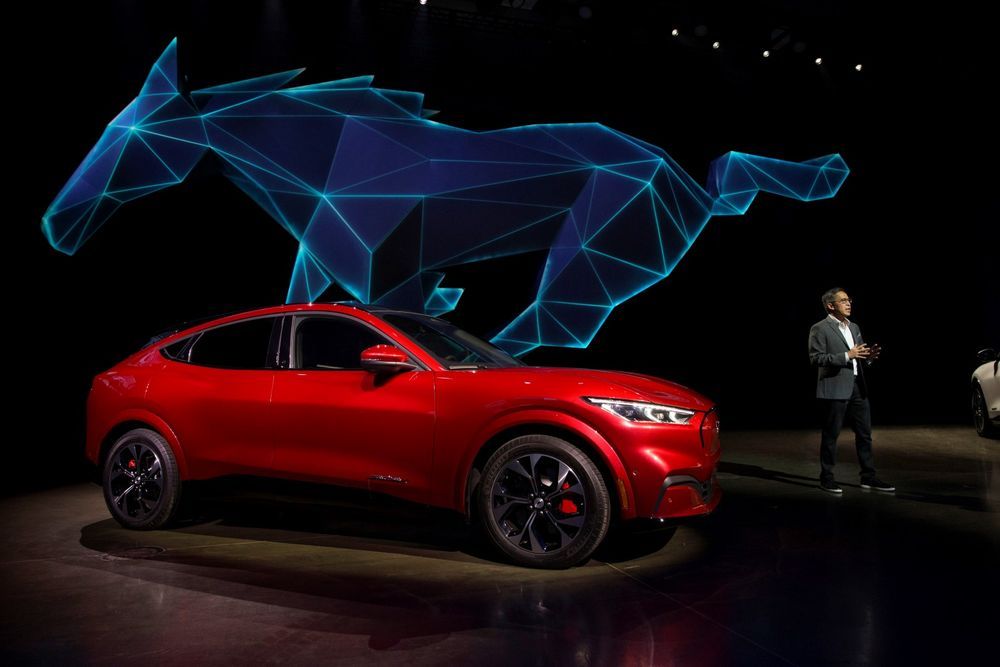 Ford also will offer two special performance versions - The GT which is capable of doing the century sprint in in less than 4 seconds, and the GT Performance Edition which is targeting a comparable 0-100 km/h in the mid-3-second range.
According to Ford, both GT configurations will be making an estimated 459 hp and 830 Nm of torque.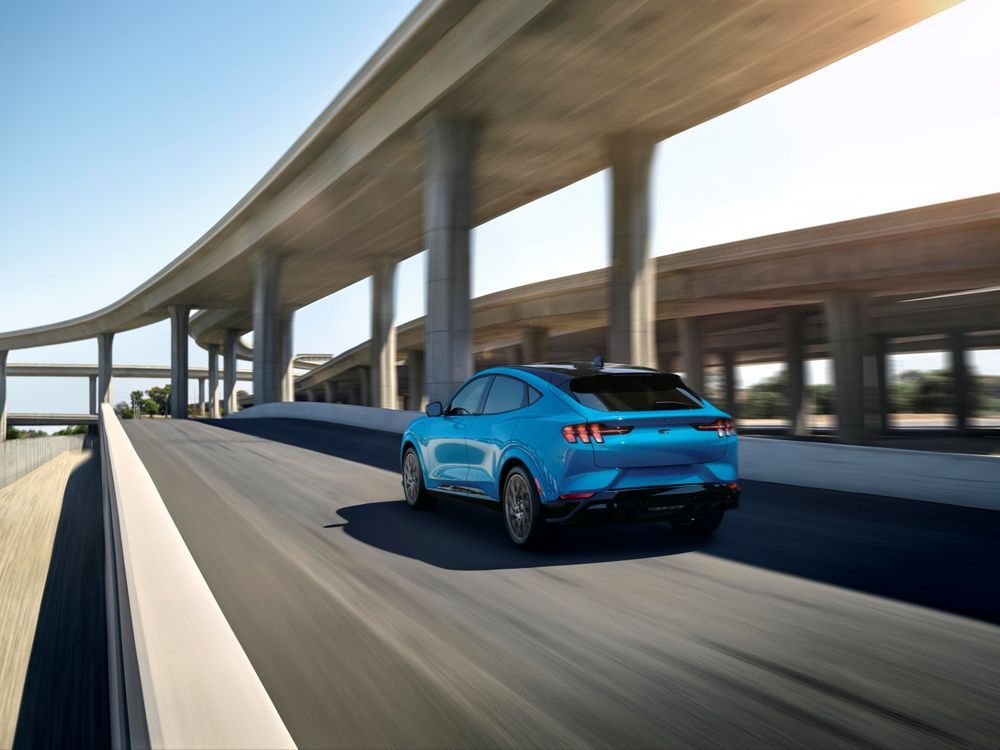 A limited First Edition will also be available in extended-range all-wheel drive, with red painted brake calipers, metallic pedal covers, contrasting seat stitching and a scuff plate marked First Edition.
Also making its debut in the Mach-E is the next-generation SYNC infotainment system, which features a 15.5-inch screen with a simple interface which ditches complicated menus, making it easier to access features with touch, swipe and pinch controls that every smartphone owner will be comfortable using.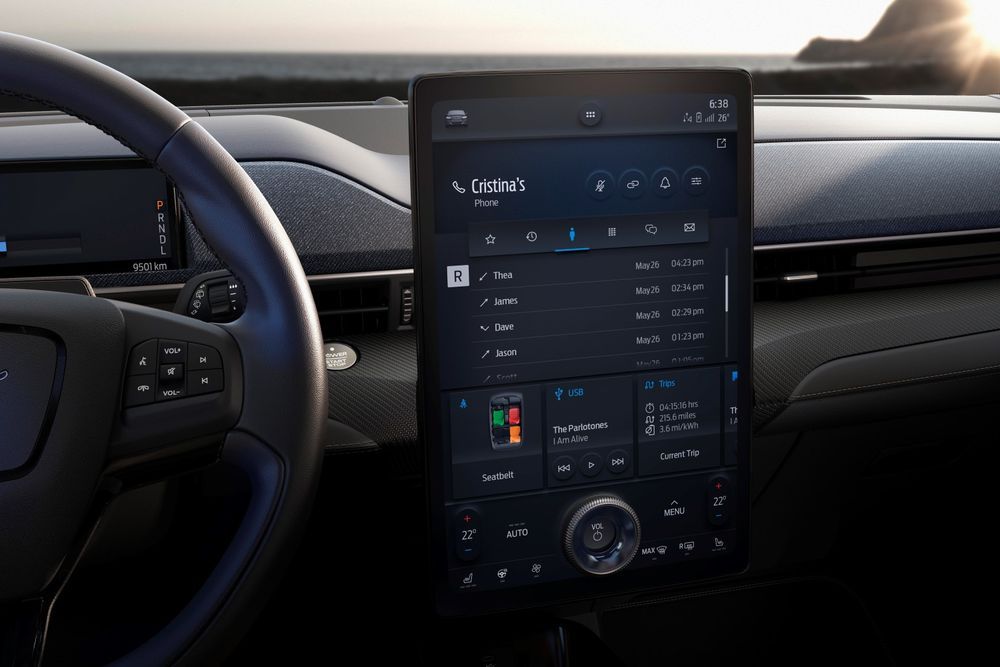 Using Ford's new all-electric architecture that places batteries inside the underbody, Ford engineers and designers were able to create a vehicle that's not only true to Mustang but also maximizes SUV space for five passengers and cargo.
Design wise, the Mustang Mach-E comes with signature Mustang elements such as its long, powerful hood, rear haunch design, aggressive headlights, and trademark tri-bar taillamps.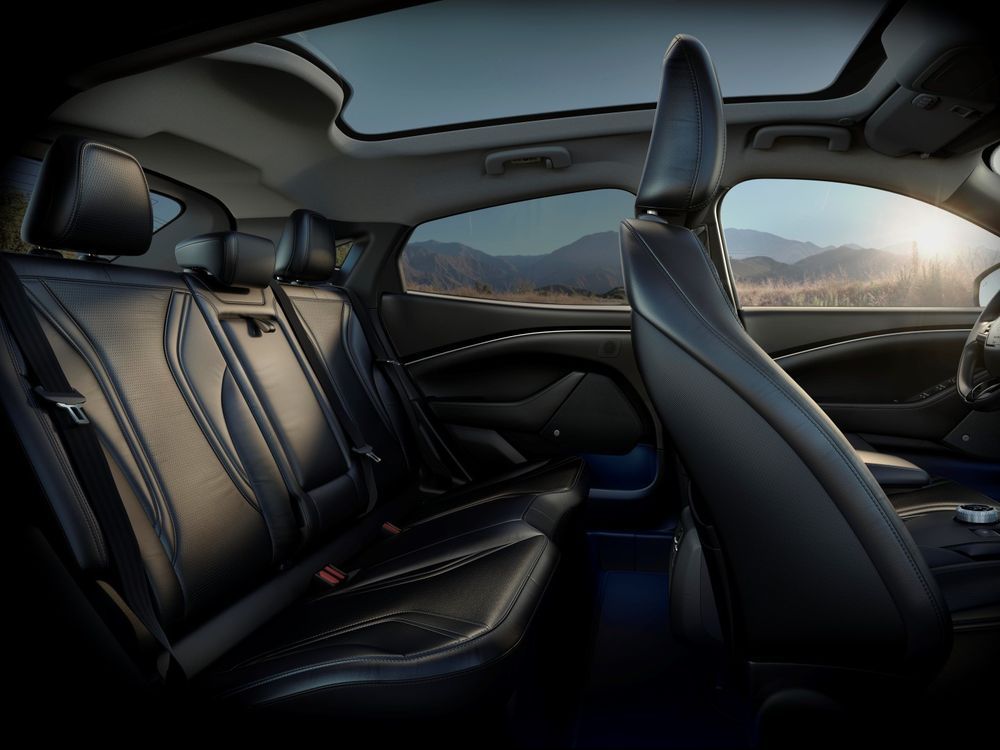 Inside, the Mustang Mach-E can fit five adults comfortably, with plenty of space for friends, kids and cargo, especially with features like the front trunk storage unit. Providing 135 litres of storage space, the front trunk is large enough to comfortably store the equivalent of a carryon luggage bag.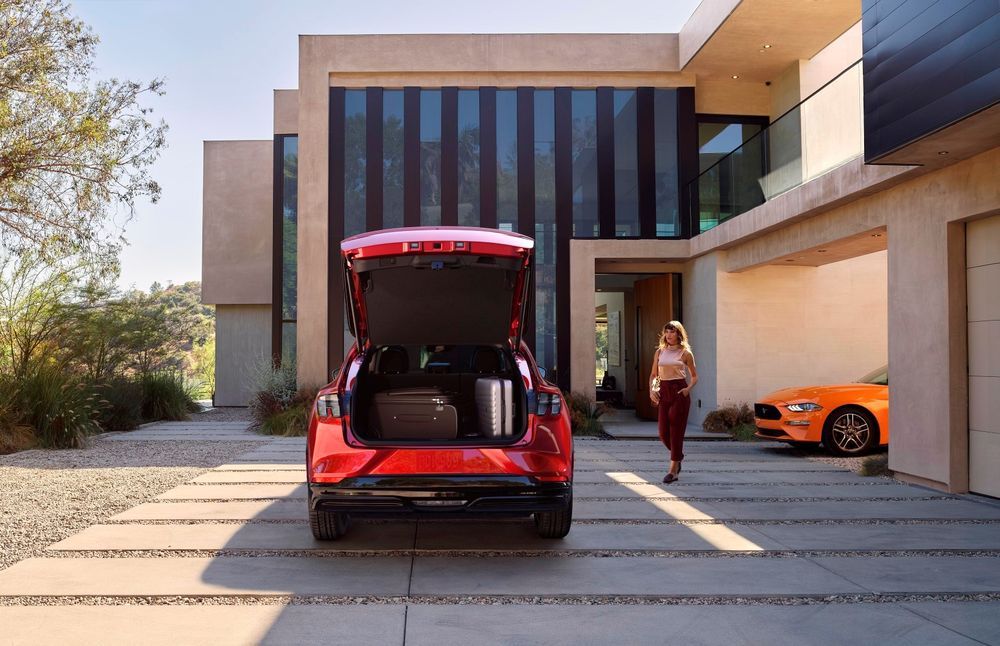 Inside, the Mach-E offers a fusion of sleek, modern design and smart functionality. Key features include Bang & Olufsen speakers, a floating flip-up armrest which doubles as a place to store purses or bags, a double-cowl instrument panel, as well as a panoramic fixed-glass roof.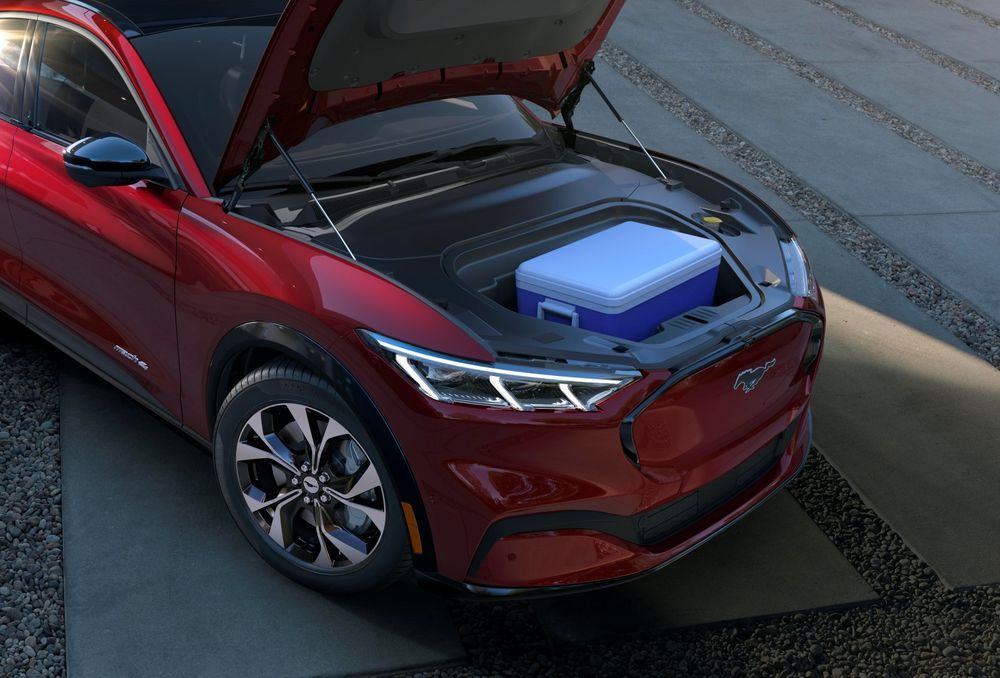 Finally, getting in and starting the vehicle is easy and effortless with "Phone As A Key" technology, which makes its debut in the Ford brand lineup in Mustang Mach-E.
Using Bluetooth, the vehicle can detect customers' smartphones as they approach, unlocking the Mach-E and allowing them to start driving without getting their phones out of their pockets or using a key fob.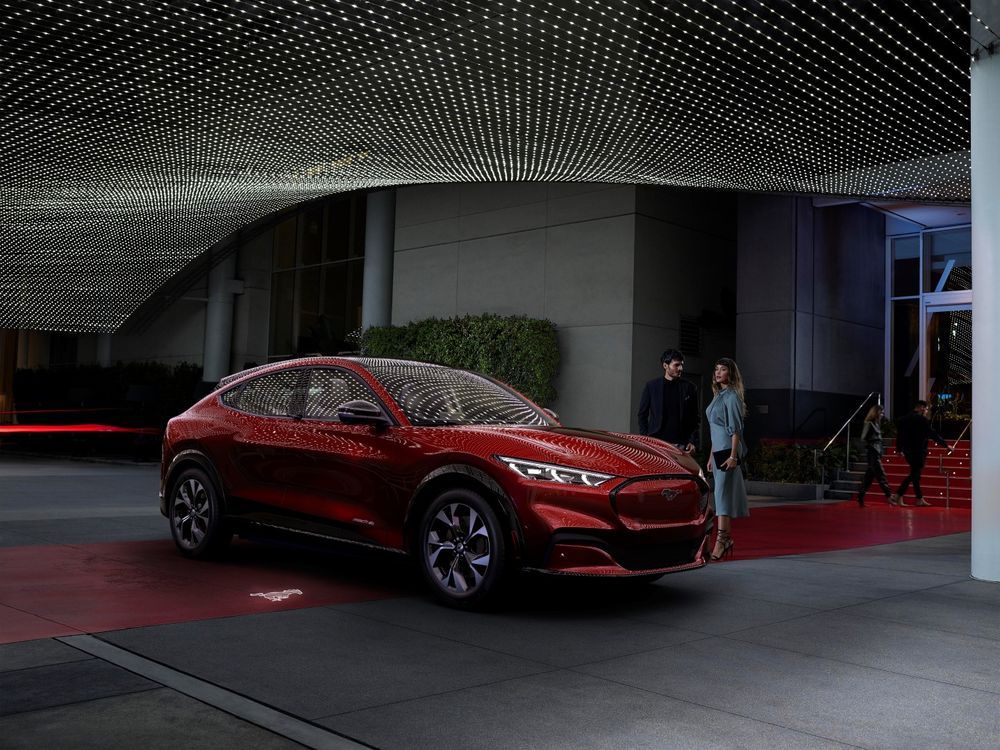 Looking for a new Ford? Find the best deals here.
---
---
---
Comments