Ford's SYNC 3 Steps It Up With In-Car Connectivity And Entertainment Enhancements
Insights Ford is letting visitors to its booth at the ongoing CES Asia 2015 in Shanghai play around with its newest generation of in-car connectivity and entertainment system, SYNC 3. It's got a host of new features that Ford is confident will put them in good stead against competitors.
We in Malaysia haven't yet had the pleasure of experiencing SYNC 2 (or Sync 'Gen2' aka Ford MyTouch), so hopefully with SYNC 3 now mature enough for prime time, we will be skipping straight on ahead to the latest version. The Ford vehicles of late have been equipped with the first version of SYNC, and while that is capable enough, it's high time for an upgrade. SYNC 3 has ditched Microsoft's software base and is now built upon QNX, a software platform acquired by Blackberry. However, Microsoft's Azure cloud will supply the necessary backend services.
Let's take a look at some of the main highlights. First of all, SYNC 3 has an entirely revamped design to complement modern smartphone and computer interfaces. It receives input from a capacitive touchscreen along with a slew of accompanying features. The usual enhancements include much improved performance and enhanced voice recognition with natural language processing. Access to your music is also made easier with the new voice recognition algorithms.
iPhone users will have seamless integration with Siri, bringing the power and functionality of the virtual assistant to their Ford if they so choose. There's an obvious focus on hands free interaction with SYNC 3, and that carries over to navigation as well, with users being able to describe their destination – be it a specific address or location type (the nearest ATM, highest rated coffee shop) and let the natural language recognition parses the most pertinent information without you having to take your eyes off the road.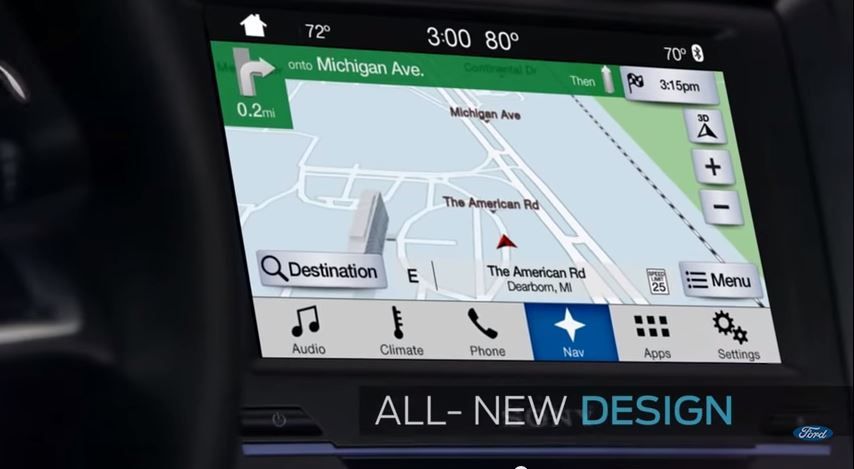 Ford's plans for their SYNC technology go beyond merely navigation and infotainment access in the car, which is why SYNC 3 is a platform onto which developers can build in support for in their smartphone apps. This platform is called AppLink, and should it be built into a smartphone app, would allow functionality catered specifically to a driver's input options as opposed to that found while using a smartphone normally. For example, voice recognition and/or large easily tapped buttons take precedence over on-screen information density such as that found on a typical smartphone's interface. These features will only make themselves evident when connected to an AppLink enabled console (such as a SYNC 3 equipped Ford), and the apps that support it will be displayed and ready for the driver's needs.
To keep SYNC 3 constantly up to date, support for automatic over-the-air updates via Wi-Fi is built in. This will enable rapid feature additions, bug fixes, and device/app optimization without having to have the update be installed manually by Ford. All that's needed is for the SYNC 3 console to be connected to a Wi-Fi network.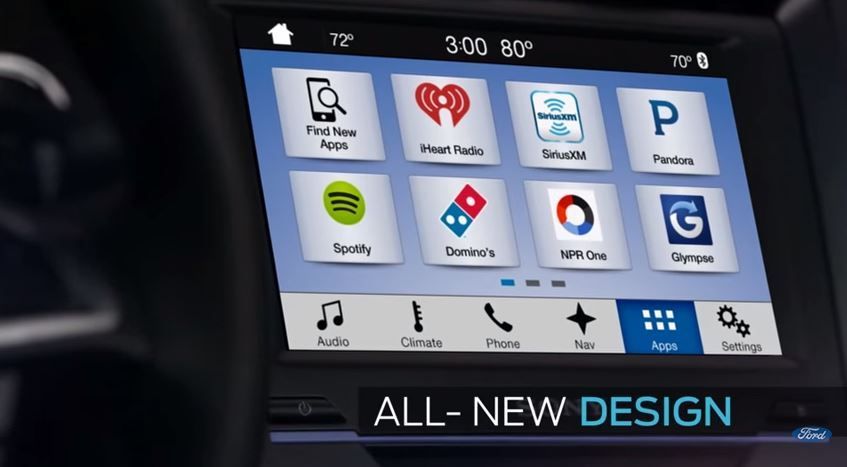 "With SYNC 3, Ford is delivering an easier way for drivers to stay connected to their lives on the go," said Joe Beiser, director, Connected Vehicles and Services for Ford Asia Pacific and Europe. "Plus, with AppLink integration, Ford drivers have more ways than ever to safely use their favorite mobile apps while keeping their hands on the wheel and eyes on the road."
On a side note, it looks like Ford is still a proponent of Sony's in-car displays and sound systems. No complaints here.
Ford is also field testing enhancements to its Emergency Assistance to the Chinese market. Should the car be involved in a collision where the airbags are deployed or the fuel pump has been shut off, an emergency call will be placed to the authorities on the driver's behalf along with GPS coordinates to a quick response of emergency services. Its unclear how soon, if at all, this service will make its way to more markets.
---
---
---
---
Comments