Frankfurt 2015: Infiniti Premieres Its Q30 Premium Hatch
Auto News The Q30 is a new type of vehicle for Infiniti, an "active compact" as described by the automaker. It is their first entry to the premium compact segment, and is a major part of Infiniti's global growth plans.
We've covered the Q30's gestation period in the lead up to this debut, from teasers to interior reveals. The car seems to have retained most of what was first seen as a concept in 2013.
As reported previously, the Q30 is based on the Mercedes-Benz A-Class (W176). Infiniti says that the development teams behind the Q30 have approached its engineering "holistically", yielding a vehicle with exceptional ride and handling, but comfortable and versatile at the same time.
Roland Krueger, President of Infiniti says: "Q30 makes a daring visual statement through its sculpted, concept car-like exterior, unconventional stance and asymmetric cabin design. The car has been engineered to exacting standards to deliver a driving experience that is unmistakably Infiniti. Q30 will accelerate the company's strategy to become a leading global manufacturer of premium cars."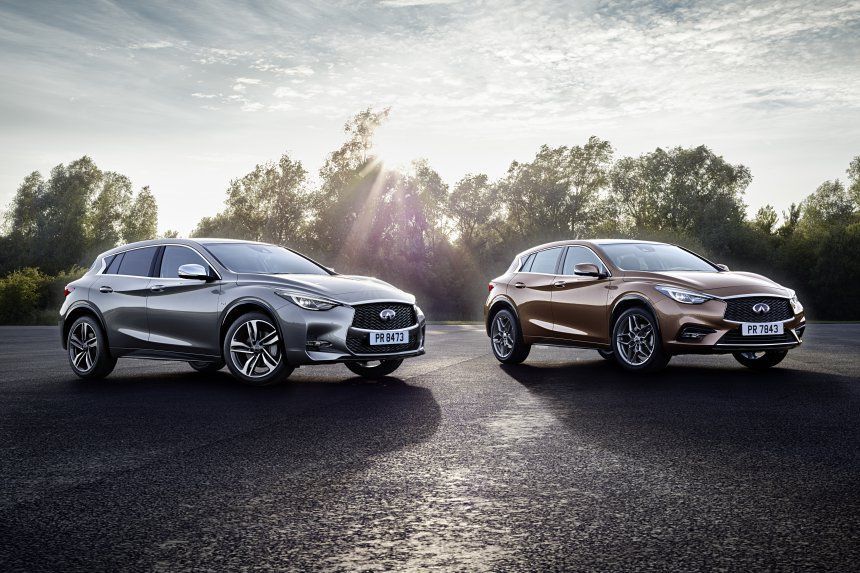 Three models of Q30 will be offered when it goes on sale: SE, Premium, and Sport – each has their own unique design variations and driving characteristics.
The Q30 Premium includes LED front fog lamps, body-colored heated door mirrors, chrome dual rectangular exhausts and 18-inch alloy wheels. The Q30 Sport, on the other hand, gets a unique front and rear bumper, gloss black front grille, body-colored side sills, dark chrome dual exhausts and 19-inch alloy wheels.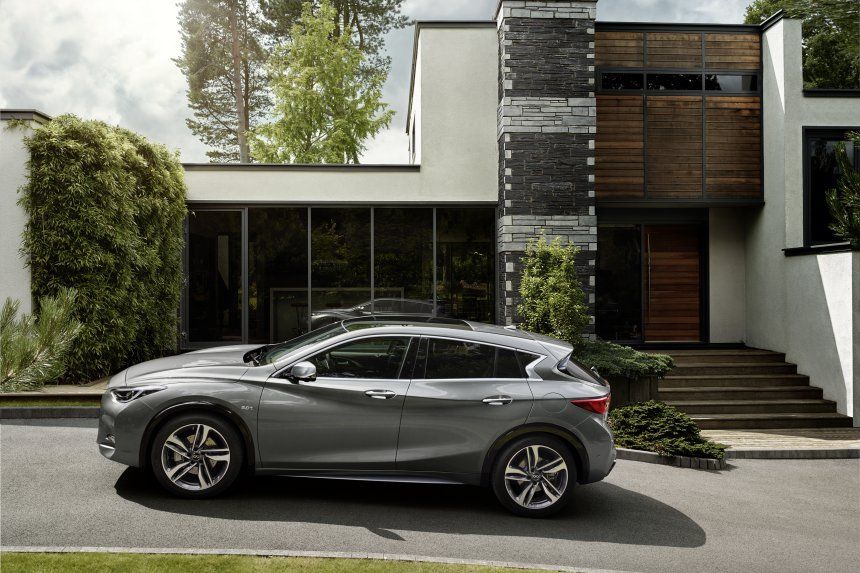 The Q30 Sport also sits 15mm lower than the SE and Premium versions and gives a firmer suspension setup to keep body roll in check.
Engine options on offer are a range of diesel and petrol units. For the base SE model, a 1.6-litre four-cylinder petrol unit in two levels of tune are available (120hp or 154hp) as well as two choices of diesels - either a 1.5-litre or 2.2-litre four-cylinder diesel engine, with 107hp or 168hp respectively.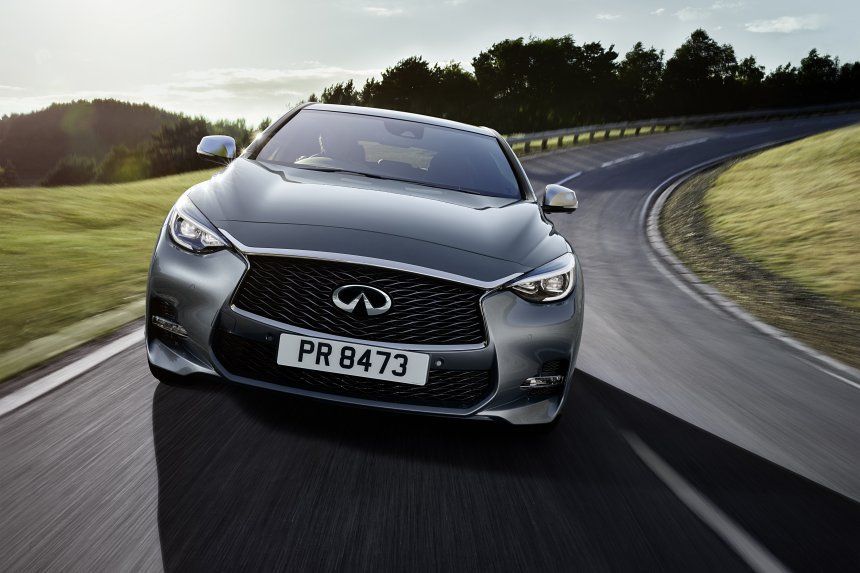 Additionally, Premium and Sport models buyers have the option to select a 2.0-litre, four-cylinder petrol engine that chucks out 208hp. Irrespective of engine choice, the Q30 will be fitted with a sevel-speed dual clutch transmission. Infiniti say a six-speed manual will also be made available.
Inside, Infiniti wants to give the Q30's future owner the ability to configure and customize his or her car, offering upholstery and trim packages such as 'City Black', 'Café Teak', or 'Gallery White'. A soft, highly tactile material lines high-impact areas in the cabin while an Italian sude-like material called 'Dinamica' has been applied to the roof-line and pillars.


In the pursuit of comfort and quietness, the car also features copious use of sound-damping materials and Active Noise Cancellation to neutralise outside and engine noise within the interior. Infiniti claims the Q30 features a 10 percent improvement in passenger audibility over the leading segment competition at a cruise of 120km/h.
The Infiniti Q30 will progressively go on sale in key Infiniti markets starting from late-2015.
More pictures in the full gallery below:
---
---
---
---
Comments