Frankfurt 2015: Porsche Mission E Concept Previews Next Panamera? Or Pajun?
Auto News At the Volkswagen Group Nite in Frankfurt yesterday, Porsche presented its all-electric Mission E concept car ahead of tomorrow's opening of the 2015 Frankfurt Motor Show.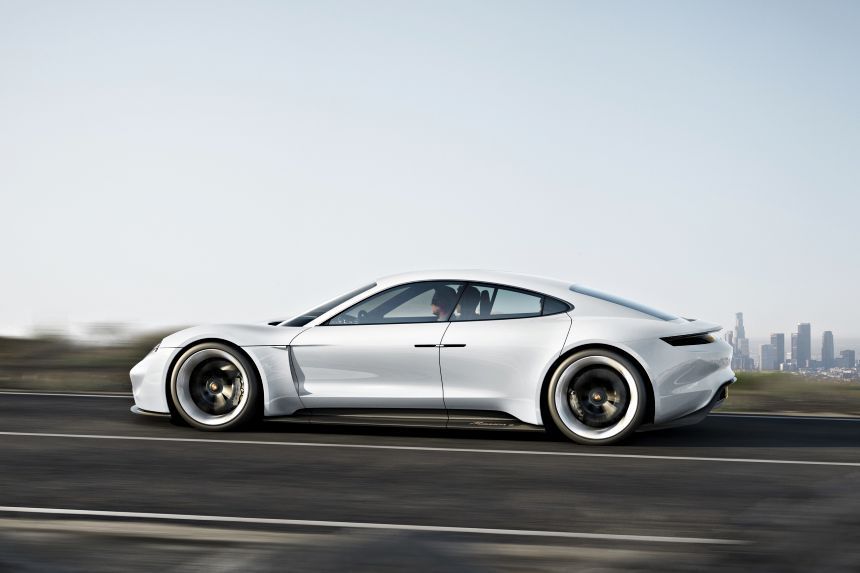 600 hp, 500 km driving range, 15 minutes charging time
With an exterior design that shares a strong resemblance to the current generation Panamera, the Mission E is a hint of what lies ahead for the four-door Porsche(s). No dimension details were released but the Mission E could point not only for the next generation Panamera, but maybe also the long rumoured sub-Panamera model, codenamed Pajun.
Under the hood is an all-new electric powertrain that uses two permanent magnet synchronous motors (PMSM), one on each axle – similar to those used in this year's Le Mans winner, the 919 hybrid – to deliver 600 hp to all four wheels.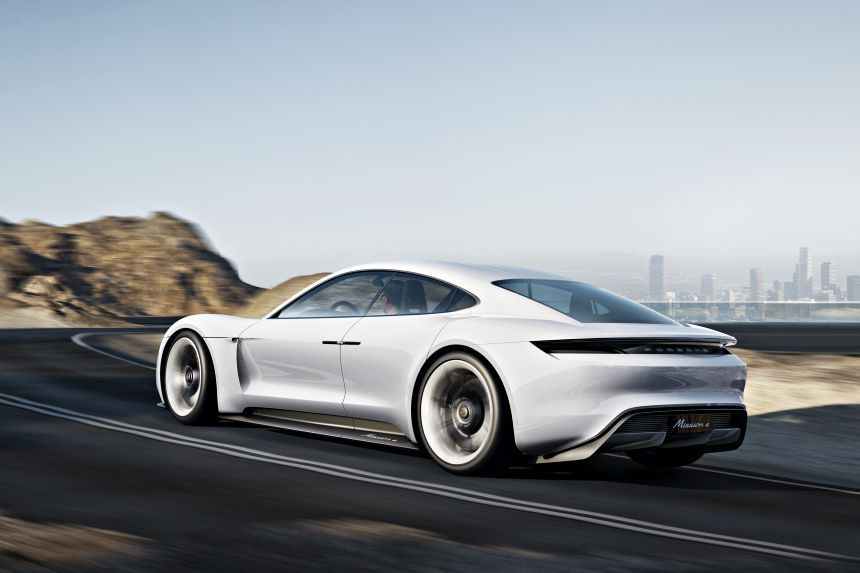 0-100 km/h is done in under 3.5 seconds, reaching a top speed of 200 km/h in under twelve seconds.
Aiding the all-wheel drive traction is a need-based Porsche Torque Vectoring system.
Porsche claims a Nürburgring Nordschleife lap time of under 8 minutes is possible.
The four-seater electric Porsche has a driving range of over 500 km on a single charge, thanks a new 800-Volt power system, double that of the 400-Volt system used by conventional electric vehicles.
A flap on the front left wing in front of the driver's door gives access to the charging port for the innovative "Porsche Turbo Charging" system. Via the 800-Volt port, the battery can be charged to approximately 80 per cent of its capacity in around 15 minutes – which Porsche says is a new record for electric vehicles.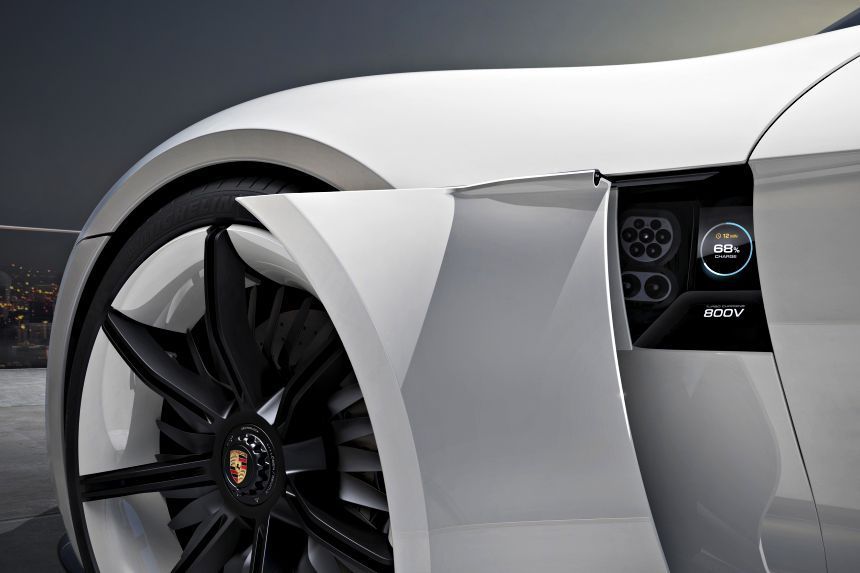 Of course, 800-Volt charging port is not always readily available, but Porsche says the car is also compatible with regular 400-Volt charging stations, but charging time will be longer.
It also supports inductive charging technology, where the vehicle can be charged by simply parking it over a coil embedded in the floor.
Porsche is coy about the capacity and chemical composition of the traction battery used, but says it is 'based on the latest lithium-ion technology.'
OLED instruments, eye-tracking cameras
Inside, the Porsche signature instrument panel has now been interpreted differently, using OLED technology. As a result, the instrument panel is curved, low-profile and free-standing.
An eye-tracking system detects, via camera, which instrument the driver is viewing. The driver can then activate the menu of the instrument in focus by pushing a button on the steering wheel and navigate in it.
The driver sits lower, higher or leans to one side, the 3D display of the round instruments reacts and moves with the driver. This eliminates situations in which the steering wheel blocks the driver's view of certain key information, for instance.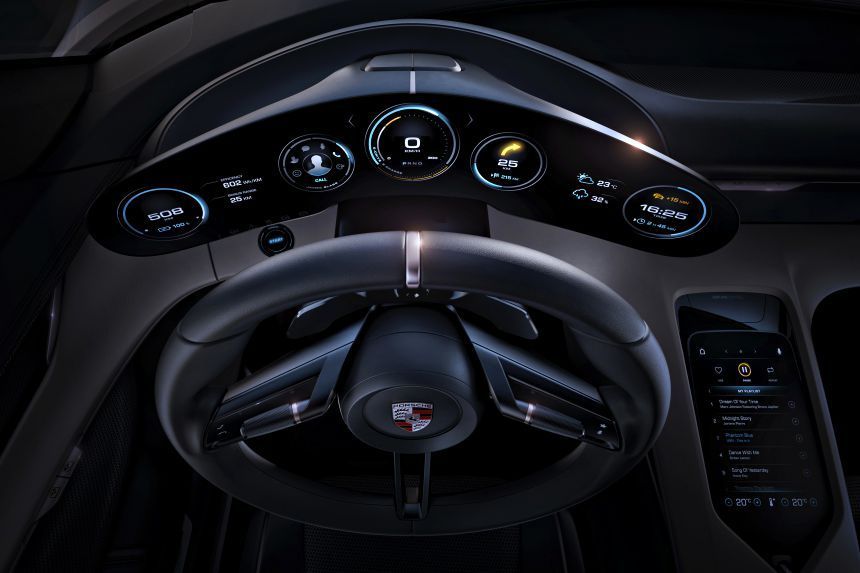 There's also a holographic display that extends far into the passenger's side. It shows individually selectable apps, which are stacked in virtual space and arranged by priority with a three-dimensional effect. The driver – or passenger – can use these apps to touch-free control primary functions such as media, navigation, climate control, contacts and vehicle. The desired symbol is activated by gestures that are detected by sensors. A grasping gesture means select, while pulling means control. Moreover, driver or passenger can use a touch display on the centre console to control secondary functions such as detailed information menus.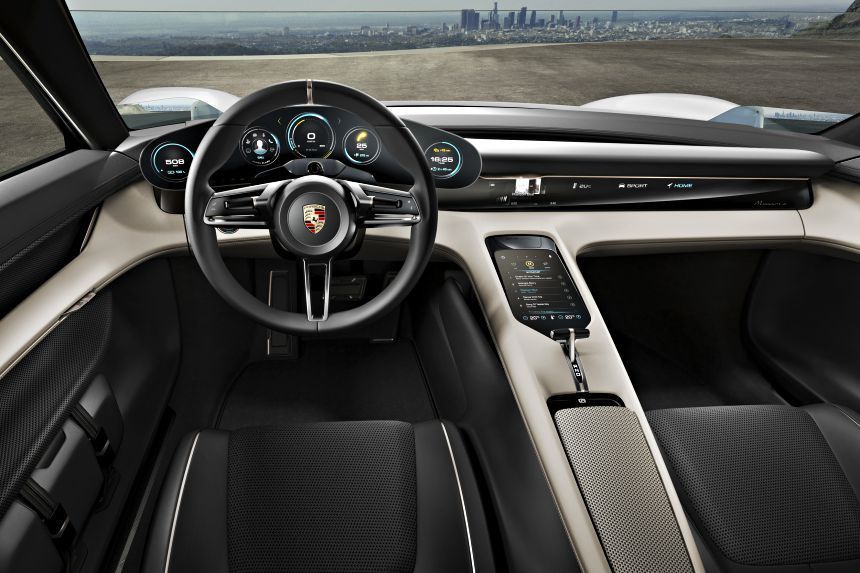 ---
---
---
Comments