Honda BR-V Outsold Perodua Alza As Malaysia Records Highest Market Share For Honda Globally
Auto News Now this is quite unexpected. The Perodua Alza, Malaysia's perennial best-selling multi-purpose vehicle (MPV) has just been outsold by the Honda BR-V.
Speaking at a press event in Melaka this morning to commemorate the 600,000th unit produced (a Honda City) at Honda Malaysia's plant in Pegoh, Melaka, Mr. Noriaki Abe, Chief Operating Officer, Regional Operations (Asia & Oceania) of Honda Motor Co., Ltd. and President and CEO of Asian Honda Motor Co., Ltd. congratulated the staff at Honda Malaysia for their success with the Honda BR-V.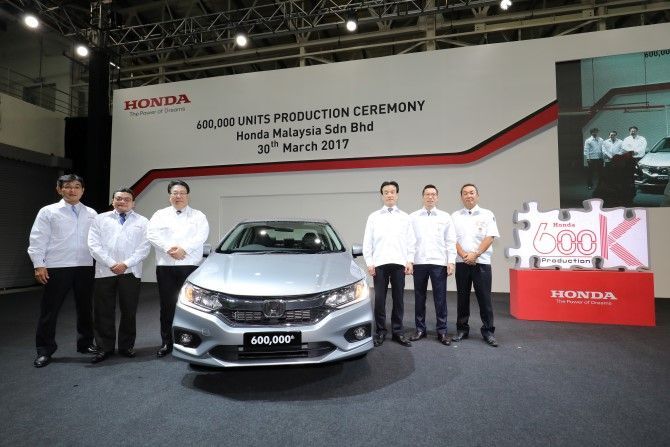 Abe then told the press that Honda's latest seven-seater crossover utility vehicle had overtaken the 'national MPVs' to take No.1 position in Malaysia's MPV and utility segment in February 2017.
"I am glad to see Honda cars being well accepted by Malaysians. This is part of Honda's strategy in Asia to continue to bring the Joy of Buying to the people in this region," said Abe.
Since its launch in January 2017, the Honda BR-V has garnered almost 10,000 booking units and more than 5,200 registrations.
Unfortunately, Malaysia's Competition Act 2010 bars anyone from compiling/comparing vehicle sales data by model, so we won't know any further details on the gap between the Alza and the BR-V, but we understand that the gap is very minimal.
Since 2012, the Malaysian Automotive Association (MAA) have been barred by the Malaysian Competition Commission (MyCC) from revealing a detailed breakdown of vehicle sales data by model (breakdown by brand is allowed), a transparent move which MyCC argues will lead to higher prices of automotive parts.
At the same event, Mr. Seiji Kuraishi, Executive Vice President, Executive Officer and Representative Director of Honda Motor Co., Ltd. revealed that in the first two months of 2017, Malaysia took top spot as the country that achieved the highest market share among Honda's automobile operations worldwide.
According data provided by MAA, Honda's market share in the passenger car segment in January and February stood at 21.3 and 19.7 percent respectively. Overall market share (including commercial vehicles segment – which Honda has no presence in) stood at 19.2 percent and 18.1 percent respectively for January and February.
Malaysia's achievement was particularly sentimental for Kuraishi, as he was the second CEO to serve in Honda Malaysia, which was established in November 2000 after taking over the distributorship rights from previous franchise holder Kah Motor.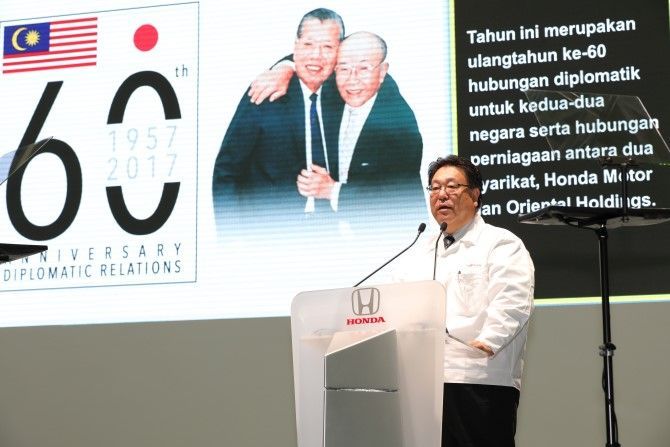 "Malaysia is one of the countries close to my heart. I was the 2nd CEO of Honda Malaysia, and spent three wonderful years here from 2002 to 2005. It was during my tenure that this Melaka Plant commenced its production and I clearly remember the scenes of opening ceremony held in 2003," said Kuraishi.
Kuraishi said that he is proud to see some of the young Malaysian Honda associates whom he hired over 10 years ago are now managing the company by playing important roles with passion. He credited Honda's rapid growth in Malaysia to the efforts and understanding of Honda's philosophy, vision and way of thinking by the Malaysian associates.
Completed in January 2003, Honda Malaysia's plant in Pegoh, Melaka currently operates two assembly lines, with total maximum capacity of 100,000 units per year.
Line No.1 currently produces the CR-V, Civic, Accord and City. The newer Line No.2 was completed in January 2014 and it currently produces the City (complementing Line No.1), Jazz, BR-V and HR-V.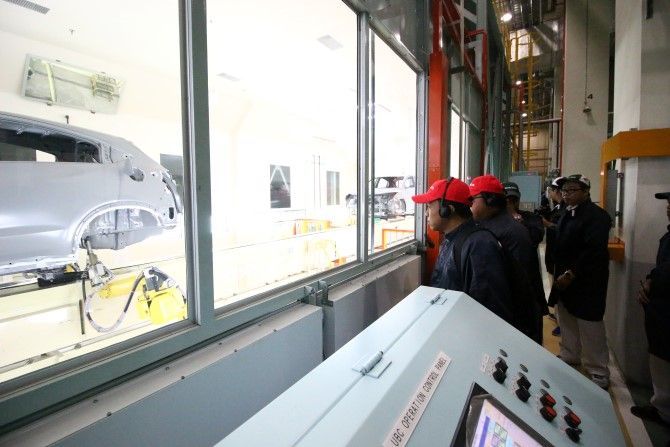 The Melaka plant is the first Honda plant outside of Japan to use a Smart General Welding machine and space-efficient wall-mounted spray painting robots, under body coating robots, and air recycling booth.
Another subsidiary located within the plant's premises, Honda Assembly (Malaysia) Sdn. Bhd., assembles both i-VTEC (1.5, 1.8-, 2.0- and 2.4-litre) and VTEC Turbo (1.5-litre) engines before pairing it to the respective 5-speed torque converter or CVT automatic transmissions.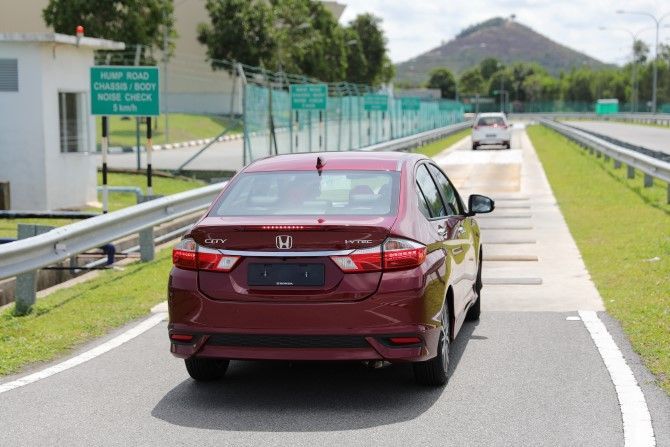 Located outside the plant is a 2.1 km test track where every Honda vehicle (not just a random selection) assembled in Melaka has to pass a series of dynamic tests – simulated bad road conditions (hump, wave, cobblestone, Belgian road, up-down road, potholes, slippery surface for ABS testing), 140 km/h noise test, transmission test, steering alignment – before they are sent to the Pre-Delivery Inspection centre and subsequently to Honda showrooms nationwide.
---
---
---
Comments