Honda Malaysia Makes Window Tinting Available To Customers At All Dealerships
Buying Guides From here on forwards, all customers of Honda Malaysia will be able to get their vehicles tinted at all of its dealerships nationwide, upon purchase of a new Honda vehicle, through a new collaboration with 3M and Ecotint.
Four types of tint film options have been made available for purchase, which are:
3M – Horizon Safety: RM1,500
Ecotint – Ray Barrier 4: RM1,500
Ecotint – Ray Barrier 6: RM2,100
Ecotint – Ray Barrier Premier 6: RM2,800
Having gone through an internal selection process, Honda Malaysia has found both 3M and Ecotint to be the best products to meet the requirements for Honda vehicles: 3M imports their films directly from Japan and Korea, while Ecotint films are manufactured by Sumitomo Osaka Cement Co., Ltd. in Japan, giving customers the opportunity to choose their preferred brand of tint.
Honda Malaysia also says on top of being able to keep cabins cooler, the range of tints offered are also designed to hold glass fragments together in the event of shattering, to prevent injury from flying glass pieces.
The 3M and Ecotint films comply to the current JPJ regulations, and customers need not worry about interference of electromagnetic signals such as the usage of GPS and Smart Tag.
The value for money window tinting films also offers the benefits of convenience such as transferable ownership for warranty, nationwide after sales support as well as shorter and safer installation process for customers. Honda customers who purchase the window tint will also enjoy a 5 years warranty from the date of installation.
The collaboration between Honda Malaysia and the two tint film suppliers effectively cuts installation times down, with 3M and Ecotint now pre-heating and pre-cutting their films to specifically fit Honda's latest range of models beforehand – thus reducing the overall process time.
*Click on the image below to expand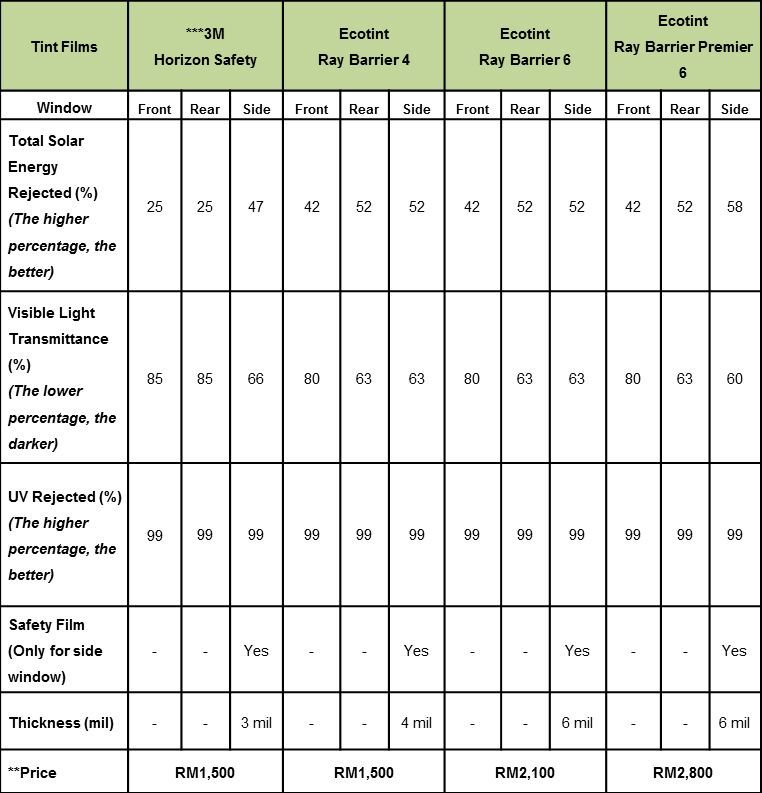 ---
---
---
---
Comments