Honda May Be Unveiling A Jazz Type R Later This Year
Auto News all photos from headlightmag forums
Of all the automotive suffixes in the world - special model classifiers such as RS, GT, RA-R, TRD, and so on - there is one that grabs the most attention. It's "Type R", and it's a suffix that has been reserved for only three model lines in Honda's history. The first would have been the NSX Type R, which was an ultra-light-weight, high performance variant of the already-world-beating NSX. Following that was the DC2 Integra, and of course, the Civic. (Some would argue that the Accord Type R wasn't quite a Type R).
But this year may see a new model deserving of the Type R badge, and it's one that is loved the world over. The Honda Jazz, or Fit as it's known in other markets, has long had a reputation for stellar handling and dynamics despite its mass market aspirations and numerous practical and functional features. According to some leaked details on Headlightmag forums, it looks like the next generation Jazz may very well have a Type R variant.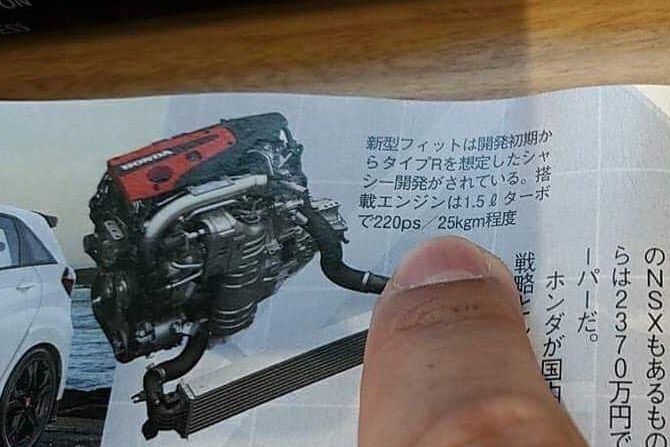 Power is expected to come from a fettled variant of the turbocharged 1.5-litre powerplant that we see in everything from the Civic to the CR-V, and even the upcoming Accord. Outputs for this hot Jazz are looking to stand at 217 hp and 245 Nm of torque based on these scarce details found in a Japanese magazine. This isn't an entirely far fetched proposition as the Jazz has run the L15 engine in various forms over the years, so porting the turbocharged variant of the engine shouldn't be impossible.
Naturally there would have to be reinforcements made to the chassis to support the power - as all Type Rs have had historically - as well as uprated suspension and brakes. Big power engine swaps for the Jazz are already fairly common in the aftermarket, especially in countries like the United States where they're a fairly cost effective solution to go racing. Locally, a few outfits have managed to fit the infamous K20A (found in the Integra DC5, Civic EP3, and Civic FD2 Type R models) in this compact hatchback, resulting in quite the (front-heavy) weapon.
For the best deals on Honda models, click here.
---
---
---
---
Comments