Hyundai Showcases The World's First Self-Driving Fuel Cell EVs
Auto News Hyundai Motor Company has announced that its next generation fuel cell electric vehicles have succeeded in completing a self-driven 190 km journey in Korea.
This is the first time in the world that level 4 autonomous driving has been achieved with fuel cell electric vehicles.
Until now, autonomous driving has been demonstrated only on selected sections of Korean domestic roads and at a limited speed - this is the first time autonomous vehicles have operated on public highways at 110 km/h, the maximum speed allowed by law on Korean highways.
Three Hyundai vehicles completed the journey, all based on the Nexo - Hyundai's next-generation fuel cell electric vehicle which is scheduled to be released in Korea next month.
According to Hyundai, all vehicles were equipped with level 4 self-driving technology, as defined by the SAE international standards and equipped with 5G network technology.
Building on the successful demonstration of Hyundai's vehicles which drove autonomously in Las Vegas during the Consumer Electronics Show (CES) early last year, the cars feature a number of advanced technologies that enable them to recognise surrounding vehicles more accurately and make better judgements at junctions and navigate through toll gates by accurately calculating the toll gate's width and position.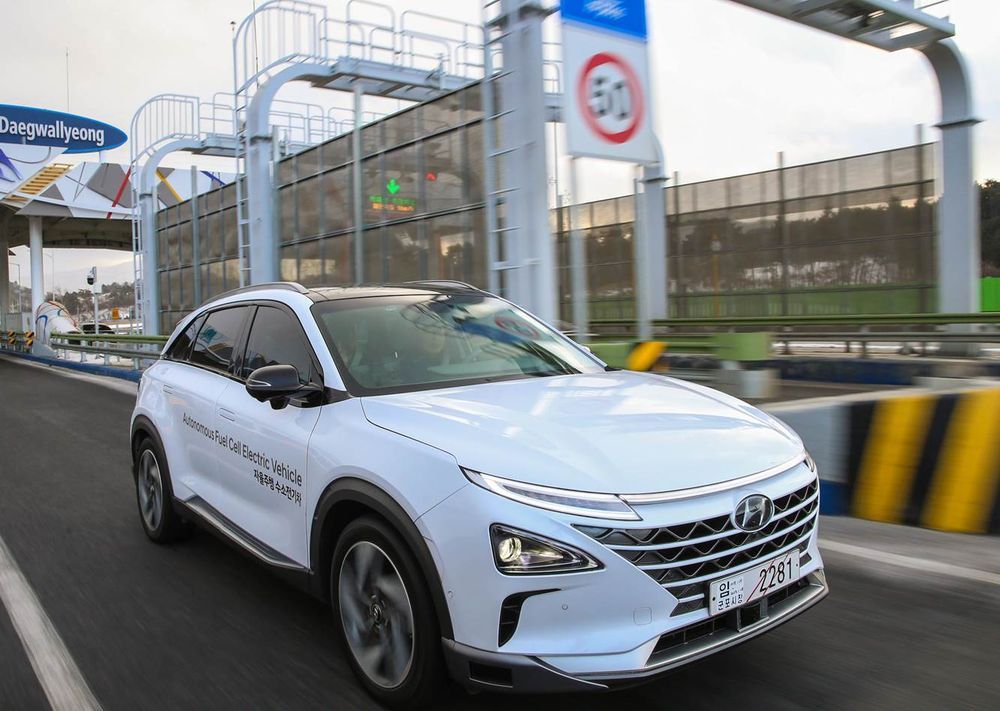 The vehicles were also able to pinpoint their position on a map by using external sensors fitted for situations when the GPS signal was interrupted, such as going through underground tunnels.
Utilising the 5G network of KT Corp, a Korean mobile service provider, the test vehicles were equipped with five new advanced information technologies, all accessed through a user interface (UI) that provides an intuitive user experience.
Capable of covering close to 700 km on a single charge of hydrogen, the Nexo, which takes only five minutes to refuel, came with features like Hyundai's Home Connect – a car-to-home connectivity technology which enables the user to access and control "Internet of Things" (IoT) devices installed in their smart home.
They can view home camera images in real-time, control the lighting, remote door lock, control television, and even manage home energy systems.
In addition, there was the Assistant Chat technology which allows users to ask questions to a Chat Bot with simple voice commands and receive answers in the form of text or images.
There was also the Wellness Care system which monitors health information of passengers seated in the rear of the vehicle, such as their stress level, heart rate, and mood state. They can also access relaxing therapeutic services and connect with a health consultant through a real-time video call.
Last but not least, the Nexo also came with "Noise-Away" cabin noise reduction technology and "Mood Care" which provided rear door mood lighting when the music player or Wellness Care was active.
With the completion of the testing, Hyundai Motor Group is preparing for the commercialisation of the standard Level 4 compliant autonomous-driving system in smart cities by 2021.
The company also announced its plans at CES 2018 last month to jointly develop self- driving technology with Aurora Innovation; a U.S. based autonomous driving start-up, where it plans to commercialise the technology for fully autonomous driving by 2030.
---
---
---
Comments