iCarData: The Best Time To Buy/Sell A (9th-Gen) Honda Accord 2.0L VTi-L
Insights As far as second-hand cars go, you can't go wrong with Honda, especially not with this 9th Gen Honda Accord 2.0L VTi-L.
---
The car industry in this challenging time, in particular the sales and service network, has seen almost all manufacturers institute measures to keep customers safe while visiting showrooms, purchasing new or second-hand cars, even implementing stringent procedures during maintenance appointments. For the most part, the industry seems to be slowly restarting itself. Companies like Perodua and Proton have recorded positive signs of new car registrations; as have some of the more premium brands.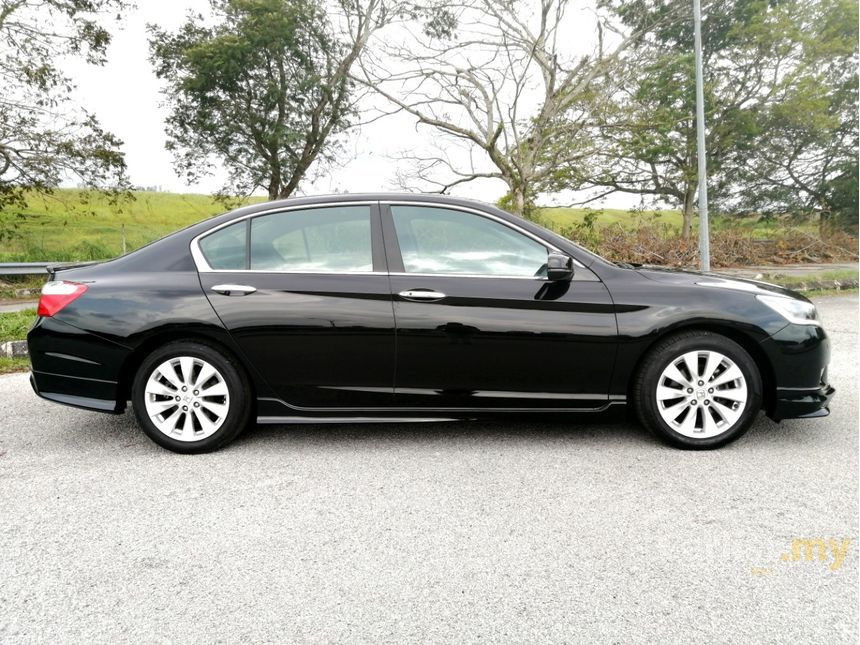 The signs are positive on the used car front as well. Carlist.my has one of the largest dealer networks in the country, and as such we have a deft finger on the pulse of the industry. Dealers are offering better deals than ever before, and popular models are being driven out of the parking lot every day.
Which brings us to arguably one of the most popular used car on the Malaysian market – the Honda Accord.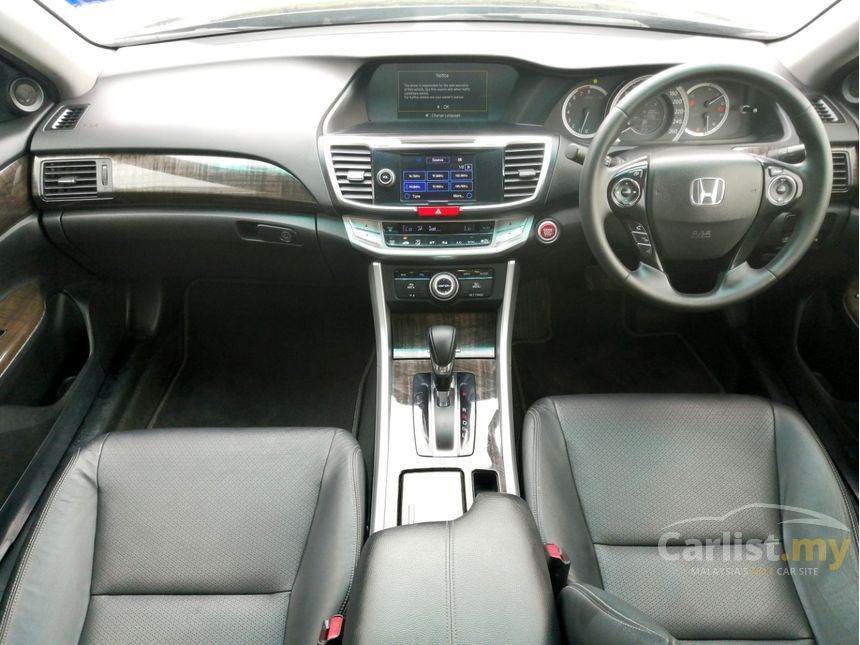 Overview
Now, even if you lived under a rock for the past 20 years, the Accord still requires no introduction. A stalwart of the Malaysian automotive scene over the last four decades, it has earned it a reputation for its rock-solid reliability, value for money prices, ease of maintenance, and practical use for the entire family.
With the 10th-generation Accord entering the Malaysian market, a vast supply of the previous (9th-generation) Accords have found their way onto the used vehicle market.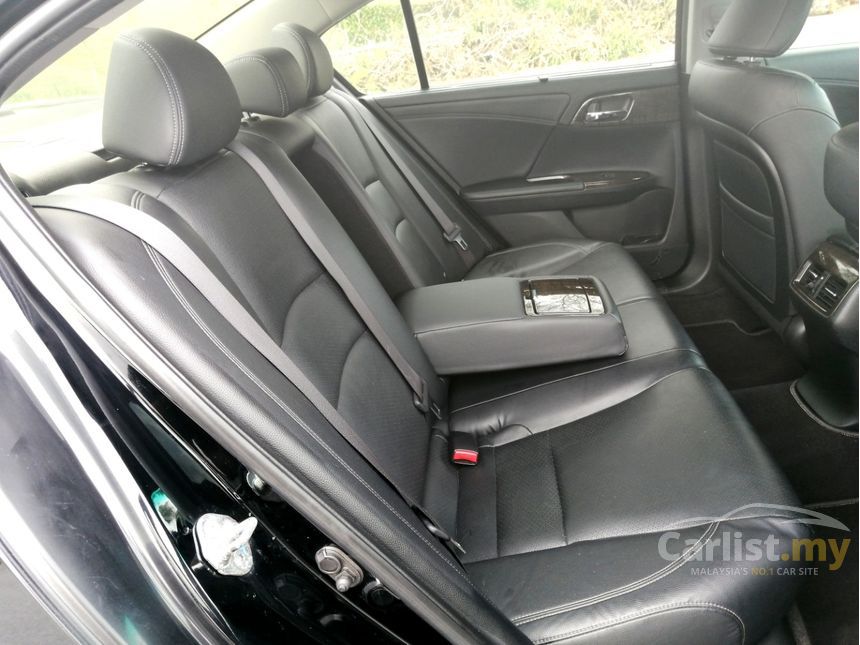 The 9th-gen Accord was first introduced here in September 2013 – having achieved great success with the previous model, Honda Malaysia introduced the 9th-gen in three variants, the 2.0L VTi, the 2.0L VTi-L, and 2.4L VTi-L. For the first time, the 9th-gen gen omitted the V6 high-performance engine (which the two previous generations offered) in favour of the 2.0-litre and (Earth Dreams) 2.4-litre engines. A five-speed automatic featured in all variants.
The 9th-gen offered a more svelte design, elegant detail, and improvements in occupant space despite sporting slightly smaller dimensions than the outgoing model. Along with improvements in safety systems and equipment, the 9th-gen Accord also highlighted improvements in Noise, Vibration, and Harshness (NVH) levels – a widely noted drawback of the older model.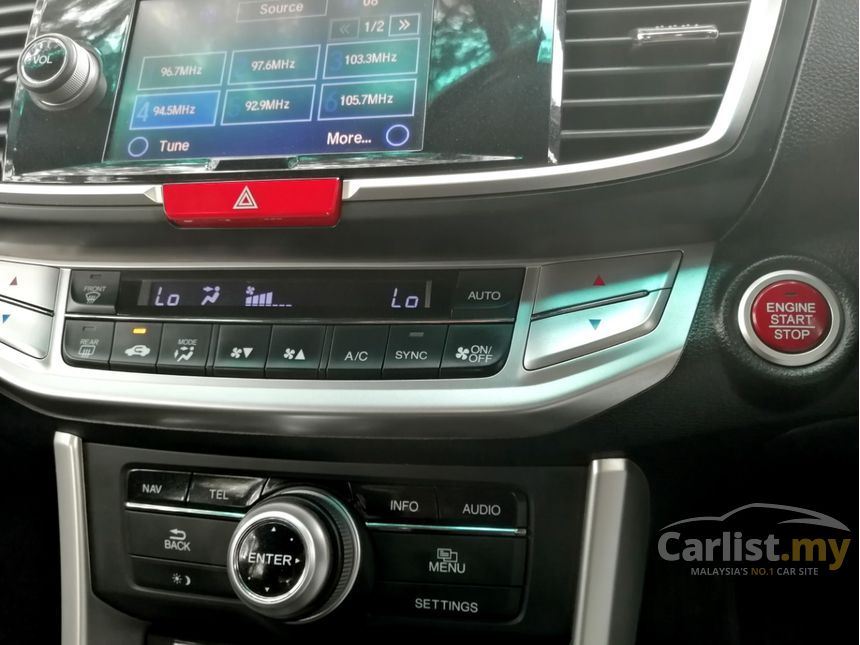 Prices started at RM139,800 for the 2.0 VTi model, RM149,800 for the 2.0 VTi-L, and the range-topping 2.4 VTi-L retailed for RM172,800.
Having served the full-duration of its lifespan, we can now examine the depreciation value of the 9th-gen Accord using our resources at iCarData.
We have covered other popular Honda models in this segment, such as the (RM) Honda CR-V and the (GM6) Honda City.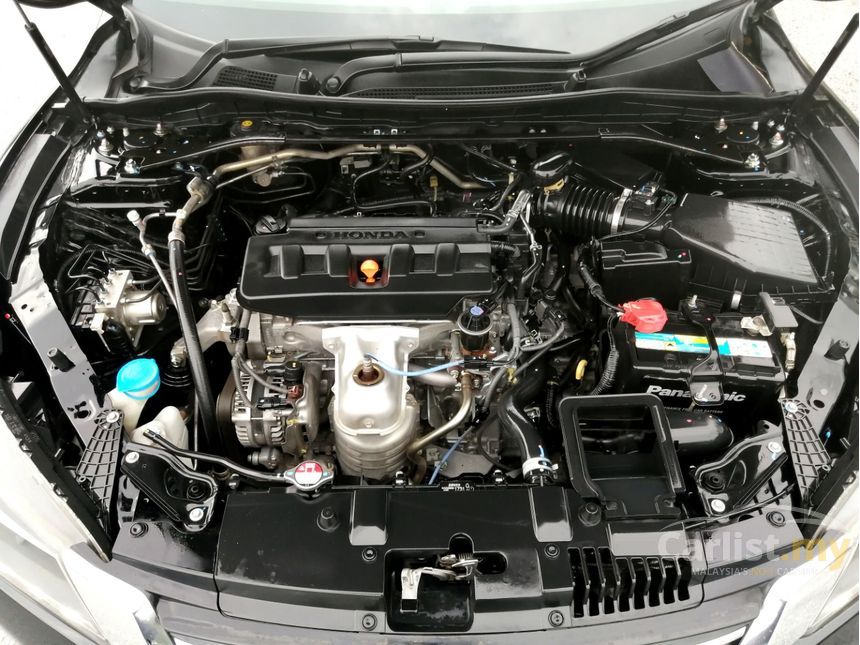 Here's a quick rundown of the Accord's presence in the Malaysian market:
September 2013 – The 9th gen Accord is introduced, three variants priced from RM140k to 173k.
August 2014 – Updated 2.4L i-VTEC receives 6-airbags. Prices go up by RM2k.
September 2016 – Facelifted Honda Accord launched. 2.0L VTi (RM144,800), 2.0L VTi-L (RM153,800), and 2.4L VTi-L (RM172,800) – OTR with Insurance. Six-airbags standard across the range.
November 2017 – Accord 2.4L VTi-L Advance receives Honda Sensing suite of active safety systems. Drops 2.0L VTi model. Prices start at RM149,350 for the 2.0L VTi-L and RM169,800 for 2.4 VTi-L Advance with Honda Sensing.
February 2020 – Honda Malaysia introduces 10th-gen Accord. Two locally-assembled CKD variants powered by 1.5-litre VTEC Turbo engine. 1.5L TC retails for RM185,900, and 1.5L TC-P variants with Honda Sensing is priced at RM195,900 – OTR without insurance.
For this report we will be looking at the Accord 2.0L VTi-L variant as it's the volume seller of the range and as such offers a wider range of data points across the market.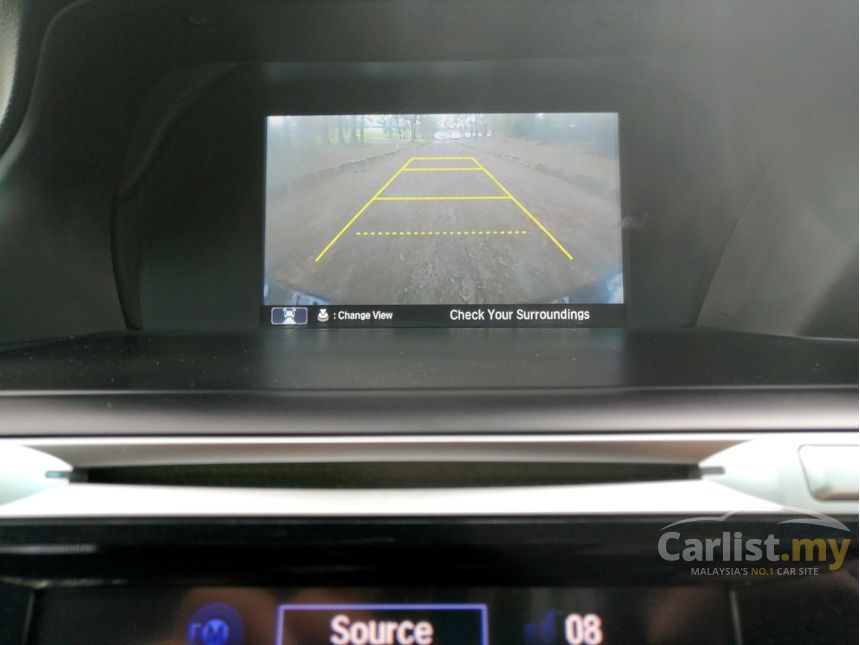 Specification of the 2014 (RM) Honda CR-V 2.0L i-VTEC AWD
Engine: 2.0-litre (R20) inline-four Petrol
Power: 155 PS @ 6,500 rpm
Torque: 190 Nm @ 4,300 rpm
Transmission: 5-speed automatic, Front-wheel drive
Safety: Two airbags, ABS with EBD, Brake Assist, Vehicle Stability Assist (VSA), ISOFIX anchor points
Origin: Locally assembled in Pegoh, Melaka
Price: RM149,800 – September 2013 launch (OTR with insurance, prior to GST introduction)
We have taken into account the following to keep our numbers accurate and representative.
Vehicle variant: Honda Accord 2.0L VTi-L, delivered between September 2013 and March 2014.
Depreciation is calculated using the original list price of RM149,800.
Depreciation percentage does not take into account special/ seasonal offers or rebates on the original selling price.
The singular 2.0L VT-L variant is used for comparison for its conclusive spread of data points across the market.
Notwithstanding that, depreciation for other variants may differ, in particular, the 2.0L VTi and 2.4L VTi-L variant also launched in 2013.
Based on ICarData, here's the summarized data for depreciation:

And the graphical analysis below: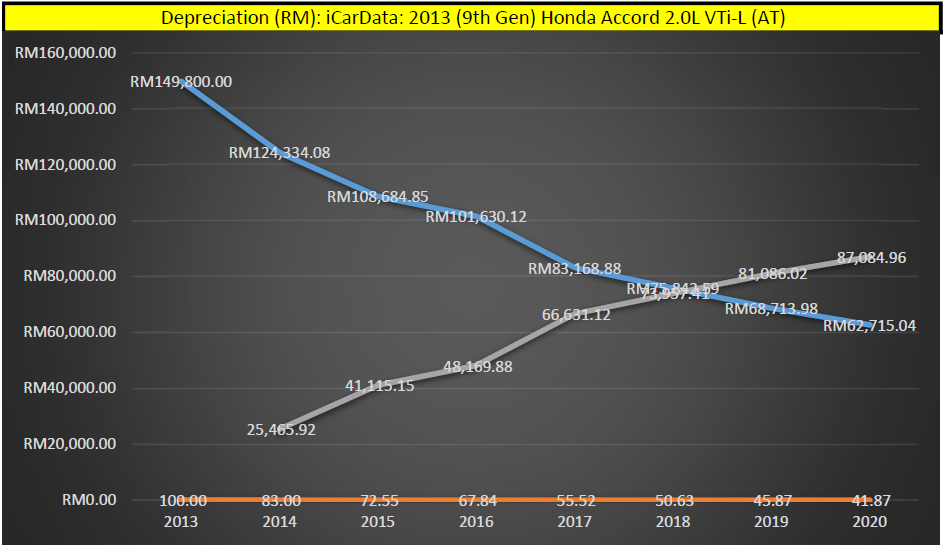 From the depreciation graph, we can clearly see the 9th gen Accord has an organic rate of depreciation, though not as strong as it's SUV sibling, the CR-V, across the measured seven-year period. The depreciation rate is strongest in the first two years, dropping some 17 percent in the first year and subsequently 10 percent in Year 2 of ownership.
This could be primarily caused by the introduction of newer competitor models such as the Mazda 6 and VSC equipped Toyota Camry throughout the course of 2014 and 2015. And separately, the introduction of GST taxing structure in Q2 of 2016, which had a small but positive effect on new car prices in that year, would have also moved market tides prior to its introduction.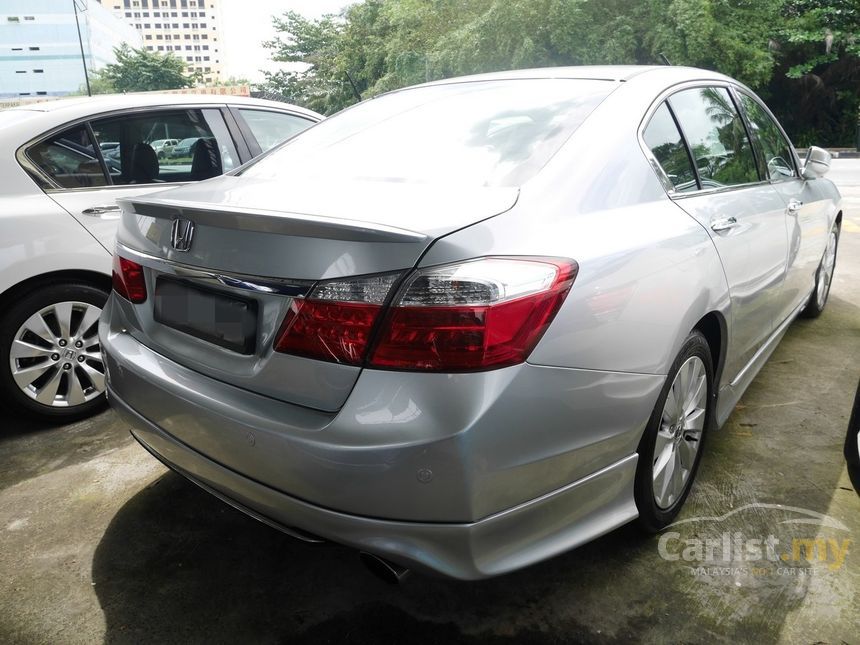 Elsewhere, it is apparent that the Accord's trademark attributes of practicality, reliability and style ensure market demand and used prices, are very much stable.
After the first three years of lifespan, the Accord settles into a yearly depreciation rate of rough 5 percent year-on-year. In 2018, or roughly when the vehicle reached 5 years old, the data shows the cumulative depreciation and retained value figures intersect. This again happens slightly earlier than with the Honda CR-V or Honda City, which reaches the same intersection only in their six or seventh years of ownership – meaning the Accord's retained value isn't quite as strong as the other two.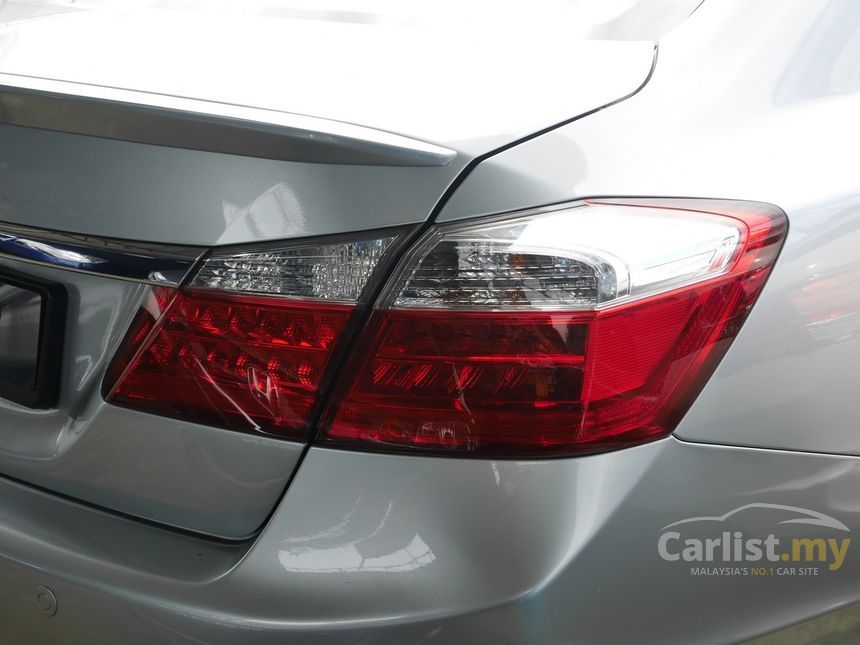 With that said, first-owners can still enjoy decent value retention for the entirety of the car's warranty period and still trade in their vehicle for an upgrade when the times comes. And in any case, a well-maintained Accord will still offer steadfast reliability and practicality well into the 7th or 8th year, so current owners need not sell the car simply because they wish to avoid larger maintenance expenses down the line.
The numbers also quite easily illustrate when an existing owner should sell his/her Accord, which is in the fifth year, as the cumulative depreciation reaches that of retained value. At around 50 percent of the original price of the car. It wouldn't be a bad time for a prospective buyer to pick up an Accord in this year too, as prices are half that of a new car, but still relatively new especially if they have been maintained by Honda aftersales directly.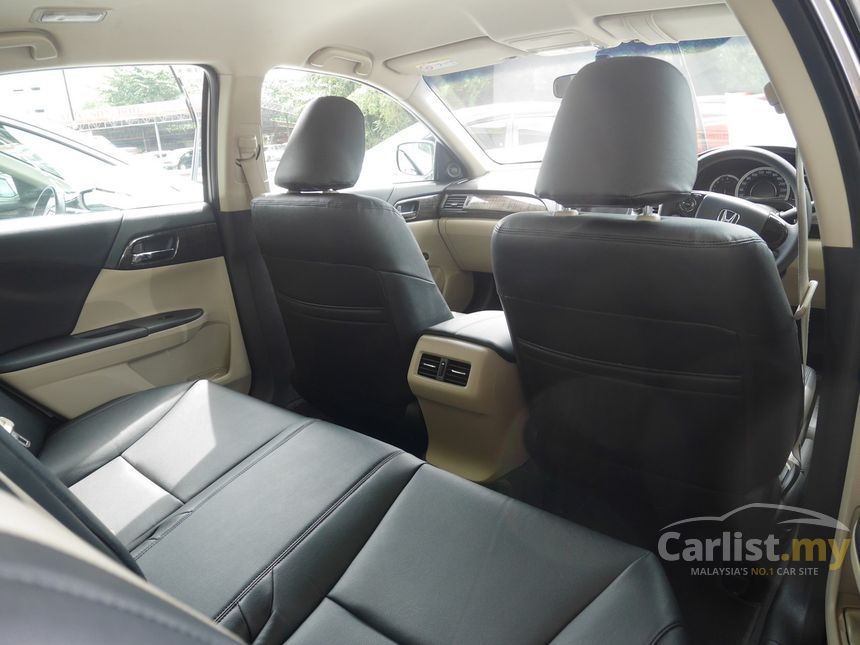 It still presents the buyer with good financing options from commercial banks which will come in handy when purchasing a used vehicle. Purchasing the Accord any earlier would simply mean the second-hand buyer pays a higher price for having another 1-2 years of manufacturer-backed support in case something goes wrong, which is not a bad thing either.
As luck would have it, there is no better time to pick up a used vehicle like now, and the Accord would undoubtedly be at the top of mind for most used car buyers.
For some great deals on the 9th gen Honda Accord, click here.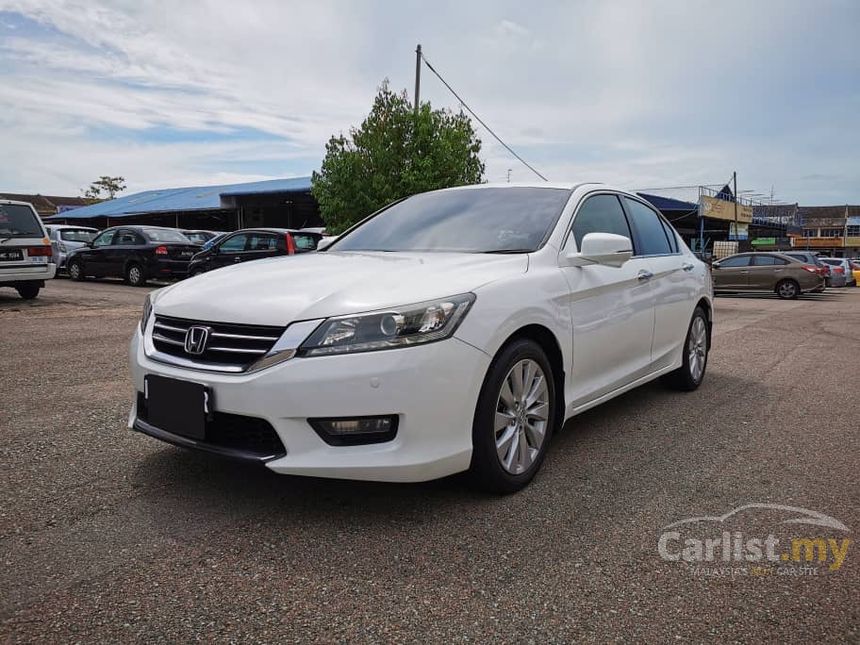 If you're looking to sell your Honda Accord, we have two solutions for you too. List in on carlist.my or better still use Carlist Bid where we remove all the hassle of selling your car for you as you get searching for your next upgrade.
Which make/ model would you like us to research next? Let us know in the comments.
---
---
---
Comments