ICarData – The Best Time To Buy/Sell A BMW (F30) 328i M Sport
Insights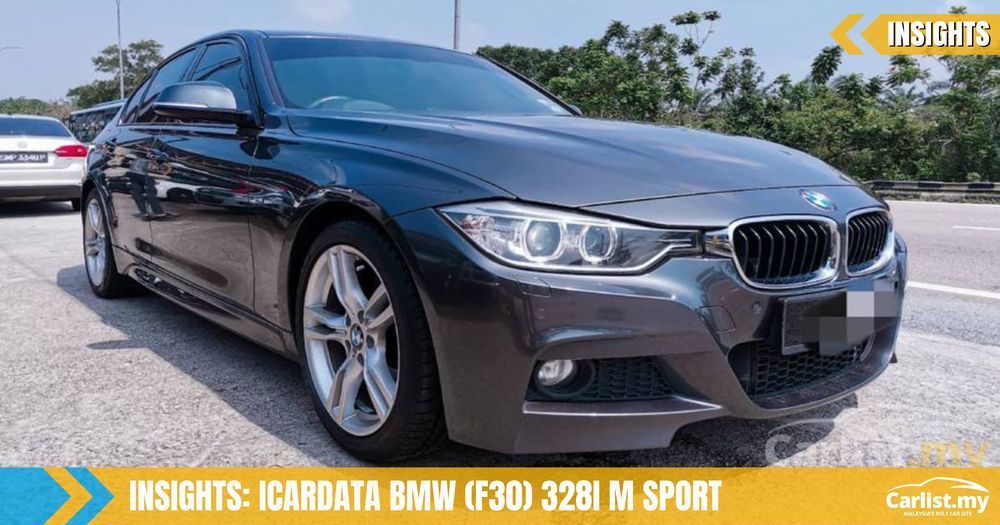 With the current CMCO being extended for another four weeks, and the economic uncertainty surrounding the impact of businesses working at partial or reduced capacities – there is much catching up to do once the ever-present threat of COVID-19 is controlled such that people can resume their lives with substantial normality.
However, I can assure you that if we play our part, we will make it through this Malaysia, #kitajagajkita!
But it is not all bad news, the car market, for the most part, has been functioning as it always has – new and used car dealers are still working, banks are still giving out hire-purchase loans, and for the most part, most service centres and workshops have reopened their doors, albeit with additional measures in place. Wuhan, the epicentre of the pandemic, had a strong resurgence of its automotive market once the lockdown was lifted and people could start going out again.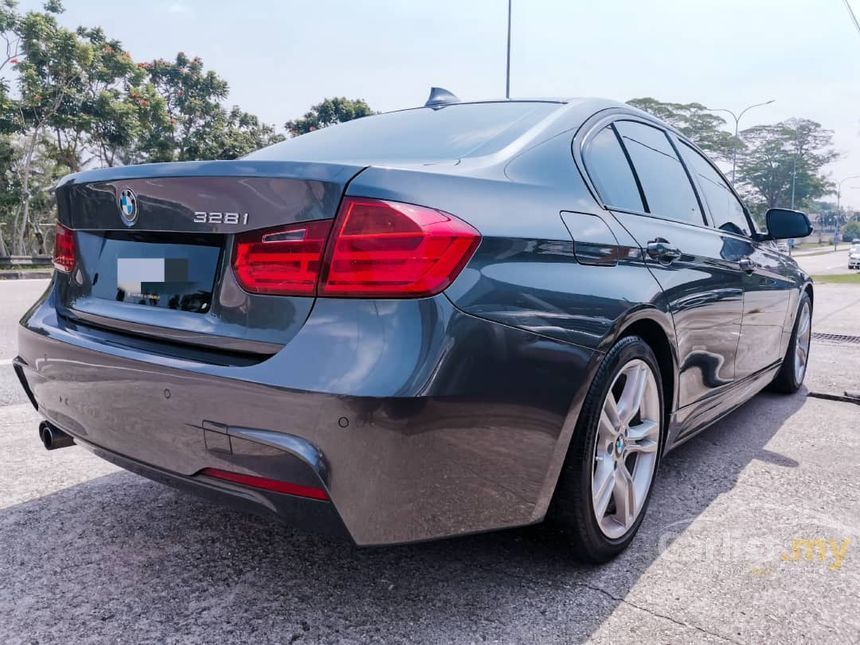 In addition, there's no better time than now to get yourself a good deal on your next car. Resale value and timing are of utmost importance for existing owners who want to sell their current vehicle to upgrade to another new vehicle, and likewise for used car buyers who want maximum value depending on the age, price, and overall condition of a used vehicle.
Tracking advertised used vehicle prices across the broad market has so far been nigh-on impossible, but, now with the resources of our in-house developed iCarData, we can collate data from literally thousands of used vehicle deals, vehicle variants, and locations.
Despite the many factors that need to be considered when buying a used car (i.e: overall condition, mechanical soundness, variant type, and accessories), these price trends, using algorithm-based data, provide the clearest view yet on the natural depreciation of any car. Thus, helping both buyers and sellers with their respective financial decisions.
Overview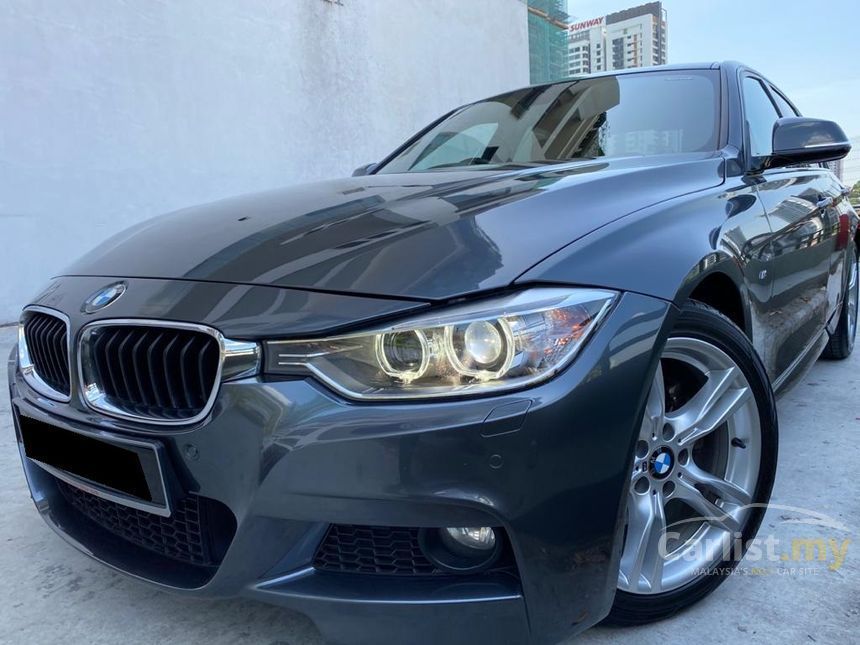 In this report, we will be looking at the seminal (F30) BMW 328i M Sport, which was first launched here in 2012. Given BMW Malaysia's varied model introduction stages and varying prices (depending on CBU or CKD production), the following shortlist will get you up to speed on the F30 3 Series.
March 2012 – All-New BMW F30 3 Series launched in Malaysia: three variants – 320d (RM269k), 328i (Luxury/Sport – RM310k), 335i (Luxury/Sport – RM489k). CBU models only.
June 2012 – Locally assembled 320d (Modern/Sport – RM248k) and 328i (Luxury/Sport – RM290k).
September 2012 – Locally-assembled 320i (Luxury/Sport RM239k) launched.
January 2013 – CBU 3 Series Active Hybrid launched (RM399k)
June 2013 – BMW 320d M Sport (RM269k) and 328i M Sport (RM310k) join the lineup.
July 2013 – entry-level BMW 316i introduced (RM210k)
November 2015 – F30 BMW facelift launched. 316i and 328i dropped from the lineup. 318i Luxury (RM209k), 320i Sport (RM239k), 320i M Sport (RM259k), 320d M Sport (RM269k), 330i M Sport (RM309k) now the complete range.
August 2016 – 330e M Sport PHEV (RM249k) introduced.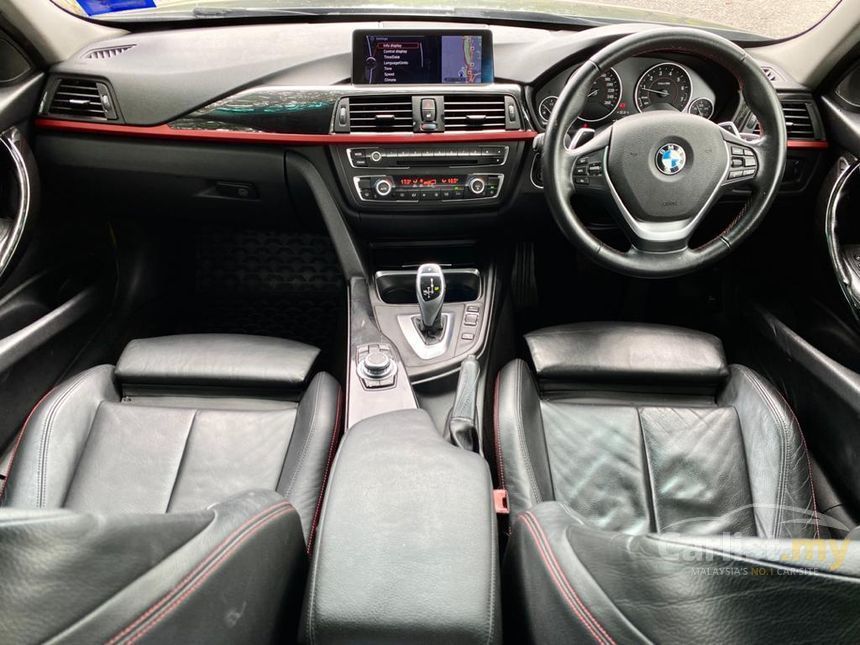 As the list shows, there's no shortage of variant choices for 3 Series customers. We chose the 328i M Sport as the variant of choice for our ICarData tracking because it has one of the longest market availabilities, having been first launched in June 2012 as a locally-assembled model. However, it was roughly a year later before arguably the more desirable 328i M Sport variant arrived, nonetheless the 328i M Sport will still offer a substantial 6-year tracking period, up to end 2019. The relative popularity of the 328i M Sport also offers us a wider spread of data points for better results.
Here's a snapshot of the 2013 BMW (F30) 328i M Sport:
Engine: 2.0-litre N20 turbocharged, inline-four, Petrol
Power: 245 hp @ 5,000-6,500 rpm
Torque: 350 Nm @ 1,750-2,750 rpm
Transmission: 8-speed automatic, rear-wheel drive
Safety: Six airbags, ABS with EBD, Brake Assist, Stability Control
Origin: Locally assembled in Kulim, Kedah
Price: RM309,800 – June 2013 launch (OTR without insurance)
We have taken into account the following to keep our numbers accurate and representative.
Vehicle variant: (F30) BMW 328i M Sport, delivered between June and December 2013.
Depreciation is calculated using the original list price.
Depreciation percentage does not take into account special/ seasonal offers or rebates on the original selling price.
Depreciation for other variants may differ.
Based on ICarData, here's the summarized data for depreciation:

And the graphical analysis below: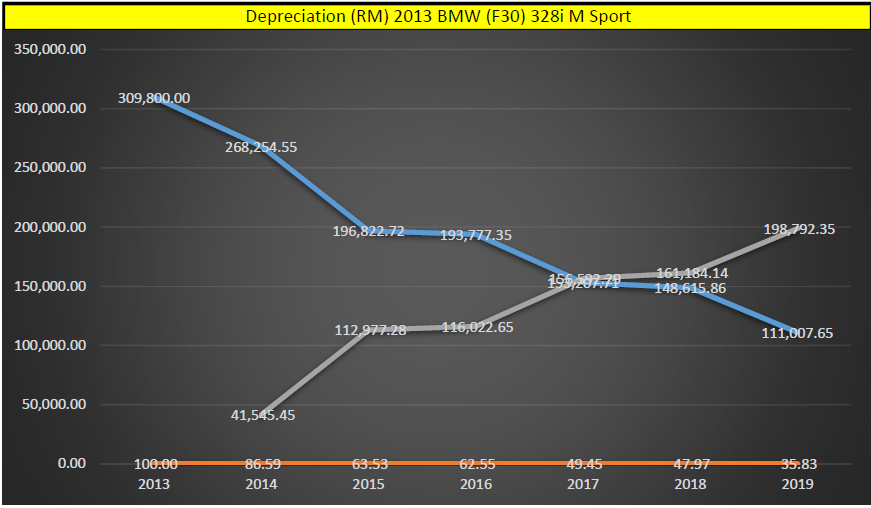 Blue line: Average selling price (RM) by year
Grey line: Cumulative depreciation (RM) by year
Orange line: Retained value percentage by year
If you have read our first two ICarData features - on the Toyota Vios and Honda City - you'd find that the F30 3 Series does not retain value in quite the same manner as those two cars. But comparisons between them are from apple-to-apple, the 328i is a premium sports sedan and as such caters to a different buyer market.
What's interesting is the stepped regression in the depreciation curve, especially in the 2nd-3rd year and 4th-5th year of ownership respectively. Overall value drops by around 13 percent in the first year, which is typical for premium/performance cars and the like but holds steady between year 2 and 3.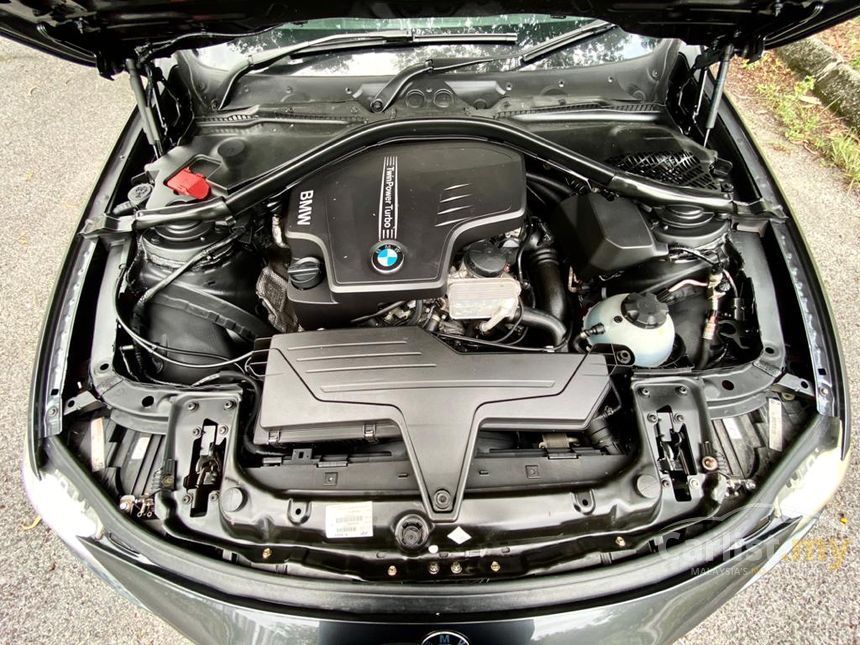 Values may have held steady during 2015 and 2016, due to the vehicle units being relatively new, and the introduction of the facelifted F30 LCI range which might have had a positive effect on the demand of the used vehicles as well.
The largest chunk of depreciation happens in the first two years of ownership - dropping some 30 percent. The second drive comes in the fourth year before prices plateau again the following two years - this could be due to vehicle units passing the penultimate year of their warranty programs, and also due to new model introductions of the 3 Series' biggest rival - the (W205) Mercedes-Benz C-Class, which had its lineup updated with the C180 Avantgarde and C300 AMG Line respectively in 2016.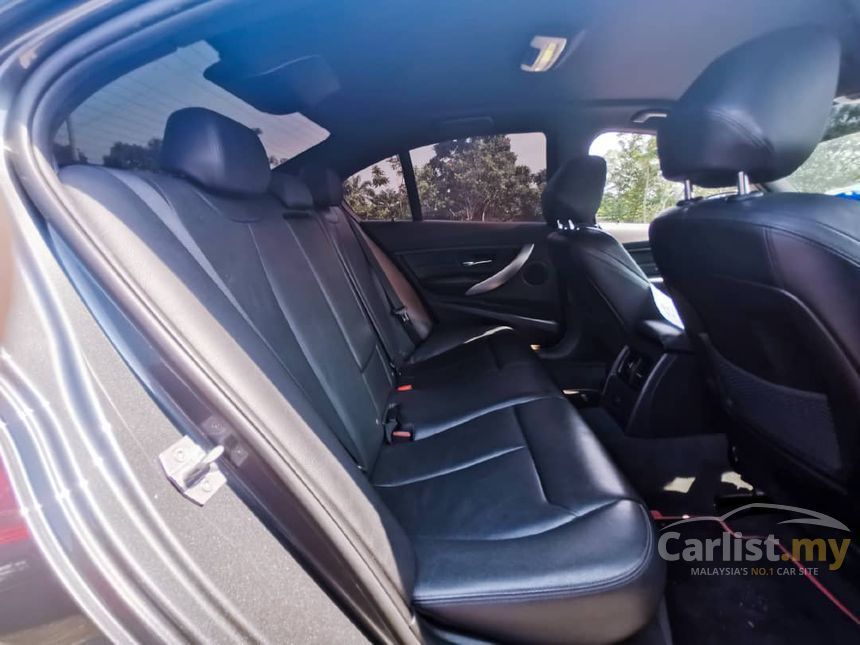 With that said, the 328i M Sport does hold value substantially better than other variants in the F30 lineup, namely the less powerful 316i and 320i from corresponding production years.
From the data, we can infer that the two best times to sell the F30, would be between the 4th and 5th year of ownership, as prices plateau for the second time, this would mean, sellers would have a longer time frame to take advantage of prices holding steady in these two years. Of course, by the fourth year of ownership, the overall depreciation values versus retained values have almost equalised, hence, if current owners want to upgrade, this time is ideal.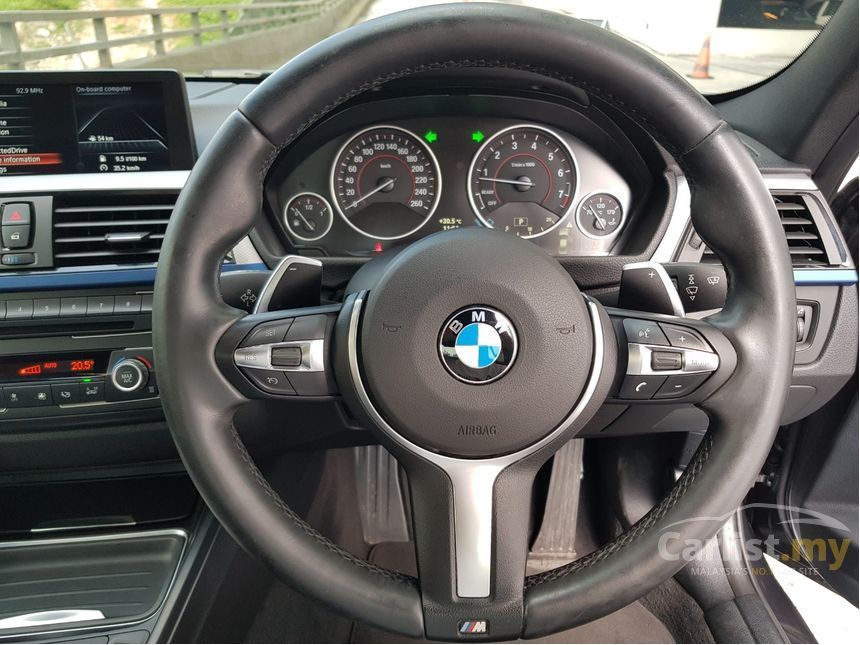 Inversely, the best time for a used car buyer to snap up the 328i M Sport would be just as it enters the fourth year, from new. By now depreciation has reached circa 50 percent, which means its half that of the original price - and, would still have a year of manufacturer warranty left. Of course, buyers are advised to do their homework and get a thorough diagnostics and inspection exercise done beforehand.
For some great deals on the F30 BMW 3 Series, click here.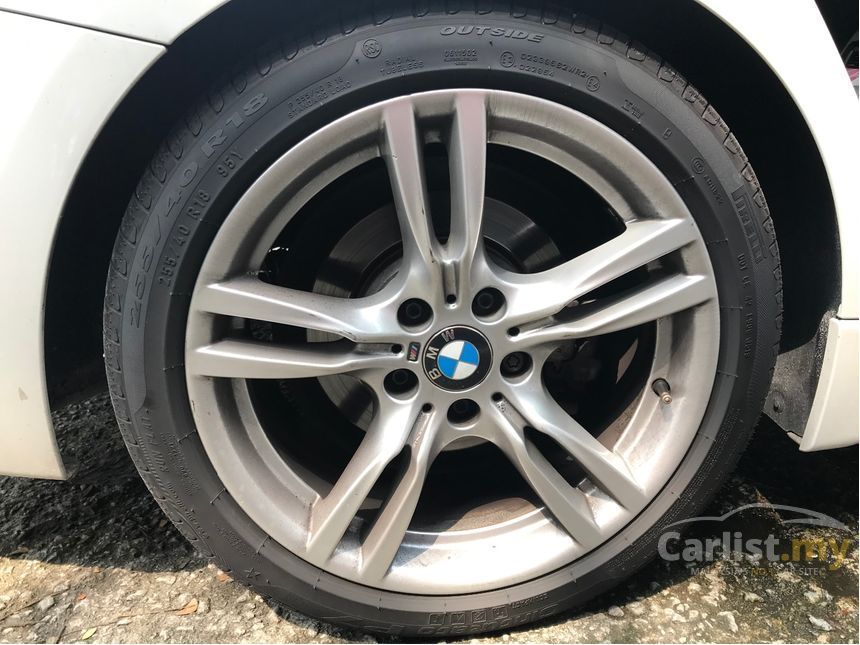 If you're looking to sell your (F30 3) Series, we have two solutions for you too. List in on carlist.my or better still, use CarlistBid where we remove all the hassle of selling your car for you as you get searching for your next upgrade.
Which make/ model would you like us to research next? Let us know in the comments
---
---
---
---
Comments