Is This The New 2015 Suzuki Swift For Malaysia?
Auto News Casually shopping for pet food can be interesting, because sometimes, you run into strange things like this. It's a 2015 Suzuki Swift, for sure, but is this an updated version for Malaysia?
If we're right, this is an updated 2015 Suzuki Swift GLX that we've spotted at the Empire Shopping mall about a week back (it didn't make it to you sooner because we were waiting on some confirmation from Suzuki Malaysia).
And yes, it looks quite different to the regular Swift we know, because that's the Swift Sport's front grille and surrounding body kit. Note the rear diffuser with dual exhaust tips and rear wing, too. There are even a few things on this that haven't even been spotted on the Swift Sport.
When we first set eyes on it at the roadshow it was on, we initially presumed that this was a Swift Sport and got pretty close to just moving along, but then, it hit us that the car was in a dark shade of blue – the Swift Sport isn't offered in any shade other than yellow or white in Malaysia: various other colours are available elsewhere, though.
Taking a few steps closer, we spot the regular Swift's reflector headlamps, and then the regular Swift's alloy wheels on it. So we ask the sales rep on site what this was, and he tells us it's a 2015 Suzuki Swift GLX – the top-spec Swift. We argue for a bit with the slightly uninformed sales rep, going back and forth, "No that's a Swift Sport's body kit," "No, this is a normal Swift sir, the GLX one. Swift Sport not here."
Looking inside, all the GLX's kit is accounted for: fabric seats, 2-DIN head unit, keyless entry, it's all the same.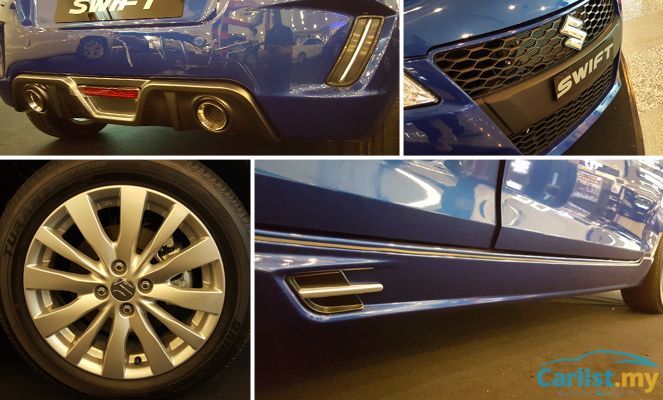 So, could this be an updated Swift for 2015? We asked Suzuki Malaysia a week ago, and they, seemingly wanting to mask its potential arrival (understandably), told us that this was a "dealer initiative" at first, and then didn't give us an answer to whether or not this exact arrangement would be up for sale to Malaysian customers.
To answer that, we think it's very likely, based on two developments since capturing these images. One, we've recently been invited to the launch of a new Suzuki Swift. Two, we've seen the same thing on the road, in white, but weren't quick enough to snap a photo of it.
To recap, the regular Suzuki Swift features a 1.4-litre four-cylinder petrol engine that makes 95PS and 130Nm when paired with its four-speed torque converter auto transmission. It's a plain-jane appeal with some very nimble handling on the side – this writer knows because his wife owns one (previous-gen). We don't expect any changes to appear on the updated Swift here, nor do we expect too many changes to its interior as well.
---
---
---
---
Comments