Jeremy Clarkson Is Filming A Corvette Z06, Possibly With Hammond and Stig. But Why?
Auto News Top Gear is over. We've mourned. We really did. Is it over? Anyway – new day, new beginnings. And unlike his now-bored former co-presenters Richard Hammond and James May, post-fracas Jeremy Clarkson seems to be back to his old ways (sans the punching), evidenced by his posting on Twitter showing a C7 Corvette Z06 and a film crew behind it. Interesting…
Actually, that quip about Richard Hammond isn't all that justified because if you look closely enough at the picture, the man standing to the left of the gold-coloured tablecloth does resemble the Hamster. The hair, posture, and arms in jacket pocket make it a ringer to Top Gear fans.
While the picture taken wasn't at the old BBC show's test track in Dunsfold, which is a shame, but this does bode well for fans who still want to see Clarkson and the gang do what they do best. And if he has Hammond and May on-board in any capacity, so much the better.
Then again, it could be nothing and we might be setting ourselves up for disappointment. Surely, Jeremy Clarkson gets many offers to drive absurdly fast cars just because he's Jeremy Clarkson, and the Chevrolet Corvette Z06, while a very impressive piece of kit, isn't in the highest echelons of performance car royalty. It could be that he has merely been tapped to review it for The Daily Telegraph in the UK, who knows?
Another interesting find was that Ben Collins, famed racer, test driver, stunt driver, and possibly best known for being The Stig through much of the Top Gear's decade-plus show run, posted on Instagram that he was at Thurxton circuit with filming gear. Whether the two are linked is anyone's guess, but it a curious coincidence.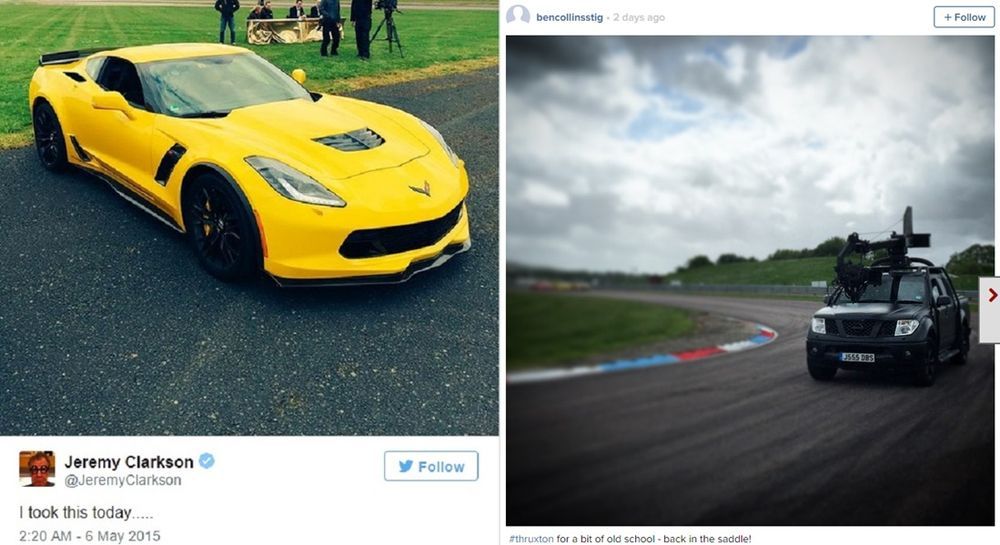 ---
---
---
---
Comments