July 2017 Vehicle Sales - 4.4% Drop In Sales, But Increase Year-On-Year
Auto News July 2017 saw a dip in sales, with 48,553 vehicles sold, a 2,247 units or 4.4% drop from the month before. Despite shifting less cars than June 2017, July actually saw an increase year-on-year, with an almost 20k improvement compared to the same period last year, marking a 6.3% increase. Another reason why July saw less car sold was also because of technical issues with JPJ's "e-daftar" system.
As of July 2017, a total of 333,010 vehicles were sold in Malaysia, slightly above the halfway mark to achieve Malaysian Automotive Association's TIV forecast of 590,000 units for 2017.
Last month, only Perodua and Toyota registered a month-on-month improvement in sales.
Perodua's upward sales figure continue to climb, recording a 6.2% increase month-on-month. Last month, the company sold 18,920 vehicles, marking a 1,099 unit increase over the 17,821 units sold in June. This is due to the company's efforts in clearing existing stock of the Myvi, in preparation for the launch of the new model later this year.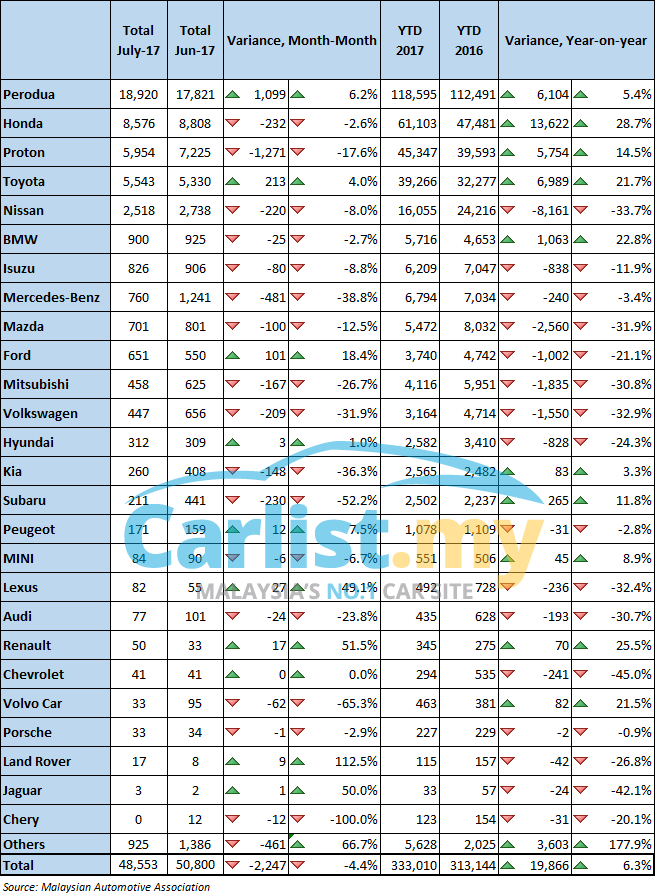 As for Honda, the company maintains its position as the country's number one non-national brand, with a total of 8,576 units sold in July. Sales of Honda dropped 2.6% versus June, which saw 8,808 units sold that month. Honda's sales are expected to pick up once the company ramps up production of the new CR-V, which has already seen 1,400 orders within a week after its debut. Honda initially planned to shift 700 units of the CR-V monthly. Apart from that, deliveries for the new Honda City and Jazz Hybrid models have just commenced, so we could see some positive growth for Honda next month.
Mercedes-Benz also saw a drop in sales last month, due to shortage of its CKD models. The company sold 760 vehicles last month, a 38.8% drop from June. Even on a year-to-year basis, Mercedes-Benz's sales saw a drop of 3.4%. The impending introduction of the Mercedes-Benz E350e could improve the company's sales figure.
Mazda is currently caught in an in-between phase, as the company is clearing remaining stock of its CX-5. A total of 701 vehicles were sold in July, a 12.5% drop versus June 2017. The year-on-year drop for Mazda is more significant at 31.9%. The Hiroshima-based company will be launching the all-new 2017 Mazda CX-5 in the coming months, which means that sales figure could pick up once the new model is launched.
Proton was also not spared from the downward trend, with just 5,954 units sold last month, marking a 17.6% drop compared to the month prior. Despite the drop, Proton recorded a strong 14.5% growth year-on-year, with 45,347 units sold to date, versus 39,593 units sold in the same period last year.
---
---
---
Comments