MaxxOil Introduces New Range of NanoPLUS Engine Lubricants
Auto News As the name suggests, MaxxOil's NanoPLUS series boasts the latest technology in lubricant technology which utilises a mechanical element (instead of chemicals which deteriorate over time) to protect the engine's vital components.
The NanoPLUS lubricants contain billions of nano-particles (4-6 nanometers in size) – called diamonds formulated within the oil to act as tiny ball bearings that protect the internal surfaces of the engine.
This reduces friction between moving and static parts to reduce heat, wear and tear and engine drag thus increasing the engine's overall potential and efficiency.
Once these nano-particles adhere to the microscopic pores of the metal's surface – it forms a lower friction layer, called a 'tribo-film' to protect the metal surface.
The MaxxOil NanoPLUS range of semi- and fully-synthetic oils conform to current (American Petroleum Standards) API standards set by most Japanese, European and American carmakers and is designed for use by most types of automotive engines.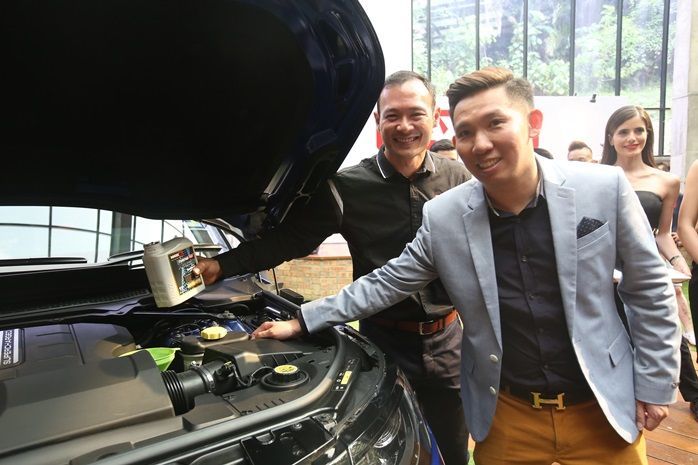 MaxxOil NanoPLUS is officially distributed by Shift Performance Asia (M) Sdn Bhd, which has had a presence in Malaysia since 2014.
In 2016, MaxxOil ties-up with two-time Formula Drift Asia and Merdeka Millenium Endurance race winner Tengku Djan Ley as the brand ambassador for the NanoPLUS range of engine lubricants.
Tengku Djan is expected to feature in a series of promotional activities in Malaysia, Singapore, Thailand and Indonesia to further increase MaxxOil's regional presence.
The following are the recommended retail prices of MaxxOil's NanoPLUS series of lubricants:
MaxxOil NanoPLUS 5w30 Fully Synthetic – RM228 / 4Litres
MaxxOil NanoPLUS 5w40 Fully Synthetic – RM228 / 4Litres
MaxxOil NanoPLUS 10w40 Semi Synthetic – RM128 / 4Litres
MaxxOil NanoPLUS 5w30 Semi Synthetic – RM128 / 4Litres
---
---
---
Comments