Mercedes-Benz Concept GLC Coupe Previews BMW X4 Rival At Shanghai 2015
Auto News In line with the company's new naming structure for its SUVs, here is the 2015 Mercedes-Benz Concept GLC Coupe, making its debut at the on-going Auto Shanghai 2015 show.
We've been hearing lots about Mercedes-Benz's coming SUV models, and following the GLE Coupe and the regular-bodied GLE-Class, here is another model (albeit a concept) from the Stuttgart based company.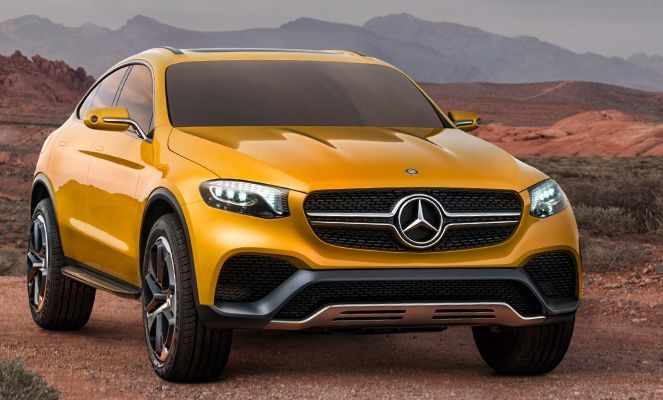 So, what is it?
Long before the alphabets 'GLC' were ever strung together, Mercedes-Benz had another compact SUV in place – one that we've never seen in Malaysia before – the GLK-Class. The soon-to-be-discontinued model sat beneath the old ML-Class (now GLE-Class) as the entry SUV of the brand, and is only slightly larger than the new baby SUV, the GLA-Class. It was also only sold as a left-hand drive vehicle, which is why it never had the chance to officially land in countries like the UK, Australia, Thailand and Malaysia.
Now that the GLA-Class has arrived, Mercedes-Benz has seen fit to grow its GLK-Class into a larger vehicle: one more appropriate to contend with the BMW X3, X4, while the new entry-level SUV, the GLA-Class, took on the BMW X1, Audi Q3.
Is the GLC Coupe just another concept?
Nope: Benz's officials say that this is "near production-ready," and knowing Mercedes-Benz like we do, we can specifically guess that what you see here will pretty much become known as the 2016 Mercedes-Benz GLC 450 AMG Coupe. We'll explain why in a moment.
COMPETITION: When it does come to market, the Mercedes-Benz GLC-Class Coupe will do direct battle with the BMW X4, while a non-coupe GLC-Class will more directly contend with the BMX X3. The larger GLE-Class and GLE-Class Coupe will naturally square-off against the larger BMX X5 and X6 respectively.
DIMENSIONS: The Concept GLC Coupe measures in at 4,727mm long, 2,151mm wide, and 1,593mm tall. It has a wheelbase of 2,827mm. Against its direct rival, the BMW X4, the GLC Coupe is marginally longer, wider, but 31mm shorter for height.
DESIGN: Styling wise, there's nothing much here that we haven't seen before. It really is just a smaller GLE Coupe. What's really interesting about the images Benz has decided to show off is that the SUV appears to be dressed in an AMG kit: twin-blade radiator grille, large air intakes flanking the front apron, and massive 21-inch wheels.
And just like the GLE-Class Coupe, there are front and rear underbody protection panels – suggesting some off-road abilities. Frameless windows and a swooping roofline can naturally be expected. No images of the interior have been revealed at this time.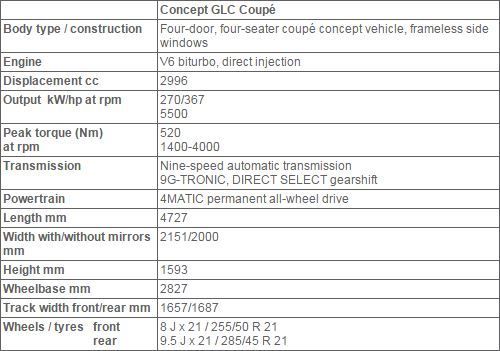 Some very minor changes can be expected between the graphics you see here and what actually debuts at a coming motor show, and if we had to make an informed guess, we'd say different wing mirros, wheels door handles, and rear bumper. Safely, you can expect them all to look like what you may have seen on the GLE-Class Coupe.
POWER: Another giveaway of this being the GLC 450 AMG Coupe is from its engine, which Mercedes-Benz tells us here is a 367hp, 520Nm of torque 3.0-litre, V6 bi-turbo powerplant. And where have we seen those before? Answer: C 450 AMG, GLE 450 AMG.
The powertrain is paired to a 9G-TRONIC nine-speed torque converter automatic transmission: it's a brand new box of cogs from Daimler, which is slowly finding its way into newer vehicles like the GLE-Class before it, and other top-shelve models like the S-Class (not our local hybrid S-Class).
Gorden Wagener, Head of Design at Daimler AG, puts it in a nutshell: "With its modern and sensual design idiom, the Concept GLC Coupé gives a foretaste of future SUV models from Mercedes-Benz. At the same time, it embraces the typical values of tradition-steeped Mercedes-Benz coupés".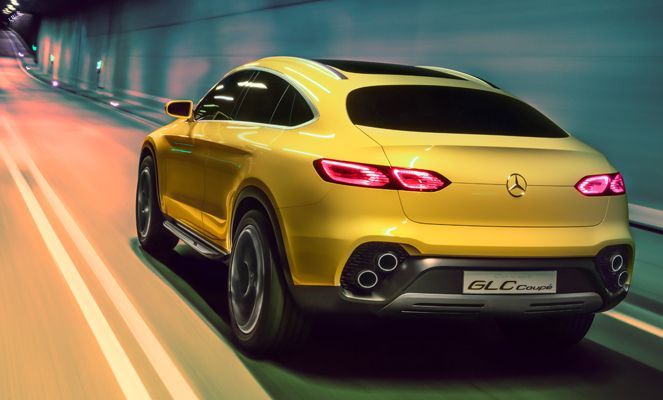 For Malaysia?
Nothing official has come from Mercedes-Benz Malaysia just yet, and how can it: the car's not even globally launched yet! Nevertheless, unlike the GLK-Class that never made it to Malaysia, the GLC-Class will offer a right-hand drive version, and that makes it very fit for a local launch. Sometime in 2016, 2017 maybe?
---
---
---
---
Comments