MITI: Open APs Won't Affect CKD Investments, Mostly For Ferraris And Other Niche Cars
Insights Following yesterday's announcement by the Ministry of International Trade and Industry (MITI) that Open APs for importation of reconditioned vehicles will now be unlimited, Dr. Ong Kian Ming, MITI Deputy Minister told radio station BFM.my that the new Open AP policy will not affect investments in automotive manufacturing here.
He said that the total number of Open APs given out in the last two years was less than 30,000 (21,947 in 2017 and 28,316 in 2018), a number that's too insignificant when compared to the total industry volume, which is well above 500,000 units (598,714 in 2018).
"The number of APs is less than 6 percent of the total sales of cars. To say that the AP policy would affect the automotive sector in Malaysia is not very accurate. The APs are mostly for higher-end cars, and this will be mostly for the higher end of the consumer market, the rich people basically," said Dr. Ong.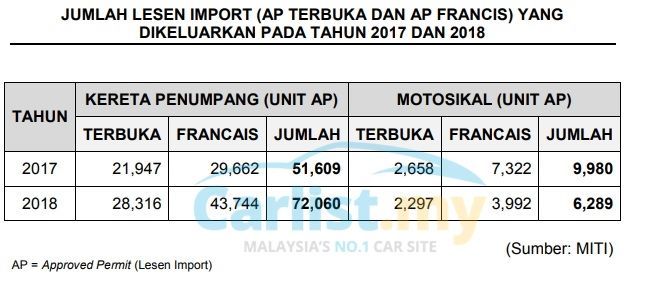 When asked why MITI is allowing this policy to continue, Dr. Ong side stepped the question by saying that the recent move is aimed at improving transparency of AP allocation. The list of 164 Open AP holders are now published on MITI's website, and complaints of abuses can be lodged at ap@miti.gov.my.
Under the 2009 National Automotive Policy, Open AP was supposed to be abolished by 31 December 2015 while Franchise AP (used by authorized importers/distributors) was to be terminated by 31 December 2020. This is no longer happening.
When asked if the importation of parallel imported high-end cars will deter premium brands like BMW and Mercedes-Benz from investing here, Dr. Ong went on a defensive, saying:
"That's a completely false accusation! Totally nonsensical because Mercedes and BMW are already doing CKD cars. These are for cars which are higher volume, few thousand units made that are being assembled here in Malaysia, so that policy continues. We are talking about Ferraris, cars that are being sold on very limited numbers. There's no sense to assemble or manufacture these cars in Malaysia.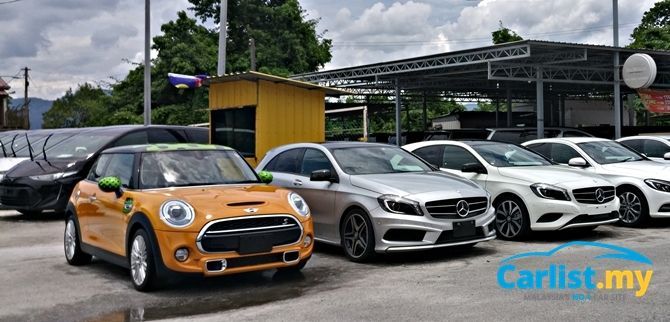 Note to Dr. Ong: Ferarris don't dominate the list of cars imported via Open AP
"That's why I said before that the total APs given out is less than 30,000. If we break it down to the different manufacturers, the numbers are much less. To give you an example, the number of Honda CKDs alone in 2018 far surpasses that mark in terms of volume. To say that this is something that will dissuade manufacturers from investing here runs contrary to the numbers that we've seen. Most of the cars that are sold by foreign manufacturers here are actually CKD cars."
At this point, we have to change our editorial tone and express our shock at the MITI Deputy Minister's poor understanding on the subject.
Since the Deputy Minister believes in numbers, let's get back to numbers but remember that numbers are only as good as the people reading them.
Carlist.my is one of Malaysia's biggest market place for cars, if not the biggest. There are close to 30,000 reconditioned cars (sorry, what was the total Open APs that MITI said it gave out again?) advertised on our site.
Here's the breakdown of popular re-conditioned cars on sale at Carlist.my (at point of writing):
Toyota: 11,626 units
Mercedes-Benz: 6,905 units
Porsche: 1,936
BMW: 1,895 units
Lexus: 1,295 units
Ferrari: 112
Lamborghini: 76
Yes these are higher-end cars, but Ferraris don't dominate. We may not be the most accurate source of data, but our market-driven numbers are certainly far more reliable than the Deputy Minister.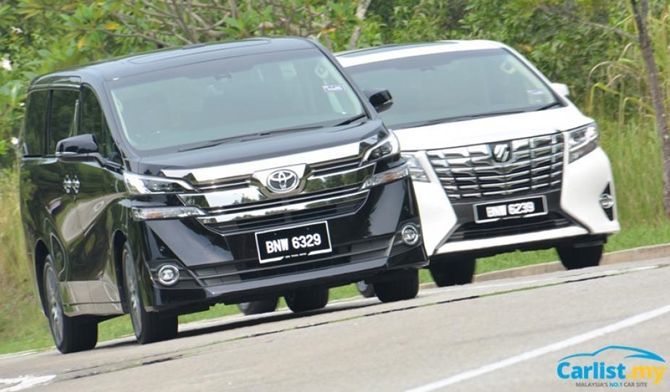 The most popular reconditioned Toyotas are the Alphard/Vellfire (7,240 units), which UMW Toyota Motor also imports from Japan, but at a very high cost partly due to homologation requirements that reconditioned cars are not subjected to, as well as more transparent valuation for taxes.
The most popular reconditioned Mercedes-Benzes are A-Class (1,642 units), E-Class (1,447 units) and C-Class (1,135 units) – Mercedes-Benz Malaysia invests to assemble the last two in Pekan, Pahang.
The most popular reconditioned BMW is the 5 Series, which BMW Group Malaysia assembles in Kulim, the plant that also exports engines to Vietnam and Philippines.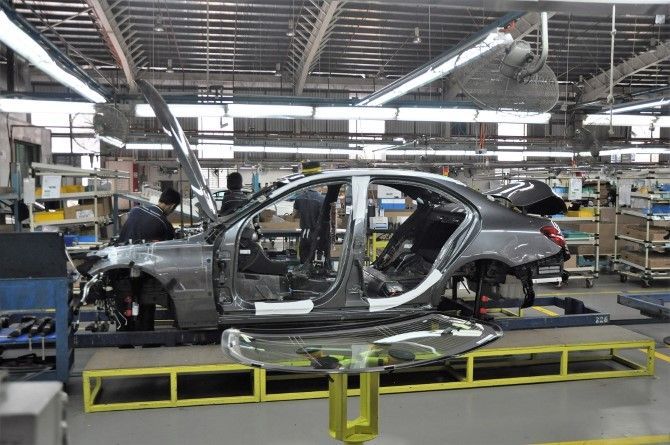 All of the above contradict the Deputy Minister's claims. These three most popular reconditioned makes are among the top-5 investors in our automotive manufacturing sector, again going against Dr. Ong's "there's no sense to assemble these cars here in Malaysia."
UMW Toyota is investing RM 2 billion into its second manufacturing plant in Klang. Between 2003 and 2017, Mercedes-Benz Malaysia invested over RM 1 billion in Malaysia. BMW Group Malaysia spent RM 10 million to expand its Kulim plant in 2017, and another RM 130 million to setup a regional parts distribution centre in Senai in 2017.
Both Mercedes-Benz and BMW each sell slightly less than 15,000 cars annually. So yes, 30,000 Open APs is a big deal to them, contrary to Dr. Ong's arguments.
Dr. Ong's insistence that decisions behind setting up local-asssembly operations are somehow unaffected by the prevalance parallel imported reconditioned cars is peculiar, when they are two and the same. Case in point - there is huge demand for the Mercedes-Benz A-Class here but the prevalence of reconditioned models here make further investments to locally assemble the model here not viable.
To be clear, the consumer/enthusiast driver in us welcomes the announcement. The improved transparency and increased supply of Open APs will drive prices down. Great if you are in the market for a Toyota 86/Subaru BRZ, both of which are only available from UMW Toyota Motor/Motor Image on a special order basis only, which means very high cost and long waiting period.
But we are also Malaysians that want to see better job opportunities, greater technology transfer, and more importantly - restoring the value of our Ringgit back to RM 10 equals THB 100.
The reality with public policies is that there will always be opportunity costs. If the government is deciding to back one option over the other, so be it. Those against it might call you many nasty names, but not a liar.
MITI's explanation to the public is a lie given the industry's facts and numbers, ironic given the Deputy Minister's numbers-based arguments.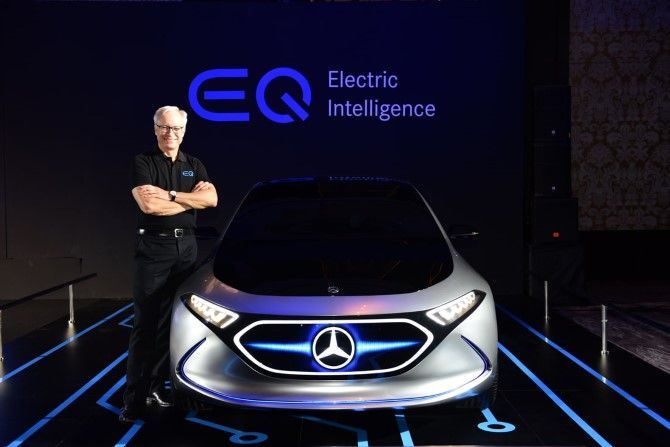 If the Deputy Minister still can't understand the crux of the issue, he should consider Roland Folger's explanation. The previous CEO of Mercedes-Benz Malaysia said in an interview with BFM.my in 2015, "Where it becomes difficult is that we as a strong investor in this market place – our CKD activities, the training for our people that we do and initiate, into the hardware and software in our dealer network - when we look into these investments, it doesn't help if somebody brings in the vehicles along the sides and basically creates a parallel market."
Folger is now the President and CEO of Mercedes-Benz Thailand. He has since announced a RM78 million investment into Thailand to assemble plug-in hybrid models, and another RM 78 million to manufacture lithium-ion batteries.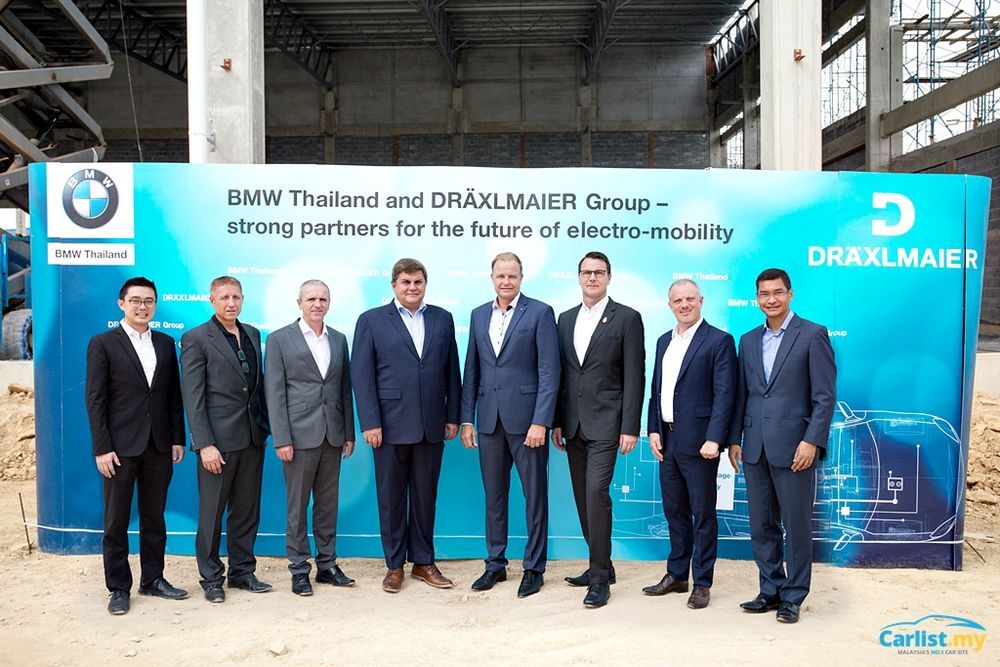 BMW is opening a RM51.5 million hybrid battery plant in Thailand, and has allocated another RM90.2 million into assembly of plug-in hybrid models.
The decision to choose Thailand over Malaysia is odd because Malaysia is BMW's fifth largest market for plug-in hybrids. Thailand's volumes for plug-in hybrids trail far behind Malaysia - selling only about half as many despite being a bigger market - but the Germans are putting their money there. Does anybody at MITI care to ask why?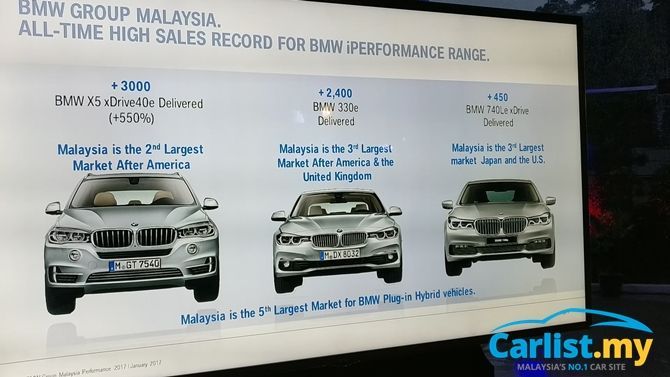 Perhaps it's because the Thais honour their word and don't backtrack on their policies, even if there is a change in government. If something has been announced by the government, doesn't matter which ruling party, investors can be certain that it will be honoured even if there is a change in government.
Coincidentally, the Thai government has clamped down hard on importation of reconditioned vehicles, tightening audits against tax evasion and changing its valuation procedures to close loopholes. A major operation by the Thai customs in 2017 seized 160 reconditioned cars – 13 were found to be stolen from the UK, while 73 had false paperwork. Sale of reconditioned cars in Thailand peaked in 2012, with 12,831 units. It now hovers around 5,000 cars annually.
The interview with BFM ended with a question regarding Tesla's decision to setup its headquarters and manufacturing plant in Singapore. This is an error that neither the BFM interviewer nor Dr. Ong realized, leading to a discussion between two ill-informed individuals. Tesla is not investing in Singapore. In fact, Tesla's CEO Elon Musk doesn't like Singapore. It was vacuum cleaner maker Dyson that has announced its intention to expand into electric cars, with Singapore as its base.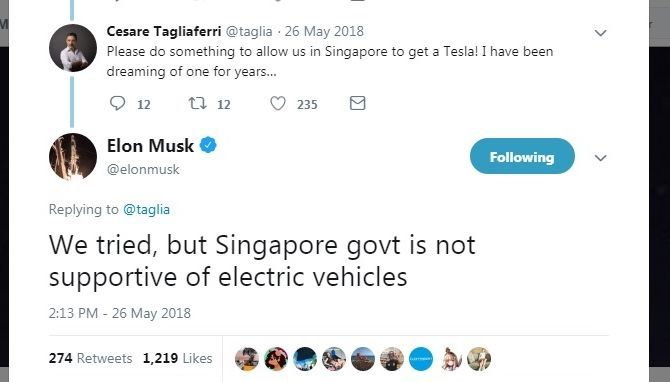 The Tesla cars sold in Singapore are imported by parallel importers, which in Singapore, must adhere to the same set as homologation requirements as authorised importers/distributors, emissions testing included.
Meanwhile, we are still waiting for announcements on the new National Automotive Policy.
---
---
---
---
Comments