New 2015 Toyota Camry, Camry Hybrid Launched In Thailand, From RM150k
Buying Guides The new, facelifted 2015 Toyota Camry and Camry Hybrid has just been launched in Thailand in a total of six variants, with prices set at (RM conversions are direct, not including local taxes etc.):
2.5L Hybrid Premium: 1,899,000 Baht (RM215,600)
2.5L Hybrid Navigator: 1,729,000 Baht (RM196,500)
2.5L Hybrid CD: 1,679,000 Baht (RM190,600)
2.5G 1,569,000 Baht (RM178,300)
2.0G Extremo: 1,429,000 Baht (RM162,280)
2.0G: 1,319,000 Baht (RM149,800)
Locally, UMW Toyota Motor, the official distributor of Toyota vehicles in Malaysia, will soon have its own launch event to unveil the car to Malaysians in its own variants and prices, but until then, here's a quick look at what our neighbours get first.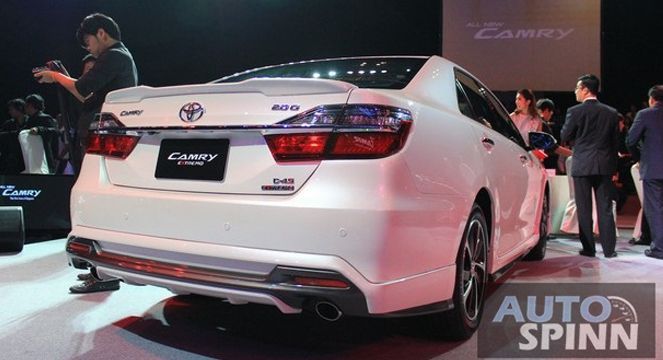 2.0-litre Camry: No more four-speed + new engines for Thailand
The new Camry adopts a whole new, more aggressive exterior designs, but more interestingly, it is confirmed now that the Thai market, where we get our CKD kits from, will get the all-new 2.0-litre VVT-iW four-cylinder engine that replaces the outgoing 2.0-litre VVT-i we have still.
The additional 'W' in the engine's name simply stands for 'Wide,' which refers to its ability to expand the intake valves operating angle where necessary. The engine is then able to switch between the conventional Otto cycle operation to an Atkinson cycle to best maximise performance and fuel efficiency.
Also different for the Thai-market Camry is that the 2.0-litre mill (codenamed 6AR-FE) is no longer paired with a four-speed Super ECT transmission, in favour of a six-speed auto with sequential shifter.
Performance figures for the Thai 2.0 variants are now 167PS and 199Nm of torque, against the previous 148PS and 190Nm of torque. However, while there will be an increase in power when our new Camry 2.0 gets here, figures aren't for certain identical, given the different grades of fuel offered in Thailand to here in Malaysia.
Consumption benefits of the all-new 2.0-litre VVT-iW and its new six-speed auto transmission translate to a claimed 13% increase in fuel efficiency.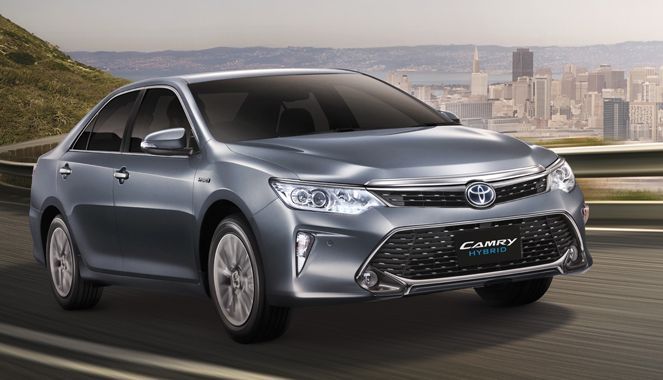 2.5-litre Camry, Camry Hybrid
Thailand will also be offered with the Camry's 2.5-litre engine in its higher-spec variants, and also in the range-topping hybrid versions of the car: the 2.5 Hybrid Premium and Navigator.
While the regular 2.5-litre models plainly carry over its existing powertrain (2AR-FE), the hybrid model features a different tune of the engine in light of the newfound hybrid power (2AR-FXE VVT-i).
The 2.5-litre petrol engine alone makes 21PS (160PS) and 21Nm (210Nm) less than the regular Camry versions, but makes up for it with an additional 105kW electric motor which delivers 270Nm of torque. The traction battery is a conventional nickel-metal hydride (Ni-MH) type.
Drive is sent to the front wheels via an E-CVT transmission, while drivers will be able to choose from two drive modes: ECO and EV (full electric) mode.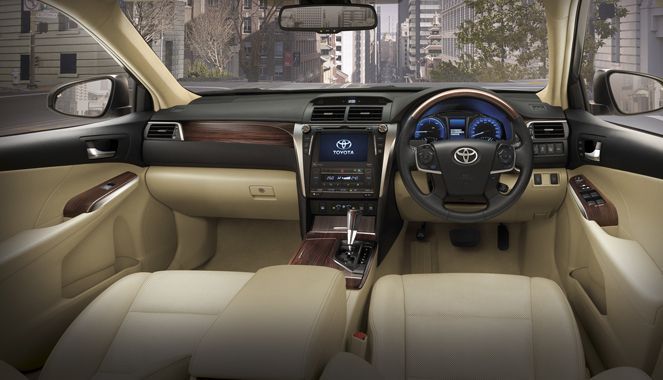 What else is new?
Well, you've seen the new looks, and we've told you all about the new Camry's powertrain developments, but Toyota hasn't stopped there in refining its new D-segment sedan.
Of course, more accurate specifications relative to our market will be unveiled soon enough (when UMWT decides), but a few other highlights of the car we're seeing in Thailand now worth mentioning include that there will be:
Two new colour options (Grayish Blue Mica Metallic, Dark Brown Mica Metallic)
A wireless charger (Qi Charger)
Dynamic Radar Cruise Control
Rear Cross Traffic Alert
Blind Spot Monitor
Lane Departure Warning
A pre-crash warning system (sounds alarm when a collision is imminent)
Coming to Malaysia? When?
Bear in mind however that these are all specifications of the Toyota Camry that will be sold in Thailand, beginning today. While we do get our CKD kits are prepared, we can't say for sure what kind of specifications our car will feature. This report is just a reference to what has come to Thailand, and may or may not make their way to Malaysia.
It's a given that the Camry will be launched here this year, and we also understand that the Camry Hybrid too will be joining the line-up. When? That's anyone's guess for the moment: all we can tell you is that you can count on the Camry Hybrid being a lot more expensive than the range-topping non-hybrid model. Does RM200k or more tempt you?

Want more details? Here's a closer look at the inside and outside of the Toyota Camry:
*Source: Autospinn
---
---
---
Comments